Kamaal R Khan (KRK) is an Indian actor, producer, scriptwriter, trade analyst, and film critic. He is known for his controversial remarks on various Indian celebrities.
Wiki/Biography
Kamaal R Khan aka Kamaal Rashid Khan aka Mohammed Rashid Mohammed Iqbal Kamal [1]The Indian Express was born on Wednesday, 1 January 1975 (age 47 years; as of 2022) in Deoband, Saharanpur, Uttar Pradesh. His zodiac sign is Capricorn. He attended KLDAV PG College, Roorkee, Uttarakhand. He is a graduate. [2]Kamaal R Khan's Official Website [3]Mid-Day
Note: Various media sources have quoted different ages of Kamaal R Khan.
Physical Appearance
Height (approx.): 5′ 7″
Hair Colour: Brown
Eye Colour: Brown
Note: According to some sources, he is bald and wears a wig. [4]Telly Chakkar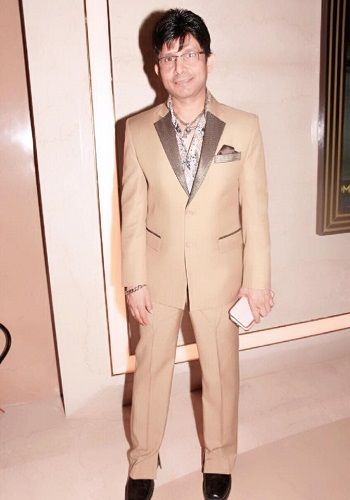 Family
Parents & Siblings
In one of his tweets, he talked about his father. He tweeted,
My father harassed me, beat me like an animal and kicked my ass almost every day in my childhood so #HappyFathersDay to my kick ass father. According my parents I was worst child of them out of 6 coz I was going to school instead of doing farming n watching films with my friends (sic). My mother wanted me to marry my cousin, when I was 15 years old. I could have been my mother's favourite if I married my cousin sister when I was fifteen years old and then took to farming."
In one of his tweets, he wrote about his mother. [5]Mid-Day He tweeted,
Wish you very happy #MothersDay Mom! Once upon a time, you wanted to give poison but today you are proud of me. (Sic) My mother was angry with me for watching films so she thought dat I will destroy the reputation of family hence she wanted to give me poison."
He has five siblings.
Wife & Children
He is married to Anita Kumar aka Aisha Kamaal Khan. In one of his tweets, he shared how he met his wife. He said,
Many ppl ask me about my wife. So today I am giving them details. First time I met my wife in Mumbai Santacruz with her father Then somhow I got her number n called her n she shouted at me coz she thought dat I'm trying to flirt with her. Waise Bhi she hated Muslims. I was able to convince my wife after one-year dat I really love her n want to marry her. But she wanted to be sure dat I don't drink alcohol so finally, we got married n living happily till date. I helped her 4 younger brothers, who are staying in Dubai with their family now. Pls note, I don't have any property, company, car, bank account in my name. All are in the name of my wife so I am 100% #2Rsppl without her."
He has a son named Faisal Mohamed Rashid Kamal and a daughter named Farah Khan.
Religious Views
He has shared his religious views on his official website. It reads,
India is the best country for any Indian. We should feel proud to be Indians. We all are Indians first and then Hindu, Muslim, Sikh, Issai. Anyone is free to do business of his choice whether it is acting, politics or anything else, but nobody should try to divide India for his own benefits. India is the mother of every Indian and mother cannot be divided in Pieces. Every religion is the best for the person who believes in that religion, but any religion does not ask to hate other religions. Because religion or cast cannot be bigger than motherland."
In 2014, post the Peshawar school massacre, Kamaal said that he wanted to convert from Muslim to Hindu or Christian.
Address
Bungalow No. 7/70, Mhada S. V. P. Nagar, Near Versova Telephone Exchange, Andheri (W), Mumbai- 400053, India
Career
While pursuing his graduation, he used to write for a local newspaper and to make his career as a writer, he shifted to Mumbai from Roorkee. Kamaal R Khan has also worked as an air conditioner repair technician in Dubai.
Film
In 2005, he made his debut as an actor in the Hindi film 'Sitam' in which he played the role of Don-Robert. He also made his debut as a producer with the film.
In 2006, he made his Bhojpuri debut with the film 'Munna Pandey Berozgaar' in which he played a cameo role.
In 2008, he came into the limelight with his Hindi film 'Deshdrohi' which turned out to be one of the biggest flops in Bollywood. The film was trolled for various illogical scenes in the film.
In 2014, he played a cameo role in the Hindi film 'Ek Villain' as Brijesh.
In 2022, he announced the sequel of his Hindi film 'Deshdrohi' through his Instagram account.
Television
In 2009, he participated in the TV reality show Bigg Boss 3. [6]The Times of India During the show, while bragging about being a millionaire, KRK said,
At my home milk comes from Holland and water from France, I pay 10,000 employees and live in a huge bungalow. After that, the high and mighty KRK hit fellow inmate Rohit Verma with a bottle."
However, he was evicted from the show for his violent behaviour with his co-contestant.
Music Videos
KRK has appeared in a few Hindi music videos such as "Tum Meri Ho" (2019) and "Pyar Ka Naam Khuda Rakkha Hai" (2020).
His song 'Tum Meri Ho' was even promoted by Amitabh Bachchan and Ram Gopal Varma. Amitabh took to his Twitter to promote the song. He tweeted,
WOWWWW Never before seen side of actor, critic and now lyricist #KRK! #TumMeriHo song featuring #Aayra! Music by #DJShezwood. Directed by #NitishChandra!"
Film Critic
In February 2010, he started working as a film critic. In 2010, he joined Twitter and then started his self-titled YouTube channel on 25 May 2013. He used social media platforms to share his reviews of Hindi films, actors, and songs. He gained immense popularity as a film critic. As of 2022, he has more than 5.1 million followers on Twitter and more than 1.11 million subscribers on his YouTube channel.
On 24 September 2022, he announced on social media that he was going to retire as a film critic after the release of the Bollywood film Vikram Vedha, starring Saif Ali Khan and Hrithik Roshan, and said that it would be his last film that he would review. According to KRK, Bollywood compelled him to quit reviewing films. [7]The Indian Express
I quit. #VikramVedha is the last film, I will review. Thank you all for trusting my reviews n making me the biggest critic in the history of Bollywood. Thanks to all the Bollywood ppl also for not accepting me as a critic but filing so many cases against me to stop my reviews.❤️

— KRK (@kamaalrkhan) September 24, 2022
Other Work
He has also worked as a trade analyst. KRK owns a travel business named KRK Tour and Travels in Dubai. He also owns a cloth business.
Controversies
Film Banned by the Maharashtra Government
In 2008, the Hindi film 'Deshdrohi' was banned by the Maharashtra government as it could affect the law and order in the state. The story of the film depicts the problems faced by the North Indian migrants living in Maharashtra. [8]The Indian Express During an interview, when KRK was asked about the ban, he said,
I don't interfere in Raj Thackeray's business, just like I will not appreciate his interference in mine. It might be his political compulsions, otherwise many of his close associates belong to UP and Bihar."
Violent Behaviour in a Reality Show
In 2009, while KRK was a contestant in 'Bigg Boss 3,' he was expelled from the house for throwing a water bottle at his co-contestant Rohit Verma. He even threatened Rohit in the house. [9]The Indian Express
A Tiff with Kapil Sharma
In 2014, Kamaal R Khan mocked the Indian comedian Kapil Sharma on Twitter which started a verbal fight between them. [10]India Today KRK tweeted,
When YRF asked @NargisFakhri to do film with @KapilSharmaK9 She was laughing loudly n said sorry I don't have dates. SMS of Nargis – I was shocked to hear offer of YRF to do film with comedian Kapil Sharma. I think they forgot tat I was launched with Ranbir."
Later, talking about the tweets, Kapil said,
KRK's tweets irked me badly yesterday. I didn't want to retaliate but even I'm a human. I don't even know who this KRK is. I have never met him, never spoken ill about him. Around six months ago, Mika Singh told me about someone calling me '2Rsppl (Two Rupees people)' on a social networking site. I wondered why this man who never crossed my path would say something like this about me. I was quiet then, but his tweets irked me badly yesterday. I didn't want to retaliate but even I'm a human."
FIR Registered Against Kamaal R Khan
In 2013, Kamaal slammed the Indian actress Sunny Leone for making derogatory remarks. He said that Sunny commented that "Rape was not a crime." Sunny denied making any such comments. Later, she filed an FIR against KRK at the Versova Police Station. [11]Hindustan Times During an interview, while talking to the reporters, Sunny's lawyer said,
Sunny is emotionally and mentally very disturbed with the false allegations levied by Kamaal Khan against her, and the cheap and demeaning jokes that he is continuously posting on his twitter account in her name, thereby outraging her modesty openly on a public platform."
Defamation Cases
Kamaal has attracted controversies for his critical reviews of various Hindi films and actors. In 2016, Kamaal made insulting comments about the Indian actress Meera Chopra, and he also gave negative reviews of the Hindi film '1920 London.' The producer of the film Vikram Bhatt filed a defamation case against KRK for the same. In May 2021, the Indian actor Salman Khan filed a defamation case after KRK said in the media that Salman used his NGO 'Being Human' for money laundering and other fraudulent activities. In the same year, the Indian actor Manoj Bajpayee filed a defamation case against KRK for calling him a "ganjedi" and having an extra-marital affair. There are many more defamation cases filed against him. [12]The Quint
A Tiff with Ajay Devgn
In 2016, the Indian actor Ajay Devgn accused Kamaal of taking Rs 25 lakhs from the Indian producer Karan Johar to give negative reviews of Ajay's film 'Shivaay' and positive reviews of Karan's film 'Ae Dil Hai Mushkil.' Later, Kamaal said that it was not Karan but Ajay's manager Kumar Magnat who offered money to him for bashing 'Ae Dil Hai Mushkil.' [13]Hindustan Times Ajay then issued a statement which reads,
I have been a part of the Indian film industry for the past 25 years and have been associated with over 100 films. My father was a professional action director and I have an emotional connection with this industry. It therefore pains me to see that people like Kamaal R Khan are holding the film industry to ransom by spreading negativity about films to extort money from producers. It is very sad that people from our own industry are supporting such elements and spoiling the ethos of the film industry. I would strongly demand that this be thoroughly investigated by competent authorities to clarify if Karan Johar was indeed involved in this."
"2 Rs Actor" Comment
Kamaal has referred some of the Indian actors as "2 Rs actors." He has made these comments to many popular actors like Salman Khan, Varun Dhawan, Ranveer Singh, and Arjun Kapoor. He has received many negative comments for using such a derogatory remark. [14]The Indian Express
Criticised For Making Personal Remarks
Kamaal is often criticised for making personal remarks about the Indian actors and producers. He once called Akshay Kumar 'dhongi' and Vijay Deverakonda "Vijay Anakonda." Kamaal even said that the Indian cricketer Virat Kohli was in depression because of Anushka Sharma. He once passed a demeaning comment on Kangana Ranaut's sister Rangoli Chandel. KRK passed comments on Rangoli's face which have been affected by an acid attack. In reply, Rangoli called him a dog. [15]The Indian Express [16]The Quint
Diss Track War with Mika Singh
In June 2021, the Indian singer Mika Singh slammed KRK for passing negative remarks on Salman Khan. Mika even released a diss track against KRK titled "KRK Kutta."
In reply, KRK released a diss track titled "Mika Suwar Singer." [17]Hindustan Times Later, the video song was deleted from YouTube.
Arrested for Controversial Tweets
On 30 August 2022, KRK was arrested from the Mumbai Airport for his controversial tweets in 2020 which he made on the late Indian actors Rishi Kapoor and Irrfan Khan. Soon after his arrest, he started complaining of chest pain and was admitted to a hospital. [18]News 18
Assets/Properties
An apartment and office in Mumbai
Net Worth
As of 2022, his net worth is Rs 37 crore (approximately). [20]MensXP
Favourites
Food: Aloo Gobhi, Kadhi Chawal, Karela Pyaaz, Kaddu Chawal, Veg Tahari, Ghee-Chatni-Roti, Daal Chawal, Anda Kofta, Chicken Biryani, Methi Prawns
Film Director: Mohit Suri
Facts/Trivia
He kept his name KRK after Shah Rukh Khan's name SRK. He once said that he believed that there was no other Khan except him. He continued,


Mujhe fark nahin padta ki woh believe karte hain ya nahin. I am the King Khan in my own right. Jo aur King Khan hain, woh apni duniya ke honge!"
Reportedly, he once proposed to the Indian TV actress Sara Khan through Twitter. He even used to send kiss emojis to the Indian actress Asin Thottumkal, he then tweeted about a girl named Sabah. [24]

India Today The tweet reads,


Its official that yesterday I have broken up with my Moroccan girlfriend Sabah but today I am already in love with Sara khan TV actress'.
In 2010, at the Zee Gold Awards, he was given Baalti Award.
In 2013, in one of his tweets, he mentioned that he hated smoking and drinking.
In 2014, the Indian actor Amitabh Bachchan was invited as the chief guest at the launch event of KRK's entertainment website KRK BOX OFFICE.
In 2014, KRK joined the political party Samajwadi Party in Mumbai. In one of his Facebook posts, he said that he was a politician for only 15 days.
He has received many awards for being one of the top entertainers in India. In 2014, he received an award from the then President of India Pranab Mukherjee.
He follows a non-vegetarian diet.
KRK always wears a pistol locket around his neck.
In April 2018, he took to his Twitter account to share the news that he was diagnosed with stage 3 stomach cancer. In the tweet, he talked about his two desires.
In May 2022, a book on KRK titled 'Controversial KRK' was launched which is written by Ranbir Pushp.