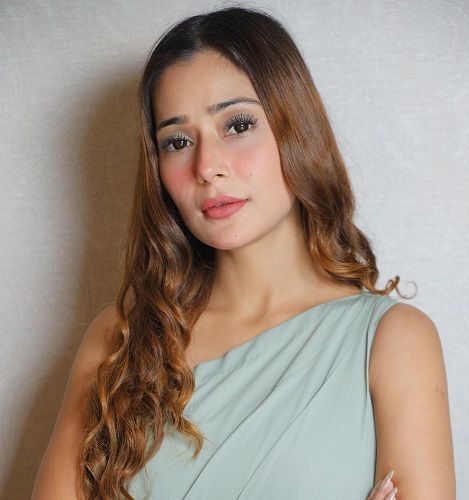 Sara Khan is an Indian TV actor, model, and singer. She gained immense popularity with her debut Hindi TV serial 'Sapna Babul Ka…Bidaai' (2007) in which she played the role of Sadhna.
Wiki/Biography
Sara Khan was born on Sunday, 6 August 1989 (age 33 years; as of 2022) in Bhopal, Madhya Pradesh. Her zodiac sign is Leo.
Physical Appearance
Height (approx.): 5′ 2″
Weight (approx.): 50 kg
Hair Colour: Brown
Eye Colour: Brown
Body Measurements (approx.): 33-26-33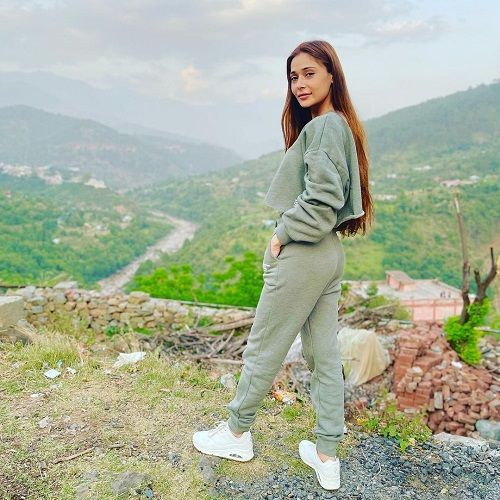 Family
She was born in a Sunni Muslim family. [1]The Times of India
Parents & Siblings
Her father's name is Parvez Khan. Her mother, Seema Khan, is a businesswoman. She has three younger sisters named Alisha Khan, Aliya Khan, and Arya Khan.
Husband & Children
In 2010, while she was in Bigg Boss house, she got married to the Indian actor Ali Merchant. Their marriage became the talk of the town as she was one of the few Indian actors, who got married in a TV reality show. Reportedly, Sara and Ali were paid Rs. 5 million by the Colors channel for getting married on national television. [2]India TV News Their marriage did not last long and within two months of their marriage, the couple got divorced. In an interview, while talking about her failed marriage, she said,
Even before Bigg Boss, I have been doing a daily soap and that made me popular and got me the reality show. Besides, I married Ali because I loved him and not for money or to gain some cheap publicity as many say. My marriage turned out to be a nightmare. I am deeply hurt by his behaviour. I gave him a thousand chances before I called off the relationship. But now we are separate and I believe in the saying that all that happens, happens for good. I don't want to look back. I want to see forward and do better work than before."
In 2011, when Ali was invited as a guest on the Star Plus TV show "Sach Ka Saamna," he was questioned about his marriage with Sara. He replied,
I got married on TV for publicity. Anyone in my place would have done that. Getting into Bigg Boss and then marrying Sara were the biggest mistakes of my career. Actually, being in relationship with her is my biggest regret."
Relationships/Affairs
Paras Chhabra
After separating from her Ali Merchant, she started dating the Indian TV actor Paras Chhabra. In an interview, while talking about dating Paras, Sara said,
Paras and I are dating for the last seven months and we love each other's company. His mom and I are very good friends and everyone is happy with our relationship. I m just 21 and we are in no hurry to get married as our hearts are already married."
Later, the duo broke up, and during an interview, while talking about the breakup, Sara said,
I wish he tried to work hard instead of getting mileage by using my name. I feel sorry that the media still addresses him as my EX or will do it in future as well. I will feel happy if he takes it as a challenge and makes his own identity so that the media starts calling him by his name."
Rishabh Tandon
In 2015, she dated the Indian businessman, Rishabh Tandon. There were also speculations that the couple had secretly got married. [3]India Today In an interview, while denying the rumours of their marriage, Sara said,
I had clearly mentioned below the picture 'going to marry soon'. That day, I came back from a photo shoot; changed into my normal costume and unfortunately forgot to remove the sindoor which I had applied for the photo shoot. I and Rishabh just clicked a picture and posted without realizing that sindoor is still there on my head. I was in Dubai when I started getting calls about the marriage news. It was really shocking."
Noor Hassan
In 2017, she was rumoured to be in a relationship with her Pakistani co-star Noor Hassan. Later, Sara denied all such rumours and said that they were only good friends. [4]DNA India
Ankit Gera
In 2019, reportedly she was dating the Indian TV actor Ankit Gera, and the couple was rumoured to tie the knot by the end of 2019. According to the media sources, later, the duo parted ways. [5]Bollywood Shaadis
Shantanu Raje
In July 2022, Sara, in an interview, confirmed that she was dating Shantanu Raje, who is a pilot. According to Sara, they met through social media in 2021. She said,
Yes, Shantanu and I are in a relationship. We have been dating for a while now. Both of us mutually decided to keep it under wraps, since he doesn't belong to showbiz. Now since both of us are comfortable about coming out in public, here we are." [6]The Indian Express
Career
Model
In 2007, she won the beauty pageant, Miss Madhya Pradesh. In an interview, while talking about winning the beauty pageant, she said,
I can never forget it. I had won the Miss Bhopal contest and had hoardings all over the city. So, that's how I got noticed by my producer and got this project. It was a dream come true for me to bag a project like Bidaai and that too when I was not from Mumbai. It was such an overwhelming moment because the show was very popular and I was getting so much love and attention from everywhere."
She has also featured as a model in various TV commercials and print advertisements.
Television
In the initial years of her career, she worked as an anchor for the Hindi TV channels Doordarshan Madhya Pradesh and ETV. She debuted as an actress in the Star Plus TV serial 'Sapna Babul Ka…Bidaai' (2007) in which she played the role of Sadhana Rajvansh. In an interview, while talking about her debut TV serial, she said,
I was a shy, school-going girl, when I did my first show Bidaai, which was like a fairytale for me. I was new to the industry then and didn't know the nitty-gritties. With time, I have learnt a lot about this industry. Today I have a lot of experience, both good and bad. I have learnt to stand up for myself and don't give a s**t about what people think. I live for my own self now. I now don't get affected by who says what about me."
She then appeared as a guest in a few Hindi TV shows such as 'Kya Aap Paanchvi Pass Se Tez Hain?' and 'Jo Jeeta Wohi Super Star' in 2008. She participated as a contestant in the celebrity TV dance reality show 'Zara Nachke Dikha' (2008). Sara hosted the fourth season of the TV dance reality show 'Nach Baliye 4' (2008) along with her ex-husband Ali Merchant. In 2009, she participated as a contestant in a few other Hindi TV shows like 'Dance Premier League,' 'Hans Baliye,' and '10 Ka Dum.' In the same year, she participated in the TV reality show 'Bigg Boss 4.' While she was in the Bigg Boss house, she got married to the Indian TV actor Ali Merchant and gained immense popularity through it.
Sara has participated as a contestant in a few other TV serials such as 'Welcome – Baazi Mehmaan-Nawaazi Ki' (2013), 'Comedy Nights Bachao' (2015), and 'Box Cricket League 2' (2016).
She has also appeared in the Pakistani TV series 'Bay Khudi' (2016) and 'Laikin' (2017).
View this post on Instagram
Sara has acted in the Hindi TV serials like 'Preet Se Bandhi Ye Dori Ram Milaayi Jodi' (2010), 'Junoon – Aisi Nafrat Toh Kaisa Ishq' (2013), 'Sasural Simar Ka 2' (2014), and 'Santoshi Maa – Sunayein Vrat Kathayein' (2020). She has also made special appearances in various TV serials such as 'Kahaani Ghar Ghar Kii' (2008), 'Saath Nibhaana Saathiya' (2010), 'Sapne Suhane Ladakpan Ke' (2013), 'Kaala Teeka' (2016), and 'Vidya' (2019). In 2022, she participated as a contestant in the digital reality show 'Lock Upp' hosted by the Indian actress Kangana Ranaut.
Film
Apart from TV serials, she has also appeared in a few Hindi films like 'M3 – Midsummer Midnight Mumbai' (2014) and 'Hamari Adhuri Kahani' (2015).
She has also acted in the Pakistani telefilm 'Tujh Se Hee Raabta' (2015) in which she played the role of Anum.
Music Videos
She has featured in various Hindi music videos such as "Tere Jism" (2018) by Altaaf Sayyed, "Mast Nazro Se" (2019) by Lakhwinder Wadali, and "Tattoo Boy" (2019) by Radnyi Tyagraj.
Singer  
Apart from acting, she has lent her voice for the songs like "Black Heart" (2018), "Kenda Ye Jamana" (2019), and "Mahiya Mila De" (2021).
Controversies
Lip Lock with TV actress Pooja Bose
In 2012, in her BlackBerry display picture, she uploaded a photo of her while kissing her friend Pooja Bose on the lips. Within a few hours, she removed her DP. [7]Hindustan Times In an interview, while talking about the photo, she said,
I am a normal human being who loves having fun with friends. Pooja is my best friend and I don't understand what's wrong in kissing your friend on lips and it was just a kiss, not smooch."
Leaked Nude Bathtub Video
In 2018, Sara's sister Arya uploaded a nude bathtub video of Sara on her Instagram story. As soon as the video went viral, Sara started receiving criticism from the netizens. Later, the story was removed from her Instagram account. [8]The Times of India In an interview, when Sara was asked about the incident, she said,
I don't know what happened. Everything just went wrong. It was a video out of fun made by my sister. She deleted it in no time but it went terribly wrong. She was drunk little bit and then we were just having fun, and this thing happened. I just want to say that since the world has become so fast, sometimes these technologies are also harmful. So, we should be careful."
Legal Notice by a Friend
In 2018, she launched her YouTube chat show "Bitchy Bee" along with her sister.
The show landed into a legal dispute after the second episode of the show was aired in which she invited her friend Rajeev Khinchi. Rajeev thought it was a friendly conversation, and the footage will not be included in the episode. After watching the episode, he was upset with Sara for not taking his permission before uploading the video of his interview which contained some very private information. He then issued a legal notice against Sara. Later, Sara said that he already knew that the interview was being shot and would be aired. [9]The Indian Express
Bold Music Videos
In 2018, she posed nude for the Hindi music video "Black Heart." She received a huge backlash for her music video and was brutally trolled by the netizens. [10]The Times of India During an interview, when Sara was asked about her music video, she said,
Although bold, if you follow the lyrics you will get what I mean to say. It is high time the world stopped slut shaming girls about their dressing of love. The words I say cry for freedom for womenkind. Guys, just let live and let."
She added,
I really worked hard on the lyrics and writers made it a point to pen such stuff which was in my comfort zone. I riyaaz very seriously and if Black Heart does well, which I am sure it will, I will cut more songs as well."
In 2019, she was featured in another bold video "Tere Jism" along with the Indian TV actor Angad Hasija. In an interview, while talking about the bold scenes in the music video, she said,
I have no problem with bold, what is wrong in it if I like the concept and yes can carry it off. But yes I am not doing this to grab attention I am just like this in real life as well."
Arrested in Pakistan
While Sara was in Pakistan, shooting for a Pakistani TV drama 'Laikin' in 2017, she was arrested by the Pakistani police for staying more than the days specified in her visa. She was in detention for six days and was charged a fine. Later, Sara denied it and said that they were just rumours. [11]Koi Moi In an interview, while talking about it, she said,
I was told to stay back for my NOC and I stayed in my five-star hotel not in police custody. I don't know who the f**k is spreading such news. I was not doing anything illegal there. I stayed back to get the NOC. I was two days above my visa because of flight issues. Then, the immigration people told me that I need to take the NOC. Then, I stayed back there got the NOC and came back to Mumbai. I was not detained, I was retained there. The NOC is needed from the Ministry level and I stayed back. Throughout my trip, I have been active on social media, how can people spread such stupid rumours. What the f**k…I am shooting for my show there."
Commenting on Burkha
In 2018, she passed a comment on burkha during the launch event of her music video "Black Heart." She said,
Just because in Muslim community it is said that girls should do purdah, why don't they say that men should cover their eyes. I am Muslim myself, and I have only one complain towards those people who keep ranting about burqa. Shame on them as to why are they seeing that thing. Why should we be in purdah."
Her comment was not well received by some of the sections from the Muslim community. [12]India Today Later, she made an apology video in which she said,
There is a video that has gone viral where I am seen commenting on Islam and burqa. I didn't mean it in that way. My way of saying it and the words used were wrong, and I am nobody and speak against any religion. I would like to apologise to all the Muslims, who were hurt because of me. Apologies to all the Muslims for what I said I don't know what was I thinking. Extremely sorry."
Fight with Younger Sister Arya
In 2018, she had a massive fight with her younger sister Arya, after which Arya left Sara's apartment. Later, Sara deleted all photos of Arya from her Instagram account. In an interview, while talking about it, Sara got extremely emotional and said that Arya felt that Sara was being overprotective towards her. [13]The Times of India Arya then shared an Instagram post in which she wrote,
All I request you guys is to give us positivity 🙏😇 #love #peace." I love my sister so much she is my Ego and my pride no one will be ever able to segregate and divide us And also no has rights to interfere our family and privacy between sisters!"
Awards
2007: Indian Telly Award for Best Actress for the TV serial Sapna Babul Ka…. Bidaai
2007: Star Parivaar Award for Favourite Naya Sadasya (Female) for the TV serial Sapna Babul Ka…. Bidaai
2008: Star Parivaar Award for Sapna Babul Ka…. Bidaai
2008: Indian Television Academy Award for Best Actress – Popular for the TV serial Sapna Babul Ka…. Bidaai
2009: Star Parivaar Award for Favourite Patni for the TV serial Sapna Babul Ka…. Bidaai
Favourites
Facts/Trivia
In an interview, she was asked how she got her debut serial. She said,


Firstly I wanted to tell you that I entered in this industry when I was just 15 years old and I got my first opportunity at my home. I never Struggle for this. It was really a fairy tale for me and trust me it was a "Dream cum True" Point of my life. I got a Contract at my home place and I signed it and it was something which I never had expected."
On 17 November 2016, she was invited as a guest on the Pakistani TV chat show "Good Morning Pakistan" aired on ARY Digital.
She is an avid animal lover and has a few pet dogs including Hatchiko Khan and Chikoo.
Sara Khan loves collecting different types of footwear.
She has undergone the knives to enhance her looks. She also did a lip filler surgery for which she was badly trolled by the public. [14]

Koi Moi In an interview, while talking about the lip fillers, he said,


I did not want to stay as Bidaai's Sadhna my entire life. I wanted to be fit and be Sara Khan. So, I didn't think much about my transformation. I just started working out and concentrated on my fitness. I did not change my face, I am the same. Yes, of course I did the lip filler which was a disaster and it did not look good at all. It was very bad it didn't suit me at all."

She added,

Mujhe apni khud ke lips pasand nahi aate the tab (I did not like my own lips back then) and I was waiting for it to dissolve. I didn't like my look at that time."
She has been featured on the cover page of various magazines such as Glamorous You, She India, and Entitle Magazine.
She did a bold music video "Tere Jism" (2018) with the TV actor Angad Hasija. In an interview, Angad said that Sara had specially asked the director to cast him opposite her. [15]

Zoom TV Entertainment He said,


Sara said that she was not ready to do bold scenes with anyone. She would only do it with me as she was comfortable. It was a bold video. Atul, the director told Sara about the brief. When we did it, the unit people became our fans. Our jodi is famous and that's how we do it."
In 2020, her name was involved in a drug case, however, she did not receive any summon from the Narcotics Control Bureau (NCB). As soon as her name was popped in the case, she started receiving negative comments on her social media profiles. During an interview, while talking about it, she said,


Without even checking the veracity of these allegations, people started trolling me. They called me names and a drug addict. This incident shook me to an extent that I almost wanted to kill myself! I have slogged to reach where I am today. Angad informed me about our names doing the rounds in the media. I was shocked and failed to understand why my name was being dragged into it."
In 2020, she wrote an open letter to the Indian media on her Instagram account. In the letter, she wrote,