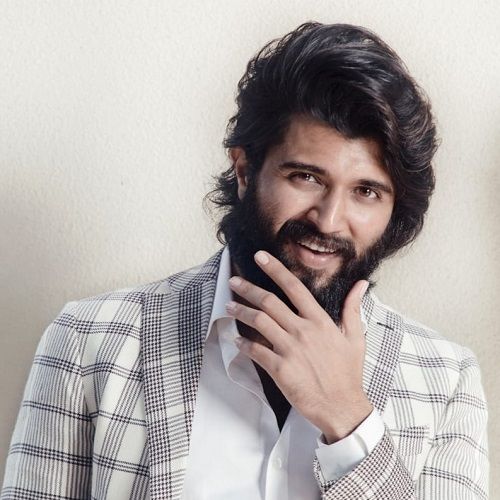 Vijay Deverakonda is an Indian actor and film producer, who has mainly worked in Telugu films. In 2022, he made his Bollywood debut with the Hindi-Telugu film 'Liger' opposite Ananya Pandey.
Wiki/Biography
Deverakonda Vijay Sai [1]Tollywood.net was born on Tuesday, 9 May 1989 (age 34 years; as of 2023) in Achampet, Telangana. His ancestors hail from Village Thummanpeta, Balmoor Mandal of Mahbubnagar District, Telangana. His zodiac sign is Taurus. He did his schooling at Sri Sathya Sai Higher Secondary School up to class 10 in Puttaparthi, Andhra Pradesh. He then attended Little Flower Junior College, Hyderabad.
He pursued his graduation in commerce from Badruka College of Commerce and Arts, Hyderabad. [2]News 18 Vijay developed an interest in acting during his college days. He used to participate in college theatre plays. His first theatre play in college was 'Sherlock Holmes' in which he portrayed the titular role. After completing his graduation, he joined a theatre group 'Sutradhar.'
Physical Appearance
Height (approx.): 5′ 11″
Weight (approx.): 70 kg
Hair Colour: Brown
Eye Colour: Brown
Body Measurements (approx.): Chest 42″, Waist 32″, Biceps 14″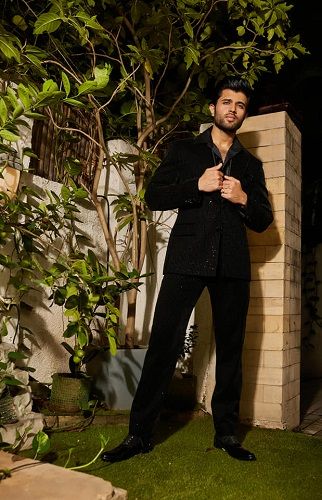 Family
Vijay belongs to a Hindu family. [3]Instagram- Vijay Deverakonda
Parents & Siblings
His father, Govardhana Rao Deverakonda, worked as a television serial director. His mother, Madhavi Deverakonda, works as a soft skill & personality development trainer. Vijay has a younger brother named Anand Deverakonda, who is an actor too.
Relationships/Affairs
Virgine
In 2018, he was rumoured to be in a relationship with a girl named Virgine, who hailed from Belgium. According to the sources, she had a few seconds scene in the Telugu film 'Pelli Choopulu' (2016) starring Vijay Deverakonda. [4]MensXP Later, in a press conference, Vijay said that he was single.
Izabelle Leite
In 2019, there were rumours that Vijay was dating the Brazilian model-turned-actress Izabelle Leite, who is the ex-girlfriend of the Indian cricketer Virat Kohli. [5]International Business Times
Rashmika Mandanna
In 2022, the rumours of Vijay dating the Indian actress Rashmika Mandanna spread like fire. The duo was often spotted together holidaying in Goa. [6]The Print
Autograph
Career
Singer
Since childhood, he has had a keen interest in singing. He has sung the song 'What The Life' for the 2018 Telugu film 'Geetha Govindam.'
Actor
Telugu
In 2011, Vijay made his debut as an actor with the Telugu film 'Nuvvila' in which he played the role of Vishnu.
A year later, he acted in the Telugu film 'Life Is Beautiful.' Both his films failed at the box office. After almost three years, he appeared in the 2015 Telugu film 'Yevade Subramanyam.' In 2016, he played the male lead in the Telugu film 'Pelli Choopulu,' and this film gave a kickstart to his acting career.
In 2017, Vijay appeared in the Telugu films 'Dwaraka' and 'Arjun Reddy.' Vijay gained immense popularity with these films.
Vijay has acted in many Telugu films like 'Geetha Govindam' (2018), 'Taxiwaala' (2018), 'Dear Comrade' (2019), and 'World Famous Lover' (2020).
Tamil
Vijay made his Tamil debut with 'NOTA' (2018) in which he played the role of Varun Subramanyam.
Hindi
In 2022, he made his Bollywood debut with the Hindi-Telugu film 'Liger' in which he played the titular role.
Film Producer
Vijay owns a film production house named King of the Hill Entertainment. Under his banner, he released the Telugu film 'Meeku Maathrame Cheptha' in 2019.
Other Work
In 2016, he directed a Telugu short film titled 'Madam Meerena.' He has worked as a presenter in the Telugu film 'Pushpaka Vimanam' (2022).
Controversies
Inappropriate Tweet on the South Indian Actress Savitri
In April 2018, he was trolled for posting the picture of the veteran Indian actress Savitri on Twitter with the caption "What a cool chick." The caption was not well received by the netizens, and they demanded an apology from him. However, he denied apologising and questioned why people were silent when Mahanti was called a home breaker. [7]The Times of India Vijay tweeted,
All who want an apology – chennai Leela Palace lo unna ocheyandi. I will even be giving you #Mahanati audio launch entries. She would have been happy to have you all back then – because appudu me lanti morals and ethics batch called her a home breaker and alcoholic. She was many things fearless, philanthropic, generous, but at her core she was like anyone else a girl with dreams first, a woman who loved & wanted to be loved next and a superstar last. I think she would have been super happy to be called in admiration "what a cool chick" ☺ compared to home wrecker and alcoholic."
In an interview, while talking about the same, he said,
If someone's understanding of it is so crude, then it's none of my problem. As I understand it, people have opinions, people have intentions. I let it be for the most part. But I don't like being told how I should say stuff, how I should do stuff. You pass your opinions on me. I am fully okay with that. But don't dictate to me what I should or shouldn't do."
Controversial Song
In 2018, he landed into controversy for the song 'What The F' from the Telugu film 'Geetha Govindam.' As soon as the song was released on YouTube, people started criticising Vijay for singing such a song. Vijay and the makers of the film then decided to withdraw the song from YouTube. [8]The Indian Express During an interview, while talking about the song, Vijay said,
I don't think we meant to hurt anyone's sentiments. It was just meant to be a fun song, and not meant to make any statement. The song is not vital to the film. We could change the lyrics. As for the song, I didn't think we were hurting any sentiments. If people haven't digested it, we have no qualms about taking it down. We will replace it with another song. It is a bit convenient. But right now that's how things are. And both my producers and I felt it is better not to hurt anyone's sentiments right now. Sadly this was my first attempt at singing on screen and undertaken because my production house and my director were insistent. I just decided to do it for kicks. If I am a singer at all, this is the best I could do. I know I have a limited range. And unless I take singing lessons, I doubt I can do better than this."
Trolled for his Behaviour at a Press Conference
In 2022, during a press conference on the Hindi-Telugu film 'Liger' in Hyderabad, one of the journalists told Vijay that he was able to talk to him freely during the press conference of his film Taxiwala but not during 'Liger.' Vijay then put up his feet on a table and said 'let's talk freely.' Although Vijay made an attempt to comfort the journalist, many mistook his act as an attitude problem. Vijay took to Twitter to give a reply to the controversy. [9]Pinkvilla He tweeted,
Anybody trying to grow in their field. Will Always have a Target on their back – But we fightback 🙂 And when you are honest, yourself and want the best for everyone – The love of people and God will protect you."
Awards
2015: Nandi Award for the Telugu film Yevade Subramanyam under the Special Jury Award category
2018: Filmfare Awards South for Best Actor for the Telugu film Arjun Reddy
2019: South Indian International Movie Award for Best Actor (Critics) for the Telugu film Geetha Govindam
2019: Zee Cine Awards Telugu for Favourite Actor for the Telugu film Geetha Govindam
Car Collection
Assets/Properties
He owns a bungalow in Hyderabad. [15]GQ India
Income/Fees
As of 2022, he charges Rs 20 to 25 crore per film. [16]The Times of India
Net Worth
His net worth is around Rs 39 crore (as of 2022). [17]The Times of India
Favourites
Actor(s): Pawan Kalyan, Mahesh Babu, Ranbir Kapoor, Denzel Washington, Meryl Streep
Film(s): The Godfather (1972), Schindler's List (1993)
Food: Hyderabadi Dum Biryani, Burger
Author: Konstantin Sergeievich Stanislavski
Holiday Destination: Kerala
Facts/Trivia
In an interview, Vijay shared that till the age of 18, he was very shy and he was not very comfortable looking into the eyes of women.
In his teens, Vijay's parents often addressed him as Rowdy; they gave him the name as he often disagreed with what his parents said. [18]

Orissa Post
During an interview, Vijay shared that his father also desired to become an actor. However, he realised that he was camera conscious when he enrolled himself in an acting course. Vijay said,


We come from a family of farmers in Achampet (Mehboobnagar). My father came to Hyderabad to become an actor, took an acting course and realised he was camera conscious. He felt he'd be a better director but getting a breakthrough was a nightmare. Satellite channels were opening up and he ventured into television series. There wasn't much money and scripts weren't exciting. A few production houses asked dad to direct for them. He comes from a 'dora' mindset of not wanting to work for others. So he got real estate people from the village to invest. They did it just to see their names on TV. But they backed out when payments were delayed. Then dad worked on ad films for the government and it kept us going. Dad is my staunch supporter. He is so happy for me today."
In an interview, Vijay shared that he had to struggle a lot to get his first acting project. He further said that during his struggling days, he did not even have Rs 500 balance in his bank account, and his account was blocked for not maintaining the required minimum balance. During an interview, while talking about the film he said,


I was 25. Andhra Bank lo 500 Rs. min balance maintain cheyakapothe lock chesinru account. Dad said settle before 30 – That way you can enjoy your success when you are young and parents are healthy."
In 2018, he gained immense fame with the Telugu film 'Arjun Reddy' which was later remade in other languages i. e. 'Kabir Singh' (2019; Hindi) and 'Adithya Varma' (2019; Tamil). He won a Filmfare Award South for the film, which he sold in an auction for Rs 25 lakh and donated the money to the CM Relief Fund. [19]

Deccan Herald During an interview while talking about the film, he said that he was so involved in the acting process of the film that he actually peed in his pants for a scene in the film. [20]

India Today
Vijay was listed at rank 4 in the Times 50 Most Desirable Men's list in 2018, and two years later, in 2020, he jumped up the scale to secure the second rank in the list. [21]

The Times of India
In 2018, Vijay started a clothing brand Rowdy which was sold exclusively on the Rowdy website. Later, he collaborated with Myntra to make his products available on e-commerce websites. Reportedly, he is the first Tollywood actor to have an apparel line.
Vijay Deverakonda is the first Telugu actor to cross 5 million followers on Instagram. [23]

Deccan Herald
In 2021, he started a multiplex cinema 'Asian Vijay Deverakonda' (AVD) Cinemas in Mahbubnagar, Telangana.
In an interview, when he was asked whether he worked for money or passion. He said,


Now I work only if the content stimulates me and excites me. I've done lots of things for money in the past. There were movies that I did for money. There were small gigs where I had to make some sort of appearance. There's a music video I did purely because I was planning to buy a house and I fell short of money. There was a time when I hustled and did anything that gave me Rs 10,000 and above. I was ready to do it because it was a necessity. Now money doesn't excite me. It's still important because I need to be paid for what I do. I know what I deserve and only if that is paid will I work. But it's not a factor in decision making. Even if you show me obscene amounts of money I will not do something I don't like."
Vijay is an avid animal lover and has two pet dogs named Storm Deverakonda and Chester.
He has been featured in the TV commercials of many popular brands like Myntra, Thums Up, and Zomato.
He is often spotted drinking alcohol at parties and events.
During an interview, while sharing an interesting fact Vijay said that he often went to watch his films in theatres, wearing a burqa so that no one could identify him, and he could actually see the audience's reactions to the films. He said,


Sometimes, what I do is I wear a burqa and go into theatres and sit amongst the audience and watch (my films). If you see a burqa-clad tall person around you, it could probably be me."
In an interview, Vijay shared that for the 2017 film 'Arjun Reddy,' he had to smoke cigarettes. For a short period of time, he got habitual of it, but later, he quit smoking. [25]

We Magazine
Vijay Deverakonda is an avid sports lover and loves to play volleyball, badminton, and cricket.
In November 2022, a video of the actor went viral in w which he was talking about organ donation and revealed that he and his mother, Madhavi Deverakonda, had registered themselves for this cause. [26]

Outlook He said,


I think, I will donate all my organs. I would love for it to be part of someone after my life and help them in their life. I don't see any point in wasting my organs. I stay fit and keep myself healthy… My mother and I have registered ourselves to donate our organs. It is such a beautiful thing that you continue to live on in some way because of your generosity. I encourage everyone to be open to the idea of organ donation."