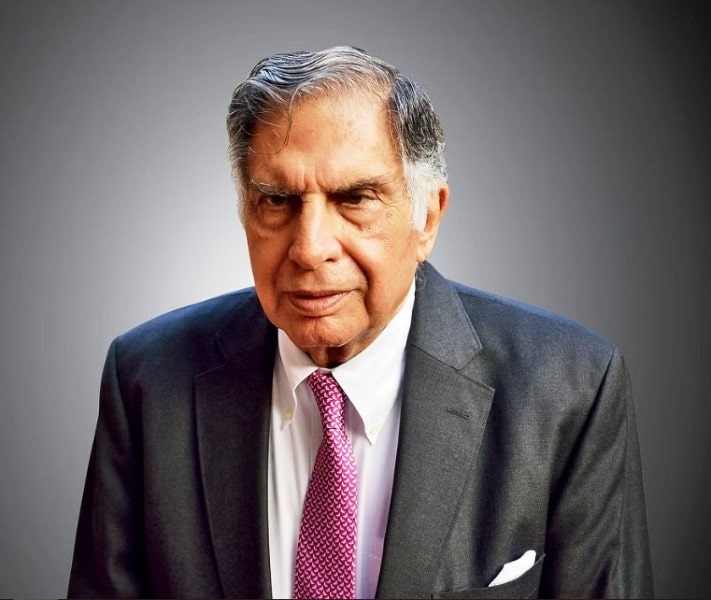 Ratan Tata is an Indian industrialist and philanthropist, who was the chairman of Tata Group and its subsidiaries. Ratan Tata received Padma Bhushan in 2000 and Padma Vibhushan in 2008. Tata Motors, under his leadership, produced India's first indigenous car, Tata Indica, in 1998 and India's cheapest car, Tata Nano, in 2008.
Wiki/Biography
Ratan Naval Tata was born on Tuesday, 28 December 1937 (age 85 years; as of 2022) in Bombay, Bombay Presidency, British India (now Mumbai, Maharashtra, India). His zodiac sign is Capricorn. Ratan Tata completed his schooling at Campion School in Mumbai, Bishop Cotton School in Shimla, and The Cathedral and John Connon School in Mumbai. Later, he went to the United States of America, where he enrolled at Cornell University in New York. There, he earned a bachelor's degree in science in architecture in 1962.
After completing his graduation, he worked at Jones & Emmons in Los Angeles for a short while. He completed his Advanced Management Program at Harvard Business School in Massachusetts, the US, in 1975. [1]Tata Group
Physical Appearance
Height (approx.): 5′ 9″
Hair Colour: Salt and Pepper
Eye Colour: Dark Brown
Family
Ratan Tata was born into a Gujarati business-class Parsi family in Mumbai. [2]The Guardian
Parents & Siblings
His father, Naval Hormusji Tata, was a businessman, who served as the director as well as the deputy chairman of Tata Sons. He passed away on 5 May 1989 in Mumbai due to cancer. Naval Tata was adopted from an orphanage by Ratanji Tata's wife Navajbai after his father and mother passed away.
His mother's name is Sooni Commissariat (deceased). Ratan's parents got divorced in 1948 when he was only ten years old. After their parents' divorce, Ratan and Jimmy were raised by their grandmother Navajbai Tata.
While talking about his parents getting separated, Ratan said that he and his brother got bullied and faced a difficult time because of it. Talking about it, he said,
I had a happy childhood, but as my brother and I got older, we faced a fair bit of ragging and personal discomfort because of our parents' divorce, which in those days wasn't as common as it is today. But my grandmother brought us up in every way."
His brother, Jimmy Tata, owns a share in the Tata Group. His half-brother, Noel Tata, is the chairman of Trent and Tata Investment Corporation, the managing director of Tata International, and the vice chairman of Titan Company and Tata Steel.
Wife & Children
Ratan Tata never got married. According to Ratan, he backed out of marriage on four occasions.
Other Relatives
His paternal great-grandfather, Jamsetji Nusserwanji Tata, was an Indian industrialist and the founder of the Tata Group.
His paternal grandfather, Ratanji Jamsetji Tata, was a philanthropist, businessman, and financier. He passed away in 1919 following which Sir Ratan Tata Trust (SRTT) was established.
His paternal grandfather's elder brother, Dorabji Tata, was a businessman, who played a key role in the development of the Tata Group.
His stepmother, Simone Tata, is a businesswoman who co-founded Lakmé.
Family Tree
Click here to know more about the Tata family.
Religion
Ratan Tata follows Zoroastrianism. [3]The Guardian
Relationships/Affairs
In an interview, Ratan talked about his past affair and said that while pursuing a bachelor of architecture in the US, he met a woman in Los Angeles with whom he fell in love. However, after completing graduation, Ratan had to move back to India to care for his ailing grandmother, who was on her deathbed. He proposed to the girl to get married to him and move to India; however, the girl's family did not agree to her moving to India as the situation in India was volatile back then due to India's defeat in the 1962 Sino-Indian War. Eventually, their relationship broke and they got separated. Talking about it, Ratan said,
Well, you know one was probably the most serious was when I was working in the US and the only reason we didn't get married was that I came back to India and she was to follow me and that was the year of the, if you like, the Indo-Chinese conflict and in true American fashion this conflict in the Himalayas, in the snowy, uninhabited part of the Himalayas was seen in the United States as a major war between India and China and so, she didn't come and finally got married in the US thereafter."
Religion
Ratan Tata follows Zoroastrianism. [4]The Guardian
Address
Ratan Tata resides at WR7F+C8G, Colaba Causeway, Azad Nagar, Colaba, Mumbai, Maharashtra-400005.
Signature/Autograph
Career
In 1962, Ratan returned to India from the United States of America, where he began working at the Tata Steel plant in Jamshedpur as a blast furnace manager and limestone shoveller.
Later, he worked at Tata Iron and Steel Company (Tisco), now known as Tata Steel. He went to Australia as a resident representative of the Tata Group in 1969. In 1970, he came back to India and joined Tata Consultancy Services (TCS). Thereafter, he worked in the Tata Engineering and Locomotive Company, now known as Tata Motors, as an assistant. In 1971, Ratan became the director-in-charge of National Radio & Electronics Company Ltd, which was renamed NELCO in 1999. After joining NELCO, Ratan made numerous amends in the working policies that led to a rise in the profits earned by NELCO between 1972-1975. However, the company began incurring losses in 1975 after Prime Minister Indira Gandhi imposed a nationwide emergency. In 1980, NELCO was locked down for seven months by Ratan after the workers union, which was affiliated with Shiv Sena, created a ruckus in the factory by attacking the senior officials. While giving an interview, Ratan talked about it and said,
For three years from 1972 to 1975 Nelco made a profit and wiped out some of its past losses, then in 1975, the Emergency came and consumer goods demand just disappeared, not just for Nelco, but for everybody. This was followed by an industrial relations problem since 1977. So, while demand improved, there was no production. Finally we confronted the unions and, following a strike, we imposed a lockout for seven months. Now that the lockout has been lifted we hope to improve production by 50 per cent over the past year …"
Ratan was sent as a director to Empress Mill in 1977 to help the mill cut its losses; however, the mill was later shut down after the senior executives rejected Ratan's policies that would have helped the mill generate profit. From 1986 to 1989, Ratan served as the chairman of Air India. In 1991, at a time when India was undergoing economic liberalisation, Ratan Tata succeeded Jehangir Ratanji Dadabhoy Tata as the chairman of the Tata Group. His appointment was questioned by many senior officials working in different subsidiaries owned by Tata Group as they earlier worked with independence, whereas, after Ratan's appointment, their freedom got curtailed as the officials were now required to report to him.
Under his leadership, Tata Motors produced India's first indigenous car Tata Indica in 1998. While talking about it, he said,
Everyone told us it couldn't be done without having a joint venture or a partnership with an international company. That if I did this, I will be linked to failure. But went ahead anyway. There were technical issues and many lessons we learned. It was a wonderful experience to be breaking new ground. The chances to give up were many. We stayed the course, worked out each issue, and that was the birth of India's first indigenous car- Tata Indica."
To maintain its significance in the "newly opened markets" in India, Tata acquired numerous companies including Tetley in February 2000, Daewoo Commercial Vehicle in March 2004, The Ritz-Carlton: Luxury Hotels and Resorts in November 2006, and Jaguar Cars and Land Rover in March 2008. Ratan Tata ventured into the aerospace and defence sector and established Tata Advanced Systems Limited (TASL) in 2007. The industry has worked in close coordination with the Defence Research and Development Organisation (DRDO) in producing Kestrel, also known as the IPMV (Infantry Protected Mobility Vehicle), Tata LSV, Tata Mine Protected Vehicle, and a drone named ALS-50.
In 2008, Tata Motors, a subsidiary of Tata Group, launched India's most affordable car Tata Nano; however, due to many reasons, the production of the vehicle was discontinued in 2018.
In 2011, he implemented a policy according to which the retirement age of a non-executive director was reduced from 75 years to 70 years. By 2012, the company's revenues grew over 40 times and profits over 50 times. Ratan stepped down as the chairman of Tata Group on 28 December 2012 following which Cyrus Mistry was appointed as the company's chairman.
Ratan was made the interim chairman of Tata Group after Cyrus was removed from the company; he served as the interim chairman till Natarajan Chandrasekaran's appointment as the chairman on 12 January 2017. Ratan has invested in several companies including Ola, Lenskart, FirstCry, CarDekho, Paytm, Snapdeal, and Urban Company. Ratan Tata has served on the jury panel of the Pritzker Architecture Prize, the board of trustees of Cornell University, a board of governors of the East-West Center, and a member of the board of the International Advisory Council at Bocconi University.
Social Activism
In 2010, under Ratan Tata's leadership, the Tata Group donated $50 million to the Harvard Business School (HBS) for the construction of Tata Hall for undertaking several mid-career Executive Education programs. To promote the provisioning of fresh water to the backward areas in Australia, Tata donated huge sums of money to develop capacitive deionization at the University of New South Wales Faculty of Engineering in 2019. Ratan has worked with governments of various countries and Indian states in the field of providing education, employment, clean energy, and more. Ratan Tata donates more than 65% of the profits earned by the Tata Group to charitable causes.
Controversies
Involvement in Tata Tapes
In 1997, the then Chief Minister of Assam Prafulla Mahanta accused the Tata Group of aiding the banned militant outfit United Liberation Front of Asom (ULFA). In the same year, the Indian Express' journalist Ritu Sarin published an article which contained excerpts from a telephonic conversation between industrialists Keshub Mahindra and Ratan Tata, Rajya Sabha member Jayant Malhoutra, and Field Marshal Sam Manekshaw; the conversation was regarding the issues faced by Tata Tea with the Assam government. According to the article, Tata Tea wanted the Indian government to help resolve the conflict between Tata Tea and the Assam government. The article further stated that Ratan Tata was aware of the location of Brojen Gogoi, a senior manager in the Community Development and Social Welfare wing of Tata Tea, who was under the Assam police's scanner for working with the banned militant outfit United Liberation Front of Asom (ULFA). Tata Tea was also accused of providing medical attention to the ULFA's culture secretary Pranati Deka, who was arrested at the Mumbai airport along with two other accomplices. However, Paresh Barua, the commander of ULFA, dismissed the claim of Tata Tea giving special medical aid to Pranati and said that Pranati was getting medical treatment under Tata Tea's medical program, which aimed at giving medical treatment to locals of Assam. The article further claimed that after Tata Tea officials came to know of the arrest warrant issued by Interpol, Ratan Tata went to New Delhi on 13 September 1997 to inform Chief Minister Prafulla Mahanta that Gogoi was in Chicago, attending a course at Harvard. Later, Mahanta, in a press conference, said that he had asked Ratan to ensure that Gogoi returned to India in two weeks. After arriving in India, Gogoi got admitted to Woodland's Nursing Home in Calcutta, where he surrendered to the Assam Police on 24 September 1997.
Tata Nano controversy
In early 2006, Ratan Tata announced that Tata Motors would be producing India's smallest and cheapest car in Singur, West Bengal. Following the announcement, the then-West Bengal government led by Buddhadeb Bhattacharjee acquired approximately 997 acres of multi-crop farmland under the Land Acquisition Act, 1894. In May 2006, farmers began protesting against the state government for forcibly acquiring their land. The anger amongst the locals brewed further after Tata failed to keep its promise of giving employment to 15,000 people who had lost their lands during the construction of the car factory in Singur. As per the reports, Tata could employ only a thousand people. The protests intensified further after TMC supremo Mamata Banerjee joined the locals in their protests and staged a hunger strike in July 2006. On 3 September 2008, Tata announced that it had suspended work in Singur to look for land, where the manufacturing of Nano could continue peacefully. On 3 October 2008, Tata Motors announced its exit from West Bengal after acquiring land in Sanand, Gujarat. [5]The New Indian Express [6]Business Standard
Radia Tapes
In November 2010, Ratan Tata's conversation with Niira Radia, a corporate lobbyist, was leaked to the media, which released the transcripts of the conversation to the public. In 2011, Ratan filed a petition in the Supreme Court, seeking the court to not allow the media to release more of the tapes to the public as it infringed upon his right to privacy. The Supreme Court, in 2017, gave its judgement unanimously in the favour of Ratan Tata, stating that privacy is a constitutional right. [7]NDTV [8]Business Today
Awards, Honours, Achievements
2000
India's third-highest civilian award, the Padma Bhushan by the Government of India
2001
Honorary Doctor of Business Administration from Ohio State University
2004
Medal of the Oriental Republic of Uruguay from the Government of Uruguay
Honorary Doctor of Technology from the Asian Institute of Technology
2005
International Distinguished Achievement Award from the B'nai B'rith International
Honorary Doctor of Science from the University of Warwick
2006
Honorary Doctor of Science from the Indian Institute of Technology Madras
Responsible Capitalism Award For Inspiration and Recognition of Science and Technology (FIRST)
Maharashtra Bhushan from the Government of Maharashtra
2007
Honorary Fellowship from The London School of Economics and Political Science
Carnegie Medal of Philanthropy from the Carnegie Endowment for International Peace
Leadership Business Award from the Governor of Maharashtra
2008
India's second-highest civilian award, the Padma Vibhushan, from the Indian government
Honorary Doctor of Law from the University of Cambridge
Honorary Doctor of Science from the Indian Institute of Technology Bombay
Honorary Doctor of Science from the Indian Institute of Technology Kharagpur
Honorary Citizen Award from the Government of Singapore
Honorary Fellowship from The Institution of Engineering and Technology
Inspired Leadership Award from The Performance Theatre
2009
Life Time Contribution Award in Engineering for 2008 from the Indian National Academy of Engineering
Grand Officer of the Order of Merit of the Italian Republic from the Government of Italy
2010
Honorary Doctor of Law from the University of Cambridge
Hadrian Award from the World Monuments Fund
Oslo Business for Peace Award from Business for Peace Foundation
Legend in Leadership Award from Yale University
Honorary Doctor of Laws from Pepperdine University
Business for Peace Award from the Business for Peace Foundation
Business Leader of the Year from The Asian Awards
2012
Honorary Fellow from The Royal Academy of Engineering
Doctor of Business honoris causa from the University of New South Wales
Grand Cordon of the Order of the Rising Sun from the Government of Japan
Lifetime Achievement Award from the Rockefeller Foundation
2013
Foreign Associate from the National Academy of Engineering
Transformational Leader of the Decade at the Indian Affairs India Leadership Conclave
Ernst and Young Entrepreneur of the Year – Lifetime Achievement Ernst & Young
Honorary Doctor of Business Practice from the Carnegie Mellon University
2014
Honorary Doctor of Business from the Singapore Management University
Sayaji Ratna Award from the Baroda Management Association
Honorary Knight Grand Cross of the Order of the British Empire (GBE) by Queen Elizabeth II
Honorary Doctor of Laws from the York University, Canada
2015
Honorary Doctor of Automotive Engineering from the Clemson University
Sayaji Ratna Award from the Baroda Management Association, Honoris Causa, HEC Paris
2016
Commander of the Legion of Honour from the Government of France
2018
Honorary Doctorate from the Swansea University
2021
Assam Baibhav, the highest civilian award in the state of Assam, for contributing to cancer care in the state
2022
Honorary Doctorate of Literature from the HSNC University
 'Sewa Ratna' from the RSS-affiliated Sewa Bharti in October
2023
Honorary Officer of the Order of Australia (AO) by King Charles III
Order of Australia (AO), Australia's highest civilian honour, in April
Car Collection
Salary/Income
For the fiscal year 2011-2012, Ratan Tata received approximately Rs. 68.4 lakhs + a sitting fee of Rs. 2.4 lakhs and a commission of Rs. 66 lakhs by Tata Power. [9]The Economic Times
Net Worth
In 2021, Ratan Tata's net worth was estimated to be Rs. 3,500 crores. According to the IIFL Wealth Hurun India Rich List, Ratan Tata was ranked as the 421st richest person in India. [10]The Times of India
Favourites
Food: Masoor Dal cooked with lots of garlic, Mutton Pulao Dal, and Nut-rich baked custard
Holiday Destination: California
Facts/Trivia
Ratan Tata's forefathers were Parsi priests. His family came into the limelight in 1868 after Jamsetji Tata established a textile mill in Gujarat. In the mill, the workers received perks such as pensions and accidental covers, comparable to modern standards.
While studying in the US, Ratan used to work at restaurants, where he washed dishes to make ends meet.
While giving an interview, Ratan revealed that he shared a stormy relationship with his father. While talking about it, he said,


I wanted to learn to play the violin, my father insisted on the piano. I wanted to go to college in the US, he insisted on the UK. I wanted to be an architect, he insisted on me becoming an engineer. If it weren't for my grandmother, I wouldn't have ended up at Cornell University in the US."
Ratan Tata is a licensed pilot. He became the first Indian to fly in a US-made F-16 fighter aircraft during the 2007 Aero-India.
Since Ratan is a qualified architect, he designed his as well as his mother's beach-facing houses in Mumbai.
Despite serving as the chairman of Tata Group, Ratan has purchased less than 1% of the company's shares.
In an interview, Ratan revealed that he has a fear of speaking in public.
Ratan was offered a job at IBM; however, he rejected the offer to work in his family business.
Ratan Tata is an avid animal lover. On his orders, the Bombay House, the headquarters of Tata Group, lets the stray dogs in during the rains. He owns two German Shepherds named Tito and Maximus as pets.
Ratan Tata owns many houses including a house worth Rs. 150 crores in Colaba, Mumbai and the Ratan Tata Officers Holiday Home (RTOHH) in Ooty, Tamil Nadu.