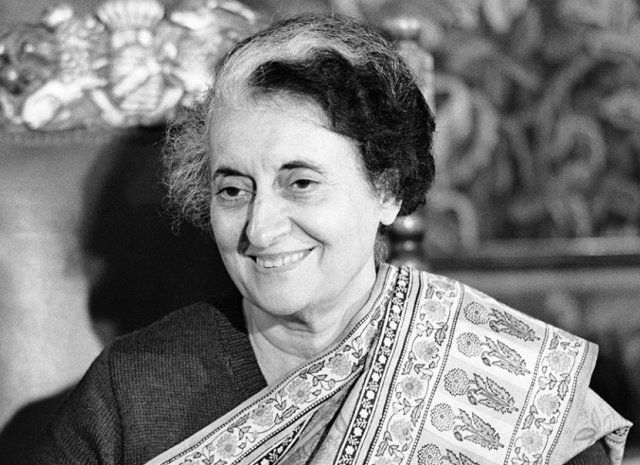 Indira Gandhi was a prominent Indian Politician. She was a member of the Indian National Congress and also served as the President of the Party. She was the first and only female Prime Minister of India. Her father, Pt. Jawaharlal Nehru was the first Prime Minister of India. Her son, Rajiv Gandhi had also served as the Prime Minister of India after her death. In 1999, she was named "Woman of the Millenium" in a survey conducted by BBC.
Wiki/Biography, Caste
Indira Priyadarshini Nehru was born in a Kashmiri Pandit family on 19 November 1917 (Age: 66 years, at the time of death) in  Allahabad, United Provinces of Agra and Oudh, British India (Now, Prayagraj, Uttar Pradesh, India). Her grandfather, Motilal Nehru was an activist of Indian Independence Movement. Her father, Jawaharlal Nehru was one of the leading figures in the political struggle for Independence. Her father was often away and she was brought up by her mother who was mostly bed-ridden due to her illness. She used to support Gandhian philosophy since childhood.
She was homeschooled until matriculation in 1934. She intermittently attended many schools in India and Europe; Modern School in Delhi, St Cecilia's and St Mary's Christian convent schools in Allahabad (Now, Prayagraj), the International School of Geneva, Switzerland, the Ecole Nouvelle in Bex, Switzerland, the Pupils' own school in Poona and Bombay.
She along with her mother, Kamla Nehru moved to Belur Math headquarters of Ramakrishna Mission where Swami Ranganathananda was her guardian. Later, she went to Visva Bharti University, Shantiniketan, West Bengal where Rabindranath Tagore named her Priyadarshini in an interview. Meanwhile, she had to leave her study to join her ailing mother in Europe where she decided to continue her study at Oxford, England. After her mother died of tuberculosis, she attended the Badminton College before being admitted into Somerville College in 1937 to study history. In the entrance exam of the University of Oxford, Indira failed in her first attempt with poor marks in Latin, however, she cleared the exam in her second attempt. While at Oxford, she performed well in history, political science, economics, etc. However, her performance in Latin remained bad. While her study in England, her health deteriorated and she had to move to Switzerland in 1940, at that time, the German forces conquered Europe and she was about to go to England again but it was very difficult to reach England at that time. Somehow, she managed to reach England and from there she came to India.
Physical Appearance
Hair Colour: Salt & Pepper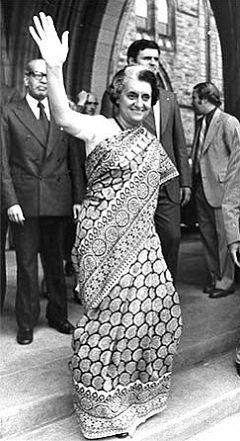 Family
Indira Gandhi was born to Jawaharlal Nehru and Kamla Nehru. She had one brother but died in his infancy.
While she was studying in England, she used to make visits to her future husband, Feroze Gandhi. She knew him from Allahabad. He belonged to the Zoroastrian (Parsi) community of Gujarat. At that time, Feroze Gandhi was studying at the London School of Economics. Gradually, they fell in love and decided to get married. The marriage took place in Allahabad in 1942.
Their first son, Rajiv Gandhi was born in 1944 and Second son, Sanjay Gandhi was born in 1946. Rajiv Gandhi would later become the Prime Minister of India and was assassinated in 1991. Sanjay Gandhi died in a plane crash in 1980. Sonia Gandhi and Maneka Gandhi are her daughters in law.
Rahul Gandhi, Priyanka Gandhi and Varun Gandhi are her grandchildren.
Robert Vadra is her grandson in law.
Career
In the 1950s, Indira served as the assistant of the Prime Minister of India (then her father- Jawaharlal Nehru) unofficially.
In the late 1950s, she became the President of the Indian National Congress (INC). She was instrumental in dismissing Communist led Kerala government in 1959. After the demise of her father in 1964, she was appointed as a member of Rajya Sabha and was made the minister of Information and Broadcasting in Lal Bahadur Shastri's government. After the death of Lal Bahadur Shastri in 1966, the members of the Congress Party elected Indira Gandhi as their leader over Morarji Desai. K. Kamaraj played a key role in making Indira Gandhi as the leader of the Indian National Congress.
In the 1967 General Election, the Indian National Congress won the elections and Indira Gandhi was elected to the Lok Sabha from Raebareli constituency. Her first term as the Prime Minister was highly criticized as she was referred to as 'goongi gudiya' (Hindi word for 'dumb doll') as she was under the control of Party's bosses. Her first term faced major problems such as the devaluation of rupee and the import of wheat from the United States fell through due to political disputes.
In the 1971 General Elections, the Indian National Congress again won the elections and Indira Gandhi won from the same constituency on the basis of 'Garibi Hatao' theme (Eradicate Poverty). The biggest achievement of Indira Gandhi's government came in December 1971 when India defeated Pakistan in the Indo Pak War of 1971 and cleared the way for Bangladesh, a new independent state in South Asia. The leader of Opposition, Atal Bihari Vajpayee called Indira Gandhi as Goddess Durga.
In June 1975, the Allahabad High Court declared Indira Gandhi's Election to Lok Sabha in 1971 invalid on the grounds of electoral malpractices and this caused political unrest in the country. The same year, Indira Gandhi ordered to arrest the leaders in opposition who were participating in the unrest and halted the general elections calling President Rule in the country (Also called the Emergency). In 1977, the general elections were held and the Indian National Congress lost the election for the first time. Morarji Desai of Janata Party became the Prime Minister. However, his government only lasted for not more than 3 years as he resigned from the post. In the 1980 General Elections, the Indian National Congress again won the majority and Indira Gandhi was elected the Prime Minister.
Death
When she was the Prime Minister of India, the Operation Blue Star was conducted by the Indian Army to kill the Sikh militants hidden in Harmandir Sahib (aka Golden Temple), Amritsar. On 31 October 1984, in the act of vengeance, she was assassinated by her Sikh bodyguards, Satwant Singh and Beant Singh while she was delivering her last speech in Orissa. At the time of death, she was 66 years old.
Controversies
When the Indian National Congress won the 1971 General Elections, Allahabad High Court found her guilty for electoral corruption on 12 June 1975. She was banned from contesting elections for the next six years. However, she ignored the court's order and appealed to the Supreme Court.
The biggest controversy of her tenure was the state of Emergency. After she was found guilty for electoral malpractices, this caused unrest in the country and she faced severe criticism in the country. The opposition leaders who were participating in the unrest, were detained by the police. President, Fakhruddin Ali Ahmed declared the state of Emergency on 25 June 1975 and this allowed Indira Gandhi to rule by decree. [1]

IndianExpress
During the Emergency, Indira Gandhi and her son, Sanjay Gandhi conducted a gruesome campaign to sterilize the poor people due to the imminent population explosion. [2]

IndiaToday
One of the major controversies in her tenure was the Operation Blue Star in which she oppressed Sikh Separatist Movement through military assistance. [3]

IndiaToday
Awards/Honour
Honorary Doctorate from the University of South Pacific, Fiji (1981)
Bangladesh Freedom Honour (posthumously, 2011)
Places/Schemes Named In Her Honour
The Southernmost Point in India, Indira Point (6.74678°N 93.84260°E)
Indira Gandhi International Air Port, New Delhi
Indira Gandhi National Open University (IGNOU)
Indira Gandhi Award for National Integration
Indira Gandhi Athletic Stadium, Assam
Indira Gandhi Stadium, Alwar, Alwar, Vijayawada, Solapur, Una
Indira Gandhi Medical College, Shimla, Himachal Pradesh
Indira Gandhi Memorial Hospital, Maldives
Indira Gandhi Wildlife Sanctuary, Western Ghats
Indira Gandhi Zoological Park, Andhra Pradesh
Indira Gandhi Agricultural University, Chhattisgarh
Indira Gandhi Centre for Atomic Research, Tamil Nadu
Indira Gandhi National Forest Academy
Facts
She was the second longest serving Prime Minister of India after her father. She served as the Prime Minister of India for more than 14 years.
During her first term as the Prime Minister, she nationalized 14 banks.
Her bodyguards fired around 30 bullets at her; 23 clearly passed through her body and 7 were trapped inside her. [5]

IndiaToday
One of her assassins, Beant Singh got wounded by a bullet when he was shooting at Indira Gandhi. Later, he died due to his unrecovered wound. Another assassin, Satwant Singh was hanged at Tihar Jail, New Delhi.
When she was Prime Minister, India joined the club of Nuclear Weapons in 1974.
Her yoga guru, Dhirendra Brahmachari helped her while making stiff decisions. He executed certain political tasks on her behalf, especially during the emergency.
She was named Indira Priyadarshini Nehru by Rabindranath Tagore. She adopted her husband Surname after Marriage, Gandhi. However, her husband's real name was Feroze Jehangir Ghandy but he was very inspired by Mahatma Gandhi and changed his surname from Ghandy to Gandhi. Thus Indira Priyadarshini Nehru was changed to Indira Gandhi.
Her Husband, Feroze Gandhi died of Heart Attack in 1960.
When the Janata Party came to power in 1977, then Home Minister, Choudhary Charan Singh ordered the arrest of Indira Gandhi and her son, Sanjay Gandhi on several charges. She was accused of planning to kill all opposition leaders in Jail during Emergency.
In 2012, Gandhi was ranked 7 in Outlook India's poll of the greatest Indians.