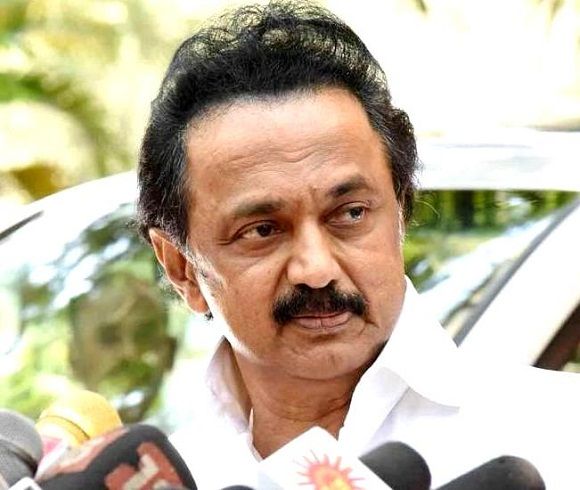 M. K. Stalin is the son of late Indian Politician M. Karunanidhi who was the third Chief Minister of Tamil Nadu and served for five different terms. Stalin is the Working President of Dravida Munnetra Kazhagam (DMK), a state political party in Tamil Nadu state and Puducherry Union Territory since 2017.
Biography/Wiki
M. K. Stalin was born as Muthuvel Karunanidhi Stalin on 1 March 1953 in Chennai (then Madras), Tamil Nadu, India from the second wife Dayalu Ammal of M. Karunanidhi. He got his name after a Soviet revolutionary & Politician, Joseph Stalin, who died just four days later of his birth. At a very young age, he started his political journey and is actively involved in so many campaigns. He struggled a lot and has faced lots of controversies during his political career. He had a strong relationship with his father and wrote a heart-touching letter for him.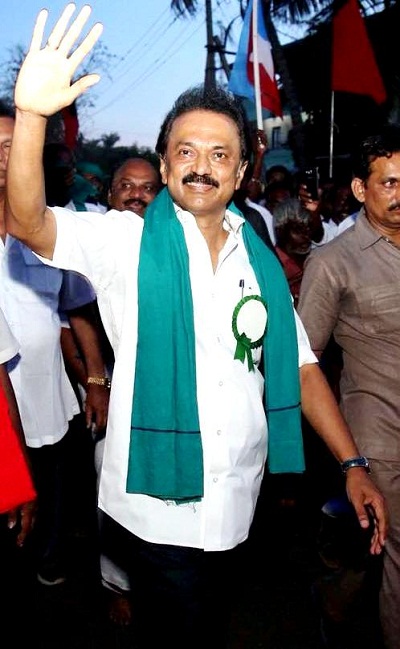 Family, Caste & Wife
He was born in a prestigious political family of Isai Vellalar community and was born to a late Indian politician M. Karunanidhi and Businesswoman Dayalu Ammal. Stalin has three brothers M. K. Muthu – an Actor, Singer, and Politician; M. K. Alagiri – a Politician; and M. K. Tamilarasu – a Film Producer. He has also two sisters, Selvi Geetha Kovilam and Kanimozhi – a Politician. He is an Atheist and doesn't follow any religion.
On 20 October 1975, Stalin got married to Durga Stalin. After marriage, his wife changed her name to Shanta as Durga is the name of a Hindu Goddess. They have a son Udhayanidhi Stalin who is a Film Producer & Actor and a daughter Senthamarai Stalin.
Career
Stalin did his schooling at Madras Christian College Higher Secondary School, Chennai and did his graduation in History at Presidency College, Chennai. Though he hails from a political family background, he started campaigning at the age of just 14 in the 1967 elections. At the age of 20, he was elected to the General Committee of DMK, which was headed by his late father M. Karunanidhi. In 1984, Stalin contested the Assembly elections from the Thousand Lights constituency of Tamil Nadu but he lost to AIADMK's K. A. Krishnaswamy. In 1989, he was elected as an MLA from the Thousands Light Constituency of Tamil Nadu. Apart from being a politician, he also acted in some Tamil films Ore Raththam (1987) and Makkal Aanayittal (1988) and in some TV serials like Kurinji Malar and Suriya. He also produced a film Nambikkai Natchathram (1978).
In 1996, Stalin became the first directly elected Mayor of the city. He served as the thirty-seventh Mayor of Chennai from 1996 to 2002. In 2001, he again elected to be the city's Mayor, however, the then Chief Minister Jayalalithaa enacted the Tamil Nadu Municipal Laws (Amendment) Act in 2002. According to that law, a person cannot hold two elected posts in the government. In 2003, he served as the Deputy General Secretary of DMK. He served as the Minister of Municipal Administration and Rural Development from 2006 to 2011. In 2009, he was elected as the Treasurer of Dravida Munnetra Kazhagam (DMK). The same year, he won the General Elections of United Progressive Alliance (UPA).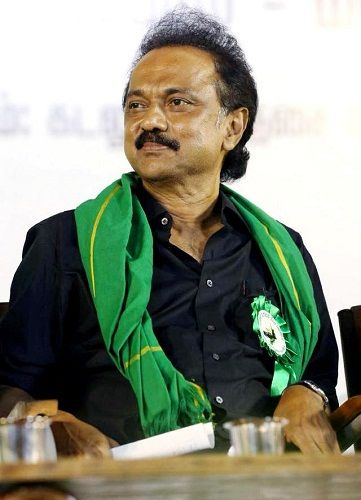 In 2009, he was selected as the Deputy Chief Minister of Tamil Nadu after the worsening health of his father due to spinal surgery which Stalin served till 2011. In 2011 & 2016, he was elected as the MLA of the Assembly elections from the Kolathur constituency of Tamil Nadu. Stalin also appointed as the Secretary of Youth Wing and now became one of the largest political youth organizations in Tamil Nadu.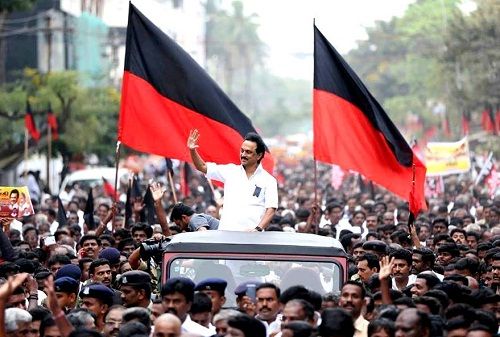 In the 2021 Tamil Nadu Assembly Elections, he won from Kolathur; it was his third straight win from Kolathur. On 7 May 2021, he was sworn in as the Chief Minister of Tamil Nadu.
Controversies
In 1975, Stalin was jailed under Maintenance of Internal Security Act (MISA) to protest against the Emergency.
In the late 1980s, there was a rumoured that the Doordarshan Kendra news reader Fathima (now a member of AIADMK) was abducted by him. However, she denied this incident in 2018 by releasing a short audio message on WhatsApp on 23 April. She said "In those days, I was acting in a television serial "Chithirapaavai". Back then Doordarshan had this policy wherein news readers of its bulletins can"t simultaneously cast news and act in serials. Therefore, I was not reading news," She also said "On days we had night shifts, the Doordarshan would organise a taxi to drop us back home. So there was no scope for this abduction at all. I had clarified this in an interview to Kumudham (Tamil magazine) at that time. But still these rumours are on, so I am setting the record straight that Stalin did not abduct me,"
In 2001, he, along with his father M. Karunanidhi, Murasoli Maran, and T.R. Baalu were arrested and charged in the Chennai Flyover Scam.
In 2015, Stalin, along with his wife Durga and his party cadres, visited Sri Sowmya Narayana Perumal Thirukovil temple in Thirukoshtiyur. Though DMK is an atheist party, it created controversy. However, he later cleared that he visited there only to see the ancient sculptures in the temple.
In 2016, he openly accused politician V. K. Sasikala of the death of Jayalalithaa.
In 2018, at one of the marriage functions, he criticized the Chief Minister of Karnataka H. D. Kumaraswamy for his suggestion that the Cauvery Water Management Authority provisions should be discussed in Parliament. He said, "A day before assuming office as Chief Minister of Karnataka, Kumaraswamy visited Srirangam and worshipped in the temple. At the time, he said people of both States would live as brothers and sisters." In reply to this statement, Stalin said, "Kumaraswamy requires the blessings of the god in Tamil Nadu but he is concerned about the livelihoods of Tamil people."
After V. Senthil Balaji's arrest by the Enforcement Directorate (ED) in June 2023 in connection with a purported cash-for-jobs controversy, Tamil Nadu Governor, R. N. Ravi, promptly terminated Balaji from the Council of Ministers. However, Chief Minister Stalin later opted to retain Balaji as a minister without portfolio. Stalin, while criticizing the Governor, asserted that he lacked the authority to dismiss a minister, and vowed to pursue legal avenues to address the situation. [1]

NDTV
Address
Stalin currently resides at 25/9, Chittaranjan Road, Cenotaph 2nd Street, Chennai-600018.
Salary/Net Worth
His salary as an MLA from Tamil Nadu is ₹1.05 Lakh + Other Allowances and his net worth is to be around ₹6 Crore (as in 2014).
Favourite Things
Stalin is a non-vegetarian and some of his favourite dishes are Chicken 65, Podi Dosais, Idli, and Dosa.
Facts
Stalin likes to watch films and listen to music during his free time.
As in 2014, he has two plots of agricultural land worth ₹2 Crore, one plot of non-agricultural land worth ₹11 Lacs, and three residential buildings worth ₹2.75 Crore. He also has jewellery worth ₹15 Lacs and an amount of  ₹63 Lacs in his bank.
Here is the signature of M. K. Stalin: