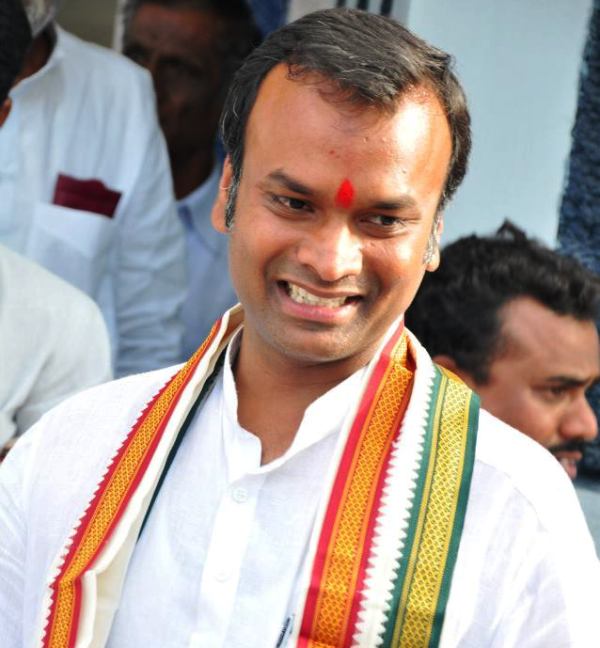 Priyank Kharge is an Indian politician and member of the Indian National Congress (INC). He was elected as the MLA from the Chittapur Assembly constituency consecutively for two years, in 2013 and 2018. He is the son of the Indian politician Mallikarjun Kharge.
Wiki

/Biography

Priyank M Kharge [1]My Neta was born on Wednesday, 22 November 1978 (age 44 years; as of 2022) in Bengaluru, Karnataka. His zodiac sign is Sagittarius. He pursued a PUC at MES College, Malleswaram, Bengaluru (1996-1998). [2]My Neta Later, he obtained a Diploma in Graphics (Graphic Design) and an Advanced Diploma in Animation (Animation, Interactive Technology, Video Graphics and Special Effects). [3]LinkedIn Kharge began his political journey in 1998 as an activist of the National Students' Union of India (NSUI). In 1999, he became NSUI College General Secretary. From 2001 to 2005, he served as the General Secretary at NSUI Karnataka.
Physical Appearance
Height (approx.): 5′ 10″
Hair Colour: Black
Eye Colour: Salt & Pepper
Family
Parents & Siblings
Priyank Kharge's father, Mallikarjun Kharge, is an Indian politician and member of the Indian National Congress. He became a Member of Parliament, Rajya Sabha on 16 February 2021. Previously, he served as the Minister of Railways and Minister of Labour and Employment in the central government and Leader of opposition in the Karnataka Legislative Assembly. His mother, Radhabai Kharge, is a homemaker. Priyank has two brothers, Rahul Kharge and Milind Kharge, and two sisters, Priyadarshini Kharge and Jayashree Kharge. His son Rahul Kharge was a civil servant, who later started working as an advisor for IT companies; his wife, Arundhati Kharge, is an Electrical Engineer.  His daughter Priyadarshini Kharge is a doctor.
Wife & Children
Priyank Kharge is married to Shruthi Kharge.
Religion/Religious Views
Priyank Kharge follows Buddhism. Also, he strongly advocates Ambedkarite ideology. [4]The Times of India
Caste
Priyank Kharge is a Dalit. [5]The Times of India Previously referred to as untouchable, Dalits belong to the lowest stratum castes i.e., scheduled castes in India.
Address
R/O Gundagurthi Village, Chitapur Taluk, Kalaburagi District-585317
Signature/Autograph
Political Career
In 1999, he joined Indian National Congress (INC). He served as Karnataka Pradesh Youth Congress Secretary from 2005 to 2007, Karnataka Pradesh Youth Congress General Secretary from 2007 to 2011, and Vice President of Karnataka Pradesh Youth Congress from 2011 to 2014. Later, he was appointed as the Spokesperson of the Karnataka Pradesh Congress Committee (KPCC).
2009 Karnataka Assembly By-elections
Priyank Kharge contested and lost the Chittapur Assembly Seat in the 2009 Karnataka bypolls. BJP candidate Valmiki Nayak won the seat defeating Kharge by a margin of 1,606 votes.
2013 Karnataka Legislative Assembly Elections
In 2013, he contested and won Chittapur Assembly Seat defeating BJP candidate Valmiki Nayak by a margin of 31,191 votes. In 2016, he was the youngest minister to be sworn into Siddaramaiah's cabinet. From July 2016 to April 2018, he served as the Minister of State for Tourism, Information Technology & Bio-Technology in the state.
2018 Karnataka Legislative Assembly Elections
In 2018, he contested and won Chittapur Assembly Seat defeating BJP candidate Valmiki Nayak by a margin of 4,393 votes. He served as Minister for Social Welfare in the coalition Government headed by H D Kumaraswamy from 8 June 2018 to 23 July 2019.
Controversies
G-category Site Allotment
In 2011, Kharge came under public scrutiny with his announcement to surrender a 4,000-sq. ft plot in the HSR Layout, which was allotted to him by the Bangalore Development Authority (BDA) during the tenure of Congress leader N. Dharam Singh as the Chief Minister. He made this announcement after the news of the allotment of G-category sites to politicians and their kin broke out in the media. After securing the plot at the throwaway price of Rs. 8.57 lakh, Kharge constructed a commercial building on it. On 28 October 2011, he wrote to the BDA seeking cancellation of the allotment stating that he "no longer needed" the plot. The BDA accepted his request and cancelled the allotment on 5 December 2011. However, when the media shifted its attention to other issues, Kharge requested BDA to reallot the site. BDA approved his request. On 23 January 2012, Kharge once again approached the BDA to exchange his 4,000-sq. ft plot with a 2,400-sq. ft plot which belonged to his party colleague Sharan Prakash Rudrappa Patil (MLA from Sedam). His request was sanctioned by BDA Commissioner Bharath Lal Meena. While replying to the media about why he wanted to exchange the plot with Patil, Kharge said that "it was a mutual swap." [6]The Hindu While addressing the media, he also said,
When the controversy erupted, we wanted no part in it and returned the site. Then, our legal adviser told us that the matter of G-category allotments was before the court. We were advised that surrendering the plot at this stage was unnecessary."
Lewd Remark on Women
While addressing a press conference in 2022, Kharge said that men "have to bribe to get a government job in Karnataka while 'young women have to sleep with someone." The remark stirred controversy and drew sharp criticism from the BJP Karnataka who demanded an apology from him. [7]Hindustan Times The BJP Karnataka tweeted,
Thousands of women, talented, educated, work hard, pass many exams and get jobs. Priyanka Kharge, due to these words of yours, aren't so many women insulted? Apologize immediately."
Sanatana Dharma Remark Row
In September 2023, Priyank Kharge was clouded in controversy when he voiced his support for Udhayanidhi Stalin, who made a statement during a press conference on 2 September 2023 where he referred to 'Sanatana Dharma' as a problem and suggested its "eradication." In the same month, an FIR was filed against Priyank Kharge, along with Udhayanidhi Stalin, on charges of hurting religious sentiments; however, Kharge later addressed the issue in an interview and clarified that he did not intend to offend any religious sentiments. He also stated that he was unafraid of facing consequences for expressing his views. [8]Hindustan Times
#WATCH | Bengaluru | Karnataka Minister Priyank Kharge says "My statement was not against any religion. I said that any religion that discriminates between human beings is not a religion. I follow the Constitution, my religion is the Constitution. If they want to file an FIR… pic.twitter.com/z7PBzQukyR

— ANI (@ANI) September 7, 2023
Assets/Properties
Movable Assets
Deposits in Banks, Financial Institutions and Non-Banking Financial Companies: Rs 83,02,871
Bonds, Debentures and Shares in companies: Rs 18,75,000
NSS, Postal Savings etc: Rs 2,66,326
Personal loans/advance given: Rs 26,50,000
Motor Vehicles (details of make, etc.): Rs 29,52,090
Other assets, such as values of claims / interests: Rs 2,43,03,955
Immovable Assets
Agricultural Land: Rs 2,03,36,250
Non Agricultural Land: Rs 1,96,14,906
Commercial Buildings: Rs 3,89,19,526
Residential Buildings: Rs 1,24,46,773
Note: The given estimates of movable and immovable assets are according to the year 2018. It excludes the assets owned by his wife and dependents (minor). [9]My Neta
Net Worth
As of 2018, his net worth is Rs 12,67,86,588. [10]My Neta It excludes the net worth of his wife and dependents (minors).
Facts/Trivia
In 2018, he received Intel's Technology Visionary Award.
In 2011, Priyank Kharge's sister Priyadarshini Kharge made headlines for a 3280 sq. ft. plot of land, which she purchased on 15 January 2002, allegedly in violation of Society's bye-laws. In 2002, Mallikarjun Kharge was serving as the Home Minister in the SM Krishna-led Congress government. She secured the plot for Rs 1,96,837 at Yelahanka (Allalasandra) Judicial Layout while its market value ran in crores. In light of the allegations, she returned the land in question to the Karnataka State Judicial Department Employees House Building Co-operative Society (KSJDEHBCS) in 2011. Priyadarshini availing the land would have been a direct violation of Clause-10 of the Model Bye-laws of HBCSs, which deals with members' rights. Clause-10(B) says: "He/she in the case of Employee House Building Society is an employee of the organisation for which the society has been organised and has put in a minimum continuous or intermittent service of five years in Karnataka." Priyadarshini was not eligible to become a member as she is a doctor by profession while the land was reserved for judicial employees. [11]

Money Control