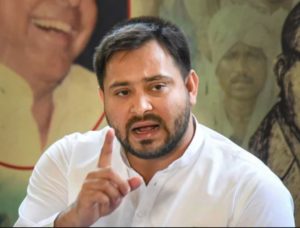 Tejashwi Yadav is an Indian politician from the state of Bihar. He is the youngest of the nine children of Indian politician Lalu Yadav.
Wiki/Biography
Tejashwi Yadav was born on Thursday, 9 November 1989 (age 33 years; as of 2022), in Gopalganj, Bihar. His full name is Tejashwi Prasad Yadav. He also goes by the name of Tarun. [1]The Indian Express His zodiac sign is Sagittarius. Tejashwi did initial few years of his schooling in Patna and then went to Delhi for further studies. He studied at Delhi Public School in Hemant Vihar till class five, and then, till class eight at DPS, RK Puram. Although Tejashwi was average at academics, he was always on the fore when it came to sports and extra-curricular activities. He was drawn towards cricket quite early in his childhood. He was a part of the school cricket team and represented the team in various tournaments. Cricket enthusiast Tejashwi Yadav dropped out of school in the middle of ninth class to make a full-time career in cricket. Thereafter, he represented Delhi's state cricket team in various tournaments and also played a Ranji Trophy season for Jharkhand. After failing to make a mark in cricket, Tejashwi Yadav gave up the sport and decided to follow in his father's footsteps and get into politics.
Physical Appearance
Height (approx.): 5′ 6″
Eye Colour: Black
Hair Colour: Black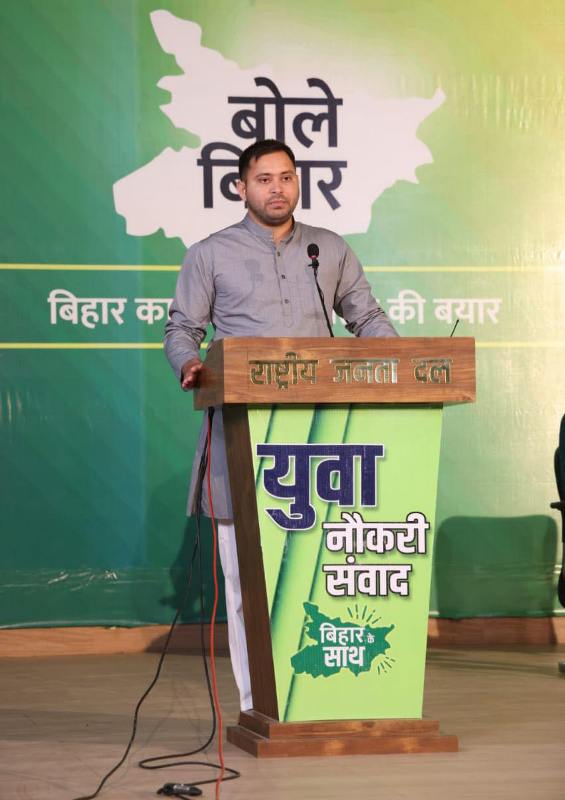 Family & Caste
Tejashwi Yadav was born into a Shudra family. [2]Kancha Ilaiah
Parents & Siblings
Tejashwi Yadav was born to Lalu Yadav and Rabri Devi. Both his parents have collectively served as the chief minister of Bihar in different tenures for around 15 years. He is the youngest of the nine children of Lalu Yadav. He has an elder brother, Tej Pratap Yadav (politician), and seven sisters, Misa Bharti (politician), Rohini Acharya, Chanda Singh, Ragini Yadav, Hema Yadav, Anushka Rao, and Raj Laxmi.
Wife & Children
On 9 December 2021, he got married to his long-time girlfriend Delhi-based Rachel Godinho who is now known as Rajeshwari Yadav [3]India Today at Delhi's Sainik Farms.
On 27 March 2023, Tejashwi and Rachel Godinho were blessed with a baby girl, Katyayani; the name was picked by Lalu Prasad Yadav. [4]NDTV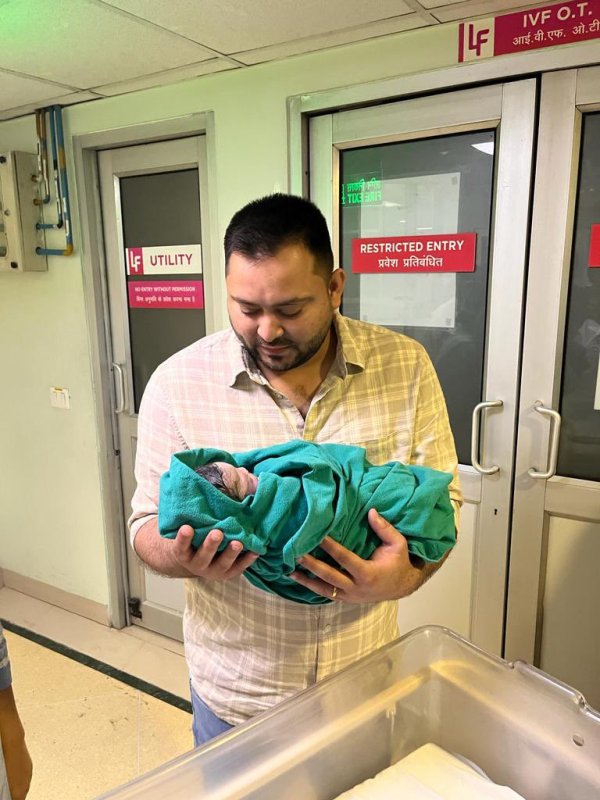 Relationships/Affairs
Before getting married to Rachel Godinho on 9 December 2021, he dated her for almost seven years. [5]India Today
Cricket Career
While playing for the Delhi under-19 team, Tejashwi was signed by Delhi Daredevils ahead of the IPL 2009. He remained to be a part of the Delhi Daredevils squad for four seasons from 2009 to 2012; however, he did not get an opportunity to play a single match in all four seasons of the IPL.
He played a few domestic cricket matches for Jharkhand in Ranji Trophy 2009, Syed Mushtaq Ali Trophy 2009, and Vijay Hazare Trophy 2010. In seven domestic matches that Tejashwi played in his entire cricket career, he scored just 37 runs and bagged one wicket. [6]ESPNcricinfo On 16 February 2010, Tejashwi played his last professional cricket match, which was played between Jharkhand and Tripura at Cuttack.
Political Career
After Tejashwi realized that he had minimal chances to make a successful career in cricket, politics was probably the next possible stop for him. He made his first public address in 2010, campaigning for RJD before the 2010 Bihar Legislative Assembly election. In the 2015 Bihar Assembly election, Tejashwi, at the age of 26, successfully contested and won his first electorate from the Raghopur constituency. His party, Rashtriya Janata Dal (RJD), won 81 seats and formed a coalition with the Janata Dal (United) whose seat tally stood at 70. Following the formation of the RJD-JDU coalition government in Bihar in 2015, Tejashwi Yadav was sworn in as the Deputy Chief Minister of Bihar.
In 2017, CBI filed "land for hotel" scam case against Tejashwi Yadav and his family members, including father Lalu Yada and Mother Rabri Devi. The case led to the downfall of the RJD-JDU coalition government in 2017, as the JD(U) pulled its support from RJD and established a new government with the BJP in Bihar. Tejashwi held the post of deputy CM of Bihar from November 2015 to July 2017. He blamed the BJP government in the centre for playing vendetta politics by involving his name in the corruption case that dated back to 2004. In an interview, while rubbishing the accusations against him, he said,
They are bringing up cases of 2004 against me. How could I be a criminal at 13 or 14, I didn't even have a moonch (moustache) then!"
At the age of 27, Tejashwi Yadav became the youngest leader of opposition in India. He continued as the leader of opposition in Bihar Legislative Assembly from 2017 to 2020. In the 2020 Bihar Assembly election, Tejashwi Yadav won the election from Bihar's Raghopur Assembly seat by a margin of 38000 votes. His party, RJD, emerged as the single-largest party in the state; however, the National Democratic Alliance (NDA) retained the power by getting majority seats. On 10 August 2022, he was sworn in as the Deputy Chief Minister of Bihar for the second time. [7]The Times of India
Controversies
Address
#208, Kautilya Nagar, MP MLA Colony, P.O- B.V College, Patna [14]My Neta
Facts/Trivia