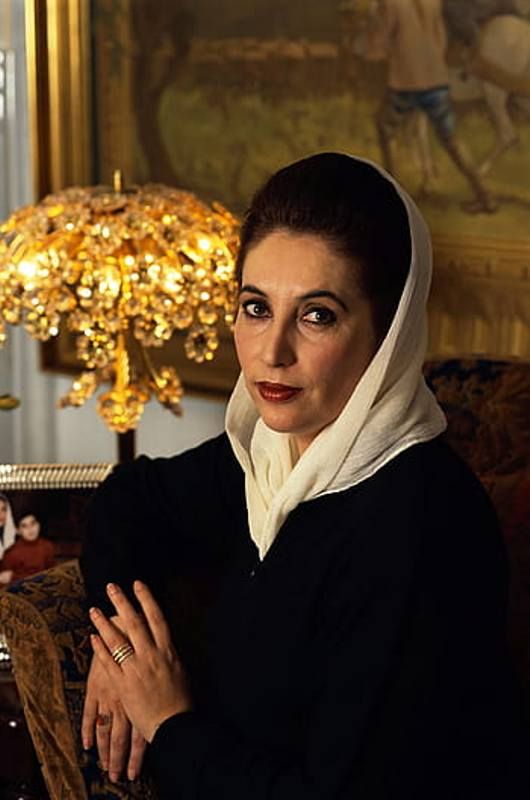 Benazir Bhutto was a Pakistani politician and the first woman to be democratically elected to the office of prime minister in a Muslim-majority state. She was appointed as the prime minister of Pakistan twice, in 1998-90 and 1993-96.
Wiki/Biography
Benazir Bhutto was born on 21 June 1953 (age 54 years; at the time of death) at Pinto's Nursing Home in Karachi, Sindh, Pakistan. Her zodiac sign was Cancer. Born in a prominent and wealthy family of Bhutto's, Benazir was the second generation of the dynasty.
Despite belonging to an Islamic family, she did her schooling in the elite- English catholic schools in Pakistan. Benazir initially attended the Lady Jennings Nursery School in Karachi. She was then sent to the Convent of Jesus and Mary in Karachi and later, to the Jesus and Mary Convent, a boarding school in Murree, Pakistan. After completing her senior secondary education, Benazir was sent to pursue an undergraduate degree at Radcliffe Institute, United States, in 1969. Although Benazir was a 16-year-old student when she was admitted to the Radcliffe Institute, which was younger than usual, her father's connection with the college assisted her in the admission. Later, in 1973, Benazir moved to the United States to pursue her second undergraduate degree, a Bachelor of Arts in Philosophy, Politics, and Economics at the University of Oxford, England. Three years later, in 1976, she graduated with a third-class degree.
Later, she pursued a Master of Arts in International Law and Diplomacy at Oxford. In June 1977, Benazir returned to Pakistan.
Physical Appearance
Height (approx.): 5′ 7″
Hair Colour: Black
Eye Colour: Black
Family
Parents & Siblings
Benazir's father, Zulfikar Ali Bhutto, was a Pakistani politician who served as the fourth president of Pakistan and ninth prime minister of Pakistan. Benazir, when she was nine, her father was appointed as Pakistan's foreign minister, due to which she was exposed to foreign diplomats who visited her father, among them Zhou Enlai, Henry Kissinger, and Hubert Humphrey. He was also the founder of the Pakistan People's Party (PPP). On 18 March 1978, Zulfikar Ali Bhutto was hanged to death after he was convicted of conspiring to murder a political opponent, Nawab Mohammad Ahmad Khan, in 1974. The execution order read,
According to the March 18, 1978 order of the Lahore High Court, you, Mr Zulfikar Ali Bhutto, are to be hanged for the murder of Nawab Mohammad Ahmad Khan, "Your appeal in the Supreme Court was rejected on February 6, 1979 and the review petition was turned down on March 24, 1979. The president of Pakistan has decided not to interfere in this matter. So it has been decided to hang you."
Benazir's mother, Nusrat Bhutto, served as the first lady of Pakistan. Nusrat and Zulfikar got married in 1951, and Benazir was their first child. Her sister, Sanam, lives in London. Benazir's elder brother, Mir Murtaza Bhutto, was a Pakistani politician. On 20 September 1996, he was shot dead in a police encounter on his way home in Karachi. Bhutto's younger brother, Shahnawaz Bhutto, was a Pakistani politician. On 18 July 1985, Shahnawaz was found dead in Nice, France under mysterious conditions; reportedly; according to the Bhutto family, he was poisoned by the agents of the Pakistani government.
Benazir's father's first wife's name was Shirin Amir Begum. On 19 January 2003, she died of cardiac arrest. According to sources, in December 1971, Benazir's father, Zulfikar Ali Bhutto, secretly married Husna Sheikh, a Bengali woman.
Husband & Children
On 17 February 1987, Benazir got married to Asif Ali Zardari, a businessman and landowner on 17 February 1987; the marriage was arranged by Benazir's mother. According to sources, when Asif was studying at the London School of Business, he often visited Benazir's mother, Begum Nusrat Bhutto at her home in London; during these visits, Zardari earned Nusrat's confidence. The marriage of Benazir and Asif was held at Kakri Ground in Karachi, Pakistan and there were no formal invitations while the ceremony was attended by supporters of the political party (PPP) as well as members of both families.
The couple's first child, Bilawal Bhutto, a Pakistani politician and the 37th foreign minister of Pakistan, was born on 21 September 1988. Bakhtawar Bhutto, their first daughter, who is an educationist, was born on 25 January 1990. On 3 February 1993, Benazir's youngest daughter, Asifa Bhutto Zardari was born; she is a social worker and Pakistani politician.
Relationships/Affairs
Reportedly, Benazir Bhutto and Imran Khan, who served as the 22nd prime minister of Pakistan were romantically involved with each other while they were studying together at Oxford University. In the book, Imran Khan The Biography, the author, Christopher Sandford, wrote that the couple had a "close" relationship. Reportedly, the author also alleged that Imran's mother was trying to organise an arranged marriage for the couple; however, she failed. [1]The Times of India
Religion/Religious Views
Benazir follows Islam.
Caste
Although Benazir's family was Sunni Muslim, her mother, Nusrat Bhutto, was a Shia Muslim of Iranian origin. Benazir, in her autobiography, mentioned her mother used to teach her the "ritual of prayers;" however, it does not confirm whether Benazir follows Sunni or Shia Islam. [2]UNHCR
Career
Politics
Benazir and her mother, Nusrat Bhutto, after Zulfikar was executed in 1979, were placed under house arrest from 1979-84. In 1985, Benazir and her family went to exile in London, where she started an organisation to resist the military dictatorship in Pakistan. A year later, in 1985, when Benazir's younger brother, Shahnawaz, was murdered, Benazir and her mother, Nursat, went to Pakistan for his burial; however, Benazir was again placed under house arrest for the charges of participating in anti-government rallies. Three months later, she travelled back to Pakistan. In 1986, after martial law was lifted in Pakistan, Benazir decided to return to Pakistan and contest in the 1988 general elections.
In 1988, Benazir following the death of General Muhammad Zia-ul-Haq was appointed as Pakistan's first female prime minister and the eleventh prime minister of Pakistan; however, two years into her first term, Benazir's government was dismissed by Pakistan's President Ghulam Ishaq Khan for the charges of corruption and nepotism.
In the 1993 Pakistan general election, Benazir's political party, Pakistan People's Party formed a coalition government and Benazir Bhutto was re-elected as the prime minister. Benazir Bhutto, while in office, brought electricity to each house in Pakistan. In 1996, following the death of Benazir's brother, Mir Murtaza Bhutto, Pakistan's President Farooq Leghari dismissed Benazir's government on the charges of corruption; her husband, Asif Ali Zardari was also implicated. Reportedly, Farooq Leghari believed that Benazir and Asif were involved in the assassination of Mir Murtaza Bhutto. Benazir contested in the 1997 Pakistan general elections; however, she was defeated.
In April 1999, Benazir Bhutto and her husband, Asif Ali Zardari were convicted of corruption, banned Benazir from politics, fined $8.6 million US, and sentenced to five years in jail; however, Benazir left Pakistan soon before her conviction and shifted to Dubai following which only Zardari served his sentence. In October 2007, President Pervez Musharraf signed an amnesty, removing the corruption charges against her. In the same year, Benazir decided to return to Pakistan and contest in the 2008 general elections.
Controversies
Incest in Bhutto's family
The book 'Indecent Correspondence: Secret sex life of Benazir Bhutto,' written by Roshan Mirza revealed the secret lives of various high-profile personalities in Pakistan, including Bilawal Bhutto and his mother, Benazir Bhutto. According to the book, Benazir was bisexual and various swinging parties were attended and organized by many female politicians of Pakistan, including Benazir Bhutto and Sherry Rehman, at their respective residences in England.
Reportedly, the author also mentioned in the book that Benazir often brought her son Bilawal to such parties. Further, the author revealed the incest in the Bhutto family and how Bilawal was involved in an incestuous relationship with his mother, Benazir Bhutto. A short paragraph from the controversial book Indecent Correspondence: Secret sex life of Benazir Bhutto read,
Omar, in his e-mail communications with Saira, has graphically described how he himself and other men had sex with Benazir and Sherry Rehman together in group sex sessions. These communications are a kind of written confessions that carry the first-hand accounts of sexual encounters in VIP sex parties… They also clearly specify about the "incest" in Benazir's family, "Incest is like a tradition or custom in their family, that's what I have seen with Benazir", Omar revealed to Saira." [3]Indus Scrolls
Money laundering and corruption charges against Benazir
Benazir was twice elected as prime minister of Pakistan; however, in both of her tenures, she was removed from office on charges of corruption. In her first term as the prime minister (1998-90), she was accused of corruption and the inability to maintain government and law and was removed from office by President Khan. In her second term (1993-96), Benazir and her husband Zardari, after three years of serving as the prime minister, were again accused in a money laundering case by the Swiss Bank and Benazir was removed from office. However, in 1999, after Benazir and Zardari were convicted on charges of corruption, Benazir said that the accusations against her and Asif were political. In 1999, in an interview, she said,
I never influenced the awarding of a contract, and until my dying day I'll stand by it. They have tried to ruin me because they want to ruin the concept of a pluralistic, liberal Pakistan. To be accused of robbing, that really pains me."
Awards, Honours, Achievements
In 1988, she was awarded the Bruno Kreisky Prize for her Services to Human Rights.
In 2000, she was awarded the Academy of Achievement's Golden Plate Award by Pulitzer Prize-winning historian Dr David Herbert Donald at the Achievement Summit in London.
In 2008, Benazir was posthumously awarded the prestigious Tipperary International Peace Award for 2007 in recognition of her struggle for the restoration of democracy and peace in her country.
In 2008, she was awarded the UN Human Rights Prize awarded posthumously by the general assembly at the 60th anniversary of the adoption of the Universal Declaration of Human Rights (UDHR); her son Bilawal Bhutto accepted the prize. The United Nations Human Rights award was given to Bhutto for her services to poor human beings and in recognition of her courageous struggle for restoring democracy in Pakistan.
Assasination
On 18 October 2007, after Benazir returned to Karachi, Pakistan, two explosions took place shortly after she landed and left Jinnah Airport, Karachi which resulted in the death of 139 people and more than 100 injured; however; Benazir survived the attack. Three months after, on 27 December 2007, Benazir, while she was addressing a rally at the Liaquat Bagh in Rawalpindi, Pakistan, a bomb attack and three gunshots fired at her that left Bhutto fatally injured. She was rushed to the Rawalpindi general hospital; however, she was declared dead. In the attack, 22 other people who were involved in the rally also lost their lives. The next day, on 28 December 2007, she was buried next to her father at the Bhutto family mausoleum, Garhi Khuda Bakhsh, Sindh, Pakistan.
Following the assassination, the first child of Benazir, Bilawal Bhutto Zardari, was announced as the successor of Benazir and on 30 December 2007, he was appointed as the chairman of the Pakistan People's Party. Benazir, in a news conference, in 2007, said,
The party's long struggle for democracy will continue with renewed vigor. My mother always said democracy is the best revenge."
Facts/Trivia
She was given the name of her aunt who died young. Her name means "one without equal."
She was also known by the name Pinky. According to sources, Benazir, during her childhood, was an "unusual pink baby" following which her friends and family named her Pinky.
In 1972, Benazir visited Shimla with her father, Zulfikar Ali Bhutto, to sign a pact with Indra Gandhi during the India-Pakistan summit. Reportedly, it was the first time when Benazir attracted media attention globally.
During Bhutto's visit to Shimla, in 1972, she desired to watch the Hindi film Pakeezah (1972). M. K. Kaw, an Indian Bureaucrat, who was then posted in Himachal Pradesh and was assigned to look after Benazir, spoke to Shimla's deputy commissioner following which a special show was organized at the Ritz Cineplex, Shimla. In an interview, Kaw talked about this and said,


There were only three of us in the cinema hall: Benazir, Veena and myself. Benazir enjoyed the film immensely. "I retained the picture of the young and innocent Benazir all through the years of her tumultuous career till she was assassinated." [4]Deccan Herald

In an interview, Benazir mentioned Margaret Thatcher, former prime minister of the United Kingdom, as her role model and called her the 'Iron Lady' of Britain.
In 1977, she became the first Asian woman to be elected as the President of the Oxford Union Debating Organisation.
Reportedly, Benazir, when she was studying at Oxford University, was fond of dancing and consuming alcohol at the parties of the Oxford students. In an interview, a classmate of Benazir talked about Benazir's lifestyle in London and said,


Her Oxford lifestyle was almost a parody of the rich Islamic girl released from the constraints of a rigid Muslim home.Stories of her exotic love life abounded.When she stood for the presidency of the Oxford Union, she skilfully used the rumours about her un-Islamic activities to flutter her eyelashes at the male voters.At the same time she rallied the feminists with the suggestion that she would be held back by the male chauvinists and reactionaries – even though they were the kind of men with whom she enjoyed her leisure time."
In January 1990, after Benazir gave birth to her second child, Bakhtawar Bhutto, she became the first woman to give birth while in office; Bakhtawar was born by a caesarian section. Reportedly, Benazir kept her pregnancy secret. Benazir, in her autobiography, mentioned,


The next day I was back on the job, reading government papers and signing government files. Only later did I learn that I was the only head of government in recorded history actually to give birth while in office. It was a defining moment, especially for young women, proving that a woman could work and have a baby in the highest and most challenging leadership position."
Benazir had a sweet tooth. In her autobiography, she mentioned what she liked to eat and wrote,


I drank gallons of apple cider, and ate unconscionable numbers of peppermint-stick ice-cream cones sprinkled with 'jimmies' from Brigham's ice-cream parlour."

In an interview, a friend of Benazir talked about Benazir's drinking habit. She said,


The last time I saw her it was over drinks at the Pierre. I sipped a Tom Collins. She was feeling reckless, and downed three Jell-O shooters. "Oh, Pooh Bear," she said. "Pakistan has such a long and troubled history."

In the memoir Songs of Blood and Sword, written by Benazir's niece, Fatima Bhutto, she mentioned Benazir's smoking habit. Fatima wrote that her mother, Sanam Bhutto and her aunt, Benazir, used to smoke together.
Benazir authored two books, Daughter of Destiny: An Autobiography (1989) and Reconciliation: Islam, Democracy, and the West (2008).