Imran, people with this name have a deep inner desire to use their abilities in leadership. As he stood up to his name, Imran Khan is Pakistan's first and only Cricket captain to win the Cricket World Cup. He has not only won the Cricket World Cup but also a plurality of votes for the premiership in the 2018 General election becoming the first person in the history of Pakistan general election who contested and won in all five constituencies. Check out Imran Khan Wiki, Height, Weight, Age, Girlfriends, Religion, Family, Biography & More.
Biography/ Wiki 
Imran Ahmad Khan Niazi, also known as IK, The Lion of Lahore and The King of Swing, was born in Lahore on 5 October 1952 (70 years). He was a quiet and shy boy in his youth.  Khan grew up with his three sisters under relatively affluent circumstances and received a privileged education. He was educated at Aitchison College in Lahore and the Royal Grammar School Worcester in England, where he excelled at cricket. In 1972, he enrolled in Keble College, Oxford where he studied Philosophy, Politics, and Economics, graduating with honors in 1975.
Physical Appearance
Being a well-known cricketer, he has an impressive physique standing tall at 6′ with weight around 75 Kgs. His eye color is hazel brown and quite surprisingly, he has not dyed his hair.
Family, Religion, Marriage, and Affairs
Imran Khan is an Islam by ethnicity and belongs to 'Pashtun' caste. He is the only son of Ikramullah Khan Niazi, a civil engineer, and his wife Shaukat Khanum. He lives in Khan House, Bani Gala, Islamabad. Khan belongs to Barelvi Sunni sub-sect. 
He is married but had many romantic affairs in the past. Imran Khan had many relationships during his bachelors years and was often designated as a casanova during his time in London.
He has been linked to Zeenat Aman, a prominent Bollywood actress of the 70s.
He was also involved with another Pakistani politician, Benazir Bhutto.
Imran Khan was linked to Emma Sergent (English Artist), Kate Fitzpatrick (Australian Actress), Denise D Lewis (American Model), Sita White (D/o of Sir Gordan White, Baron White of Hull) and many more. He was married three times and has two sons and one daughter.
On May 16, 1995, Khan married a British Producer, Jemima Goldsmith. However, they divorced after 9 years in 2004.
In 2015 July, he again tied the knot with Reham Khan, a journalist but the marriage was short-lived ending 2015 itself.
Imran Khan has currently been hitched again to Bushra Maneka, his spiritual advisor. And it seems he has got a perfect partner, that can go for a long run with him.
He has 2 sons Sulaiman Isa Khan and Kasim Khan from his first marriage with Jemima Goldsmith.
He also has a daughter Tyrian White from Sita White.
Imran grew up with his three sisters Uzma Khanum, Aleema Khanum, and Rubina Khanum in Mianwali in north-western Punjab in Pakistan.
In December 2022, it was reported that he was in a relationship with Ayla Malik, a Pakistani politician and journalist.
Cricketing Career
It was at the Royal Grammar School Worcester in England where he learned cricket.
Khan started his cricket career in 1970 playing for home teams and slowly making his way up becoming Pakistan cricket team captain(1982). During his college years at Oxford, he played for Oxford's Blues Cricket Team as well for Sussex in 1988.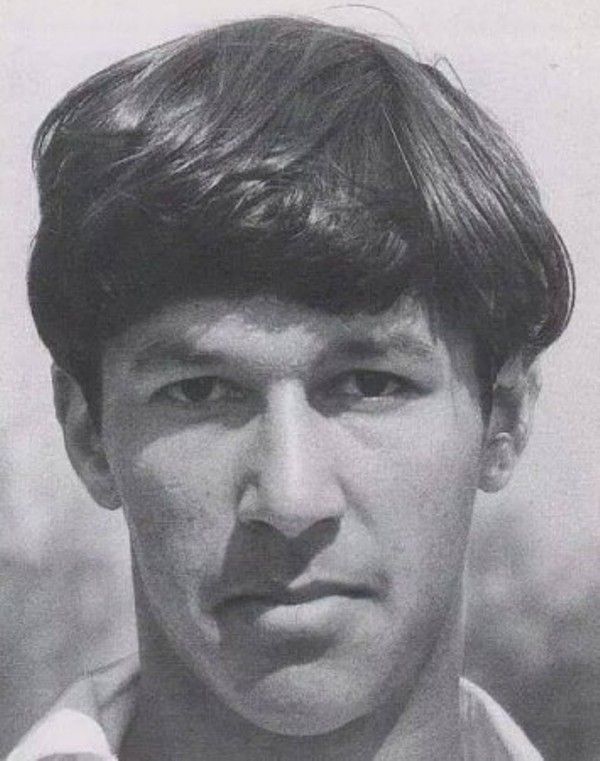 Imran Khan is considered Pakistan's first genuine fast bowler.
In 1978, at the famous speed test in Perth, Imran Khan came third after Jeff Thomson and Michael Holding. In the 1981-82 series against Australia, Imran broke former Pakistan bowler Fazal Mahmood's record of 139 wickets for Pakistan. Imran Khan was one of the greatest all-rounders of his era and was often compared with Ian Botham, Kapil Dev, and Richard Hadlee.
The aggressive right-handed batsman and right-arm fast bowler made his ODI International debut on 31 August 1974 against England at Trent Bridge, England, and his Test International debut on 3 June 1971 against England at Edgbaston Cricket Ground, England. Before he led Pakistan to win the 1992 Cricket World Cup, he had announced his retirement from international cricket after the 1987 World Cup. However, it was the military dictator of Pakistan Gen Zia-ul-Haq who had asked him to return to lead the team and the rest is history. Though Pakistani team struggled throughout the 1992 Cricket World Cup, he single-handedly led the team to win the tournament.
He ended his career with 88 Test matches, 126 innings and scored 3807 runs at an average of 37.69, including six centuries and 18 fifties. His highest score was 136 runs. As a bowler, he took 362 wickets in Test cricket, which made him the first Pakistani and world's fourth bowler to do so. The Domestic teams that he played for were Lahore, Sussex, and New South Wales. His favorite bowling style was in-dippers.
Politics
The Lion of Lahore founded Pakistan's Tehreek-e-Insaaf (PTI) political party in 1996. The subsequent year in 1997, he ran for the seat of National Assembly of Pakistan in Pakistani General Election from two constituencies – NA-53, Mianwali and NA-94, Lahore and lost both. In 1999, he began supporting General Pervez Musharraf's military coup and was elected to the National Assembly of Pakistan from Mianwali in Pakistani General Election in 2002. On October 2, 2002, he along with 85 other MPs resigned from Parliament in protest of the presidential election scheduled for 6 October.
On 30 April 2013, Manzoor Wattoo president of Pakistan Peoples Party (Punjab) offered Imran Khan the office of Prime Minister in the possible coalition government. His party PTI emerged as the second largest party in the 2013 Pakistan General Election and Khan became the parliamentary leader of his party. However, on 11 May 2014, he alleged that the 2013 General Elections were rigged in favor of the ruling Pakistan Muslim League.
In 2018, he contested the 2018 General Elections from NA-95 Mianwali and NA-53 Islamabad and won both following which he became the 22nd Prime Minister of Pakistan. On 10 April 2022, he had to leave the post of the Prime Minister of Pakistan after he lost the no-trust vote in the National Assembly of Pakistan.
Nawaz Sharif is considered to be his biggest political rival.
Awards, Honours, Achievements
Imran Khan has won many awards and adulations.
In 1983, he was awarded Wisden Cricketer.
Khan was conferred The Hilal e Imtiaz (Pakistan's second highest civilian award) in 1992, Pride of Performance in 1993, Lifetime Achievement Award at the 2004 Asian Jewel Awards in London in 2004, Jinnah Award in 2008 and Humanitarian Award and ICC Hall of fame in 2009.
Net Worth
Imran Khan's net worth has been unpredicted due to regular involvement in elections. As of 2017, his net worth is PKR 1.4 billion (US$13 million).
He has a vintage collection of cars. Toyota Land Cruiser Prado and Rolls Royce are his favorites.
Favorites
Imran Khan loves listening to music, watching movies and traveling.
His favorite food is Roasted Desi Murgi.
Muhammad Rafi and Nusrat Fateh Ali Khan are his favorite singers.
He admires Dennis Lillee, Viv Richards, Michael Holding, Sunil Gavaskar and Abdul Qadir.
Controversies
After his divorce from Reham Khan (Imran's second wife), she accused Imran of being bisexual, taking drugs & alcohol, and adultery. She also mentioned in her autobiography that Imran had an affair with Saqlain Mushtaq (former Pakistani Cricketer).
In 1994, he admitted to seam-lifting Test matches and scratching the ball with a bottle top once in a county match in 1981.
In 1996, he was sued by two former England cricketers Botham and Alan Lamb after he allegedly called them "racist."
In August 2017, Ayesha Gulalai (a Pakistani politician) framed allegations of harassment against Khan; claiming that she had been receiving offensive messages from him since October 2013. However, Imran Khan refuted the allegations by saying that it was a conspiracy by the Pakistan Muslim League (Nawaz) to malign him.
The Pakistani election commission barred him from holding any public office for five years on 21 October 2022, after he was found guilty of unlawfully selling gifts from foreign dignitaries and heads of state worth more than 140 million Pakistani rupees ($635,000), which is called as Toshakhana case. [1]

Hindustan Times On 7 July 2023, he filed a petition in the Supreme Court challenging the Islamabad High Court's order to the trial court. The directive required the trial court to re-evaluate the admissibility of the Toshakhana corruption case within a week. [2]

The Hindu He was sentenced to three-year imprisonment by the trial court on 5 August 2023 following which he was arrested from his residence in Lahore. [3]

BBC
An audio clip appeared on YouTube in December 2022 in which a man, purportedly Imran Khan, spoke lewdly to a woman; the audio clip was shared by Syed Ali Haider, a Pakistani journalist. During the audio clip, which the media referred to as "phone sex," Imran purportedly asks a woman to come close to him; however, she refuses, and Imran insists. The clip shows the woman asking Imran,


Imran what have you done to me? I can't come."

Imran then says,

I'll have to change my plan for the next day."

The woman is also heard saying in the clip that her "private parts are in pain." Later, the woman says she would like to meet Imran the next day, but only if her health allows, to which Imran responds, saying,

I will see if it's possible as my family and children are coming. I will try to get their visit delayed. I will let you know tomorrow." [4]The Tribune

According to sources, the woman in the audio clip is a Pakistani politician and journalist named Ayla Malik.
He was arrested in the Al-Qadeer trust case when he was present in the Islamabad High Court on 9 May 2023. [5]

The Hindu On 11 May 2023, the Supreme Court of Pakistan issued an order for his release after the court found his arrest "illegal." [6]

The Hindu After his arrest, Pakistan saw many anti-government protests. In October 2023, Usman Dar, who is considered to be one of the closest aids to Imran, claimed in an interview that the planning for the violence on May 9, including targeting sensitive installations, was masterminded by Imran Khan. He added that the planning was done in a meeting organised by Khan with the primary aim of removing Army Chief General Asim Munir. [7]

India Today
Facts
He was behind the foundation of Shaukat Khanum Memorial Cancer Hospital & Research Centre, Lahore and Namal College, Mianwali. He dedicated this hospital to his mother, Shaukat Khanum, who had died of cancer.
Imran Khan is famous for giving young talents the chance to play for their country. It was Imran who spotted Waqar Younis playing a domestic match on television and introduced him to Pakistan's National Team.
Khan also served as UNICEF's Special Representative for Sport(1990) and promoted health and immunization programmes in Bangladesh, Pakistan, Sri Lanka and Thailand. While in London, he also worked with the Lord's Taverners, a cricket charity.
In 2004, he was robbed at gunpoint while driving through the outskirts of Islamabad.
In 2012, he was declared as Asia's Person of the year with 88% votes.
He was among the few bowlers to dismiss Sunil Gavaskar off the first ball of a Test match.
He published 6 books : Imran: The autobiography of Imran Khan, Imran Khan's cricket skills, Indus Journey: A Personal View of Pakistan, All Round View, Warrior Race: A Journey Through the Land of the Tribal Pathans, and Pakistan: A Personal History.
During his 'real freedom' rally in Wazirabad on 3 November 2022, he was shot in the leg in an assassination attempt. According to police, they arrested the man who tried to kill Imran Khan. In a video, released by the police, the man said that he tried to kill Imran Khan as he was misleading the people.
Alleged shooter; I did it because he (Imran Khan) is misleading people – I did my best to try & kill him – only him & no one else
Q: Why did you think of doing this?
A: I thought that there is Azan happening and they are playing music on a deck. I decided to do this the day … pic.twitter.com/RoTskPfy5M

— omar r quraishi (@omar_quraishi) November 3, 2022