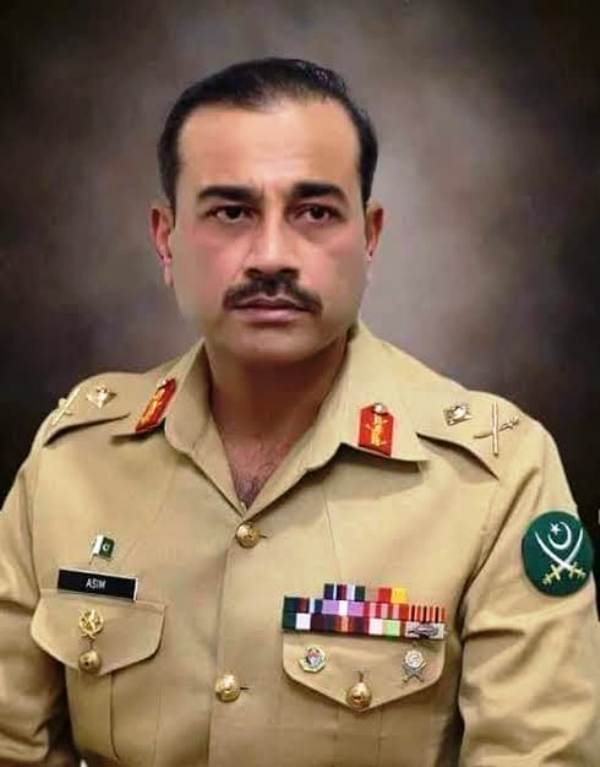 Asim Munir is a serving four-star General of the Pakistan Army who became the Chief of Army Staff (COAS) of the Pakistan Army on 29 November 2022, replacing General Qamar Javed Bajwa.
Wiki/Biography
Syed Asim Munir Ahmed Shah was born in Rawalpindi, Pakistan. [1]ISPR After completing his formal education, he joined the 17 Officers Training course at Officers Training School (OTS) in Mangla. After completing his military training, Asim was commissioned into the 23rd Battalion of the Frontier Force Regiment in 1986. After joining the Pakistan Army, he earned an MPhil degree in Public Policy and Strategic Security Management from the National Defence University in Islamabad. [2]The News International
Physical Appearance
Height (approx.): 5′ 10″
Hair Colour: Salt and Pepper
Eye Colour: Dark Brown

Family
Asim Munir belongs to a Pakistani Syed family.
Parents & Siblings
His father, Syed Sarwar Munir Shah, was the Principal of FG Technical High School, Lalkurti, Rawalpindi.
Wife & Children
Not much information is available about his wife and children.
Religion
Asim Munir follows Islam. [3]Daily Pakistan
Career as a Pakistan Army officer
Asim Munir's career as a Second Lieutenant in the Pakistan Army began in 1986 when he joined the 23 Frontier Force. As a Major, he was posted as a Brigade Major (BM) of an infantry division deployed in Kel, Pakistan-administered Kashmir. Later, he was appointed General Staff Officer-II (GSO-II) in an infantry brigade. As a Lieutenant Colonel, Asim was posted to Madina, Saudi Arabia, where he memorised the Quran and received the title of "Hafiz-e-Quran." After getting promoted to Colonel, Asim served as the Commanding Officer (CO) of the 23rd Battalion of the Frontier Force Regiment. Later, as a Major General, he was appointed as the Force Commander of the Northern Areas (FCNA). As a Force Commander, Asim reported directly to General Qamar Javed Bajwa, who served as the GOC of Pakistan Army's X Corps back then.
Munir served as the Director-General of Military Intelligence (DGMI) from December 2016 to October 2018. On 28 September 2018, Asim received a promotion and became a Lieutenant General following which he was appointed as the Director-General of the Inter-Services Intelligence (ISI) by General Qamar Javed Bajwa. It was during Asim's tenure as DG ISI that the Pulwama Attack on the Indian troops took place in 2019 in Kashmir. Asim served as DG ISI till June 2019 and was replaced by Lieutenant General Faiz Hameed. According to several sources, Prime Minister Imran Khan urged General Bajwa to remove Asim as he had collected pieces of evidence against Imran Khan's wife, Bushra Bibi, indulgence in corruption. From 17 June 2019 to October 2021, Asim Munir served as the General Officer Commanding-in-Chief (GOC-in-C) of the Gujranwala-based XXX Corps.
After completing his tenure as the GOC of XXX Corps, Asim was posted to the General Headquarters (GHQ) in Rawalpindi as Quartermaster General. Throughout his career, Asim Munir participated in several counter-insurgency operations in Balochistan and North-West Pakistan. He also took part in Radd-ul-Fasaad, a counter-terrorist operation that took place across Pakistan. He has also held several staff appointments including directing staff in the Command and Staff College, CGS Secretariat, and Chief of Staff of Mangla Corps. He has also done several military courses from JGSDF Fuji School in Japan, Command and Staff College in Quetta, Malaysian Armed Forces Defence College (MAFDC) in Kuala Lumpur, and National Defence University (NDU) in Islamabad.
Chief of Pakistan Army
On 24 November 2022, the office of the President of Pakistan announced that Asim Munir would replace General Bajwa to become the 11th Chief of the Army Staff (COAS) on 29 November 2022. The notification said,
President Alvi has promoted Lieutenant General Sahir Shamshad Mirza HI(M) to the rank of General with immediate effect and appointed him as chairman of the joint chiefs of staff committee with effect from November 27, 2022. The above said promotions and appointments were made under the article 243(4) (a) and (b) and the Article 48(1) of the Constitution of the Islamic Republic of Pakistan read with Sections 8-A and 8-D of the Pakistan Army Act 1952."
After the announcement, Imran Khan's Pakistan Tehreek-e-Insaf (PTI) issued a statement in which it said that the Pakistan Army, under the leadership of General Asim, should allow the democratic functioning of Pakistan, and it should not interfere in political matters. The statement issued by PTI said,
We hope that the new leadership of the armed forces of Pakistan will play its constitutional role so constitutional rights and democracy in the country are strengthened and people's rights to elect a new leadership through fresh elections, would be recognised. The people of Pakistan also expect that the Pakistani armed forces, while dealing with external threats, would stay out of the politics of domestic affairs. A Pakistani citizen also expects that the rights of political parties will not be infringed after the appointment of Lt. General Asim Munir by anyone."
Asim Munir was slated to retire on 27 November 2022; however, his retirement was postponed by the Pakistani government as he was among the top six contenders for the post of Army Chief. Asim Munir has become the first Chief of the Army Staff (COAS) of the Pakistan Army, who has been the Director-General of both, the Inter-Services Intelligence (ISI) and the Military Intelligence (MI). [4]The News International He is also the first Army Chief to have been awarded the Sword of Honour at the time of commissioning.
Awards, Honours, Achievements
In 1986, Asim Munir received the coveted Sword of Honour during his passing out parade at the Officers Training School (OTS) in Mangla.
Asim Munir received an Instructor's medal at the Command & Staff College in Quetta from the Government of Pakistan.
In 1988, Asim Munir received Jamhuriat Tamgha (Democracy Medal).
Asim received the Qarardad-e-Pakistan Tamgha (Resolution Day Golden Jubilee Medal) in 1990 from the Government of Pakistan.
The Government of Pakistan awarded Qarardad-e-Pakistan Tamgha (Resolution Day Golden Jubilee Medal) to Asim Munir in 1990.
The Government of Pakistan gave Asim Munir Tamgha-e-Salgirah Pakistan (Independence Day Golden Jubilee Medal) in 1997.
In 1998, the Pakistani government gave Tamgha-e-Baqa (Nuclear Test Medal) to Asim.
Asim has also received 10 Years, 20 Years, 30 Years, and 35 Years Service Medals.
Asim received Tamgha-e-Diffa (General Service Medal) with Siachen Glacier Clasp.
In 2002, Asim received Tamgha-e-Istaqlal Pakistan (Escalation with India Medal).
In March 2018, Asim Munir received Pakistan's second-highest peacetime military award Hilal-e-Imtiaz (Military) from the Government of Pakistan.
Facts/Trivia
Asim Munir pursued Islamic studies under the late Islamic preacher Hafiz Khalil Ahmed.
Asim Munir passionately follows his hobbies of travelling and reading.