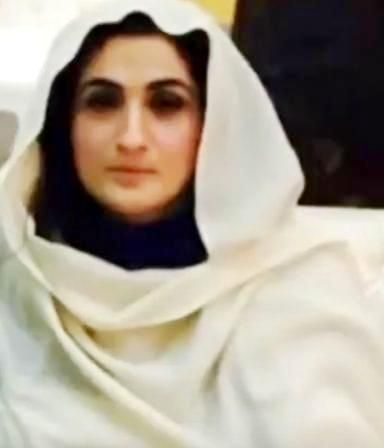 Bushra Maneka aka Bushra Riaz Wattoo is the third wife of former Pakistani cricketer and politician Imran Khan. She is a very spiritual woman who is known by the name of Pinki Bibi or Pinki Pir at the Ziarat e Dargah Hazrat Baba Farid Ganj Shakar in Pakpattan, Pakistan. Check out Bushra Maneka Wiki, Height, Weight, Age, Family, Husband, Children, Biography, Facts & More.
Biography/Wiki
Bushra was born in the 1970s in Dipalpur, Okara District, Pakistan. She is a faith healer at the Ziarat e Dargah Hazrat Baba Farid Ganj Shakar in Pakpattan. Her spirituality level impressed the famous politician Imran Khan to whom she got married after divorce to her first husband, Khawar Farid Maneka.
Physical Appearance
She is approximately 5' 4" tall and weighs around 55 kg. She has black eyes and hair.
Family, Caste & Husband
She belongs to a Wattoo family. She follows the Islam religion. Her nationality is Pakistani.
Bushra was divorced from Khawar Farid Maneka, a senior customs official in Islamabad and had three daughters and two sons Ibrahim Maneka and Musa Maneka. Among them, two daughters are married. One of her daughters got married to the provincial minister of Punjab Atta Muhammad Khan Maneka's son. Before marriage, she was a modern woman, but after marriage, she turned to a very spiritual woman. She along with her ex-husband travelled from Lahore to Pakpattan on every fifth Muharram of the year by foot.
Aun Chaudhry, the close friend of Imran Khan, introduced him to the family of Khawar Farid Maneka and his wife Bushra Maneka before the divorce. After knowing about her spirituality level, Imran deeply impressed by her and after her divorce to Khawar Farid Maneka, he sent a marriage proposal to her. She initially didn't reply to her proposal but later got married to him on 1 January 2018.
Facts
When Imran visited her for spiritual consultation, she gave him a ring and told him to recite a few verses.