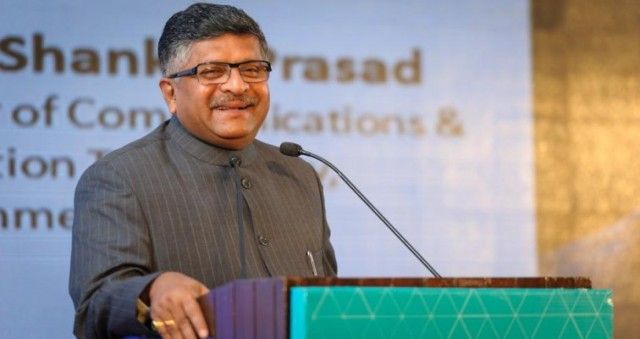 Ravi Shankar Prasad is an Indian Politician and a Lawyer. He is a Member of Parliament of the Rajya Sabha representing the State of Bihar. Let us find out some more interesting details about Ravi Shankar Prasad's life, his family, biography, and other facts.
Biography/Wiki
Ravi Shankar Prasad was born on 30 August 1954 (age 65; as in 2018) in Patna, Bihar, India. He has done BA (Honors) and MA in Political Sciences from Patna University. Further, he completed his LLB from Patna University. During his college days, he was appointed as the Assistant General Secretary of the Students Union and a Member of the Senate, Arts and Law Faculties. He was a member of the Finance Committee at Patna University. As a student, he was also associated with the Akhil Bharatiya Vidyarthi Parishad and held various posts in the said organisation.
In 1975, during the emergency, Ravi Shankar was arrested for protesting against Indira Gandhi's Government. He was also an activist of the Human Right and Civil Liberty. In 1980, he started his career as a Lawyer at Patna High Court. In 1995, he was nominated as the member of National Executive Committee of the Bharatiya Janata Party since last 20 years. In 1999, he was designated as the Senior Advocate at the Patna High Court.
In 2000, Ravi Shankar was appointed as a Senior Advocate of the Supreme Court. He argued the PIL against the then CM of Bihar, Lalu Prasad Yadav, in the fodder scam. He represented the deity in the Ayodhya Ram Temple Suit in the Lucknow Bench of the Allahabad High Court and also argued in many more high profile cases.
Family, Wife & Caste
Ravi Shankar was born into a Kayastha Hindu Family to late Thakur Prasad and Bimla Prasad. His father, Thakur Prasad, was a lawyer at the Patna High Court and the former president of the Bharatiya Jan Sangh (a political arm of RSS) in Bihar, which later reformed into Bharatiya Janta Party (BJP). 
Ravi Shankar has two elder sisters, Pratibha and Sujata and a younger sister, Anuradha Prasad (Managing Director of News 24).
On 3 February 1982, Ravi Shankar married Maya Shankar, a history professor at Patna University and a historian. The couple is blessed with a son, Aditya (Lawyer) and a daughter, Aditi.
Career
In 2000, Ravi Shankar was elected as a Member of Parliament of the Rajya Sabha for the State of Bihar. In 2001, during the Prime Ministership of Atal Bihari Vajpayee, he became the Minister of State (Coal & Mines) and a member of the National Convener Legal Cell of BJP. In 2002, he was appointed as the Minister of State in the Ministry of Law and Justice. The same year, he amended the bill of 'Representation of People's Act' to end the criminalisation of politics. He also took initiative to facilitate people with speedy justice. Further, in 2003, he became the Minister of State of the Ministry of Information and Broadcasting. He initiated venture capital investment and good marketing of the Indian Films, reforms in the Radio, and Television.
In 2006, Ravi Shankar was appointed as the National Spokesperson of the Bharatiya Janata Party and was re-elected as a Member of Parliament to Rajya Sabha for the second term. He was the Financial Member for the Parliamentary Standing Committee and Consultative Committee for the Ministry of External Affairs. In 2010, he was elected as the All India General Secretary & Chief National Spokesperson of BJP. In 2012, he was re-elected to the Rajya Sabha for the third term and was also nominated as the Deputy Leader of the Bharatiya Janata Party (BJP) in the Rajya Sabha. Consequently, in 2016, he was appointed as the Union Minister in the Ministry of Electronics and Information Technology and also in the Ministry of Law and Justice by Government of India. 
Reached home after getting elected for Rajya Sabha where my mother gave me her love and blessings.
राज्य सभा में चुने जाने के बाद घर पहुँचने पर माता जी ने अपना स्नेह और आशीर्वाद दिया। pic.twitter.com/A8HsWG5nkO

— Ravi Shankar Prasad (@rsprasad) March 15, 2018
In the 2019 Lok Sabha Elections, he won by a margin of 2,78,198 ballots against Congress' Shatrughan Sinha from the Patna Sahib constituency in Bihar.
Controversies
In 2005, during an election meeting, Ravi Shankar Prasad was shot on his left arm by a lone gunman who invaded the dais where the BJP leaders were seated. The accused was identified as Munna Rai who was later lynched by the BJP supporters following his attempt to assassinate Ravi. However, Ravi Shankar was declared out of danger by the doctors. 
In 2017, at a Mindmine Summit organised by the Hero group, Ravi Shankar pointed out that Muslims do not vote for the Bharatiya Janata Party even after the government has given them "proper sanctity." This was in response to a question related to the development having an impact on culture and diversity. 
Properties/Assets
Ravi Shankar owns a Toyota Fortuner SUV, Honda Accord, Scorpio SUV, and a Honda City car. As in 2014, he had bonds, debentures and shares of around ₹8 Crore and also the Jewellery worth ₹17 Lakhs. He resides at 21, Mother Teresa Crescent, New Delhi.
Net Worth & Deposits
As in 2014, Ravi Shankar had Bank Fixed Deposits worth ₹8 Crore.  His net worth is around ₹18 Crore.
Facts
In 2006, Ravi Shankar represented India at the 61st UN General Assembly held in New York. 
He undertook measures to setup Goa as the Center of Indian Film Festival.
In April 2002, he represented India at the Non-Aligned Ministerial Meeting in Durban, South Africa.
He was also a part of the Indian Delegation to the Commonwealth Law Minister Summit at St. Vincent, West Indies. 
He actively participated in Hindi and English debate competitions during his college days and also bagged many accolades on State and National level debate competitions.
He took the Indian Delegation at the London, Venice, and Cannes film festivals.
He helped promote e-commerce in India. 
He initiated $18 billion programme to bring 'digital revolution' and to expand broadband internet helping to reach around 250,000 villages by 2016.
His hobbies include reading.