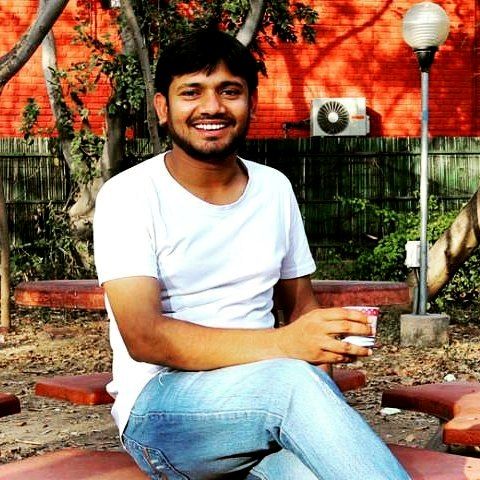 Kanhaiya Kumar is an Indian politician and the former President of the Jawaharlal Nehru University Student Union (JNUSU). He was in the spotlight in 2016 when he was blamed for raising anti-national slogans at an event in JNU. He was charged with sedition and criminal conspiracy, but, was later let off as there was no evidence against him.
Wiki/Biography
Kanhaiya Kumar was born on Tuesday, 13 January 1987 (age 34 years; as of 2021) in the Bihat village of Begusarai, Bihar. His zodiac sign is Capricorn. He has done his schooling from the Madhya Vidyalaya, RKC High School, and the Ram Ratan Singh College of Bihar. Thereafter, he went on to get his Bachelor's Degree in Geography from the College of Commerce in Patna, MA in Sociology from the Nalanda Open University, Patna, and his Doctorate in African Studies from Jawaharlal University, New Delhi.
Throughout his school and college, he has been a bright student and used to do well in exams. He had stood first in the entrance exams of JNU. His teachers have stated that he has always been respectful and never misbehaved. In 2016, when the JNU controversy emerged, the news channels showed a video from the event. It showed that Kanhaiya Kumar, along with other students, shouting anti-national slogans and stating that the capital punishment given to the terrorist Afzal Guru was wrong. It created a lot of chaos, and it led to the arrest of Kanhaiya Kumar and two other JNU students. It created a big controversy. Several journalists and writers from around the world came in support of Kanhaiya Kumar when the video proved to have been tampered with. They also spoke out against the Government of India; as he was arrested under the charges of sedition, and he was only the second person to be arrested for sedition after 1987.
Physical Appearance 
Height (approx.): 5′ 6″
Weight (approx.): 65 kg
Eye Colour: Black
Hair Colour: Black
Family
Kanhaiya Kumar belongs to an Upper Caste family of the Bhumihar Community. His father, Jaishankar Singh, was a farmer and had passed away on 4 November 2016. His mother, Meena Devi, is an Anganwadi worker; she supports Kanhaiya's election campaign by running a tiffin service with Kanhaiya's sister, Juhi. Kanhaiya has 2 brothers, Manikant Singh; a factory supervisor in Assam, and Prince Kumar; a student.
Career
Kanhaiya joined the All India Students' Federation (AISF) in 2004. In 2011, after taking admission in the Jawaharlal Nehru University (JNU), he participated in college politics. In September 2015, he became the first AISF member to be elected as the President of the JNU Student's Union (JNUSU). He shot to fame after the JNU controversy and many journalists and politicians stated that he would enter active politics; as he was getting encouragement and support from all over the world for speaking out against the government. Kanhaiya was released from jail; as no evidence was found against him and the video that had been circulating the news was found to have been tampered with. Later, it was discovered that some outsiders, and not Kanhaiya Kumar or the students of JNU, had raised the anti-national slogans.
On 29 April 2018, he got elected to the 125-member National Council of the Communist Party of India (CPI). He was given a ticket to contest the 2019 General Elections from the Begusarai seat of Bihar. However, he lost the election to BJP's Giriraj Singh by a margin of 4.22 lakh votes.
On 28 September 2021, he joined the Indian National Congress in Delhi in the presence of Rahul Gandhi.
Controversies
On 12 February 2016, Kanhaiya Kumar was arrested with 2 other students, on the charges of Sedition (IPC 124-A) and Criminal Conspiracy (IPC 120-B). A video had emerged on the National news channels; which showed Kanhaiya Kumar and other JNU students raising anti-national slogans in an event in the JNU campus. It led to their arrest. The video also showed that they opposed the government's decision of capital punishment for the terrorist, Afzal Guru.
On 15 February 2016, when Kanhaiya Kumar was being taken to the Patiala House Court by the police for his hearing; he was abused and beaten up by a group of lawyers inside the court premises. Initially, the attack was thought to be random, but later during a sting operation, it was revealed that it was a well-planned attack. Reportedly, the lawyers wanted to teach Kanhaiya Kumar a lesson and had planned another attack.
After Kanhaiya Kumar was released from jail, he received several death threats from lawyers and politicians. All these threats were reported by Kanhaiya Kumar to the police.
On 10 March 2016, Kanhaiya was beaten up by a man from Ghaziabad who accused him of being a deshdrohi (Traitor). When questioned, the man stated that he would beat him up again if he got the chance. The person was arrested.
On 15 March 2016, Kanhaiya Kumar staged a protest outside the parliament, demanding the release of 2 JNU students who were arrested with him. During the protest, 4 different people attempted to attack Kanhaiya. The police intervened and arrested all the individuals.
Facts
Kanhiaya has always been interested in theatre and was a part of the Indian People's Theatre Association (IPTA). It is the oldest association of theatre artists in India.
He is stated to be a very calm and peace-loving person. When he was arrested, his childhood friend Shahnawaz stated: "He is politically sound and his strength in all this is that he knows he has not done anything wrong".
After Kanhaiya's arrest, his parents said, "Kanhaiya can never disrespect his country by chanting anti-national slogans, forget the country, he has never disrespected us in life".
His father was paralyzed and had been bedridden for many years. In November 2016, he passed away, just a few months after his arrest.
His mother is an Anganwadi worker and earns INR 3,000 a month. To support Kanhaiya in his election campaign, she runs a tiffin service with Kanhaiya's sister, Juhi.
On 3 March 2016, after Kanhaiya was released from jail, he addressed and gave a speech to the students of JNU. The students welcomed him warmly and ensured him that they supported him in his future endeavours. Kanhaiya clarified that he wanted Freedom Within India; and not from India; as had been portrayed by the media and the Indian Government.
After his arrest, alumni of JNU from all over the world condemned Kanhaiya's arrest by the Government of India as such excessive police action, in this case, was unnecessary and unjustified.
Over 130 renowned scholars, from across the world, in a joint statement, said-
The JNU incident is a "shameful act of the Indian Government" to invoke sedition laws formulated during colonial times to silence criticism. We criticize The culture of authoritarian menace that the present government in India has generated"