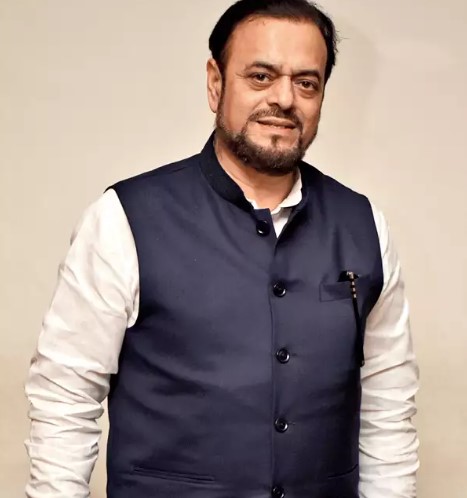 Abu Azmi is an Indian politician. He is a member of the Maharashtra Legislative Assembly and represents the Mankhurd Shivaji Nagar area in Mumbai Suburban District, Maharashtra. He belongs to the Samajwadi Party and serves as the President of the party's branch in Maharashtra.
Wiki/Biography
Abu Asim Azmi was born on Monday, 8 August 1955 (age 68 Years, as of 2023) in Manjeer Patti, Azamgarh, Uttar Pradesh, India. [1]Abu Azmi's Instagram Account His zodiac sign is Leo. After completing his school education, he went to Veer Bahadur Singh Purvanchal University, Jaunpur, Uttar Pradesh to earn a bachelor's degree in arts. [2]My Neta He has been accused of having ties to the underworld. [3]Hindustan Times On 6 March 1993, Abu Azmi was held by the Bombay police authorities because of his connection to the Mumbai bomb blast incident. He was put in prison for a year until the Supreme Court of India declared him innocent of the charges. After that, Abu Azmi chose to enter politics. [4]Dainik Bhaskar
Physical Appearance
Height (approx.): 5′ 7″
Hair Colour: Black
Eye Colour: Black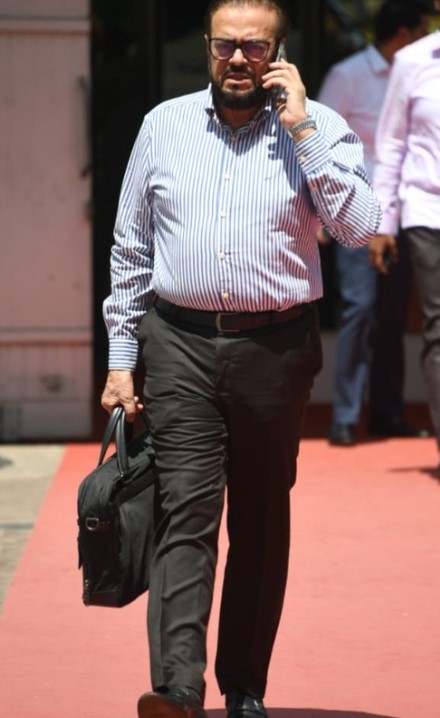 Family
Parents & Siblings
His father's name is Haji Niyaz Ahmed Azmi. He was the owner of an embroidery unit in the Bhendi market in South Mumbai, Maharashtra.
His mother's name is not known. Abu Asim Azmi has seven brothers and three sisters. [5]Abu Azmi's Twitter Post Two of his brothers' names are Kasim Azmi and Abu Shahid Azmi.
Wife & Children
His wife's name is Zahida Azmi, and she is a businesswoman.
Abu Asim Azmi has a son named Farhan Azmi, who is a businessman and politician. Farhan is married to Ayesha Takia, a former Indian model and actress.
Abu Asim Azmi has five daughters.  [6]Hindustan Times Two of his daughters' names are Shehna Azmi and Rushda Azmi. Rushda is married to Saquib.
Religion
Abu Asim Azmi follows Islam. [7]Abu Asim's Instagram Post
Address
Abu Asim Azmi resides at Thackeray House, 2nd Floor, JN Heredia Marg, Ballard Estate, Fort, Mumbai, Maharashtra
Career
Politics
Abu Asim Azmi joined politics in 1995. During that year, he led the Samajwadi Party (SP) to victory in two seats in the Maharashtra state assembly. In 2004, he participated in his first general election and lost to Yogesh Patil of the Shiv Sena from the Bhiwandi constituency in Maharashtra. Azmi served as a Member of Parliament (MP) in the Rajya Sabha from the Uttar Pradesh constituency from 2002 to 2008.
Abu Asim Azmi lost the 2009 Lok Sabha election to Gurudas Kamat of the Congress party. In the same year, he won a seat in the Maharashtra Assembly and served for two terms. He contested for the Maharashtra Assembly from two areas, Mankhurd-Shivaji Nagar and Bhiwandi (East), and won both. However, he could only represent one region according to the rules, so he decided to represent the Mankhurd-Shivaji Nagar constituency. [8]The Times of India Azmi has a special achievement as the only MLA from Maharashtra to have won 2 seats at the same time in one election. [9]The Times of India He has also won three times in a row in his Mankhurd Shivaji Nagar Constituency from 2009 to 2024.
Controversies
Rape Victims Should Be Punished
In 2013, Abu Azmi attracted a controversy when he said in a media interview that women who have sex with men before marriage, even if they agree to it, should be hanged. He made this statement when asked about his thoughts on Mulayam Singh's comments about a rape case which occurred that year. He also added in the same interview that rape victims should be punished. [10]DNA During a media interview, Azmi expressed his views on the Shakti Mill Rape Case, stating that whether rape happened with or without consent, it should be punished according to Islamic law. [11]Mid-Day He said,
Any woman if, whether married or unmarried, goes along with a man, with or without her consent, should be hanged. Rape is punishable by hanging in Islam. But here, nothing happens to women, only to men. Even the woman is guilty. Girls complain when someone touches them, and even when someone doesn't touch them. It becomes a problem then … If rape happens with or without consent, it should be punished as prescribed in Islam."
In the same conversation, he added that the death sentence should be given to both the culprit and the victim. [12]Mid-Day Abu Asim Azmi said,
See, I don't know what context he said it in. But, at times, the wrong people are awarded the death penalty. Boys do it in josh (Hindi: excitement), but what can I say in this? The death sentence should be given. I won't speak against Islam."
Indian Leaders Would Be Hindus
In 2021, Azmi sparked controversy when he was recorded saying in a video that if a Muslim wanted to run India, he should move to Pakistan. [13]Twitter Post He stated,
This is secular India where our leaders will be Hindus. A Muslim who wants to build their own leadership should go to Pakistan."
Income Tax Evasion Case
In April 2023, the Income Tax authorities called Abu Asim Azmi for questioning in connection with a tax evasion case involving over Rs. 160 crores. Azmi's involvement came under investigation after the Income Tax department started looking into the activities of the Varanasi-based Vinayak Group. This group has constructed various buildings, including tall residential towers, shopping malls, and commercial retail centres in Varanasi. [14]India Today
Chanting The Slogan "Vande Mataram" Unacceptable
In July 2023, during the Maharashtra Assembly session, Abu Azmi raised the issue of riots in the Sambhajinagar district. However, his remark caused controversy and led to the House being adjourned by Speaker Rahul Narwekar. Abu Asim Azmi stated that he cannot chant Vande Mataram because it goes against the teachings of his religion, Islam. He clarified that not saying it doesn't mean he disrespects the country. His remarks in the Maharashtra Legislative Assembly sparked a major political controversy in Maharashtra. He expressed that his religious beliefs don't allow him to say 'Vande Mataram.' He said,
Islam teaches us to bow down before the one who created this whole world. According to my religion, if I cannot recite Vande Mataram, then it does not reduce my respect for my country and my patriotism, and no one should have any objection to this."
Brief Details of IPCs
1 charge related to Abetment of assault (IPC Section-134)
1 charge related to extortion (IPC Section-384)
1 charge related to Extortion by putting a person in fear of death or grievous hurt (IPC Section-386)
1 charge related to Putting a person in fear of death or grievous hurt, in order to commit extortion (IPC Section-387)
1 charge related to Forgery of record of court or of public register, etc. (IPC Section-466)
1 charge related to Forgery of valuable security, will, etc. (IPC Section-467)
1 charge related to Promoting enmity between different groups on grounds of religion, race, place of birth, residence, language, etc., and doing acts prejudicial to the maintenance of harmony (IPC Section-153A)
1 charge related to Cheating and dishonestly inducing delivery of property (IPC Section-420)
1 charge related to voluntarily causing grievous hurt (IPC Section-325)
2 charges related to forgery (IPC Section-465)
1 charge related to Joining unlawful assembly armed with a deadly weapon (IPC Section-144)
1 charge related to Rioting (IPC Section-146)
1 charge related to Punishment for Rioting (IPC Section-147)
1 charge related to Rioting, armed with a deadly weapon (IPC Section-148)
1 charge related to Every member of unlawful assembly guilty of an offence committed in prosecution of a common object (IPC Section-149)
1 charge related to Mischief causing damage to the amount of fifty rupees (IPC Section-427)
1 charge related to Mischief (IPC Section-425)
1 charge related to Punishment of criminal conspiracy (IPC Section-120B)
1 charge related to Unlawful assembly (IPC Section-141)
1 charge related to Being a member of an unlawful assembly (IPC Section-143)
Car Collection
Abu Asim Azmi owns a Mercedes Benz, Honda Accord, and Fiat Lounge.
Assets/Properties
Movable Assets
Deposits in Banks: Rs. 36,72,537
Bonds, Debentures and Shares in companies: Rs. 4,53,12,846
NSS, Postal Savings: Rs. 20,01,086
Motor Vehicles: Rs. 27,16,265
Immovable Assets
Agricultural Land: Rs. 83,97,844
Non-Agricultural Land: Rs. 7,50,000
Buildings: Rs. 20,06,17,000
Liabilities
Loans from Banks: Rs. 51,97,596
Net Worth
As of 2009, Abu Asim Azmi has approximately Rs. 149.5 crores of net worth. [18]My Neta
Facts/Trivia
According to Azmi, his time in prison motivated him to dedicate himself to a career in politics. In 1994, a meeting arranged by Raj Babbar with Samajwadi chief Mulayam Yadav set him on the path to politics.
While working in his father's embroidery unit in the crowded Bhendi Bazaar area, Azmi showed his business aspirations by establishing a manpower recruitment agency that sent people to West Asia. He also started exploring opportunities in the real estate sector.
After Azmi's comments on the Shakti Mill Rape Case spread widely in India in 2013, he faced strong criticism. Ayesha Takia, his daughter-in-law and an actress, openly expressed her extreme embarrassment and shame regarding his remarks. [19]

Ayesha Takia's Twitter Post
As per a media report, Abu Azmi does not have life insurance, even though he possesses assets worth more than Rs. 209 crores. The affidavit he submitted to the Election Commission in 2019 revealed that neither he nor any of his family members had any insurance coverage. [20]

Dainik Bhaskar
In June 2017, the Delhi Special Cell arrested Abu Aslam Azmi for possessing 5 kg of a party drug called "MDMA," also known as "ICE," valued at Rs. 40 crores in Delhi. Abu Aslam Azmi is the nephew of Abu Asim Azmi. Shortly after the arrest, Abu Azmi stated that he had no connection with his nephew's actions. [21]

Hindustan Times
Abu Asim Azmi runs the 'Haji Niyaz Ahmed Azmi Minority Educational Welfare Trust' in Mumbai. This organization collaborates with other NGOs from France and Spain to carry out its work.