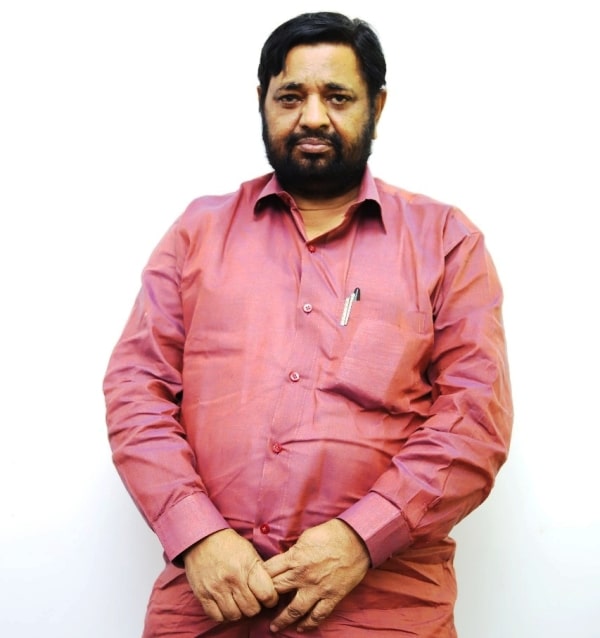 Kaushal Kishore is an Indian politician and social activist who became the Minister of State of Housing and Urban Affairs on 7 July 2021.
Wiki/Biography
Kaushal Kishore was born on Monday, 25 January 1960 (age 63 years; as of 2023) in Begariya, Kakori, Lucknow, Uttar Pradesh. His zodiac sign is Aquarius. After completing his schooling in 1977 at Kalicharan Inter College, Lucknow, he enrolled in Shiya Degree College in Lucknow, where he earned a bachelor's degree in science in 1979. [1]Kaushal Kishore – Myneta
Family
Parents & Siblings
His father, Kallu Prashad, was a farmer. His mother, Parvati Devi, was a homemaker. His elder brother's name is Mahavir Prashad (deceased).
Wife & Children
His wife, Jai Devi Kaushal, is a Member of the Uttar Pradesh Legislative Assembly. He got married to her on 24 April 1984.
He has four sons. His son Akash Kishore died in October 2020. His sons' names is Ayush Kishore. His son Vikas Kishore is the BJP's regional vice president of the Awadh region scheduled front. His son Prabhat Kishore is a politician.
Religion
Kaushal Kishore follows Hinduism.
Caste/Community
Kaushal belongs to a Scheduled Caste of the Pasi community. [2]NDTV
Address
He resides at Village Baigaria, P.O. Barawan Kalan, Kakori, Lucknow – 226101, Uttar Pradesh, India.
Signature/Autograph
Career
Kaushal Kishore started his political journey when he joined the Communist Party of India (CPI) in the 1980s. In 1989, he contested the state elections in UP on CPI's ticket from the Scheduled Caste reserved Malihabad constituency. In the elections, Kaushal managed to secure 8,992 votes but was defeated by Janata Dal's candidate Jagdish Chandra. Kaushal, as a CPI candidate, contested the 1991 UP Legislative Assembly elections from the Malihabad constituency against the Janata Dal candidate Ashok Kumar. Kaushal lost the elections by a margin of 37,808 votes. In the 1993 UP state assembly elections, Gauri Shankar of the Samajwadi Party defeated CPI's candidate Kaushal by a margin of 6,418 votes in the Malihabad constituency. In 1998, from the Scheduled Caste reserved Mohanganj constituency, Kaushal contested the general elections on a ticket from the CPI. He lost the elections but managed to secure 39,273 votes. After the CPI expelled Kaushal in 2001, he contested the 2002 UP Legislative Assembly elections as an independent candidate and defeated Gauri Shankar by a margin of 25,535 votes. From 2002 to 2007, Kaushal served as an MLA. In 2002, Kaushal founded the Rashtrawadi Communist Party (RCP). After Mulayam Singh Yadav was sworn in as the Chief Minister of UP, he invited Kaushal to join the Samajwadi Party-led government by offering him the post of Labour Minister in 2003. Kaushal accepted the offer, but he resigned from his ministerial appointment in 2004 as the disagreements between him and CM increased. In 2004, as RCP's candidate, Kaushal contested and lost the Lok Sabha elections from the Mohanlalganj constituency. In the elections, he secured 28,757 votes. Kaushal contested and lost the 2007 UP state assembly elections on a ticket from the Rashtrawadi Communist Party. He managed to secure 40,270 votes in the elections. In 2009, bypolls were conducted in the Malihabad constituency after four MLAs defected to BSP before the 2009 general election. Kaushal contested the bypolls on RCP's ticket and was defeated by more than 26,000 votes by the BSP candidate Siddhartha Shankar. As an RCP candidate, Kaushal contested the 2012 UP state elections from the Malihabad constituency in which he emerged as a runner-up candidate by securing 60,567 votes, while SP candidate Indal Kumar received 62,782 votes and won the polls. Kaushal amalgamated RCP with the Bharatiya Janata Party (BJP) before joining the BJP in 2013. Later, Kaushal was appointed as the State President of UP BJP's Scheduled Caste Wing. In 2014, Kaushal contested the Lok Sabha elections on BJP's ticket and emerged victorious after defeating Bahujan Samaj Party (BSP) candidate R. K. Chaudhary by a margin of 1,45,416 votes. In the elections, Kaushal received a total of 4,55,274 votes. As an MP, Kaushal was appointed as a Member of the Standing Committee of Home Affairs and the Consultative Committee of the Ministry of Labour and Employment. He served on both committees from 1 September 2014 to 31 August 2018. He served in the Standing Committee on Personnel, Public Grievances, Law, and Justice as a member from 1 September 2018 to 25 May 2019. On BJP's ticket, Kaushal contested the 2019 Lok Sabha elections from the Mohanlalganj constituency against the BSP candidate C. L. Verma. He defeated the BSP candidate by 90,229 votes. Thereafter, the Narendra Modi-led central government appointed Kaushal as the Union Minister of State of the Ministry of Housing and Urban Affairs.
Controversies
The feud between Kaushal Kishore's family and his daughter-in-law
In March 2021, after some unknown gunmen opened fire on Ayush, son of Kaushal, he was admitted to a hospital in Lucknow. Later, Ayush blamed his wife, Ankita, and his brother-in-law for the attack. The police, however, later issued a statement and said that Ayush had planned the attack on himself to set up a trap for his wife. Later, Ankita uploaded a video on social media and said that she would attempt suicide and that the onus of her death would lie on Kaushal, Ayush, and Jai Devi, her mother-in-law. After uploading the video, she went to Kaushal's house and slit her wrists. She was immediately admitted to a hospital, where the doctors saved her life. Later, Kaushal, in his defence, told the media that the Kishore family had nothing to do with Ankita and Ayush as they had broken all connections with the duo after their love marriage. [3]The Times of India In June 2021, Ashish Singh, the father of Ankita, accused Kaushal of kidnapping her daughter after she went missing. During an interview, Ashish said that after Ankita's kidnapping, she messaged her family and informed them that Ayush's brother Vikas Kishore and his friend Armaan Gazi had kidnapped her. The police claimed that the allegations of kidnapping against the Kishore family could be a part of a conspiracy as Ankita's family had not filed a missing complaint with the police. Kishore denied the allegations and called them "false and baseless." [4]ABP News
Insensitive remarks on Shraddha Walker
In November 2022, Kaushal Kishore made a controversial remark about Shraddha Walker, blaming her for her cruel murder. He also said that educated girls must not enter into a live-in relationship and must draw lessons from "such uneducated girls." He also advised girls to marry a groom chosen for them by their parents. Kaushal, during an interview, said,
It is the responsibility of girls also, as they leave their parents, who have reared them up for years, in one go. Why are they living in live-in relationships. If they have to do so, there should be proper registration for live-in relationships. If parents are not willing publicly for such relationships, you should have a court marriage and then live together. Most of the educated girls are going into live-in relationships. Lessons should be taken from these incidents and uneducated girls. Those who have been brought up by their parents should stay with someone as per their wishes. This should be stopped. Government has spread awareness about it over time…but will now do some decision making work to curb such incidents."
Calling the remarks on Shraddha as "heartless and cruel," Shiv Sena leader Priyanka Chaturvedi urged Prime Minister Narendra Modi to remove Kishore from his appointment. [5]Zee News
Car Collection
Assets/Properties
Movable Assets
Bank Deposits: Rs. 1,77,380
Insurance Policies: Rs. 4,05,000
Motor Vehicles: Rs. 31,30,522
Immovable Assets
Agricultural Land: Rs. 3,14,00,000
Residential Buildings: Rs. 45,00,000
Note: The given estimates of movable and immovable assets are according to the year 2019. It excludes the assets owned by his wife and dependents. [6]Kaushal Kishore – Myneta
Net Worth
As of 2019, Kaushal's net worth is estimated to be Rs. 3,96,97,902. [7]Kaushal Kishore – Myneta
Note: It excludes the net worth of his wife and dependents.
Facts/Trivia
Kaushal Kishore started an anti-drug campaign named Nasha Mukt Samaj Andolan-Abhiyan Kaushal Ka after his son Akash Kishore died on 19 October 2020 due to alcoholism. In August 2022, Kishore started another anti-drug campaign named Hindustaniyo Nasha Chodo. During an interview, while talking about launching the anti-drug campaign, Kaushal said,


I lost my son (Aakash Kishore) to alcohol in October 2020 and after that I pledged to make India drugs free. Then I started a campaign and so far 18 lakh people have pledged to not do drugs and 10,000 have stopped using drugs as well. Despite myself being an MP and my wife an MLA, we could not save him. While poison kills instantly, any such addiction like alcohol and substance abuse kills a person very slowly. We need to protect those who have not yet become addict to liquor or any other substances. As India is celebrating Azadi Ka Amrit Mohastuv, we have decided to launch another anti drug campaign 'Hindustaniyo Nasha Chodo' on August 9 at Delhi University's Sports Complex."
In 2021, Kaushal Kishore demanded an investigation into allegations levied by a 2008 Malegaon Blasts witness. According to the witness, the Anti-Terrorist Squad (ATS) of the Mumbai Police had forced him to name Yogi Adityanath and the RSS as the conspirators of the bomb blasts.
After Kaushal's elder brother died during the second wave of COVID-19, he criticised UP Chief Minister Yogi Adityanath for mishandling the situation in the state during the pandemic.