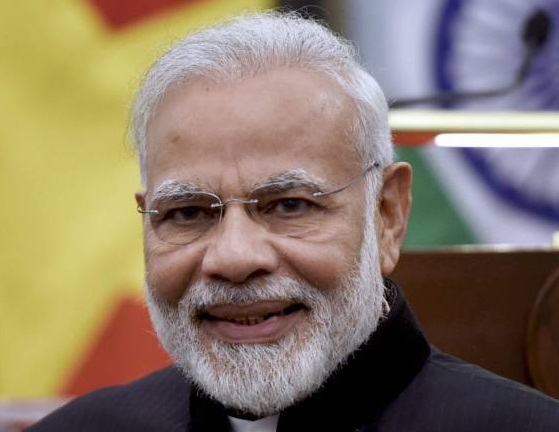 Narendra Modi is one of the most prominent Indian politicians and the 15th Prime Minister of India. From a tea-seller to the Prime Minister of the world's largest democracy, his journey has been an inspiring one. Modi is often addressed as NaMo by his followers. He is a self-made leader who has no political background in his family.
Biography/Wiki
Narendra Damodardas Modi was born on Sunday, 17 September 1950 (age 73 years; as of 2023) in Vadnagar, Bombay State (now Gujarat), India. 
He did his schooling from Higher Secondary School, Vadnagar, Gujarat. He was an average student and a keen debater in his school. Modi was very keen on joining the Indian Army and also tried to get admission to a Sainik School. However, due to financial constraints, his wish could not get fulfilled. 
As a child, he helped his father to sell tea at the Vadnagar Railway Station.
Later, he also ran a tea stall with his brother near a bus terminus. Modi left his house at the age of 17 and travelled to different parts of India.
He came back home after two years and completed his bachelor's degree in Political Science from Delhi University (Distance Education) and a Masters in Political Science from Gujarat University.
During his college days, he used to work as a promoter of the Rashtriya Swayamsevak Sangh (RSS).
Later, while he was serving as the official spokesperson of the BJP in New Delhi, he completed a 3-month course on Image Management and Public Relations in the United States.
Family & Caste
Narendra Modi was born into a family of grocers in Vadnagar, Bombay State (now Gujarat), India. He belongs to the Modh-Ghanchi-Teli (oil-pressing) community; which is categorized as OBC.
Parents & Siblings
He is the son of Late Damodardas Mulchand Modi and Heeraben Modi. He is very close to his mother. When his father died of Bone Cancer in 1989, Modi was on Kailash Manasarovar Yatra.
Narendra Modi has four brothers– Soma Modi (Retired Officer of Health Department), Amrut Modi (A Lathe Machine Operator), Prahlad Modi (Runs a Shop in Ahmedabad), Pankaj Modi (Clerk in the Information Department in Gandhinagar). His sister's name is Vasantiben Hasmukhlal Modi.
Relationships, Wife & Children
Narendra Modi was engaged to Jashodaben at a very young age; later got married to her when he turned 18.
Career
Narendra Modi joined BJP in 1985 and was elected as the Organizing Secretary of the Party's Gujarat Unit in 1988. He, then, contested for Ahmedabad Municipal Corporation elections and made the party proud by giving its first-ever win. Later, in 1990, he helped in conducting L.K. Advani's Ayodhya Rath Yatra after which his capabilities were well recognized within the party. Modi played a major role in strengthening BJP's presence in Gujarat.
In November 1995, Modi was elected as the National Secretary of BJP after which he relocated to Delhi to handle activities in Haryana and Himachal Pradesh.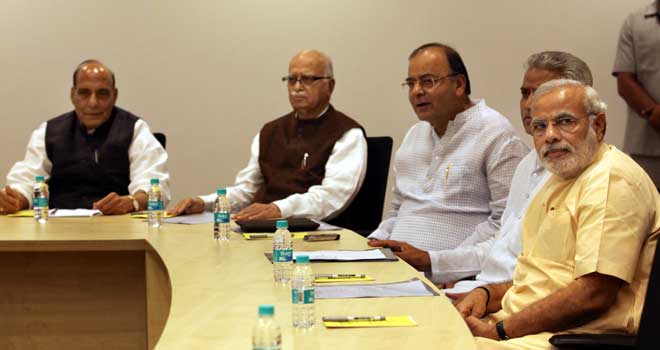 In May 1998, he became the General Secretary of the Bharatiya Janata Party; a position through which he helped his party win the 1998 Lok-Sabha elections. Later, Modi contested the Gujarat Assembly Elections for the first time and became the Cheif Minister of Gujarat on 3 October 2001. He retained the post until 2014.
Then, in March 2013, he was appointed to the BJP Parliamentary Board. Modi was selected as BJP's Prime Ministerial candidate in the 2014 Lok Sabha election; which was earlier opposed by some party leaders. However, he won both the seats (Varanasi and Vadodara) in the 2014 Lok Sabha Elections and went on to become the 14th Prime Minister of India on 26 May 2014. He defeated his nearest rival Arvind Kejriwal from the Varanasi Constituency by a massive margin of 3,71,784 votes.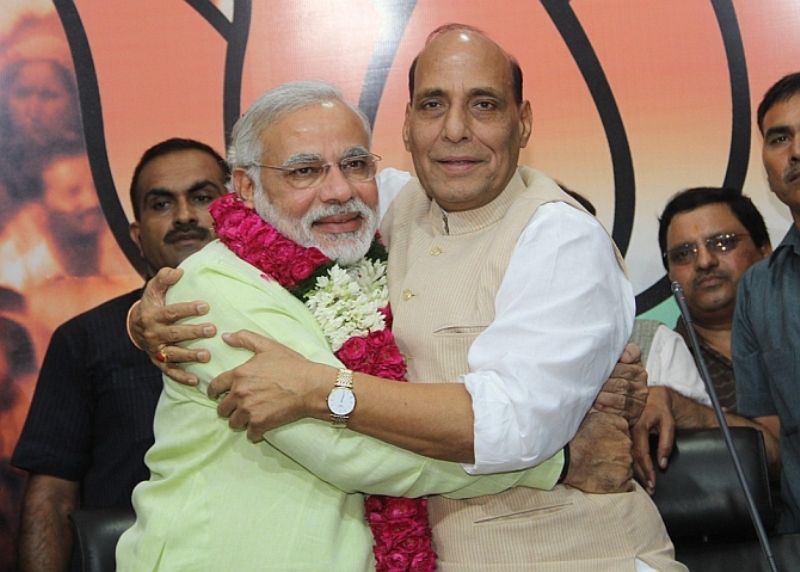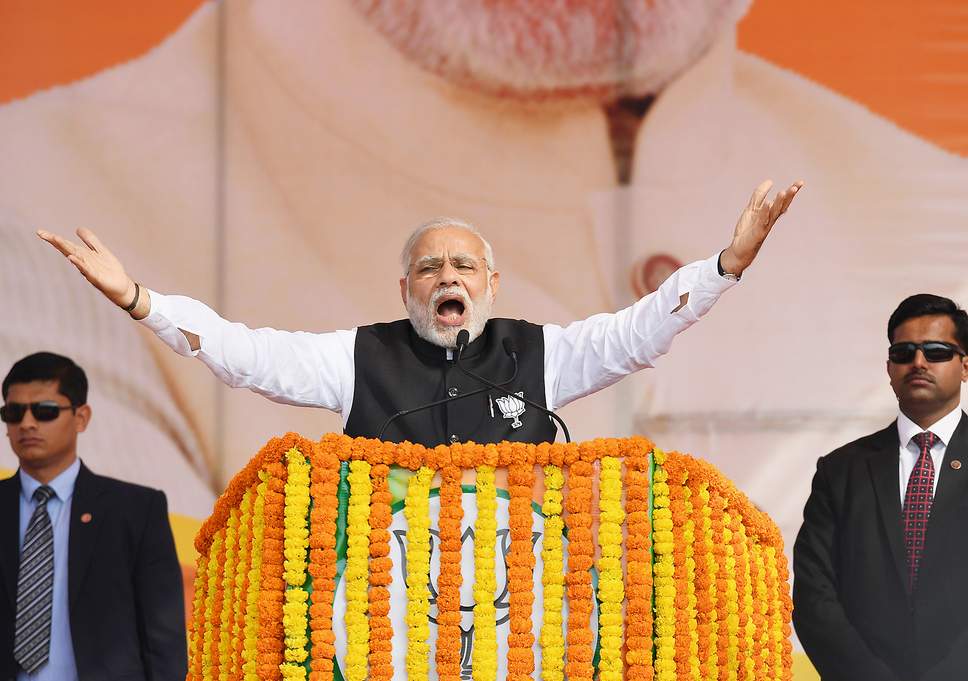 Narendra Modi-led BJP marked a huge victory in the 2019 Lok Sabha Elections by winning more than 300 seats. Modi defeated his nearest rival Shalini Yadav of the Samajwadi Party by a huge margin of 4,79,505 votes; which was even larger than the previous margin in the 2014 elections.
On 30 May 2019, Narendra Modi took the oath as the 15th Prime Minister of India at the Rashtrapati Bhawan.
Controversies
Narendra Modi was named as the key mastermind of the Gujarat Riots in 2002. However, he was given a clean chit by the Justice Nanavati-Mehta Commission on 11 December 2019. While giving him a clean chit, the Commission held that the riots were not organised and the State administration had taken all necessary measures to control the situation. [1]

The Hindu On 24 June 2022, the Supreme Court dismissed the petition filed by Zakia Jafri, wife of Congress MP Ehsan Jafri, who was killed in what came to be known as the Gulbarg Society massacre, against the exoneration of Prime Minister Narendra Modi in a 2002 Gujarat riots case. [2]

NDTV
He has been accused of being responsible, partly, for the murder of Ehsan Jafri; in the 2002 Gulberg Society Massacre by Jafri's wife, Teesta Setalvad.
Modi has been accused of being responsible for the fake encounter of Ishrat Jahan.
Modi also faced severe criticism, for keeping his marital status a secret, until filing his nomination for a parliamentary seat in the 2014 General Elections.
He was denied a visa to the United States; owing to his role in the Gujarat Riots.
He has been highly criticized over the Snoopgate Scandal, for putting a girl's (student of architecture) phone on surveillance.
 In 2015, his suit worth Rs. 10 lakh also became controversial.
In August 2018, when Harivansh Narayan Singh got elected as the Deputy Chairman of the Rajya Sabha, PM Modi while congratulating Harivansh took a dig at Mr. Hariprasad (opposition's candidate). He, by playing with Hariprasad's initials, said that the election was between two Haris. It was the first time in the history of Indian Parliament that a portion of PM's speech was deleted from the records of the Rajya Sabha.
Awards/Honours
Modi has been felicitated with various prestigious awards and honours.
In 2007, Modi was named the Best Cheif Minister in a nationwide survey by India Today.
He has also appeared on the cover of the Asian edition of the Time Magazine in 2002.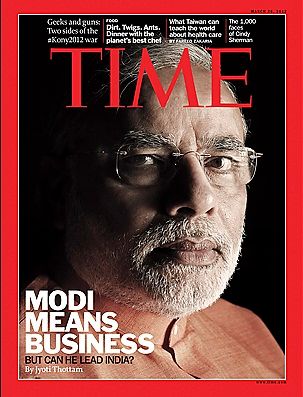 In 2014, CNN-IBN news network awarded Modi with the Indian of the year award. In the same year, he was also ranked 15th in Forbes Magazine's list of the Most Powerful Person in the world.
Modi was ranked the 13th Most Influential Person in the world (2015) by Bloomberg Markets Magazine. He is also the second most followed politician on Twitter and Facebook.
He has also been declared the winner of the Time magazine reader's poll for Person of the year twice; first in the year 2014, and then, in the year 2016.
Modi has also been honoured with the Order of Abdulaziz Al Saud (the highest civilian honour of Saudi Arabia) and the State Order of Ghazi Amir Amanullah Khan (the highest civilian honour of Afganistan).
On 10 February 2018, Modi was honoured with Grand Collar of the State of Palestine (highest civilian honour of Palestine for foreign dignitaries).
On 22 February 2019, he received the Seoul Peace Prize of 2018 for his contribution to international cooperation and fostering global economic growth.
On 25 September 2019, the Bill and Melinda Gates Foundation conferred him the 'Global Goalkeeper' award for the Swachh Bharat Abhiyan launched by his government.
On 21 December 2020, the President of the United States of America Donald Trump conferred the highest decoration, The Legion of Merit, Degree Chief Commander, to Prime Minister Narendra Modi.
On 24 February 2021, Motera Stadium in Ahmedabad was renamed Narendra Modi Stadium in an inauguration ceremony presided by President Ram Nath Kovind that held hours before the start of the third Test between India and England. The stadium is termed as the world's largest cricket stadium with a sitting capacity of 1,10,000 people.
n 24 April 2022, the Master Deenanath Mangeshkar Smruti Pratishthan charitable trust awarded the first Lata Deenanath Mangeshkar Award to Prime Minister Narendra Modi; the award was instituted by the trust in memory of Lata Mangeshkar.
In May 2023, he was conferred with "The Companion of the Order of Fiji," Fiji's highest civilian award, by his Fijian counterpart Sitiveni Rabuka for his global leadership.
In May 2023, he was conferred with the Grand Companion of the Order of Logohu (GCL) for championing the cause of unity of Pacific Island countries and spearheading the cause of Global South.
During an event in Pune, Maharashtra, on 1 August 2023, he was honored with the prestigious Lokmanya Tilak National Award.
Properties/Assets
As of 31 March 2022, Modi's movable assets were worth Rs 2,23,82,504, which included a bank balance of Rs 46,555  in SBI's Gandhinagar NSCH Branch, a Fixed Deposit and MOD (Multi Option Deposit Scheme) of Rs 2,10,33,226 at the same branch, National Saving Certificate (Post) worth Rs 9,05,105, a Life Insurance (LIC) Policy of Rs 1,89,305 and four pieces of gold rings, weighing approximately 45 grams worth Rs 1,73,063. [6]

DNA
As of 31 March 2022, Modi did not own any immovable assets. Earlier, he owned a residential property in Gandhinagar worth Rs. 1 crore. [7]

The Indian Express
Salary/Net Worth
With a Net Worth of around Rs 2,23,82,504 (as of 31 March 2022), Narendra Modi, as the Prime Minister of India, gets paid around Rs. 160,000 per month and additional allowances.
Facts
In 2016, PM Modi joined the list of world leaders who have their wax statues at Madame Tussauds, London.
Modi is very proud of the Hindi Language and always puts his signature in Hindi, be it a casual occasion or an official document.

Interestingly, PM Modi never gets off from making a style statement and likes to wear only crease-less attires.

Narendra Modi is a very good friend of Barack Obama, the former President of the United States.
Narendra Modi follows a strictly vegetarian diet and is fond of simple Gujarati Food. Khichdi happens to be his most favourite dish.

Modi is a great fitness enthusiast and Yoga is one of his most important fitness mantras.
Reading is his leisure time hobby.
Modi's blood group is A (+ve).
Surprisingly, Modi never took a single day off during his 13-year tenure as the Chief Minister of Gujarat.
Modi does not share his official residence with any of his family members.
Qamar Mohsin Sheikh also known as Qamar Jahan is Narendra Modi's Rakhi sister. She has been tying Rakhi to Modi on the occasion of Raksha Bandhan each year since his days as an RSS worker.
On May 26, 2014, Narendra Modi became the 1st ever Prime Minister of India to be born in Independent India.
With around 18,000 Indian Americans chanting his name, Modi received a full-house reception at the Madison Square Garden in New York on 28 September 2014.
In 2015, the members of the 'Om Yuva Group' and the locals had to pull down the newly built temple dedicated to Narendra Modi in Kotharia village in Rajkot, Gujarat as Modi had expressed his displeasure over the construction of a temple in his name. The temple, which was to be inaugurated on 15 February 2015, had cost Rs. 7 lakh. Earlier, in a series of Tweets, Mr. Modi had expressed his displeasure over the construction of this temple, he said,


Have seen the news about a temple being built in my name. I was appalled. This is shocking & against India's great traditions. Building such temples is not what our culture teaches us. Personally, it made me very sad. Would urge those doing it not to do it." [8]Live Mint
On 8 November 2016, PM Modi announced the demonetization of 500 & 1000 currency notes  (the two biggest currencies in India). It was one of the most surprising moves in the administrative history of India.