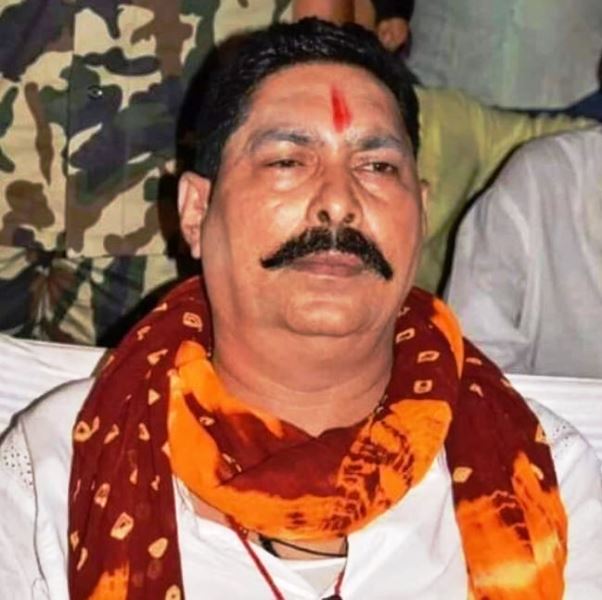 Anant Kumar Singh is an Indian don-turned-politician who was elected from the Mokama Assembly constituency four times, in 2005, 2010, 2015, and 2020. He joined the Rashtriya Janata Dal in 2020. Previously, he was a member of the Janata Dal (United) party. Known as Chote Sarkar in Mokama, the notorious MLA was charged with 38 criminal charges according to his 2020 election affidavit.
Wiki/Biography
Anant Kumar Singh was born in 1960/1961 (age 62–63 years; as of 2023) in Nadwan (also known as Ladma), falling under Barh CD block, Bihar, India. Growing up, he would catch snakes in his village, a practice that eventually made him fearless. In an interview, he said that he went on to live with Sadhus in Haridwar and Ayodhya as a child because he wanted to reach a higher consciousness. Singh hasn't studied much. [1]Open Magazine Singh turned to the world of crime at a very young age.
Physical Appearance
Height (approx.): 5′ 10″
Hair Colour: Black
Eye Colour: Black
Family & Caste
He belongs to an upper-caste Bhumihar family hailing from Ladma, Bihar. [2]The Indian Express
Parents & Siblings
Anant Singh's father, Chandradeep Singh, was a farmer and supporter of communists. Anant had three elder brothers, Biranchi Singh, Fajo Singh, and Dilip Singh. His eldest brother Birachi Singh was shot dead by Naxal sympathisers. In an interview, Anant Singh said that he swam across a river to murder his brother's killers. Anant was 28 at that time. The incident made him notorious in the area, and he started to rise to power. [3]Open Magazine Fajo Singh was gunned down by Viveka Pahalwan. His brother, Dilip Singh, was a politician who died of a heart attack in October 2006.
Wife & Children
His wife, Nilam Devi (also spelt Neelam Devi), is a politician and a member of the Rashtriya Janata Dal party. She was elected as MLA from Mokama in the Bihar Legislative Assembly in 2022. Together, they have three sons, Abhishek, Ankit, and Abhinav, and a daughter, Shivangi. Abhishek and Ankit are twins and elder than Abhinav.
Religion
Anant Kumar Singh follows Hinduism.
Address
His ancestral home's address is Pachchhim Tola, Village-Nadawan, Post-Nadawan, P.S.-Barh, District-Patna Bihar, India. His official residence in Patna is 1, Mall Road.
Signature/Autograph
Anant Singh — The Don of Mokama
Singh has numerous cases of murder, kidnapping, and land grabbing lodged against him. The Barh region in Bihar is notorious for its intense caste conflicts, particularly between two Forward Castes of Bihar, the Bhumihars and Rajputs. Local residents in the area are so fearful of being kidnapped or killed that they avoid going outside during the night. In these conflicts, Anant Singh emerged as a saviour for his community.
Anant Singh's elder brother, Dilip Singh, used to rear horses in Nadwan village, located in the Barh region. Eventually, his greed for money led him to involve in extortion. Soon, he became the right hand of Kamdev Singh, a smuggler in central Bihar. Dilip Singh would also do booth capturing for Shyam Sundar Singh 'Dheeraj,' who served as the Congress MLA from Mokama from 1980 to 1990. Sundar Singh had risen to power dominating the area with the help of his goons. Apparently, Sundar Singh once insulted Dilip Singh when the latter visited him at his government residence in Patna in broad daylight. Sundar Singh referred to Dilip as a disreputable man and asked him to visit secretly at night. Irked by the incident, Dilip Singh decided to contest the 1990 assembly elections from Mokama on Janata Dal's ticket, and he emerged triumphant. Later, Lalu Prasad Yadav made him a minister in his regime. Dilip Singh came to be known as Bhara Sarkar in the region. [4]The Times of India Anant Singh went on basking in the glory of Dilip Singh. Nobody would dare to cross the path of MLA's brother. Mokama was represented by Dilip till 2000 when another muscleman-turned-politician Surajbhan Singh contested from the constituency and won. After Dilip's death, Anant stepped into his shoes. His rise to power coincides with JDU leader Nitish Kumar's rise on the political horizon.
Singh's fortunes took an unexpected turn when Nitish Kumar decided to endorse him as the candidate of the Janata Dal (United) from the Mokama constituency. This decision was seen as paradoxical by a section of the media, given Kumar's commitment to ending the 'criminalization of politics,' and his support for someone facing serious criminal charges. However, despite the criticism and opposing statements, Singh managed to secure victory in the Mokama seat with the support of his fellow caste members and the overall momentum generated by Nitish Kumar. While conducting interviews in the Mokama region to investigate why voters chose Anant Singh, it was discovered that people were well aware of his criminal activities but believed he could safeguard their interests. In a divided society where caste and land play significant roles, Anant Singh's unlawful behaviour turned into a perceived source of trustworthiness for them.
In 2005, he had declared a paltry Rs 3.40 lakh in his election affidavit, which increased to Rs 38.84 lakh in 2010. In 2007, Singh's actions drew national attention when he held two journalists from NDTV 24×7 and ANI News as captives in his official residence. The journalists had gone there to interview Singh regarding his alleged connection to the murder and molestation of a woman named Reshma Khatoon, whose body was found in a sack in Patna.
Politics
He ventured into politics as a member of the Janata Dal (United) party. In 2005, he contested and won the Mokama assembly seat on JDU's ticket. In 2010, he contested and won the Mokama assembly seat on JDU's ticket, defeating LJP candidate Sonam Devi by 8,954 votes.
On 2 September 2015, Singh quit the JD(U) following a fall-out with leader Nitish Kumar after JD(U) formed an alliance with the RJD. Thereafter, he contested the 2015 Bihar Legislative Assembly election as an independent candidate and won the Mokama assembly seat defeating LJP candidate Kanhaiya Singh by 38,533 votes. At that time, Singh was lodged in Beur Central Jail in the kidnapping and murder case of four youths. He took the oath of membership of the Bihar legislative assembly in March 2016 almost four-and-a-half months after his reelection from Mokama seat. Soon after the oath, the MLA was taken back by the police to Beur Central Jail. Until then, the three-time MLA had never taken oath inside the House and preferred to be sworn in at the Speaker's chamber. However, this time he took oath inside the House.
In 2020, he joined Rashtriya Janata Dal (RJD). Thereafter, he contested and won the Mokama assembly seat on RJD's ticket, defeating JD(U) candidate Rajeev Lochan Narayan Singh by 35,757 votes. In 2022, he was disqualified from Bihar legislative assembly following his conviction in a case related to the recovery of arms and ammunition, including an AK-47 assault rifle, from his residence at Nadwa village under Barh police station in Patna district in 2019.
Controversies
Brandishing An AK-47 in Public (2004)
In 2004, Anant Singh was seen brandishing an AK-47 at a public event in a video which went viral. No action was taken against him despite the fact that only security personnel are allowed to carry the assault rifle. [5]Carnegie Endowment for International Peace
Taking Journalists as Hostages (2007)
In 2007, his misdeeds caught nationwide attention when he held TV journalists hostage for two hours and subjected them to a brutal assault at his official residence. Prakash Singh and Habib Ali from NDTV 24X7, along with Ajay Kumar from ANI, had visited the MLA's residence to obtain his statement regarding the discovery of a sack containing a woman's body, believed to be Reshma Khatoon, in Patna. The MLA was suspected of being involved in the case. A local newspaper report also suggested that the woman had allegedly been molested by the MLA. In his book Ruled Or Misruled: Story and Destiny of Bihar, Patna-based senior journalist Santosh Singh wrote about an incident from November 2007, when a TV journalist had gone to speak to Singh about a crime in which he was alleged to be involved. The text revealed that when Singh realized that the channel had already run negative news about him, he made his goons beat the journalist. However, the cameraman escaped and alerted the media house. Patna journalists learned about it and went to Singh's residence to lodge a protest and express solidarity with the aggrieved journalists. All those media persons were beaten and chased away by Singh's goons. [6]HuffPost Anant Singh was arrested in November 2007; however, he was out of judicial custody within 10 days.
Murder Case of Contractor Sanjay Singh (2008)
In January 2008, an FIR was lodged against Anant Singh in connection with the murder of contractor Sanjay Singh, the younger brother of Mokama don Viveka Singh. Viveka and Anant Singh, who are first cousins, were involved in a turf war over control of the Barh sub-division at that time. Sanjay was shot dead in broad daylight, at Boring Road in central Patna. Sanjay's nephew Raja Parikhshit, the main witness in the case, lodged the FIR. Anant Singh, along with his shooter Bhola Singh and three others, were named as accused in the murder. [7]The Times of India [8]Rediff
Derogatory and Casteist Remarks Against Jitan Ram Manjhi
A few days prior to Bihar Chief Minister Jitan Ram Manjhi's resignation on 20 February 2015, Singh made derogatory and caste-based remarks against him. Upendra Manjhi, the chief minister's nephew, filed a First Information Report (FIR) against Singh, who was a JD(U) MLA at the time, citing various sections of the Indian Penal Code (IPC) and the SC/ST Act. The FIR was registered at Khijarsarai police station in Gaya district. In 2017, Singh was granted bail by a local court for this particular case. However, he remained in jail due to other pending cases against him. [9]The Indian Express
Kidnapping and Murder Case of Putus Yadav (2015)
On 17 June 2015, four youths (one of them named Putus Yadav) were kidnapped and murdered after they allegedly harassed a woman in Barh town of Bihar. RJD chief Lalu Prasad Yadav ensured that the Bihar police took action in the kidnapping and murder case of Putus Yadav. After that, six persons involved in the crime were immediately arrested and one of them gave a statement to the police that Mokama MLA Anant Singh was involved in it. Additionally, the body of Putush Yadav was recovered from Ladma, the ancestral village of Anant Singh. Reportedly, the woman who was harassed by Putus Yadav was the sister of one of Singh's men. After Singh's name cropped up in the case, his official residence in Patna was raided by the police from where six empty magazines of sophisticated Insas rifles, a bullet-proof jacket, and some blood-stained clothes. Consequently, Singh was arrested on 24 June 2015. A week before Singh's arrest, police had arrested two of his close aides – Bhushan and Ghanshyam – in connection with the murder of Putus Yadav. They apparently claimed they were working at the behest of Anant Singh. [10]The Hindu In April 2017, after being imprisoned for almost 22 months Singh was released on bail. [11]DNA In July 2022, Special Judge, MP/MLA court Triloki Nath Dubey sentenced Singh to 10 years of rigorous imprisonment in the case. [12]The Times of India
Unlawful Activities Prevention Act (UAPA) Case
In 2019, weapons including AK-47 and a hand grenade from Singh's ancestral residence in Mokama. The police had officials raided Singh's premises in connection with a contract killing case. In the previous month, an audio went viral in which Anant was heard giving the contract to kill a person. However, when the police went to arrest him, he fled from his residence. [13]The Times of India Police arrested the absconding MLA's accomplice Chhotan Singh from his official residence during the raid. A separate FIR was lodged at Sachivalaya Police Station in Patna against Anant Singh for giving shelter and protection to Chhotan Singh, who was an accused in connection with a criminal case lodged with Barh Police Station. In a video message, Singh said,
I am not afraid of getting arrested. I have come to see my ailing friend and will surrender in the court in the next three-four days. But first of all, I will go to my flat and interact with journalists."
He surrendered before a metropolitan court at Saket, Delhi on 23 August 2019. He was later brought to Patna, where he was imprisoned in Beur central jail. In June 2022, the MP/MLA Court of Patna sentenced Singh to a 10-year jail term in the Arms Act case. [14]The India Express
Land Grabbing Cases
After becoming an MLA, Anant began eyeing properties located in Patna. Soon, he grabbed a prime property in the city. Despite the rightful owner's attempts to reclaim the property, including seeking a meeting with Chief Minister Nitish Kumar during a janata durbar, no action was taken. Within a short span of time, Anant Singh earned a reputation as the most prominent property grabber in Patna. Despite facing around 35 criminal cases against him, he managed to be acquitted in most of them, with each acquittal seemingly surrounded by tales of peculiar impunity. [15]dailyO In 2015, it was discovered that Anant owned 19 plots and three flats in Patna. Based on information from police authorities, it was discovered that a total of 32 properties were acquired, belonging either to the MLA or his family members, including his wife. Among these properties, Anant Singh was found to possess 13 plots registered in his name, while 12 plots were purchased under the name of his sister-in-law, Dehuti Sinha (referred to as his "bhabhi"). The remaining seven plots were registered in the names of other relatives. Additionally, his wife, Neelam Devi, was listed as a co-owner in 11 of these properties, according to the police's records. [16]The Times of India
Illegal Constructions
Patna Central Mall on the Frazer Road
On 26 September 2014, Singh stirred controversy by inaugurating a seven-storey Mall on Fraser Road, Patna which was in violation of building bylaws. [17]India Today After the inauguration, Singh addressed a presser and rubbished the claims saying there was no question of the mall's inauguration on September 26 as the proprietor was already doing his business there since 2012. He said,
BJP leader Sushil Kumar Modi is making baseless allegations. He should have gone through the legal documents of the mall. The plot is owned by me and I gave it on rent to the mall proprietor. Its construction started in 2009 and it was handed over to the proprietor in 2012. The Patna district administration and Patna Municipal Corporation (PMC) officials have inspected the plan and legal documents of the mall. The proprietor had arranged a special programme before Durga Puja as public relation activity on that day. So, I went there." [18]The Times of India
In November 2014, illegally constructed parts of the building were sealed by the Patna district administration after the court ordered the termination of all activities in the illegal parts. [19]The Times of India Later, the Patna Central Mall was permanently closed.
Buddha Heritage in Patliputra
In 2013, Singh inaugurated the hotel Buddha Heritage which spread over more than 10,000 sq feet in the posh Patliputra locality. Though the Patliputra society rules prohibit commercial facilities in the area, nobody dared to question Anant Singh on the issue. Singh also attempted to encroach upon an open space in front of his hotel by barricading the plot which kids used for playing and elders for walking. The barricaded part was temporarily being used as a parking lot for the hotel. Singh's attempt to encroach on the open space was noticed by Social welfare minister Parveen Amanullah. Consequently, she launched an anti-encroachment campaign against him. Upon Amanullah's initial request to the hotel management to remove the encroachment, Singh outrightly disregarded it, refusing to acknowledge it as an encroachment at all. When Amanullah sought help from the Patliputra House Construction Society, its office bearers, including acting president B K Sinha and two other directors Kumkum Narayan and Major M K Mukherjee, decided to step down from their positions, seemingly to avoid taking action against the influential encroachers. However, Anant Singh's men finally had to vacate their encroachment when Parveen Amanullah walked down to his hotel without any security and set a deadline for them to vacate the land, warning them of legal action. The impact of Amanullah's successful anti-encroachment campaign against Anant Singh went beyond the case and stirred the entire society into believing that Bahubalis can be challenged and made to follow rules. [20]India Today
Hotel Buddha Inn in SK Puri
In 2014, the court of Patna Municipal Corporation commissioner Kuldip Narayan deemed the ground plus the five-floor structure of Hotel Buddha Inn illegal. The court also issued an order for PMC officials to reclaim plot number 14/D, Shri Krishna Puri (where the hotel was constructed), along with any other structures that were already built or under construction on that plot, within a 30-day timeframe. The plot Anant Singh's wife Neelam Singh. Initially, the plot was leased to the late Braj Bihari Singh in 1967 by Patna Regional Development Authority, and it subsequently changed ownership multiple times. [21]The Times of India
Beur Jail Violence
In 2023, Anant Singh and 30 others were charged with attempting to break out of Beur Central Jail in Patna and attacking prison staff. Singh, who was housed in the jail, alleged that a conspiracy was being hatched to kill him inside the jail premises. 11 prison employees were injured in the incident. According to the First Information Report (FIR), on July 16, Anant Singh and his supporters initiated the attack by assaulting warden Anirudh Kumar Baitha. Assistant Superintendent Bhutes Kumar, who tried to intervene, was also attacked by the prisoners. Additionally, warders Sanjiv Kumar Shah and Gautam Kumar were assaulted, and the prisoners took control of the cell keys, released other inmates, and damaged the jail's CCTV cameras. [22]Hindustan Times
Assets & Properties
Moveable Assets
Deposits in Banks: Rs. 31,96,258
Bonds, Debentures and Shares: Rs. 3,58,06,029
Personal loans: Rs. 5,38,99,339
Motor Vehicles: Rs. 6,00,000
Other Assets: Rs. 3,10,000
Immovable Assets
Agricultural Land: Rs. 15,00,000
Non-Agricultural Land: Rs. 8,00,000
Commercial Buildings: Rs 10,00,00,000
Residential Buildings: Rs. 4,50,000
Note: The given estimates of moveable and immovable assets are according to the financial year 2019-20. It does not include the assets owned by his wife and dependents. [23]MyNeta
Car Collection
He has a Mahindra Scorpio. [24]MyNeta
Net Worth
His net worth in 2020 was Rs. 19,81,85,114. It does not include the net worth of his wife and dependents. [25]MyNeta
Facts/Trivia
He speaks in Magahi, the local dialect of Mokama.
Although the people of Mokama aren't unknown of Singh's criminal background, he has emerged as a Robin Hood figure who organises mass weddings and helps have-nots in the region.
He got shot once due to a family feud.
Prior to the 2015 election, a police squad conducted a raid at Singh's official residence located at Mall Road in Patna, Bihar. During the raid, they discovered six empty magazines from an INSAS rifle and some clothes stained with blood. Despite this discovery, Singh was not arrested at that time.
Singh was once termed an "anti-social element" by RJD leader Tejashwi Yadav. In 2015, it was RJD chief Lalu Prasad Yadav who pitched for Singh's arrest in the kidnapping and murder case of Putus Yadav. Despite all this, Singh was given an RJD ticket to contest the 2020 Bihar legislative assembly from Mokama.
At a time when most legislators in Bihar would flaunt their sleek SUVs, Anant Singh dumped his swanky Mercedes car to ride a horse-drawn carriage to the state Assembly premises. He said that it was his love for animals, particularly horses, that prompted him to own the buggy.