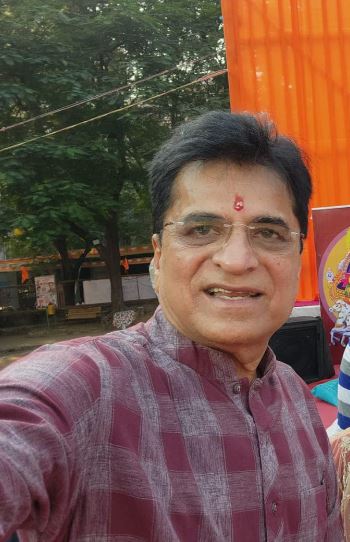 Kirit Somaiya is an Indian politician, who is a member of the Bharatiya Janata Party. In August 2019, he was appointed as the vice president of the Bharatiya Janata Party's Maharashtra unit. He represented Mumbai North-East in the 16th Lok Sabha.
Wiki/Biography
Kirit Somaiya, also known as Somaiya Kirit Jayantilal [1]Kirit Somaiya – Election Affidavit, was born on Friday, 12 February 1954 (age 69 years; as of 2023) in Bombay, Bombay State, India (Present day Mumbai, Maharashtra, India). His zodiac sign is Aquarius. He did his schooling at MM Pupils High School, Khar, Mumbai. Kirit attended the Shrimati Mithibai Motiram Kundnani College of Commerce & Economics (MMK College), University of Mumbai, to pursue a Bachelor of Commerce (1975). In 1979, Somaiya passed CA Final, securing a rank in the All India Merit List from the Institute of Chartered Accountants of India (ICAI). He also obtained a PhD in Small Industries Protection and Finance from the University of Mumbai. [2]MyNeta While studying in college, Kirit Somaiya served as a student activist, associated with the BJP youth wing. In 1975, during the declaration of a state of national emergency in the country, Somaiya actively participated in the Bihar Movement led by Jayprakash Narayan. He briefly practised as a CA at his firm before plunging into politics.
Physical Appearance
Height (approx.): 5′ 8″
Hair Colour: Salt & Pepper (dyed Brown)
Eye Colour: Dark Brown
Family
He belongs to a middle-class Gujarati family. [3]Hindustan Times
Parents & Siblings
Kirit's father's name is Somaiya Jayantilal, and his mother's name is Gunvantiben Somaiya.
Wife & Children
Kirit Somaiya is married to Medha Somaiya, a businesswoman. Together, they have a son, Neil Somaiya, who is a Municipal Councillor from Ward 108 Mulund. Neil is also associated with the Bharatiya Janata Party.
Religion
Kirit Somaiya follows Hinduism. [4]Kirit Somaiya – Facebook
Address
9/C-701, Neelam Nagar, Phase II, Gavanpada Road, Mulund East, Mumbai-400081
Signature
Career
Kirit Somaiya, who was associated with BJP's Youth Wing during his college days, joined the Bharatiya Janata Party after the 1975 national emergency in India. In 1995, Kirit contested the Maharashtra Legislative Assembly elections from Mulund Constituency and won by a margin of 43,527 votes.
While serving as the MLA of Mulund, Kirit enacted two significant Acts in the Maharashtra assembly which include the Small Investors Protection Act of Maharashtra, Repealing Coroners Court (Post Mortem) Act, and the introduction of the Housing Society Conveyance Bill. In 1999, Somaiya was elected to the 13th Lok Sabha from Mumbai North East Constituency after defeating Gurudas Kamat of the Indian National Congress by a margin of 7,276 votes.
During his tenure as a Member of Parliament, he submitted the highest number of petitions to the parliament, which was 11 out of a total of 27 petitions presented in the 13th Lok Sabha; He set a new record in the history of the Indian Parliament, as no other Member of Parliament (MP) had ever submitted such a large number of petitions before. An active member of the house, Kirit raised a total of 832 questions in the house on several issues. From 1999 to 2004, he served as a member of various committees including the Standing Committee on Finance, the Standing Committee on Commerce and Industry, the Committee on Petitions, and the Public Accounts Committee. He has also served as a member of the Consultative Committee of the Ministry of Railways.
In May 2014, he got elected to the 16th Lok Sabha for the second term from the Mumbai North East Constituency; Somaiya defeated Sanjay Dina Patil of the Nationalist Congress Party with 317,122 votes. On 12 June 2014, he was appointed as the Chairperson of the House Committee. He held the position till 27 November 2014. Subsequently, he served on various committees like the Public Accounts Committee, Standing Committee on Finance, Committee on Privileges, and Consultative Committee in the Ministry of Urban Development. He has also worked as a president of the Mumbai unit of the Bharatiya Janata Party. In 2019, during the Lok Sabha elections, although BJP took Kirit Somaiya into consideration, the Shiv Sena workers threatened the party of not campaigning for the BJP, if it filed Kirit Somaiya as a candidate. Later, Manoj Kotak was announced as BjP's candidate for the Mumbai North East Lok Sabha seat.
Controversies
Cases Where Pending
1 charge related to Voluntarily causing hurt to deter a public servant from his duty (IPC Section-332)
1 charge related to House-trespass after preparation for hurt, assault or wrongful restraint (IPC Section-452)
1 charge related to Lurking house-trespass or house-breaking in order to commit an offence punishable with imprisonment (IPC Section-454)
4 charges related to Being a member of an unlawful assembly (IPC Section-143)
3 charges related to Every member of unlawful assembly guilty of an offence committed in prosecution of a common object (IPC Section-149)
2 charges related to wrongful restraint (IPC Section-341)
2 charges related to Punishment for Rioting (IPC Section-147)
1 charge related to Joining unlawful assembly armed with a deadly weapon (IPC Section-144)
1 charge related to Joining or continuing in unlawful assembly, knowing it has been commanded to disperse (IPC Section-145)
1 charge related to Mischief causing damage to the amount of fifty rupees (IPC Section-427)
1 charge related to Abetting the commission of an offence by the public or by more than ten persons (IPC Section-117)
1 charge related to Punishment for Defamation (IPC Section-500)
1 charge related to voluntarily causing hurt (IPC Section-323)
Violating the Model Code of Conduct
In April 2014, a complaint was lodged in the Bombay High Court against Kirit Somaiya, the candidate of the Bharatiya Janata Party (BJP), accusing him of violating the model code of conduct. According to the petitioner, Nikunj Dave, a resident of the constituency, Somaiya, who was running for the Mumbai North-East constituency, was seeking votes based on caste, community, and linguistic preferences. Despite multiple complaints, the petitioner alleged that both the Election Commission and the police officials neglected to take any action against Kirit. [6]The Hindu
Defamation Complaint by Sanjay Raut
On 12 June 2023, Sanjay Raut, a Member of Parliament and leader of the Uddhav Thackeray faction of Shiv Sena, lodged a criminal defamation complaint against Kirit Somaiya with a Mumbai court. Raut's complaint is a response to the tweets made by Somaiya, specifically targeting Raut. In his plea, Raut asserted that Somaiya has been consistently posting defamatory statements on his Twitter account since 2022. Raut contended that those statements were baseless and intended to damage his reputation. He stated,
I was in shock and surprise when I noticed Somaiya's tweets on his twitter account with defamatory statement against me. The defamatory statements from his twitter account made against me without having any strict proof is trying to malign my reputation in the eyes of society and public at large."
Raut maintained that the purpose of those statements was to maliciously smear his public image and also emphasized that the tweets in question are still accessible on Somaiya's social media page, further supporting his allegation. Terming the same as character assassination without any proof, Raut said,
Somaiya's statements are destructive and divulging into character assassination without any proof. Such malicious statement, without any documentary or any proof, indicates Somaiya's total irresponsible attitude."
Based on these circumstances, Raut appealed to the Magistrate in Mulund, Mumbai, urging them to acknowledge the offences committed under sections 499 and 500 of the Indian Penal Code. Raut requested the court to summon Somaiya as the accused in this criminal defamation case. [7]India Today
Misappropriation of Funds
Kirit Somaiya was once held accountable for misappropriating Rs 58 lakh that was collected through crowd-sourcing to preserve the INS Vikrant, India's inaugural aircraft carrier, from being scrapped. Despite the ship's eventual condemnation, Somaiya failed to return the funds to the individuals who had enthusiastically contributed to saving the vessel. A case was filed against him in the matter in 2022. [8]National Herald
Claiming Assault by Shiv Sena Activists
In April 2022, Kirit Somaiya sparked a controversy after he alleged that he was physically attacked by a group of 70-80 Shiv Sainiks who pelted stones, bottles, and footwear at his car outside the Khar police station in Mumbai, where he went to meet Amravati MP Navneet Rana and her husband MLA Ravi Rana, who were in police custody. He also accused the Mumbai police of showing excessive deference towards the Maha Vikas Aghadi (MVA) government led by Uddhav Thackeray. [9]The Hindu In a series of Twitter posts, he wrote,
Heavy stone-throwing at Khar Police Station by Shiv Sena goondas (goons), my car window glass broken, I am injured, rushing to Bandra police station. I am shocked, in the presence of 50 police persons, on the campus of Khar police station, Shiv Sena's 100 goondas assault me with stones. Wanted to kill me. What the Police Commissioner is doing? How are so many mafia Sena goondas allowed to gather in the police station?"
Assets & Properties
Movable Assets
Bank Deposits: Rs. 1,20,00,406
Shares and Debentures: Rs. 8,83,170
Postal Savings: Rs. 6,60,825
LIC Policy: Rs. 44,14,618
Loans & Advances: Rs. 26,22,173
Motor Vehicles: Rs. 9,30,018
Immovable Assets
Residential Buildings: Rs. 75,00,000
Other immovable assets: Rs. 4,93,866
Note: The given estimates of movable and immovable assets are according to the year 2014. It excludes the assets owned by his wife and dependents (minor). [10]MyNeta
Net Worth
Kirit Somaiya's net worth for the financial year 2013-2014 was estimated to be Rs. 2,79,96,426. It excludes the net worth of his wife and dependents (minors). [11]MyNeta
Facts/Trivia
As the leader of the Anti-Corruption – Scam Expose Committee of the BJP, Somaiya led a countrywide campaign against the corruption of the ruling UPA Government and its allies. He travelled to 16 states and 100 districts, revealing numerous scams. However, he has been notably quiet about scandals and corruption within his own party, such as the Yeddyurappa scandal.
Somaiya has brought to light several scams, including the NSEL case, Coal mining scam, Maharashtra Sadan Scam, Adarsh Scam, Wheat Scam, DMAT scam, and Maharashtra Irrigation Scam.
Somaiya, being a People's Activist, has made noteworthy social and political contributions. He established the NGO "Yuvak Pratishthan" which has been actively involved for more than three decades in various endeavours like Slum Rehabilitation, Affordable and Accessible Healthcare for all, and the Promotion of Education and Sports.
Apparently, Kirit Somaiya has a strained relationship with the former Chief Minister of Maharashtra Uddhav Thackeray. Kirit made several negative remarks and accusations against Uddhav when Shiv Sena and BJP were in power together in the state. The animosity between the two later resulted in the denial of a ticket to Somaiya during the 2019 Lok Sabha elections in Maharashtra as there was an alliance between Shiv Sena and BJP. [12]

National Herald