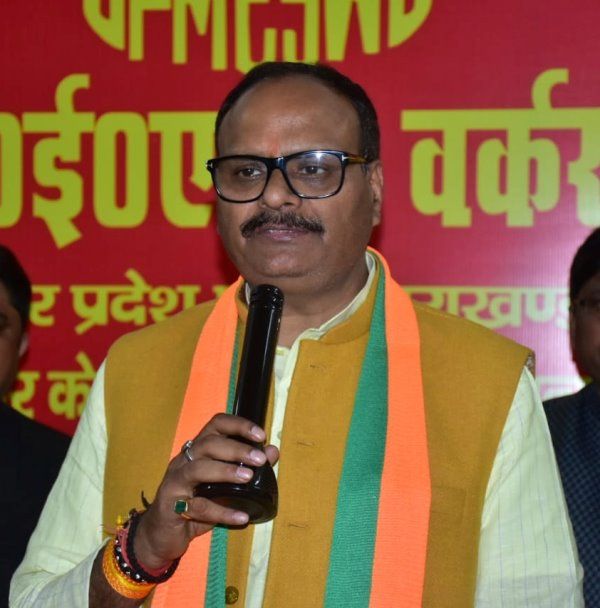 Brajesh Pathak is an Indian advocate and politician who rose to fame after he was appointed as the Deputy Chief Minister and Cabinet Minister of Legislative, Justice, Rural Engineering service in the Uttar Pradesh Government in 2022.
Wiki/Biography
Brajesh Pathak was born on Thursday, 25 June 1964 (age 57 years; as of 2021) in Mallawan, Uttar Pradesh, India. His zodiac sign is Cancer. After completing his primary and secondary education from a local school, he attended University of Lucknow, Uttar Pradesh, India to pursue B. Com LLB. Later, he also earned a master's degree in Composite History from the same university.
Physical Appearance
Family
Brajesh Pathak was born in a Hindu Brahmin family.
Parents & Siblings
His father's name is Suresh Pathak and mother's name is Kamla Pathak.
He has six siblings. One of his sister's is known as Madhu Tiwari and his two brothers are named Rajesh Pathak and Dinesh Pathak.
Wife & Children
Brajesh Pathak's wife name is Namrata Pathak, and she is a homemaker as well as a social worker. The couple got married on 8 March 1995 and is blessed with four children together.
His daughter's names are Vedika Pathak and Shambhavi Pathak. And his sons are named Kartik Pathak and Trayambak Pathak.
Political Career
Brajesh Pathak began his political career while still in college, at the University of Lucknow in Uttar Pradesh, where he was studying Bachelor of Legislative Law. He ran for and won a student political election in 1990, and was named president of Lucknow University as a result. He became a Member of Parliament for the Bahujan Samaj Party (BSP) in 2004. During this time, he was in charge of organising numerous political events in Uttar Pradesh. In 2004, he was elected to the BSP's Lok Sabha seat from Unnao. He was elected to the Rajya Sabha in 2008 as a BSP candidate and served as the party's deputy leader in the Upper House. He later resigned as a member of the organisation in 2009. His time in the Rajya Sabha ended in 2014, and in August 2016, Brajesh joined the Bharatiya Janata Party in the presence of Union Home Minister Amit Shah and other prominent party members. The Bharatiya Janata Party (BSP) was attempting to broaden its base ahead of the 2017 Uttar Pradesh Assembly elections, after suffering a loss in the 2012 Assembly elections and seeing its vote base erode. In 2017, he ran for the Uttar Pradesh Assembly as a BJP candidate in the Lucknow Central constituency, defeating his primary competitor from the Samajwadi Party, Ravidas Mehrotra, by 39,512 votes. He was initially appointed as a cabinet minister of law and justice in 2017, but as Yogi Adityanath's ministry expanded, he was promoted to cabinet minister of law and justice in 2019. Brajesh Pathak, who represents the state's major Brahmin population, took the oath as one of the northern state's deputy chief ministers on March 25, 2022. The BJP candidates' oath-taking ceremony has been meticulously planned. Thousands of people gathered at Ekana Stadium for the Yogi 2.0 administration's swearing-in event.
Permanent Address
B-158, Sector-A, Mahanagar Lucknow (Uttar Pradesh)
Signature
Assets/Properties
Movable Assets
Cash: Rs. 15,000
Deposits in Banks: Rs. 1,03,82,028
Bonds, Debentures and Shares: Rs. 5,16,578
NSS and Postal Savings: Rs. 5,16,222
LIC or other insurance Policies: Rs. 25,99,970
Jewellery : Rs. 24,70,000
Gross Total Value: Rs. 1,72,37,193
Immovable Assets
Agricultural Land: Rs. 15,00,000
Non Agricultural Land: Rs. 15,00,00
Commercial Buildings: Rs. 26,00,000
Others: Rs. 1,30,000
Total: Rs. 57,30,000
Liabilities
Loans from Banks: Nil
Net Worth (approx.)
His net worth is estimated to be Rs. 2.37 Crores.
Facts/ Trivia
Brijesh Singh has been named in over 30 criminal charges under the MCOCA (Maharashtra Control of Organized Crime Act), TADA (Terrorist and Disruptive Activities Act), and Gangster Act for murder, abduction, attempted murder, and murder throughout his three-decade political career. Cases have ranged from conspiracy to cause riots, instigating riots, inflicting deliberate damage to a government employee, obtaining false official papers, extortion, and fraudulent land grabbing.
His favorite sports includes cricket and shooting.