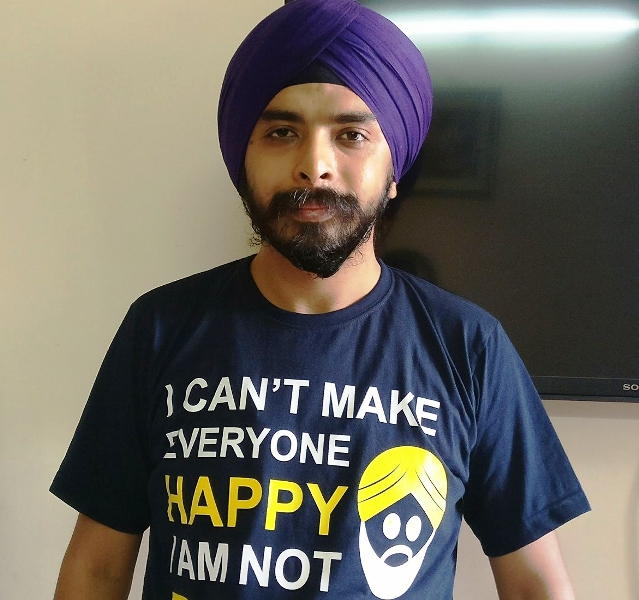 Tajinder Singh Bagga is an Indian politician and social media influencer associated with the Bharatiya Janata Party (BJP), who is known for attacking the Supreme Court lawyer Prashant Bhushan in 2011 for supporting a plebiscite in Kashmir. He became the spokesperson for the Delhi BJP in 2017. Apart from that, he is also known to head the ultra-nationalist outfit called Bhagat Singh Kranti Sena (BSKS).
Wiki

/Biography

Tajinder Pal Singh Bagga [1]Instagram- Tajinder Singh Bagga or Tejinder Pal Singh Bagga [2]The India Express was born on Tuesday, 24 September 1985 (age 36 years; as of 2021), and he hails from Tilak Nagar, New Delhi. His zodiac sign is Libra.

Following the footsteps of his father, Bagga joined a Rashtriya Swayamsevak Sangh (RSS) shakha at an early age. In an interview, his father revealed that Bagga had his political awakening at the RSS shakha, which led Bagga to drop out of school after Class 10 and engage in active politics. On contrary, Bagga said he dropped out of school to aid his father in his garments business. However, later he pursued a Bachelor Preparatory Programme (BPP) at Indira Gandhi National Open University. He earned a Diploma in National Development Course at National Defense University (Republic of China), Taiwan, in 2017. [3]Myneta
Family
Parents & Siblings
Tajinder Singh Bagga's father, Preet Pal Singh, runs a garments shop in Tilak Nagar. His mother's name is Kamaljeet Kaur.
Wife & Children
He is unmarried.
Religion
Tajinder Singh Bagga follows Sikhism.
Address
20B/91B Tilak Nagar, New Dehli, Dehli- 110018
Career
Politics
At 16, Bagga joined the BJP's youth wing, the Bharatiya Jana Yuva Morcha (BJYM) and later, he went on to become its secretary. In 2017, Bagga was appointed as the spokesperson for the Delhi BJP. In the 2020 Delhi Legislative Assembly elections, Bagga contested the Hari Nagar Assembly seat on a ticket from the BJP, but he lost the polls. Bagga is also the editor of the online portal NaMo Patrika, which was started by the Bhagat Singh Kranti Sena to highlight schemes and initiatives launched by the Modi government.
Others
Bagga runs an e-commerce portal, 'TshirtBhaiya', which specialises in nationalistic merchandise including T-shirts and jewellery. One of the items included a T-shirt illustrating the controversial 2017 incident when Army Major Leetul Gogoi tied the Kashmiri artisan Farooq Ahmad Dar to his jeep as a human shield against a mob.
In 2022, he started the food franchise 'Kulhad Biryani' in New Delhi, which he has labelled as "India's First Jhatka Biryani Brand." The restaurant specifically serves Jhatka meat. Jhatka is the meat from an animal killed instantly, against halal meat, which is the opposite and usually consumed by the Muslim population. In an interview, he talked about his restaurant and said,
We have already received hundreds of franchise enquiries. In the next six months, we target to open multiple franchises in Delhi NCR. After a year, we may take Kulhad Biryani around India. For now, we want Kulhad Biryani to be added to the taste buds of the entire Delhi-NCR."
Controversies
Operation Prashant Bhushan
In 2011, Bagga, along with a group of friends, barged into the chambers of the Supreme Court lawyer and activist Prashant Bhushan and assaulted him for supporting a plebiscite in Kashmir. Apparently, Bagga was functioning under a vigilante group called Bhagat Singh Kranti Sena (BSKS), which included Vishnu Gupta and Inder Verma. [4]Hindustan Times Hours before the assault Bagga had tweeted,
God give us power to complete our mission."
After the attack, he claimed the credit for it and tweeted,
He try (sic) to break my nation, I try to break his head. Hisab chukta. Congrats to all. Operation Prashant Bhushan successful."
Later, he added,
We hit Prashant Bhushan hard in his chamber in Supreme Court. If you will try to break my nation, I will break your heads."
Thereafter, Bagga and Vishnu Verma were arrested from a place near Baba Kharak Singh Marg in Dehli.
Photoshopped Harish Rawat as AMU founder Syed Ahmed
Uttarakhand Congress filed a complaint against Bagga with the election commission after he projected former Uttarakhand CM Harish Rawat and other Congress leaders as Muslim leaders. Apparently, the Muslim leaders had promised a Muslim university in the state. Uttarakhand Congress leaders claimed that Bagga's tweet was intended to create communal discord in the state and that he had violated the Model Code of Conduct for the elections, deeming the act as a cybercrime. [5]The Print
Defamation Case Against Subramanian Swamy
In December 2021, Bagga filed a defamation case against Rajya Sabha MP Subramanian Swamy alleging that Swamy, in his tweet on 28 September 2021, had claimed that before joining BJP, Bagga was jailed numerous times for petty crimes in the Mandir Marg police station area. Dismissing the allegations, Bagga said that they were surfaced on the internet with an intent to damage and harm his reputation. Thereafter, Bagga sent a legal notice to Swamy on 1 October 2021 warning that if he failed to apologise to Bagga within seven days, he would legally proceed against him. The Delhi HC stayed the defamation case on 4 April 2022. [6]The New Indian Express
Inflammatory Statements Case
On 1 April 2022, a case was filed in Mohali against Bagga based on a complaint by Dr Sunny Singh Ahluwalia, AAP Punjab spokesperson and party in charge of the Anandpur Sahib Lok Sabha constituency. Ahluwalia alleged that the comments made by Bagga in the media and his tweets amounted to provocative statements, which promoted enmity and threatened the party chief and Delhi CM Arvind Kejriwal. Thereafter, he was booked under sections IPC 153-A and 506. Punjab Police claimed that despite being served five notices, he did not join the investigation. On 6 May 2022, Bagga was arrested from his Janakpuri residence in Delhi by the Punjab Police. However, the Punjab Police team was halted in Haryana by the local police, who then handed Bagga over to Delhi cops. Later, Bagga was released after being produced before a magistrate. Following his release, Bagga approached the Punjab and Haryana High Court against the non-bailable arrest warrant issued against him. The HC stayed his arrest till 10 May 2022. Additionally, Chetan Mittal, Bagga's lawyer, was also granted protection from coercive action. [7]Hindustan Times
Arrested by West Bengal Police
In 2019, clashes erupted between Trinamool Congress and BJP workers during Amit Shah's roadshow in Kolkata following which various BJP workers, including Bagga, were taken into custody by the West Bengal police. Following his release, Bagga took to Twitter and revealed that he was arrested from his hotel room at around 2 am. In the following tweet, he said that Kolkata police extensively searched for CCTV footage or any picture that would prove Bagga's links to the violence that had erupted during the roadshow, but due to a lack of evidence they had to let him go. [8]Times Now
Assets
Deposits in Banks, Financial Institutions and Non-Banking Financial Companies: Rs 12,10,664
Bonds, Debentures and Shares in companies: Rs 1,20,000
Net Worth
As of 2019, his net worth is Rs 13,15,171. [10]Myneta
Facts/Trivia
The Delhi Police registered a case of kidnapping on 6 May 2022 after the Punjab Police arrested Tajinder Pal Singh Bagga from his residence in Delhi's Janakpuri. The Delhi Police claimed that the Punjab Police did not inform the local police before they took Bagga into their custody. On the day of arrest, the Haryana Home Minister Anil Vij, while addressing the media said,


This morning, we had received information from Delhi Police that Tejinder Bagga was abducted from Delhi in a Bolero vehicle. We were told that he was being taken in an illegal manner. Whatever instructions we received from Delhi Police, we abided by it. If there was any instance, an FIR could have been registered at Delhi, too. Why was an FIR registered on Bagga in Punjab. Is there any torture house of Aam Aadmi Party in Punjab?"

Meanwhile, AAP leader Saurabh Bhardwaj defended Bagga's arrest by Punjab Police saying,

Tajinder Bagga tweets to instigate violence in Punjab; it means BJP leaders in Delhi trying to spread communal violence in Punjab. Punjab Police working to maintain peace in the state. Delhi Police and Haryana Police trying to protect such gundas."

On 1 July 2015, Prime Minister Narendra Modi hosted an exclusive, invite-only, no selfie-allowed event called #super150, which was organized on the sidelines of the Digital India initiative. Bagga was one of the 150 social media influencers who were invited to the event, which was held at 7 RCR, New Delhi.
He disrupted the book launch of Booker-winning author Arundhati Roy for "Broken Republic: Three Essays" in 2011, citing that her essays were "anti-Indian Army and pro-Kashmir azaadi."
Bagga, along with his BSKS group, defaced the walls of the Pakistan High Commission by putting up posters demanding independence for Balochistan. They also pasted other controversial posters including one calling former Prime Minister Rajiv Gandhi "the father of mob lynching."
 He launched a campaign to boycott Bollywood star Deepika Padukone's films after she paid a visit to the Jawaharlal Nehru University following a mob attack on the campus in January 2020. In his tweet, he alleged that she supported the Tukde Tukde Gang.
In 2014, Tajinder Bagga sold tea outside Congress headquarters wearing T-shirts with PM Narendra Modi's face imprinted on them as a way of agitation against Congress leader Mani Shankar Aiyar's remarks against Modi. Apparently, Mani Shankar Aiyar had called Narendra Modi a 'chaiwallah' during the 2014 elections.
His active participation in the 2019 Lok Sabha election campaign in West Bengal led to his detain by the West Bengal Police after clashes erupted between Trinamool Congress and BJP workers during Union home minister Amit Shah's roadshow.
He owns a Tata Nexon car.
He is an adherent follower of Sri Sri Ravi Shankar and posts various pictures with him on his social media handles.
In October 2023, Bagga made a sensational claim regarding Justin Trudeau, the Prime Minister of Canada, and Khalistani extremist Hardeep Singh Nijjar amid the tensions between India and Canada. Bagga posted some pictures of Nijjar on X and claimed that he was gay and Trudeau used to like him. Bagga questioned whether Nijjar's alleged decision to distance himself from Trudeau had any connection to his murder in Canada. [11]

Deccan Herald