Dinesh Gundu Rao is an Indian politician and member of the Indian National Congress. He was consecutively elected as MLA from Gandhi Nagar, Karnataka Assembly constituency six times between 1999 to 2023. He assumed charge of the All India Congress Committee (AICC) for Goa, Puducherry and Tamil Nadu in 2020. Previously, he has served as Minister for Food, Civil Supplies and Consumer Affairs (20 May 2015 – 21 June 2016) and President of Karnataka Pradesh Congress Committee (4 July 2018 – 11 March 2020).
Wiki/Biography
Dinesh Gundu Rao was born on Thursday, 9 October 1969 (age 53 years; as of 2022) in Kushalanagar, Mysore State (now Karnataka), India. His zodiac sign is Libra. He attended Bishop Cotton Boys' School in Bangalore. He completed his Bachelor of Engineering in Electronics and Communications from B.M.S. College of Engineering, Bengaluru in 1992. [1]My Neta
Physical Appearance
Height (approx.): 5′ 11″
Hair Colour: Black
Eye Colour: Black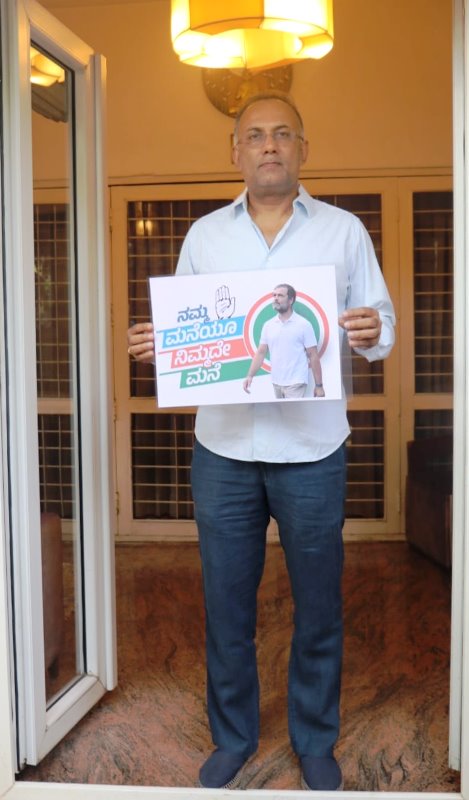 Family & Caste
Dinesh Gundu Rao belongs to a Kannada Brahmin family. [2]Bangalore Mirror
Parents & Siblings
His father, R. Gundu Rao (deceased), was the Chief Minister of Karnataka state from 1980 to 1983. He died of cancer in London on 22 August 1993.
His mother's name is Varalakshmi Gundu Rao (deceased) was also a politician, who ventured into politics in 1996 after her husband's death. In 1996, she contested and lost elections Lok Sabha elections from Bengaluru South to BJP candidate Ananth Kumar. She died due to COVID-related illness in 2021.
He is the second of the three sons of his parents. His brother Rajesh Gundu Rao was an actor, who passed away in 2012 due to a brain haemorrhage. He was associated with Janata Dal (Secular) and disassociated himself from the party after he was denied the post of president of the JD(S) youth wing. His brother, Mahesh Gundu Rao, is also a politician associated with BJP. [3]The Times of India
Wife & Children
On 16 December 1994, he got married to a Tabassum Rao (also referred to as Tabu Dinesh Rao), whom he met through mutual friends in college. Tabassum hails from a Muslim family. Neither of them converted to get married. Each follows their respective religion and takes part in each other's festivities. [4]Rediff In an interview, Tabu said,
Yes, totally true. I am pluralistic. I take part in Hindu pujas and rituals at home and participate in all Hindu festivals. Similarly, my husband celebrates Eid."
He has two daughters, Ananya Rao and Ameera Rao.
Religion/Religious Views
He follows Hinduism. [5]The Week
Signature/Autograph
Career
He became the working president of the Youth Congress in 1994. However, barely a few months, Dinesh backed out when he realised that the sizeable opposition he faced was quite justified since he was a newcomer. So, he was made the general secretary instead. He worked at the grassroots level for the party until 1999.
In 1999, he contested the Karnataka Legislative Assembly elections from the Gandhi Nagar Assembly constituency and won the seat defeating the independent candidate V. Nagaraj by 1115 votes. In 2004, Gundu Rao defeated JD(S) candidate Nagaraj by a margin of 28,268 votes and followed it up by winning the seat in 2008 beating the BJP candidate P.C. Mohan by a margin of 6,966 votes. He repeated his success in 2013 when he defeated BJP candidate P. C. Mohan by 22607 votes. He was the Minister for Food, Civil Supplies and Consumer Affairs in the Siddaramaiah government from 20 May 2015 to 21 June 2016. In 2016, fourteen ministers, including Gundu Rao, were axed from the Karnataka cabinet in a major revamp by Chief Minister Siddaramaiah to refurbish his image. Rao was re-elected as MLA from Gandhi Nagar in 2018. On 4 July 2018, Rao was appointed as the President of Karnataka Pradesh Congress Committee; he served in that capacity till 11 March 2020.
On 11 September 2020, he became the incharge of AICC for Goa, Puducherry and Tamil Nadu. He retained the Gandhi Nagar seat in 2023 defeating his BJP rival Sapthagiri Gowda by a margin of just 105 votes.
Controversies
Alleged Encroachment of Land in Bengaluru North Taluk
In 2014, Lokayukta police directed the Tehsildar of the Bengaluru North taluk to submit a report on the alleged encroachment of 47 acres of government land in Navaratna Agrahara near Devanahalli, Bengaluru North taluka (Yelahanka) by Dinesh and his family members. Social activist SR Hiremath had filed a complaint to the Governor and the Lokayukta to probe into the matter. In his report, the Tehsildar confirmed that Rao had encroached upon 10.09 acres of government land, 5 acres in Survey No. 3 and 5.09 acres in Survey No. 13 in Navaratna Agrahara. The land was jointly owned by Varalakshmi Gundu Rao, Dinesh Gundu Rao, Rajesh Gundu Rao, and Mahesh Gundu Rao. The family owned 47.34 acres of land, out of which 10.09 acres were said to belong to the government. Gundu Rao denied the charges saying the land they owned was bought way back in 1983. Later, the officials surveyed and took back the excess land. [6]The Economic Times
Derogatory remarks against Yogi Adityanath
In 2018, Congress and BJP engaged in a bitter war of words in Karnataka after KPCC working President and MLA Dinesh Gundu Rao said that "UP Chief Minister Yogi Adityanath must be beaten with chappals (slippers)." [7]India Today He also called Adityanath a dhongi (fraud) and urged the people of Karnataka to chase him away. He made the controversial statement while speaking at an event organised by the Congress at Maurya Circle in Bengaluru to protest against Unnao and Kathua rape incidents. Rao claimed Adityanath was unfit to be a chief minister. After being heavily slammed by BJP as well as Congress leaders, Dinesh apologised for the statement via a tweet which read,
My reaction to Adityanath controversy, it was an emotional outburst in a speech on the plight of the raped victim's and the complete apathy by Adityanath government. I regret if it's offensive but the abuse of law in UP is a serious issue."
Car Collection
Assets & Properties
Moveable Assets
Deposits in Banks: Rs. 90,76,580
Personal loans/advance given: Rs. 1,05,00,000
Motor Vehicles: Rs. 93,72,402
Immoveable Assets
Residential Buildings: Rs 6,00,00,000
Note: The given estimates of moveable and immovable assets are according to the financial year 2022-23. It does not include the assets owned by his wife and dependents. [8]My Neta
Net Worth
Dinesh Gundu Rao's net worth was Rs. 7,04,09,815 in 2023. It does not the net worth of his wife and dependents. [9]My Neta
Facts/Trivia
In 1993, his father died of cancer in London, passing on his political legacy to Dinesh, who was an engineer looking to go abroad. In an interview, Dinesh talked about how he decided to enter politics and said,


After my father died in 1993, his friends and supporters felt that there was definitely great scope for one of his family to enter politics in his place. My mother Varalakshmi is a very reserved housewife, my elder brother Mahesh is a quiet, soft-spoken person and my younger brother Rajesh was still a student. That left me, the most outgoing and articulate of the lot."

Dinesh joined Congress and became the working president of the Youth Congress in 1994. However, it was Dinesh's mother, Varalakshmi, who was first allotted the ticket by Congress to contest the Bangalore South Lok Sabha constituency in 1996. She lost the elections by about 20,000 votes to Civil Aviation Minister Ananth Kumar. While talking about the same in an interview, Dinesh said,

The party just announced my mother's name both times, without asking her. The first time round, the situation overtook her and she contested almost reluctantly. The next time, she was adequately prepared and said a straight no."
In 2019, BJP leader and Union minister Anant Kumar Hegde and Dinesh Rao engaged in a brawl on Twitter. While addressing a gathering at Kodagu in Karnataka, Hegde said,


"We have to rethink about priorities of our society. We shouldn't think of caste. If a Hindu girl is touched by a hand, then that hand should not exist."

Dinesh posted a tweet citing Hegde's statement, which read,

Wht are ur achievements after becoming a Union Minister or as MP? Wht are ur contributions for Karnataka's development? All I can say for sure,it's deplorable tht such people have become ministers & have managed to get elected as MP's."

Hitting back at Rao, Hegde said,

I shall definitely answer this guy "@dineshgrao's queries, before which could he please reveal himself as to who he is along with his achievements? I only know him as a guy who ran behind a Muslim lady."

The controversial remark infuriated Dinesh as well as his wife, Tabu, who heavily slammed Hegde for the remark. [11]The Week