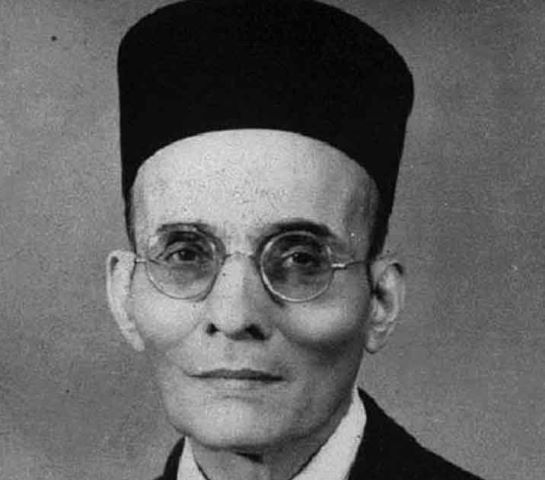 Vinayak Damodar Savarkar (1883-1966) was an Indian revolutionary freedom fighter. He was also an accomplished politician and author. He was the pioneer of the political ideology 'Hindutva,' which he developed during his detention period at Ratnagiri Jail in Maharashtra in 1922. After developing this ideology, he became a popular 'Hindu Nationalist.' He was one of the crucial leaders of the Hindu Mahasabha, a political party. As a leader of a Hindu nationalist party, he focussed on encouraging the term Hindutva (Hinduness), which he considered the essence of India (Bharat). He was inspired by the Indian Hindu philosophy and was an atheist. During India's struggle for freedom, a secret society, the Abhinav Bharat Society, was founded by Vinayak Savarkar and his brother in 1904. When he was studying Law in England, he became one of the members of revolutionary institutions like India House and the Free India Society.
Wiki/Biography
Vinayak Damodar Savarkar was born on Monday, 28 May 1883 (age 82 years; at the time of death) in Bhaghur, Nashik district, Bombay State, British India (present-day Maharashtra, India). His zodiac sign was Gemini. In 1905, Vinayak Damodar Savarkar earned a Bachelor of Arts degree from Ferguson College, Pune. Later, he studied Law in England on scholarship. He used to write various patriotic poems and ballads, and after his marriage, his wife lent her voice to his poms and ballads.  Vinayak received financial assistance from his father-in-law, Bhaurao, to study at the Fergusson College in Pune. Later, he moved to England to pursue law, where Shyamji Krishna Varma helped him in getting a scholarship for his law studies. In 1909, he started practising law as a member of Gray's Inn, and soon, he became a barrister. In 1910, he was detained by British officials soon after he published a book titled The Indian War of Independence.
Family
Parents & Siblings
Vinayak Damodar Savarkar's father's name is Damodar Savarkar, and his mother's name is Radhabai Savarkar. Vinayak had two brothers named Ganesh Damodar Savarkar (an Indian politician, activist, nationalist, and founder of the Abhinav Bharat Society) and Narayan (freedom fighter). He had a sister named Mainabai, who was a freedom fighter.
Wife & Children
Vinayak Damodar Savarkar got married to Yamunabai Savarkar in February 1901. She was the friend of Yamunabai, the sister-in-law of Vinayak Damodar Savarkar. Yamunabai Savarkar was also a member of the Atmanishtha Yuvati Samaj, which was established by the sister-in-law of Vinayak Savarkar to inculcate the spirit of nationalism in its members. The members of this organisation used to sing patriotic songs composed by Aba Darekar and Vinayak Savarkar.
His son, Vishwas Savarkar, was an employee at Walchand Group and an author. He passed away in Mumbai in 2010.
He had two daughters, Prabhat Chiplunkar, and Shalini, both of whom are deceased. His grandson's name is Ranjit Savarkar.
The first son of Vinayak Damodar Savarkar was Prabhakar, who died in his infancy. When Prabhakar died of smallpox, Vinayak was in London.
Religion/Religious Views
He was an Atheist. [1]History Under Your Feet Blog He had the belief that Hinduism had a distinct political and cultural identity. [2]A disowned father of the nation in India: Vinayak Damodar Savarkar and the demonic and the seductive in Indian nationalism He believed that the unity between Hindus, Sikhs, Buddhists, and Jains would result in social and communal unity in India excluding the Muslims and Christians. [3]Use of History and Growth of Communalism According to Vinayak Damodar Savarkar,
Muslims and Christians as "misfits" in the Indian civilization who could not truly be a part of the nation. The holiest sites of Islam and Christianity are in the Middle East and not India, hence the loyalty of Muslims and Christians to India is divided."
The religious practices, which were followed in the Hindu religion, were strongly condemned by Savarkar. According to him, the material progress of the Hindus was moving at a slow pace by following these practices. He was against the caste system practised in India and was of the view that to develop a Hindu identity, it was not necessary to follow all the practices of the Hindu religion. An essay titled Seven Shackles of the Hindu Society was published by Vinayak Damodar Savarkar in 1931. In this essay, he stated that the caste system practices, which were blindly followed by Hindus must be thrown into the dustbins of history. He wrote,
One of the most important components of such injunctions of the past that we have blindly carried on and which deserves to be thrown in the dustbins of history is the rigid caste system."
On 1 August 1938, more than twenty-thousand audience were gathered in Pune to attend Vinayak Savarkar's speech. This was a historic speech in which he narrated Germany's right to Nazism and Italy's to Fascism. In the same speech, he described that these countries had achieved a global status only through national unity. He also criticised Jawaharlal Nehru for finding fault in the governance of Germany and Italy. He spoke,
Crores of Hindu Sanghatanists in India [..] cherish[ed] no ill-will towards Germany or Italy or Japan."
In one of the speeches that he delivered on 14 October 1938, Vinayak Damodar Savarkar stated that the ways of Hitler should be adopted in India to deal with the Indian Muslims. According to him, Jews worked as a communal force. In March 1939, Savarkar stated,
Germany's revival of Aryan culture, their glorification of Swastika, and the "crusade" against Aryan enemies."
Caste
He belonged to the Chitpavan Brahmin Hindu family. [4]Vinayak Damodar Savarkar: The Much-maligned and Misunderstood Revolutionary and Freedom Fighter
Revolutionary Activities and Detentions
The Morley-Minto reforms were introduced in 1909, and these reforms were opposed by Ganesh Savarkar, the elder brother of Vinayak Savarkar. This made him organise an armed mutiny. This revolt was plotted by Vinayak Savarkar who was then chased by the Britishers in London and was arrested in Marseille. In pairs, Vinayak Savarkar was sheltered by Bhikaiji Cama during the police escape. When he was arrested in Marseille by the Britishers, the French government argued against his detention as the French wanted some legal proceedings before his arrest. The Permanent Court of International Arbitration heard the case of Vinayak Savarkar in 1910. Soon, the final verdict of the case was issued. Several French press and media houses covered this case, which attracted international attention. The final verdict of the court stated,
Since there was a pattern of collaboration between the two countries regarding the possibility of Savarkar's escape in Marseilles and there was neither force nor fraud in inducing the French authorities to return Savarkar to them, the British authorities did not have to hand him back to the French for the latter to hold rendition proceedings. On the other hand, the tribunal also observed that there had been an "irregularity" in Savarkar's arrest and delivery over to the Indian Army Military Police guard."
The British government also received the information that Vinayak was also connected with the Indian revolutionary group named India House following which he was escorted to India. During his travel to India from England on a ship, he escaped the police arrest and went to France. He fled from the ship when it was docked in the port of Marseilles. However, he was caught by the French officials at the French Port and handed back to the British government under the contravention of international law charges.
Court Proceedings
After the final sentences were announced by the British government, Vinayak Damodar Savarkar was detained in the Yerawada Central Jail in Pune. Vinayak Damodar Savarkar was detained by the British government under the following charges:
Waging war or abetting the waging of war against His Majesty, the King-Emperor of India;
Conspiring to deprive His Majesty the King of the Sovereignty of British India or a part of it;
Procuring and distributing arms, and abetting the murder of Jackson, the then collector of Nasik;
Procuring and distributing arms in London and waging war from London;
Delivering seditious speeches in India from January 1906 onwards and in London from 1908 and 1909.
A special tribunal heard the case of Vinayak Savarkar, and the court proceedings began on 10 September 1910. He was awarded two life imprisonment sentences that totalled fifty years of jail at Cellular Jail in the Andaman and Nicobar Islands. He was transported from Pune to the Andaman and Nicobar Islands on 4 July 1911 and was confined as a political prisoner at the Cellular Jail.
Appeals
Vinayak Damodar Savarkar filed several petitions to the Bombay Government when he was detained in the Cellular jail for some concessions in his retributions. However, his all appeals were rejected with an intimation that the mercy in his second sentence would be considered only after the termination of his first sentence. The first petition was filed by Vinayak Damodar Savarkar on 30 August 1911. It was rejected on 3 September 1911 by the British government. On 14 November 1913, he again filed his petition before Sir Reginald Craddock, the Home Member of the Governor General's council. In this appeal, he mentioned himself as,
Prodigal son" longing to return to the "parental doors of the government."
He further added in his appeal that the Indians would rely more upon the British government if they release him. He wrote,
Moreover, my conversion to the constitutional line would bring back all those misled young men in India and abroad who were once looking up to me as their guide. I am ready to serve the government in any capacity they like, for as my conversion is conscientious so I hope my future conduct would be. By keeping me in jail, nothing can be got in comparison to what would be otherwise."
In 1917, Vinayak Damodar Savarkar again appealed to the British government in a written statement to release all the political prisoners of the Cellular Jail under a general amnesty. In February 1918, it was intimated to Vinayak that his application was submitted to the British government. In December 1919, a Royal proclamation was announced by King-Emperor George V and some of the political prisoners were released under the royal pardon. Savarkar filed a fourth application for his Royal proclamation on 30 March 1920 before the British government, and in his statement, he wrote,
So far from believing in the militant school of the Bukanin type, I do not contribute even to the peaceful and philosophical anarchism of a Kuropatkin [sic.] or a Tolstoy. And as to my revolutionary tendencies in the past:- it is not only now for the object of sharing the clemency but years before this have I informed of and written to the Government in my petitions (1918, 1914) about my firm intention to abide by the constitution and stand by it as soon as a beginning was made to frame it by Mr. Montagu. Since that the Reforms and then the Proclamation have only confirmed me in my views and recently I have publicly avowed my faith in and readiness to stand by the side of orderly and constitutional development."
On 12 July 1920, the British government denied his application. Soon, Ganesh Savarkar, the elder brother of Vinayak Savarkar was released by the Britishers but kept Vinayak as a hostage for Ganesh. [5]Cultural Maharashtra The British government justified their decision in a written statement,
It may be observed that if Ganesh is released and Vinayak is retained in custody, the latter will become in some measure a hostage for the former, who will see that his own misconduct does not jeopardize his brother's chances of release at some future date."
House Arrest
On 2 May 1921, Vinayak Damodar Savarkar was shifted to the Ratnagiri Jail from Cellular Jail. He wrote a book titled Essentials of Hindutva amid his detention term at Ratnagiri Jail. Later, the theory and ideology of Hindutva were abstracted from this book. Vinayak Damodar Savarkar was discharged from jail on 6 January 1924; however, he was prohibited to move out of the Ratnagiri district by the British government. Thereafter, a Hindu society or Hindu Sangathan was established by him in Ratnagiri. He was under house arrest and was given a bungalow by the British government. During house arrest, he met various influential Indian freedom fighters such as Mahatma Gandhi, Dr Ambedkar, and Nathuram Godse. Meanwhile, he started writing books and became an acclaimed patriotic writer. In 1937, the newly elected government of the Bombay presidency released Vinayak Damodar Savarkar.
As a Leader
In 1937, Vinayak Damodar Savarkar began propagating the Hindu political and social unity ideology all across India by conducting public speeches soon after his release from jail. He was appointed as the president of the Marathi Sahitya Sammelan in Mumbai in 1938 and started cultivating the philosophy of India as a Hindu Rashtra (Hindu Nation) among Indians. Apart from this, several Hindu men started joining his army of Hindu Nationalism to unite together to fight against the British rule in India to protect India and its Hindus. Vinayak Damodar Savarkar was appointed as the president of the Hindu Mahasabha during the Second World War. After becoming the party president, he raised the slogan – "Hinduize all Politics and Militarize Hindudom." The struggles made by the British government in India amid the Second World War were often praised by Vinayak Damodar Savarkar. He also demanded the military training of the Hindu men in India by the British government so that these men could fight for the protection of India. Later, Vinayak Damodar Savarkar resigned as the president of the Hindu Mahasabha in July 1942 due to some heath issues. Meanwhile, the Quit India Movement was initiated by Mahatma Gandhi against the colonial rule in India. In 1942, Vinayak Damodar Savarkar raised anti-Quit India Movement speeches, as according to him, the civilians and Indian soldiers must participate to fight against any more invasions in India and stay alert in the war situations rather than following the Quit India Movement, a war against the Britishers within India. He officially wrote letters to the Hindu Sabhaites with the title "Stick to your Posts" in which he mentioned,
The members of members of municipalities, local bodies, legislatures or those serving in the army … to stick to their posts" across the country, and not to join the Quit India Movement at any cost." [6]Hindu Mahasabha in Colonial North India, 1915-1930: Constructing Nation
In 1942, Vinayak Damodar Savarkar condemned the Wardha session and its decision taken by the Congress working committee. The Wardha Commission stated while referring to the British government,
Quit India but keep your armies here."
However, the Congress party defended their decision by stating that this decision was requested by them to protect India from a possible Japanese invasion. On the other side, Savarkar and his party protested against the decision and stated that the presence of Britishers in India would not be tolerated in any form. The Hindus of India were requested by Vinayak Damodar Savarkar to learn the art of fighting a war from the Britishers so that the Hindus could help in protecting India from any external invasion during the Second World War. [7]Rediff The meeting of Mahatma Gandhi and Jinnah was organised in 1944 by the Congress Party, and this meeting was strongly opposed by the activists of Hindu Mahasabha. In this meeting, it was proposed by the Congress Party, along with the British government, that the Muslim separatists would be given some powers in the Indian politics with some concessions, which was strongly opposed by Vinayak Damodar Savarkar. Dr Shyama Prasad Mookerjee, the vice-president of the Hindu Mahasabha, resigned from his post soon after the independence of India.
Political Alliances
The Muslim League and the Hindu Mahasabha political parties were defeated by the Indian National Congress in the Indian Provincial Elections in 1937. After two years, in 1939, several prominent leaders of the Indian National Congress resigned from the Indian National Congress party after Viceroy Lord Linlithgow gave a public statement that the Indians were keenly interested in fighting the Second World War. They resigned from their respective posts to protest against the statement made by Viceroy Lord Linlithgow. The victory of the Indian National Congress motivated the Hindu Mahasabha and the Muslim League to join hands. This alliance was decided under the leadership of Vinayak Savarkar. Later, the next provincial elections in Sindh, NWFP, and Bengal were won by this alliance. In Sindh, the allied government was formed under the leadership of Ghulam Hussain Hidayatullah. Vinayak Damodar Savarkar delivered a public speech to run a coalition government in Sindh. He said,
Witness the fact that only recently in Sind, the Sind-Hindu-Sabha on invitation had taken the responsibility of joining hands with the League itself in running coalition government."
In December 1941, in Bengal, Hindu Mahasabha made an alliance with the Krishak Praja Party of Fazlul Haq. In 1943, in the North-West Frontier Province, it joined hands with Sardar Aurangzeb Khan of the Muslim League.
The Assassination of Mahatma Gandhi
Vinayak Damodar Savarkar was detained by the British government in 1948 soon after the assassination of Mahatma Gandhi by Nathuram Godse, who was a member of the Hindu Mahasabha and the Rashtriya Swayamsevak Sangh. Vinayak was arrested as a co-conspirator in Gandhi's murder case; however, lack of evidence acquitted him of all the charges. Mahatma Gandhi was assassinated on 30 January 1948. Nathuram Godse was working as an editor of 'Agrani – Hindu Rashtra,' a Marathi newspaper in Pune. "The Hindu Rashtra Prakashan Ltd" (The Hindu Nation Publications) was operating the business of this daily newspaper. Vinayak Damodar Savarkar was also an investment partner of rupees fifteen thousand in this publication. The British government put the murder, conspiracy to murder, and abetment to murder charges on Vinayak Damodar Savarkar and arrested him on 5 February 1948 from his house. Vinayak Damodar Savarkar was detained in the Arthur Road Prison, Bombay, soon after the arrest. A series of investigations were followed by the Indian government at the house of Savarkar, and a lot of papers were seized from his house; however, not even a single paper revealed that Savarkar was a co-conspirator in Gandhi's murder case. Later, Nathuram Godse admitted that he assassinated Mahatma Gandhi and took the whole responsibility on his own by stating that no one was involved with him.
Post Independence
Later, Vinayak Damodar Savarkar was acquitted of all the charges in Gandhi's murder case. Some anguished people threw stones at his house in a fit of anger when he was released from jail. Soon, he began public rallies and speeches specifically based on Hindu Nationalism, which led to his detention. The ban on his political career was uplifted by the Britishers, and Vinayak Damodar Savarkar entered into politics by advocating the basis of Hindutva along with its social and cultural aspects. Some of his followers started assisting him financially in politics. He was inspired by a number of revolutionaries of India.
Literary Works
When Vinayak Damodar Savarkar was kept in the Ratnagiri jail by the British government, he wrote a book titled Hindutva: Who is a Hindu?. The book titled "Maharatta" was published by him soon after his release from the Ratnagiri jail. All of his books were primarily based on the Hindu social and political awareness in India. His vision was,
Hindu" as a patriotic inhabitant of Bharatavarsha. "Hindu Rashtra" (Hindu Nation) as "Akhand Bharat" (United India)."
According to Vinayak Damodar Savarkar, the disclosure of social and political unity in India could be attained only with the conformity of Hinduism, Jainism, Sikhism, and Buddhism in India. [8]Who is Hindu? He was of the viewpoint that the Hindus were not originated from Aryans and Dravidians but belonged to a common motherland. He said,
People who live as children of a common motherland, adoring a common holyland."
A book titled Hindu Pad-pada-shahi was published by Vinayak Damodar Savarkar in 1925. In this book, he narrated the sagas of the Maratha Empire. Vinayak Damodar Savarkar is the author of the book titled My Transportation for Life in which he described his imprisonments, trials, and arrests during his revolutionary days. Apart from books, he published a collection of poems, novels, and plays. Later, he authored the book titled Majhi Janmathep ("My Life-term") in which he cited his time at Cellular Jail in Andamans. One of his noted compositions includes 'The Indian war of independence, 1857.'
Death
On 1 February 1966, Vinayak Damodar Savarkar stopped taking food, water, and medicines. He regarded this process as atmaarpan (fast until death). An article titled "Atmahatya Nahi Atmaarpan" was published by him during the last days of his life. In this article, he penned,
When one's life mission is over and the ability to serve society is left no more, it is better to end the life at will rather than waiting for death."
On 26 February 1966, Vinayak Damodar Savarkar died at 11:10 a.m. (IST) in his house in Bombay. He was feeling difficulty in breathing and was seriously ill. Before dying, Vinayak Damodar Savarkar requested his family members not to perform the tenth and thirteenth-day rituals after his death. His funeral rites were attended by a huge crowd.
Facts/Trivia
At the age of twelve, Vinayak Damodar Savarkar and his companions attacked a mosque in their village soon after a Hindu-Muslim riot in Maharashtra. According to Vinayak, he and his fellow beings ruined the mosque for their inner satisfaction. [10]

The Economist In an interview with a media house, he stated,


We vandalized the mosque to our heart's content."
The wife of Vinayak Damodar Savarkar came to meet him when he was kept at Cellular Jail. She travelled from Trimbakeswar to Nashik along with her brother on the back of a horse. During her journey, she was not sheltered by any of her friends at Nashik due to the fear of Britishers, and she had to spend a whole rainy night in a temple.
Digambar Badge, who turned approver in the prosecution, gave a statement to the police officials that on 17 January 1948, the last public speech of Mahatma Gandhi was attended by Nathuram, along with Vinayak Damodar Savarkar, Badge, Shankar, and Apte. He described the whole incident as,


Savarkar blessed them "Yashasvi houn ya" ("यशस्वी होऊन या", be successful and return). Savarkar predicted that Gandhi's 100 years were over and there was no doubt that the task would be successfully finished."
Gopal Godse, Madanlal Pahwa, and Vishnu Karkare, the other co-conspirators in the assassination of Mahatma Gandhi, were released from jail in 1964, and to celebrate their release, a program was organised in Pune. In the meantime, Dr G. V. Ketkar, the grandson of Bal Gangadhar Tilak and the informer of some clues in the killing of Gandhi was detained by the Government of India. Soon, the then Union home minister Gulzarilal Nanda appointed Gopal Swarup Pathak, a senior advocate of the Supreme Court of India as a Commission of Inquiry in the Maharashtra Legislative Assembly to reinvestigate the Mahatma Gandhi murder case. In this case, the evidence provided by the Kapur Commission such as the testimonies of two friends of Savarkar – Appa Ramachandra Kasar, his bodyguard, and Gajanan Vishnu Damle, his secretary were also re-scrutinised. The evidence of the C. I. D. Bombay mentioned that a secret vigilance was kept on the activities of Savarkar from 21 to 30 January 1948, but it further stated that Savarkar did not meet Godse or Apte during this time. Justice Kapur stated in the conclusion,


All these facts taken together were destructive of any theory other than the conspiracy to murder by Savarkar and his group."
The Ratnagiri Hindu Sabha organisation was established by Vinayak Damodar Savarkar to protect the Hindu legacy and its socio-culture soon after his release from the Ratnagiri jail on 6 January 1924. He recommended the use of the Hindi language as a common language in India and endorsed the abolition of the caste system and untouchability rituals.
The Government of India preserved the home, precious properties, and personal relics of Vinayak Damodar Savarkar after his death. It is maintained for public display. On the death of Vinayak Damodar Savarkar in 1996, the Maharashtra Congress party government did not declare any official mourning.
On 5 August 1939, Vinayak Damodar Savarkar stated in one of his public addresses that the mixture of common thoughts, religion, language, and culture was essential to establish the nationalism spirit in the citizens of a country. He said,


How a common strand of "thought, religion, language, and culture" was essential to nationality thus preventing the Germans and Jews from being considerable as one nation."
A well-known Indian author and historian, Chetan Bhatt stated in one of his writings that the Indian Muslims were often compared to the German Jews by Vinayak Savarkar in the public speeches that he delivered in 1939. In 2001, in the book titled Hindu Nationalism: Origins, Ideologies and Modern Myths, Bhatt mentioned the beliefs of Savarkar. He wrote,


Both were suspected of harboring extra-national loyalties and became illegitimate presences in an organic nation."

Bhatt continued by writing that the Jews started shifting to Israel, which was their fatherland, and this move of Jews was backed by Savarkar in India. According to Savarkar, this settlement of Jews protected the world against Islamic attack. On 15 January 1961, in one of his public speeches, Savarkar appreciated the Nazi ideology of Hitler and condemned Nehru's rule in India as,

Cowardly democracy."
According to some historians such as Rachel McDermott, Leonard A. Gordon, Ainslie Embree, Frances Pritchett, and Dennis Dalton, Vinayak Savarkar supported an anti-Muslim ideology and preached Hindu nationalism. Scholar Vinayak Chaturvedi claimed that most of the writings of Savarkar were anti-muslim and that was the reason that he was a popular politician in India. According to Savarkar, the Muslims in the Indian military and police service were like,


Potential traitors."
In Vinayak Damodar Savarkar's view, the Muslims must not be recruited into the Indian military and police services, and they should not be allowed in the factories where arms and ammunition were manufactured in India. However, Mahatma Gandhi was concerned about the Indian Muslims, which was not liked by Savarkar. In the book titled "Rethinking knowledge with action: V. D. Savarkar, the Bhagavad Gita, and histories of warfare," it was mentioned by the author and renowned historian Chaturvedi that with the passage of time, Vinayak Damodar Savarkar was shifting his beliefs and ideology from "Indian independence from colonial rule" to "Hindu independence from Christians and Muslims." The two-nation theory was endorsed by Muhammad Ali Jinnah in the 1940s in which Jinnah wanted the Indian Muslims to establish their own independent country; however, Savarkar focussed on forming a new nation for the Sikhs and called it "Sikhistan." Vinayak Damodar Savarkar wanted that the Muslims should remain in India and must work and live under the subordination of Hindus. Vinayak Damodar Savarkar mentioned in his book Six Glorious Epochs of Indian History (1963) that Hinduism could be ruined by the Muslims and Christians in India.
In a book titled Divine Enterprise: Gurus and the Hindu Nationalist Movement, which was written by McKean, it is mentioned that Vinayak Damodar Savarkar and the Congress Party leaders did not like each other during most of his political career. The veteran Congress leaders Vallabhbhai Patel and C. D. Deshmukh failed to make an alliance between Savarkar and Congress after the independence of India. This intense disliking provoked the leaders and members of the Indian National Congress not to participate in any function organised to honour Savarkar. The first Prime Minister of India, Jawaharlal Nehru, refused to share the stage with Savarkar in an independent India in Delhi at the first centenary function of India's First War of Independence. After the death of Nehru, the then newly appointed Prime Minister Lal Bahadur Shastri granted a monthly pension to Vinayak Damodar Savarkar.
As an acclaimed author, Vinayak Damodar Savarkar often emphasised in his books that the Purna Swaraj could be attained only through revolutionary activities against the Britishers. One of his noted books titled The Indian War of Independence was banned by the British government. In this book, he mentioned the Indian Rebellion of 1857.
According to Vinayak Damodar Savarkar, he never acknowledged the ideologies such as the non-violence of Mahatma Gandhi. [11]

Rediff In an interview with a media house in 1965, Savarkar stated,


I have never believed in Gandhiji's doctrine of Non-Violence. Absolute non-violence is not only sinful, but immoral. This doctrine of non-violence benumbed the revolutionary fervor, softened the limbs and hearts of the Hindus, and stiffened the bones of enemies."
After the independence of India, in 1998, the government led by the Bharatiya Janata Party (BJP) was often spotted admiring Vinayak Damodar Savarkar at various public events. The political principles and Hindu doctrines of Vinayak Savarkar were remembered in 2014 by the Modi-led BJP government when it came into power at the centre.
The sarsanghachalak of RSS Golwalkar and Vinayak Damodar Savarkar did not go along when they were alive, but after the death of Savarkar, more than two thousand RSS workers gave a guard of honour at Savarkar's funeral procession.
The Government of India renamed the Port Blair Airport in Andaman and Nicobar Islands as Veer Savarkar International Airport in his memory in 2002, and his statue was also established by the Government of India at the Cellular jail in Andaman and Nicobar Islands to honour his sacrifices during the Indian independence movement.
A blue plaque was fixed at the  India House by the Historic Building and Monuments Commission for England after his death in his memory. The plaque read,


Vinayak Damodar Savarkar, 1883–1966, Indian patriot and philosopher lived here."
The Government of India issued a postal stamp in his memory in 1970 to honour his sacrifices during India's struggle for freedom.
The Government of India unveiled and installed a portrait of Vinayak Damodar Savarkar in the Indian Parliament in 2003.
It was requested by Uddhav Thackeray, the president of Shiv Sena in Maharashtra to honour Vinayak Damodar Savarkar with the Bharat Ratna, India's highest civilian award, to the Government of India in 2017. He also urged the central government to establish a replica of Savarkar's prison in Mumbai as it would disseminate the Hindu Rashtra ideology and Savarkar's sacrifices among the young generation of India.
An author named Chitragupta published the biography of Savarkar titled "Life of Barrister Savarkar" two years after Savarkar's release from jail. The revised edition of this biography was issued by Indra Prakash, a member of the Hindu Mahasabha in 1939. The Veer Savarkar Publications released the second revised edition of this biography in 1987. In the preface of the book, Ravindra Vaman Ramdas mentioned,


Chitragupta is none other than Veer Savarkar."
Sadashiv Rajaram Ranade released a biography titled स्वातंत्रवीर विनायकराव सावरकर ह्यंचे संक्षिप्त चरित्र of Savarkar in the Marathi language when Savarkar was under house arrest in the Ratnagiri district. Later, this book was translated into English titled "A Short Biography of Swatantraveer Vinakarao Savarkar." Savarkar was mentioned with the name Swatantraveer in the whole book.
In 1996, in the Malayalam movie Kaalapani, Bollywood actor Annu Kapoor portrayed Vinayak Damodar Savarkar, and this film was directed by Priyadarshan.
The Marathi and Hindi music director Sudhir Phadke released a biopic of Savarkar in 2001. Reportedly, Sudhir Phadke was inspired by the ideology of Savarkar. In the film, Shailendra Gaur portrayed Vinayak Damodar Savarkar.
Rupesh Katare and Nitin Gawde directed a Marathi film titled What About Savarkar? in 2015. In the film, a man went on a mission to take revenge against those who scorned the name and ideologies of Vinayak Damodar Savarkar.
Various poems and songs, which were written and composed by Vinayak Damodar Savarkar, were sung by the legendary Indian playback singer Lata Mangeshkar. Some of these songs include Jayostute jayostute, shree mahanmanglee, Nee mazasi ne, parart mathribhoomila, sagara pran talmalala. The father of Lata Mangeshkar was a good friend of Vinayak Damodar Savarkar. Once, in an interview with DD Sahyadri, a regional channel of Doordarshan, Lata Mangeshkar talked about her family relations with Savarkar. She stated,


Savarkar, fondly known as 'Tatya', was like a family member."

In the same conversation, Lata Mangeshkar recalled how she first met Vinayak Damodar Savarkar. She remembered,

When my father was to go to a Harijan locality, I too wanted to go with him. Mother advised me not to go. Baba said an inter-caste gathering over food has been organised by Tatya in the Harijan locality. At that time, it was a big thing to have inter-caste gatherings over food. So this is how I was introduced to Tatya."
Several Hindu festivals such as Raksha Bandhan and Guru Gobind Singh Jayanti were organised by Vinayak Damodar Savarkar when he was in London. The Indian students who were studying in London were helped by him in arranging these functions. He wanted to encourage and build an understanding of Hindu culture among these students. The slogan raised by Vinayak Damodar Savarkar during these functions was,


One Country. One God One Caste, One Mind Brothers all of us Without Difference Without Doubt"

Simultaneously, Vinayak Damodar Savarkar, along with Bhikaiji Cama, designed and unfurled the first Indian National Flag at the World Socialist Conference in Stuttgart, Germany. [12]Kamat
During his imprisonment at Cellular Jail, Vinayak Savarkar experienced that the Indian prisoners could not access the pen and paper to write. However, he couldn't resist writing poems and started writing on the plastered mud walls of the jail with a nail. In jail, he composed his historic essay titled 'Kamala,' which he dedicated to his wife, Yamunabai. This essay consisted of more than a thousand words. This incident alerted the British officials, and they changed his cell, and soon, they removed him from this cell. Later, this cell was occupied by his friend and Hindi journalist, who recognised the essay and learnt it by heart. When this journalist was freed from jail, he wrote this essay on paper and delivered it to the relatives of Savarkar.

[13]

Kamat
An American interviewer Tom Treanor stated in one of his articles in 2017 that once in an interview, Vinayak Savarkar gave an irreparable statement. [15]

DailyO The conversation that Tom mentioned in his article was,


How do you plan to treat the Mohammedans?" I asked him. "As a minority," he said, "in the position of your Negroes." "And if the Mohammedans succeed in seceding and set up their own country?" "As in your country," said the old man, waggling a menacing finger. "There will be civil war."
In one of his writings, Vinayak Damodar Savarkar narrated that the famine of 1897 inclined him toward revolutionary activities in India. He wrote that famine and plague adversely affected most parts of India, and the people of the country were suffering a lot. The British government took meagre steps to curtail these diseases that led to many innocent deaths in the country. In a fit of rage, the Chaphekar brothers of Poona killed the plague commissioner Tyrant Rand. Later, they were hanged for the murder of Tyrant Rand. This incident had a deep impact on a sixteen-year-old Savarkar, who pledged to fight against colonial rule in India.