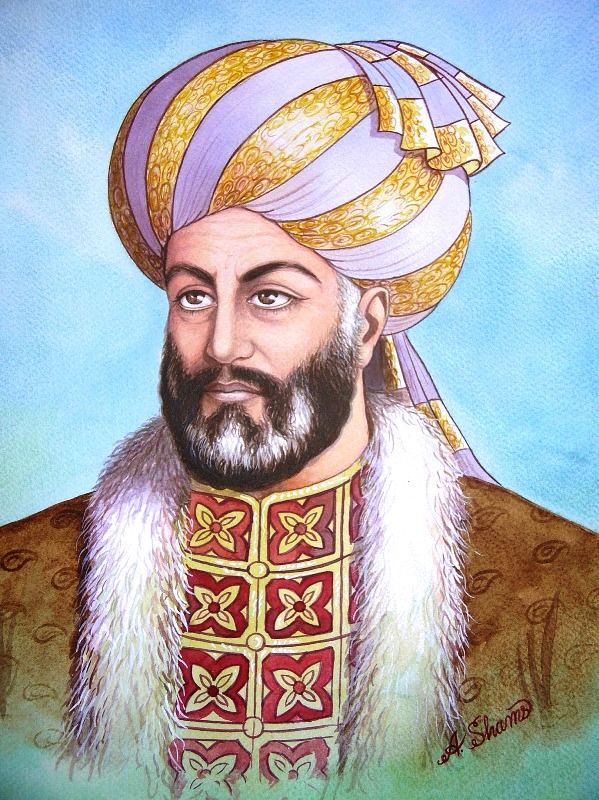 Ahmad Shah Abdali was the first emperor of the Durrani Empire. He is considered the founder of the modern state of Afghanistan. He was titled as Padishah-i-Ghazi (Victorious Emperor) and Durr-i-Durrani (Pearl of pearls or Pearl of the age). He is reminded as 'Ahmad Shah Baba' by the Afghans.
Wiki/Biography
Ahmad Shah Abdali was also known as Ahmed Shah Durrani or Ahmad Shah Abdali Durr-i-Durrani. He was born in the year 1722 (age 50-51 years at the time of death) in Herat (then Hotak Empire, present-day Afghanistan) or Multan (then Mughal Empire, present-day Pakistan). [1]Google Books
Family, Caste & Wife
Ahmad Shah was born in the Sardozei Clan (an Abdali tribe) of Afghans. His father's name is Muhammad Zaman Khan Abdali, who was from Sardozei tribe, and his mother's name is Zarghuna Begum, who was from Alakozai tribe. Ahmad Shah Abdali's father, Mohammad Zaman Khan, was imprisoned by the Persian army and was released in 1715. After being released, Zaman went to Multan to meet his relatives, and as per some sources, Abdali was born in Multan (now a city in Pakistan). He had a brother, Zulfiqar, who became the Governor of Mazandaran, Iran. Abdali got married thrice. Ahmad's first wife was Mimtta, his second wife was Iffat-un-Nissa Begum, and his third wife was Hazrat Begum, with whom he got married in 1757. One of his children was Timur Shah Durrani, who was born in 1748. Timur was the second child and the eldest son of Ahmad and Mimtta.
Early Years of Ahmad Shah Abdali
In 1738, Ahmad and his brother, Zulfiqar were freed from the imprisonment of Hussain Hotak, the Ghilji ruler of the Kandahar region, and they both joined the army of Nadar Shah (ruler of Afsharid dynasty, Iran).
Zulfiqar was appointed as the Governor of Mazandaran while Ahmad Shah worked as the personal attendant of Nadar. Later, Ahmad was promoted as the commander of Abdali cavalry of 4000 soldiers, who later assisted Nader Shah's military in the invasion of the Mughal Empire in 1738. According to a Pashtun legend, when Nader Shah was in Delhi, he said,
Come forward Ahmad Abdali. Remember Ahmad Khan Abdali, that after me the Kingship will pass on to you."
Rise to Power
In 1747, Nader Shah was assassinated by his own guards. The guards planned the murder so secretly that Abdali's regiment could not rescue him. One of Ahmad Shah's wives told him that Nader was killed. Ahmad, along with his army, rushed to save him, but when they reached, their leader, Nader, had already died. The loyal Abdali regiment cried over their leader's demise, and they headed back to Kandahar. Before leaving, Ahmad removed the royal seal from Nader Shah's finger and the Koh-i-Noor diamond tied around the arm of his deceased master. After Nader Shah's demise, the Durrani's unanimously accepted Ahmad as their new leader, and thus, Abdali became the sovereign ruler of Afghanistan.
Invasions of India
After the demise of Nader Shah, Abdali married his widow, Iffat-un-Nissa Begum. He formed his trustworthy army consisting of his fellow Durranis and other Pashtuns, Tajiks, Qizilbash, and other Muslims.
He started his military conquest by capturing Ghazni from the Ghiljis followed by capturing Kabul from the local ruler. He invaded the Punjab region three times from 1747 to 1753. In 1750, he successfully captured Herat (now a city in Afghanistan).
Ahmad Shah invaded India eight times from 1748 to 1767. The main aim of these invasions was to plunder India's wealth; as India was a wealthy nation. In 1748, he invaded India for the first time and was defeated in the Battle of Manupur. The second invasion was in 1749, in which they successfully took control over the territory to the west of Indus. The third invasion was the Battle of Lahore (1752), in which Ahmad Shah won over Mir Mannu (Mughal governor of Punjab). In the fourth invasion, his army successfully plundered the cities of Lahore, Sirhind, Delhi, Mathura, and Vrindavan.
The fifth invasion was one of the most significant eras in the history of India; as it consisted of many battles including- the Battle of Lahore (1759), Second Battle of Sikandarabad (1760), Siege of Kunjpura (1760), Third Battle of Panipat (1761), and Battle of Sialkot (1761). The last three invasions were from the year 1762 to 1767.
The Third Battle of Panipat (1761)
In 1758, the Marathas pushed Timur Shah Durrani, son of Abdali, out of Punjab and Kashmir. Abdali took revenge of this by striking back in 1759 along with his army and reached up to Lahore and Delhi. As per the sources, it is considered as one of the reasons for 'The Third Battle of Panipat.' The battle took place on 14 January 1761 at Panipat (now Haryana), between the Marathas, led by Sadashivrao Bhau, and the Afghan army, led by Ahmad Shah Abdali. It is considered as one of the most significant battles of the 18th century in India. Abdali's army was supported by three Indian allies- the Rohillas Najib-ud-daulah, Afghans of the Doab region, and Shuja-ud-Daula the Nawab of Awadh; as they all were Muslim leaders.
The main Maratha army was stationed in Deccan with the Peshwa. The Maratha's chief, Sadashivrao Bhau headed towards the north with an army of 1,00,000 men. In one of the initial battles, Abdali forces killed the Maratha warrior, Dattaji Shinde or Dattaji Rao Scindia. This battle was followed by a few more battles which continued for several days.
The Marathas pushed back the Rohillas, who were supporting Afghans, but soon, Marathas came in a weaker position. The Afghan forces were in a large number as compared to Marathas, and Afghan's allies were stronger than that of Marathas. On 14 January 1761, the battle started, initially, Marathas were winning it, but when Afghans killed Vishwasrao (Bhau's nephew) and Sadashivrao Bhau the war came to an end resulting in the victory of Afghans.
The Aftermath of the Battle
According to the Bakhar (a historical narrative written in Marathi prose) by Shuja-ud-Daula's Diwan Kashi Raj, about 40,000 Maratha prisoners were slaughtered the day after the battle was won by the Afghans. The children & women of Maratha clan were imprisoned by the Afghans. After the battle, Abdali sent a letter to Peshwa Balaji Baji Rao on 10 February 1761, appealing that,
There is no reason to have animosity amongst us. Your son Vishwasrao and your brother Sadashivrao died in battle, was unfortunate. Bhau started the battle, so I had to fight back unwillingly. Yet I feel sorry for his death. Please continue your guardianship of Delhi as before, to that I have no opposition. Only let Punjab until Sutlaj remains with us. Reinstate Shah Alam on Delhi's throne as you did before and let there be peace and friendship between us, this is my ardent desire. Grant me that desire."
Death
Ahmad Shah Abdali had a tumour on his nose which resulted in cancer. After struggling with cancer for a few years, he died in Murghah, Herat Province, Afghanistan in June 1773.
Facts/Trivia
His body was buried in Kandahar, Afghanistan (known as the Tomb of Ahmad Shah Durrani). There is a sacred cloak in the Tomb that Prophet Muhammad wore.
After Abdali's death, his empire was succeeded by his son, Timur Shah Durrani.
The epitaph on his tombstone read:
The King of high rank, Ahmad Shah Durrani,
Was equal to Kisra in managing the affairs of his government.
In his time, from the awe of his glory and greatness,
The lioness nourished the stag with her milk.
From all sides in the ear of his enemies there arrived
A thousand reproofs from the tongue of his dagger.
The date of his departure for the house of mortality
Was the year of the Hijra 1186 (1772 A.D.)"
He was a great poet and wrote many poems in his native language 'Pashto.' His famous poem was 'Love of a Nation':
By blood, we are immersed in love of you.
The youth lose their heads for your sake.
I come to you and my heart finds rest.
Away from you, grief clings to my heart like a snake.
I forget the throne of Delhi
when I remember the mountain tops of my beautiful Pakhtunkhwa."
If I must choose between the world and you,
I shall not hesitate to claim your barren deserts as my own"
A park is made in Kala Amb, Panipat, Haryana commemorating the 'Third Battle of Panipat (1761).'
In 2019, a Hindi film on the 'Third Battle of Panipat' was released; titled 'Panipat- The Great Betrayal,' in which Sanjay Dutt played the role of 'Ahmad Shah Abdali' and Arjun Kapoor played the role of 'Sadashivrao Bhau.'