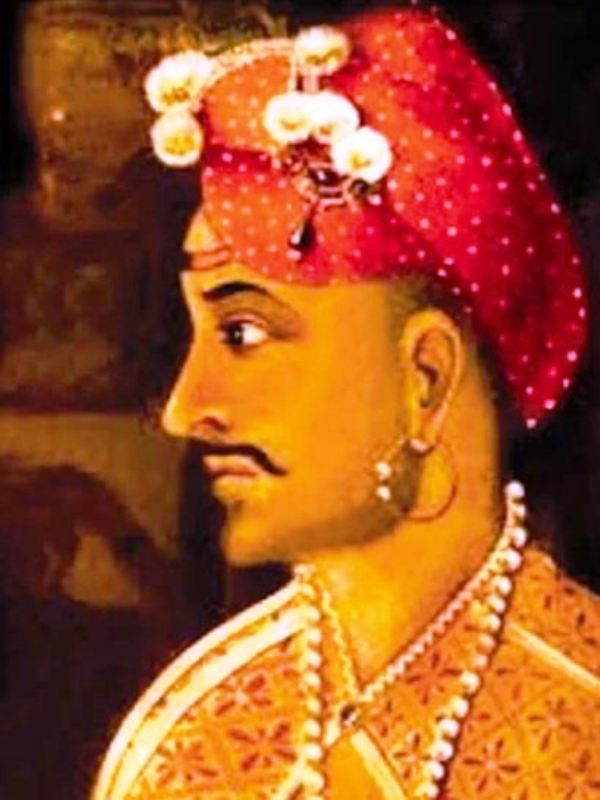 Sadashivrao Bhau was the Diwan of Peshwa who served the Maratha army as its Commander-in-chief at the Third Battle of Panipat (1761). He is also known as Bhau and Bhausaheb.
Wiki/Biography
Sadashivrao Bhau was born on Friday, 4 August 1730 (age 30 years at the time of death) in Saswad, Pune. His zodiac sign is Leo. He completed his education in Satara, Maharashtra under his guru, Ramchandrababa Shenvi.
Family, Caste & Wife
Bhau was born in a Maratha Family. [1]Google Books His father was Chimaji Appa, who died when Bhau was 10 years old. Bhau's mother, Rakhmabai died when he was a month old, and later, his father got married to Annapurnabai. Bhau was brought up by his grandmother, Radhabai and his aunt, Kashibai. Peshwa Baji Rao was his paternal uncle, and Nanasaheb Peshwa was his cousin.
Bhau got married twice. His first wife was Umabai, and from her, he had two sons. After her death, he got married to Parvatibai, who accompanied him in the Third Battle of Panipat, 1761.
Early Life of Sadashivrao Bhau
In 1746, a task was assigned to Babuji Naik and Fateh Singh Bhonsle in Karnataka in which they failed, which was later assigned to Sadashivrao Bhau. On 5 December 1746, Bhau left Pune with his political advisors, Mahadoba Purandare and Sakharam Bapu and undertook his first campaign in Karnataka which continued till May 1747. In January 1747, Bhau won his first battle at Ajra, south of Kolhapur in which 36 Parganas were captured by the Marathas. He annexed the cities of Kittur, Parasgad, Gokak, Yadwad, Bagalkot, Badami, Navalgund, Umbal, Giri, Torgal, Haliyal, Harihar, and Basavapatna.
After the resignation of Mahadjipant Purandare, Bhau became the Diwan of Peshwa. He won many battles in which he revolted against Yamaji Shivdev, won the Battle of Udgir (1760), and captured the fort of Daulatabad. One of the most remarkable battles in his leadership was the 'Third Battle of Panipat (1761).'
The Third Battle of Panipat (1761)
In January 1760, Nanasaheb Peshwa got the news that Ahmad Shah Abdali (leader of the Afghani army) had invaded the Punjab region of India. All the Muslims in North India made an alliance with Abdali in the name of the religion. Nanasaheb chose Sadashivrao to lead the Maratha army to Delhi and fight against Abdali.
On 14 March 1760, his army of 45,000-60,000 men started their journey from Patdur, which was later joined by non-combatants including family members, who desired to make pilgrimages to Hindu holy sites in north India. Subsequently, his army was joined by the Marathas of Holkar and Scindia.
Bhau adopted the hit and run tactics which helped him in winning the previous battles also. He formed a unit which consisted of 10,000 infantry and 50 artillery pieces. Holkar and Scindia tried to influence Bhau to make allies with the Rajputs, Sikhs, Shuja-ud-Daula, and Muslim leaders in north India. The Rajputs denied to support him in the battle; as Marathas had interfered a lot in the internal and political matters of Rajputana.
Holkar and Scindia requested the powerful leader of Rajasthan, Suraj Mal, to join them in the battle. Suraj Mal did not trust Bhau, so, Holkar and Scindia gave their word of honour to Suraj Mal for his personal safety. Suraj Mal accepted their proposal and agreed to join the Maratha forces. Due to the non-cooperation of the Jat and the Rajput kings, a shortage of food and other supplies arose. Bhau's imperious attitude made the situation tougher as he failed to convince the regional kings to support him in the war. He even decided to arrest Raja Suraj Mal who was ready to make alliance with the Marathas. Suraj Mal went back to Ballabhgarh Fort and denied to support him further.
Bhau even rejected the offer from Sikhs for the alliance, so, he did not get any supplies from Punjab as well. The Maratha camp reached Delhi on 1 August 1760, but due to shortage of food, thereafter, they moved about 110 km north of Delhi to Karnal and captured the village of Kunjpura on the west bank of Yamuna River where Bhau killed the entire battalion of Afghans at the Kunjpura Fort. Abdali had already crossed the Yamuna River on its east bank, so, he could not save his battalion; as the Yamuna River was flooded.
Abdali could not tolerate this setback and decided to cross the river at any cost. On 17 October 1760, he started moving from Shahdara with his army and troops. A village man in the exchange of money showed them a path to cross the Yamuna River at Baghpat (a small town midway between Delhi and Panipat on the east bank of Yamuna). Marathas failed to stop them and set up a defensive force in Panipat.
Abdali managed to block Maratha's passage to the south towards Delhi. By the end of November 1760, Abdali cut off almost all food supplies of the Maratha camp. On 13 January 1761, the chief of Marathas begged Bhau to allow them to die on the battlefield rather than to die from starvation. The next day Marathas left their camp and marched towards the Afghan camp. The armies of Marathas and Afghans came face-to-face on 14 January 1761.
The Marathas were almost winning the battle till the afternoon, but when Vishwasrao (Bhau's nephew) died on the battlefield, the whole scenario was changed. On seeing his nephew dead, Bhau moved towards the enemy forces. Afghanis attacked him, and he was also killed on the battlefield by the Abdali's army.
The Aftermath of the Battle
According to some sources, Bhau's headless body was found in the heap of dead bodies after three days of the war. His head was found later which was kept hidden by the Afghani soldiers. His body was cremated according to Hindu rituals, and his ashes were taken for visarjan in Kashi.
While as per some other sources, perhaps, Bhau survived the battle and lived his life secretly at some other place. Bhau's wife Parvatibai refused to accept that his husband was dead as his body was never found. She never lived the life of Bhau's widow.
Death
Bhau died on the battlefield of the 'Third Battle of Panipat' on 14 January 1761 (the day of Makar-Sakranti) in Panipat, Haryana.
Facts/Trivia
In 1770, a person claimed that he was Sadashivrao, but he turned out to be an imposter.
There is an area in Pune, named in the honour of Bhau as 'Sadashiv-Peth.'
A memorial park is made in the honour of the 'Third Battle of Panipat' in Kala Amb, Panipat, Haryana.
In 2019, a Bollywood film was released on the 'Third Battle of Panipat' titled 'Panipat- The Great Betrayal,' in which Arjun Kapoor played the role of 'Sadashivrao Bhau' and Sanjay Dutt played the character of 'Ahmad Shah Abdali.'