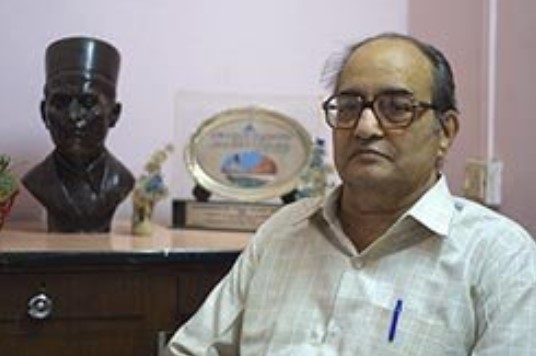 Vishwas Savarkar (1928-2010) was an Indian author and the son of the Indian freedom fighter and revolutionary Vinayak Damodar Savarkar. He passed away in 2010 in Mumbai.
Wiki/Biography
Vishwas Vinayak Savarkar was born in March 1928 (age 82 years; at the time of death) in Bombay, Bombay Presidency, British India (now Mumbai, Maharashtra, India).
Family & Caste
Vishwas Savarkar belonged to the Chitpavan Brahmin Hindu family. [1]Vinayak Damodar Savarkar: The Much-maligned and Misunderstood Revolutionary and Freedom Fighter – Google Books
Parents & Siblings
His father, Vinayak Damodar Savarkar (popularly known as Veer Savarkar), was an Indian revolutionary freedom fighter. He was also an accomplished politician and author. He was the pioneer of the political ideology 'Hindutva,' which he developed during his detention period at Ratnagiri Jail in Maharashtra in 1922. He was one of the crucial leaders of the Hindu Mahasabha, a political party. Savarkar passed away in 1966.
His mother, Yamunabai Savarkar, was a member of the Atmanishtha Yuvati Samaj, which was established by the sister-in-law of Vinayak Savarkar to inculcate the spirit of nationalism in its members. Yamunabai passed away in 1962. His elder brother, Prabhakar, died in his infancy. He had two elder sisters, Prabhat Chiplunkar, and Shalini, both of whom are deceased.
Wife & Children
His wife's name is Sunder Savarkar. He has two daughters, Asilata, and Vidula.
Religion
Vishwas Savarkar followed Hinduism.
Address
He resided at 73, Savarkar Sadan, Dr Madhukar B Raut Marg, Dadar West, Dadar, Mumbai, Maharashtra 400028, India.
Career
Vishwas Savarkar used to work at the Walchand Group. Vishwas authored four books, Athavani Angarachya, Divabhintiche Pralap, Katha Krantiveeranchya, and Paris Sparsh Swatantra Veerancha. Apart from penning books, he had also penned numerous articles on his father in several national and regional newspapers and magazines.
Death
Vishwas Savarkar passed away due to an age-related illness at the age of 83 in Mumbai at his residence, Savarkar Sadan, on 17 September 2010. [2]Hindustan Times
Facts/Trivia
Vishwas once demanded the Government of India to grant Savarkar Sadan, the ancestral home of Veer Savarkar, the title of heritage, which was granted by the government in September 2010, a week before his passing away.
In 2003, Vishwas lashed out at Sonia Gandhi after the Indian National Congress (INC) raised a question in the parliament, asking whether Veer Savarkar had begged forgiveness from the British government to pardon him and grant him freedom. While giving an interview, he said,


Sonia Gandhi, the president of the Congress (I), is an Italian and has little knowledge about India. Till this day, I have no idea whether she is an Indian citizen. She does not know about Savarkar's sacrifices, that is why she is opposing [the installation of the portrait]. The Congress is blindly following her lead. She came to India after marrying Rajiv Gandhi. It is natural that she has no knowledge of India's history." [3]Rediff
On his father, many films have been released including Veer Savarkar (1983), Veer Savarkar (2001), What About Savarkar? (2015), and Swatantra Veer Savarkar (2023).