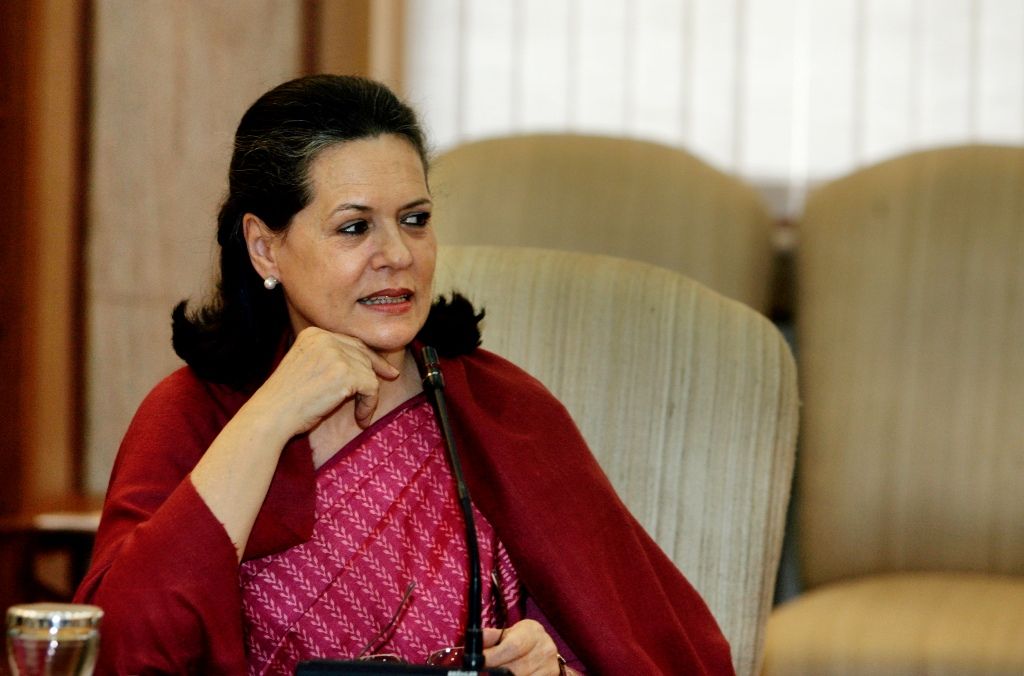 Sonia Gandhi is an Indian politician and is the former President of the Indian National Congress (INC). She is the widow of the former Prime Minister Rajiv Gandhi and took over the Congress leadership in 1998.
Wiki/Biography
She was born on Monday, 9 December 1946 (age 75 years; as of 2021) in Lusiana, Veneto, Italy. Her zodiac sign is Sagittarius. Her real name is Edvige Antonia Albina Maino. She received her primary education from a Catholic School in Orbassano, Italy. Her teachers in school stated that she was highly intelligent and diligent and would do very well in higher studies and her career. She pursued Bachelors in English from the Bell Educational Trust's Language School, Cambridge City, England. She wanted to be a flight attendant. In 1964, she was working as a part-time waitress in Varsity Restaurant, Cambridge, where she met Rajiv Gandhi for the first time. He was pursuing engineering from the Trinity College, Cambridge. They both got married in 1968 following a Hindu ceremony, after which she moved to India.
They had two children, Rahul Gandhi, and Priyanka Gandhi. Rajiv Gandhi was never directly involved in politics, despite his mother, Indira Gandhi, being the Prime Minister of India. He worked as a commercial airline pilot and Sonia took care of the family and household. Sonia was very close to Indira Gandhi, she used to spend a lot of time with her, and she also learned Hindi during that time.
Sonia has always been interested in art, and she used to work towards art restoration and preservation. In 1982, when Rajiv Gandhi's younger brother, Sanjay Gandhi, died unexpectedly in a plane crash, Rajiv entered active politics to support his mother. In 1984, after Indira Gandhi's assassination, Rajiv Gandhi was named the Prime Minister of India. Sonia used to campaign for Rajiv Gandhi, but she never got involved in politics. She primarily focused on art restoration and preservation of historic art pieces of India.
Physical Appearance
Height (approx.): 5′ 4″
Eye Colour: Hazel Brown
Hair Colour: Salt & Pepper
Family, Husband & Caste
Sonia Gandhi follows Hinduism. As she was raised in a Catholic household in Italy, she followed Christianity. Her father, Stefano Maino, was a businessman. Her mother, Paola Maino, died on 27 August 2022 at her home in Italy. [1]The Hindu Sonia has an elder sister, Anushka Maino, and a younger sister, Nadia Maino.
She got married to Rajiv Gandhi on 25 February 1968. Her mother-in-law was Indira Gandhi. She has two children, Rahul Gandhi, and Priyanka Gandhi Vadra. Priyanka Gandhi is married to Robert Vadra.
Political Career
Sonia Gandhi joined the Indian National Congress (INC) in 1997 as a primary member. After her husband's death in 1991, Congress workers wanted her to take over the party, but she refused. Although she travelled all over India and met several Congress workers, she saw how much people loved Rajiv Gandhi, and after that, she decided to join the Congress. In 1998, she became the President of the INC. In 1999, she contested the Lok Sabha elections from Amethi, Uttar Pradesh, and Bellary, Karnataka. She won from both the seats and chose Amethi as her constituency. In 1999, she was elected as the Leader of Opposition for the 13th Lok Sabha. In 2004, she contested the Lok Sabha elections from the Rae Bareilly constituency and won. On 16 May 2004, she was elected as the Leader of the 15-party coalition Government-United Progressive Alliance (UPA).
In 2004, she was also appointed as the Chairperson of the National Advisory Committee. In 2006, she was re-elected to the Lok Sabha in a by-poll from Rae Bareilly, after her resignation from the Lok Sabha on 23 March 2006. Sonia Gandhi led the UPA to a majority win in the 2009 Lok Sabha elections. She was re-elected to the Lok Sabha from the Rae Bareilly Constituency in 2009, 2014, and 2019 consecutively. In 2013, she became the first person to serve as the Congress President for 15 consecutive years. She resigned as the President of the Indian National Congress on 16 December 2017, and her son, Rahul Gandhi, was appointed as the 49th Congress Party President.
In the 2019 Lok Sabha Elections, she managed to retain her seat from Raebareli after defeating BJP's Dinesh Pratap Singh by 1,67,178 votes.
Controversies
She has been thoroughly accused of covering up the Bofors Scam of the 1980s, which implicated her husband, Rajiv Gandhi.
Throughout 2004-2014, she was accused by the Opposition and the media of making all the decisions for Prime Minister Manmohan Singh. She was termed as the Super PM. Many people stated that Manmohan Singh was just the face of the Indian Government, but it was Sonia Gandhi who made all the major decisions during the 10-year tenure of the UPA.
In 2013, when the Augusta Westland Chopper Scandal came to light, Sonia Gandhi was accused of shielding Ahmed Patel (Political Secretary to Sonia Gandhi since 2001), who was named in the scandal.
In 2013, her son-in-law, Robert Vadra, was accused in the DLF land grab scam. This led to Sonia Gandhi being linked to the whole scandal, which was an embarrassment for the Congress President.
Sonia Gandhi and her son, Rahul Gandhi, have been named in the National Herald case. Subramanian Swamy filed this case in a trial court in 2012. Swamy claims that the Gandhis took over Associated Journals Limited (AJL), the National Herald publishing house founded by Jawaharlal Nehru in 1937, to try to acquire property assets worth more than 20 billion rupees using party funds. AJL owed Congress an accumulated debt of 900 million rupees when the National Herald was shut down in 2008. The Gandhis established Young India Private Limited in 2010 and assigned the debt owed by AJL to it. Congress leaders Sonia Gandhi and Rahul Gandhi control 38% each of Young India Private Limited as board members. The remaining 24% is owned by journalists Suman Dubey and Motilal Vora, and entrepreneur Sam Pitroda. Rahul and Sonia Gandhi were summoned by the Enforcement Directorate (ED) in June 2022 to explain money laundering allegations. [2]

BBC
Awards, Honours & Achievements
In 2006, she was awarded an Honorary Doctorate by the Vrije Universiteit Brussel (Brussels University).
In 2007, Sonia Gandhi was named the third most powerful woman in the world by Forbes Magazine.
In 2008. she was honoured with the Order of King Leopold (National Honorary Order of Knighthood) by the Government of Belgium.
In 2008, she was awarded an Honorary Doctorate in Literature by the University of Madras.
In 2010 Sonia Gandhi was ranked as the ninth most powerful person on the planet by the Forbes magazine.
She was ranked 12th in 2012 in Forbes' Most Powerful People list.
Address
10 Janpath, New Delhi
Signature
Assets & Properties
Cash: Rs. 60,000
Bank Deposits: Rs. 16.32 Lacs
Jewellery: 1267.30 gm Gold worth Rs. 24 Lacs and 88 kg Silver worth Rs. 35 Lacs
Lands: Agricultural Land in Deramandi, New Delhi worth Rs. 5.88 Crores. Agricultural Land in Sultanpur Village, Mehrauli New Delhi worth Rs. 1.40 Crores.
Other Properties: worth Rs. 25 Lacs
Salary & Net Worth
Salary: Rs. 1 Lac per month + Additional Allowances (as a member of Lok Sabha)
Net Worth: Rs. 11.82 Crores (as in 2019)
Facts
Her father, Stefano Maino, was a prisoner of war in France. He fought for Adolf Hitler's army against the Soviet Military in the Eastern Front of World War II.
She moved to the United Kingdom in 1964 to learn English. When she was in college, she met Rajiv Gandhi, to whom she got married in 1968.
Sonia Gandhi's father was not pleased with Sonia's relationship and marriage to Rajiv Gandhi.
Rahul Gandhi wasn't Sonia Gandhi's first son, she was expecting a child before Rahul too, but, she had a miscarriage.
Sonia strongly opposed Rajiv's decision of being the Prime Minister; as she feared that Rajiv would be assassinated too. She was even more paranoid about Rajiv; as Sonia was the first person to see Indira Gandhi in a blood-ridden state when she was assassinated.
P Shankar Rao, a former minister, has built a temple with an idol of Sonia Gandhi in Mahbubnagar district, Telangana. According to P Shankar Rao, the shrine with a 9ft (2.7m) idol of Ms. Gandhi was his tribute to his leader, and as a mark of gratitude for her party's decision to create a Telangana state. In this bronze statue, Sonia is depicted as 'Telangana Talli' (Mother Telangana). [3]

Outlook