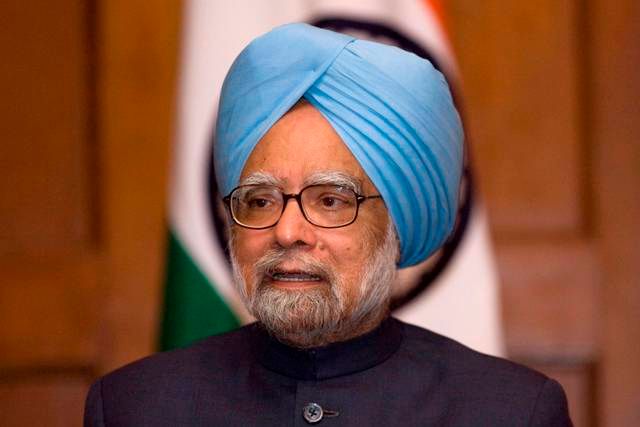 Manmohan Singh is an Indian Economist, Bureaucrat and Politician. He served as the 13th Prime Minister of India from 2004 to 2014. Dr Singh is the first Sikh to hold the office and the first Prime Minister since Jawaharlal Nehru to be re-elected after completing a full five-year term.
Wiki/Biography
Manmohan Singh was born on Monday, 26 September 1932 (age 90 years; as of 2022)in Gah, Chakwal, Punjab, British India (Now Punjab, Pakistan). He was named Manmohan Singh at the Panja Sahib (fifty kilometres from Rawalpindi); after the first word which appeared on the page of the holy Guru Granth Sahib was "M." He was educated in Urdu medium at the Khalsa High School for Boys, Peshawar, British India (now, Government high school no.1 Chakwal). After the partition, his family migrated to Amritsar, and he started studying at the "Hindu College Amritsar" in Punjab. By the age of 13, he developed an ability to understand political issues. During his school days, he used to participate in debate competitions and loved to play hockey and football. 
He graduated with a Bachelor's and Master's in Economics from Government College, Panjab University, Hoshiarpur (now, in Chandigarh) in 1952 and 1954 respectively. In 1957, Singh completed his Economics Tripos from the University of Cambridge. During his college days, he was alerted by the creative role of politics in shaping human affairs by his teachers. Being an excellent academician, Singh won the Wright's Prize in 1955 and 1957. In 1962, he completed his Doctorate in Philosophy from the University of Oxford, where he was a member of Nuffield College. He published the book "India's Export Trends and Prospects for Self-Sustained Growth," which is based on his doctoral thesis "India's export performance, 1951-1960, export prospects and policy implications." 
From 1966-1969, Singh worked for the United Nations Conference on Trade and Development (UNCTAD). In 1969, he held the post of an advisor to the then Cabinet Minister of Foreign Trade, Lalit Narayan Mishra. From 1969-1971, Singh was the Professor of International Trade at the Delhi School of Economics, University of Delhi. In 1972, he became the Chief Economic Adviser to the Ministry of Finance; and simultaneously the Secretary to the Finance Ministry in 1976.
From 1980-1982, he was appointed as a member of the Planning Commission. In 1982, Singh was appointed as the Governor of Reserve Bank of India and was in the post till 1985. Consequently, from 1985-1987, he became the Deputy Chairman of the Planning Commission of India. In 1987-1990, he held the office of the Secretary-General of the South Commission in Geneva, Switzerland. In 1990, Singh was appointed as an Economic Affairs Advisor to the then Prime Minister of India, Vishwanath Pratap Singh. In 1991, he became the Chairman of the University Grants Commission. 
Family, Wife & Caste
Manmohan Singh was born into a Kohli Sikh Family (Kukrain) to Gurmukh Singh(father) and Amrit Kaur(mother). His father was a clerk agent who used to import dry fruits from Afghanistan and supply them across various places in India. His father often stayed out of town and rarely came to visit Manmohan during his childhood. He lost his mother at a very young age after which, he was raised by his paternal grandmother, Jamna Devi. He had a brother, who died at a very young age. His paternal grandfather is Sant Singh.
Manmohan had a step-mother, Sitawanti Kaur. He has three half-brothers, Surinder Singh Kohli (Politician), Daljit Singh Kohli (Politician; joined BJP in 2014) and Surjeet Singh Kohli (Politician). Singh also has six half-sisters namely; Gobind Kaur, Pritam Kaur, Nirman Kaur, Narinder Kaur, Gyan Kaur, and one more. His step-mother was very affectionate to him, and soon, he developed a good bond with her. In 1946, his family owned a home at Peshawar after staying in rented places for many years. Dr Singh loved to explore the city on foot or by bicycle. 
Manmohan married Gursharan Kaur on 14 September 1958. The couple is blessed with three daughters, Amrit Singh (Human Rights Lawyer), Daman Singh (Writer) and Upinder Singh (Historian). 
Career
In 1991, when India was facing a serious financial crisis, the then Prime Minister of India, P.V. Narasimha Rao, appointed Manmohan Singh as the Union Finance Minister. During this period, Singh discharged India from the "Licence Raj," which caused slow economic growth and corruption in the Indian economy. He was in the office till 1996. In 1991, Singh was elected as a member of Rajya Sabha from Assam by P.V. Narasimha Rao. He was re-elected in 1998 as the leader of the opposition in Rajya Sabha and continued to be the member till 2004.
In 1999, Manmohan lost to BJP's Vijay Kumar Malhotra after contesting for the Lok Sabha elections from South Delhi. In 2004, during the 14th Lok Sabha elections, the Indian National Congress (INC) Party formed a United Progressive Alliance (UPA) and won over the Bharatiya Janta Party (BJP). Singh was recommended as the Prime Minister by Sonia Gandhi. On 22 May 2004, Manmohan Singh became the 13th Prime Minister of India. In 2007, he was re-elected for the fourth time as a member of the Rajya Sabha from Assam. He replaced Sales Tax by the Value Added Tax (VAT) during his tenure. In 2007, India became the second-fastest growing economy in the world by obtaining the highest Gross Domestic Product (GDP) growth rate of 9%.
In 2009, during the 15th Lok Sabha elections, the Indian National Congress (INC) was successful for a second consecutive term to form the government. On 22 May 2009, Singh was re-elected as the Prime Minister of India. He was also reinstated as the Rajya Sabha member from Assam for the fifth time. Over his period as the Prime Minister of India, Singh enhanced numerous global and national issued related to the economy, health, education and foreign affairs. He also implemented procedures to strengthen anti-terror laws. He initiated the "National Investigation Agency" (NIA) in 2009, after the Mumbai Terror Attacks of 2008.
During the 2014 General Elections, the Bharatiya Janata Party (BJP) emerged as the winner. On 17 May 2014, Singh resigned from the post of the Prime Minister of India. In August 2019, he was elected to the Rajya Sabha from Rajasthan.
Awards/Honors
University Medal – Punjab University – For his excellent performance in B.A. (Honors Economics) in 1952.
Uttar Chand Kapur Medal – Punjab University – For being a topper in M.A. (Economics) in 1954.
Adam Smith Prize – University of Cambridge, the UK in 1956.

Dr Manmohan Singh Scholarship (PhD Scholarship) – St. John's College, Cambridge, the UK.
Doctors of Letters – Punjab University in 1983.
Padma Vibhushan – Government of India in 1987.
Euromoney Award – Finance Minister of the Year in 1993.
Asiamoney Award – Finance Minister of the Year for Asia in 1993 & 1994.
Jawaharlal Nehru Birth Centenary Award – Indian Science Congress Association in 1994-1995.
Justice K.S. Hegde Foundation Award in 1996.
The Nikkei Asia Prize – Nihon Keizai Shimbun, Inc. (NIKKEI), Japan in 1997.
Honorary Doctor of Laws – The University of Alberta in 1997.
The Lokmanya Tilak Award – Tilak Smarak Trust of Pune in 1997.
Annasaheb Chirmule Award – Annasaheb Chirmule Trust in 2000.
Outstanding Parliamentarian Award – Indian Parliamentary Group in 2002.
The Honorary Fellowship – All India Institute of Medical Sciences (AIIMS) in 2005.
Honorary Doctor of Civil Law degree – The University of Oxford in 2005.
Honoured as the "Professor Honoris Causa" – Moscow State University in 2005.
Listed in "Top 100 Influential People in the World" by Time Magazine in 2005.
Honorary Doctor of Civil Law degree – The University of Oxford in June 2006.
Honorary Doctor of Civil Law Degree – The University of Cambridge in October 2006.

Established the Dr Manmohan Singh chair in their economics department – Panjab University in 2009.
Indira Gandhi Peace Prize for his hard work in the improvement of Peace, and Development in India during his Prime Ministership. 
Doctor of Laws – University of Alberta, in Edmonton, Canada in 2010.
"Universally praised India's Prime Minister since Nehru," ranked 18 on the list of the world's most powerful people – Forbes in 2010.
World Statesman Award – Appeal of Conscience Foundation in 2010.
'Grand Cordon of the Order of the Paulownia Flowers' – Government of Japan in 2014.
VC Padmanabhan Memorial Lifetime Achievement Award – Manappuram Finance Ltd. in 2018.
Signature
Controversies
In 1993, Manmohan Singh resigned from the post of Finance Minister after he was accused in a parliamentary investigation report, about his failure to anticipate a US$1.8 billion securities scandal. 
During his Prime Ministership, he was often criticised by the opposition for being a 'weak' Prime Minister till now.
In 2012, a British daily newspaper, The Independent, censured Dr Singh under its headlines; "Manmohan Singh – India's saviour or Sonia's poodle?" [1]

The Independent
He was held accused of various corruption scandals during his second term as Prime Minister of India; from 2009 to 2014. 
Dr Singh was alleged for his failure to take action during the 2G Spectrum Case and the Indian Coal Allocation Scam; he was demanded resignation by the opposition.
Properties/Assets
Dr Singh is the owner of two flats worth ₹7.27 crore in Chandigarh and in New Delhi. He possesses 150.8 gm Gold Jewellery worth ₹3.45 lakh. He owns a Maruti 800 (1996 Model). He resides at 9, Safdar Jung Lane, New Delhi.
Salary & Net Worth
As a Rajya Sabha member, Dr Singh's monthly salary is ₹50,000 + Other Allowances. His Net Worth is around  ₹11.6 crore (as in 2013).
Favourite Things
Dr Singh likes to eat Missi Roti, Vadiyaan, and Pulao & Chhole.
He admires Mahatma Gandhi. 
His beloved poet is Iqbal.
He is a Non-Vegetarian, but he prefers Vegetarian food. 
Facts
Previously, Dr Singh studied at a village school in Gah, Peshawar; where his roll no. was 187 and the schoolmaster was Daulat Ram.

While Dr Singh was the student at Khalsa High School for Boys in Chakwal (a town in Pakistan), his father, who had remarried by then, showed up and took Dr Singh to stay along with his new family in Peshawar.
In 1946, Dr Singh opted for Chemistry, Physics, and Physiology rather than History, Geography, and Civics.
When he first met Gursharan Kaur, the first thing he asked was her graduation division, to which, she replied- "second division."
Gursharan Kaur was surprised when Dr Singh was chosen to be the Prime Minister of India in 2004.
Dr Singh wore normal clothes during his swearing-in ceremony as Prime Minister of India. 
He has been representing as the member of Rajya Sabha for five consecutive terms. 
Dr Singh is quite significant in maintaining relationships. According to the reports, he welcomed his childhood friend, Raja Mohammad Ali, with great affection who came to meet him from Pakistan in 2008.
He assumed the Jawaharlal Nehru Chair at Panjab University, Chandigarh in 2016.
Dr Singh cannot read Hindi. As per reports, he often prepares his speeches in Urdu and before giving any speech in Hindi, he needs practice.
Singh had undergone multiple cardiac bypass surgeries, most recently in January 2009.
His hobbies include Poetry, Reading, Writing and Listening to Music. 
In 2019, a Bollywood movie titled, The Accidental Prime Minister is made which depicts the life of Dr Manmohan Singh during his tenure as Prime Minister.  The role of Dr Singh is played by Anupam Kher.