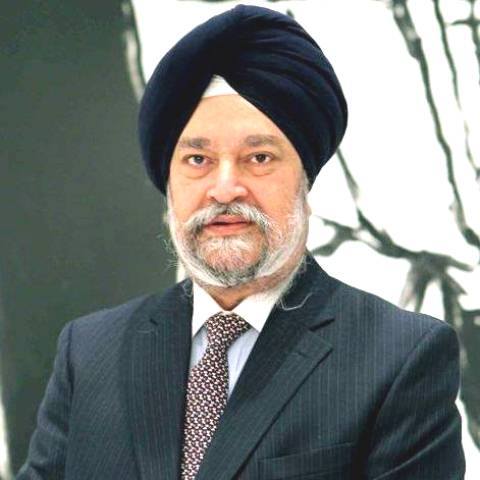 Hardeep Singh Puri is an Indian politician and former diplomat. He is the incumbent Minister of Petroleum and Natural Gas and Minister of Housing and Urban Affairs in India.
Wiki/Biography
Hardeep Singh Puri was born on Friday, 15 February 1952 (age 70 years; as of 2022) in Delhi, India. His zodiac sign is Aquarius.
He went to the boarding school The Frank Anthony Public School, Delhi, because of his father, who was posted in countries with no options of English-language education. He gained a Bachelor of Arts in History and Master of Arts in History (1973) from Hindu College, University of Delhi. [1]Hardeep Singh Puri – About In his college days, he won many university prizes and was the Prime Minister of the Hindu College Student Parliament (1971-72).
Physical Appearance
Height (approx.): 5′ 9″
Eye Colour: Black
Hair Colour: Salt & Pepper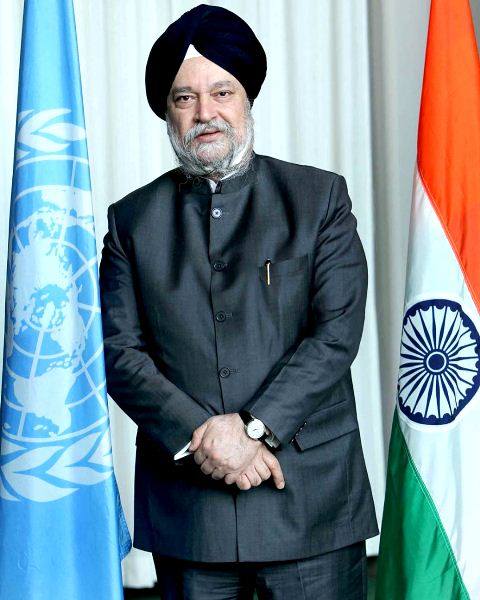 Family
Parents & Siblings
His father, Bhagat Singh Puri, was an IFS officer, whose job postings made him travel from country to country. His mother's name is Kundan Puri. His younger brother, Pradeep Puri, is an IAS officer of the 1979 batch, who played an instrumental role in the construction of the DND Flyway.
Wife & Children
He is married to the ambassador Lakshmi Murdeshwar Puri of the Indian Foreign Service. His wife is also the former Assistant Secretary-General of the United Nations and a former Deputy Executive Director of UN Women.
The couple has two daughters.
Caste & Religion
He belongs to a Sikh Khatri family. [2]Hardeep Singh Puri – Wikipedia Hardeep Singh Puri is a follower of Sikhism. [3]The Times of India In a press conference, he said,
I am a very proud Sikh and consider the entire land of Punjab is holy and Panthic."
Career
After completing his postgraduation, he spent a year at St. Stephen's College, the University of Delhi, teaching history.
Civil Services
In 1974, he joined the Indian Foreign Service. From 1976 to 1978, he was the Third Secretary (Language Trainee) and Second Secretary (Political & Commercial) in the Embassy of India, Tokyo. From 1979 to 1981, he worked as the Undersecretary in the Ministry of External Affairs. From 1981 to 1984, he was the First Secretary of Permanent Mission of India to GATT, Geneva. From 1984 to 1988, he was the First Secretary/Counsellor (Political) for the High Commission of India, Columbo. Between 1988 and 1991, Hardeep Singh Puri served as the Coordinator of the UNDP/UNCTAD Multilateral Trade Negotiations Project to help developing countries in the Uruguay Round of Multilateral Trade Negotiations. For the next year, he worked as the Director (Foreign Secretary's Office) in the Ministry of External Affairs, India. From 1992 to 1994, he was Joint Secretary (Americas) in the Ministry of External Affairs, India. From 1994 to 1997, he served as the Joint Secretary to the Government of India in the Ministry of Defence. From 1997 to 1999, he was Joint Secretary (Europe West) in the Ministry of External Affairs, India. From 1999 to 2002, he was the Ambassador/Deputy High Commission of India to the United Kingdom. From 2002 to 2005, he was the Permanent Representative of India to the United Nations and Other International Organizations in Geneva. From 2006 to 2008, he was Ambassador of India to Brazil. From 2008 to 2009, he was Secretary (Economic Relations) in the Ministry of External Affairs, Government of India. From May 2009 to March 2013, he was Ambassador & Permanent Representative of India to the United Nations, New York.
From January 2011 to February 2012, he served as the Chairman of the United Nations Security Council Counter-Terrorism Committee. In August 2011 and November 2012, he served as the President of the United Nations Security Council. On 28 February 2013, he retired as an IFS officer.
International Peace Institute & Independent Commission on Multilateralism
After retiring from the Indian Foreign Service, from June to December 2013, he joined as the Senior Advisor at the International Peace Institute (IPI), New York, an independent non-profit lobby group specialising in multilateral approaches to peace and security issues. He then served as the Vice President at IPI and left the position on 31 March 2016.
He was also a part of the Independent Commission on Multilateralism (ICM) and worked there as a Secretary-General until April 2016.
Politics
In January 2014, he joined the Bharatiya Janata Party (BJP). On 2 September 2017, Manohar Parrikar resigned as a member of the Rajya Sabha from Uttar Pradesh after he was elected as a member of the Goa Legislative Assembly by-election. Manohar's seat was filled by Hardeep Singh Puri on 9 January 2018. In September 2017, he was appointed as the Minister of State in the Ministry of Housing and Urban Affairs and Ministry of Commerce and Industry.
In the 2019 General election, he contested from the Amritsar constituency as a BJP candidate and lost to Gurjeet Singh Aujla of the Congress.
In October 2020, he filed his nominations for the 2020 Rajya Sabha election from Uttar Pradesh. He won the elections and assumed his seat on 26 November 2020.
From 30 May 2019 to 7 July 2021, he served as the Minister of State (with Independent Charge) for Civil Aviation. In July 2021, during the Cabinet reshuffle, Hardeep Singh Puri was appointed as the Union Minister of Petroleum and Natural Gas and Union Minister for Housing and Urban Affairs in the second Modi ministry.
Others
He wrote an article for The Globalist titled 'Libya: Hillary Clinton, Susan Rice and the Ghost of Rwanda' (2016) and Carnegie India titled 'Trade Policy Dilemma and the Role of Domestic Reform.' In 2016, he authored the book 'Perilous Interventions: The Security Council and the Politics of Chaos,' which was published by HarperCollins.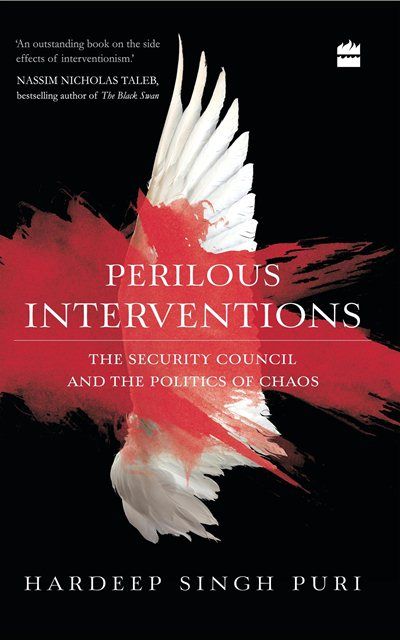 In 2017, he gave a public lecture on the topic 'India and the Western Liberal Democratic Order' at the Nehru Memorial Museum and Library, New Delhi. In 2018, he published another book titled 'Delusional Politics: Back To The Future,' which was published by Viking Press.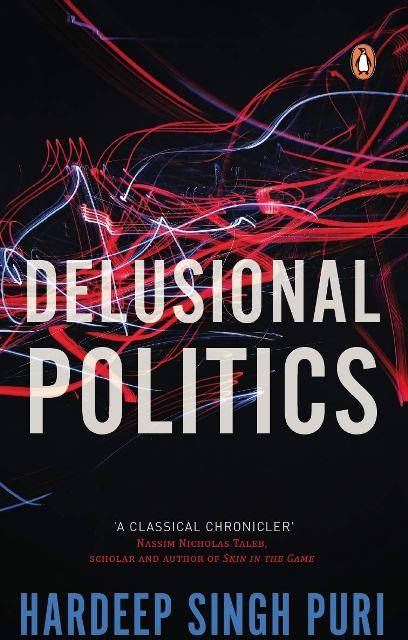 In March 2017, Hardeep Singh Puri was appointed as the President of the Governing Body and Chairman of the Governing Council of the Research and Information System for Developing Countries (RIS).
He was also a visiting faculty at The Graduate Institute (IHEID), Geneva, and taught Law and Practice of the United Nations Security Council.
Controversies
In November 2019, Hardeep Singh Puri, at a public event, stated that BJP would contest polls to win the 2020 Delhi Legislative Assembly election and make Manoj Tiwari the Chief Minister. He had said,


Manoj Tiwari ke netritwa mein hum election ladne ja rahe hain aur inko hum chief minister bana kar hi chorenge
Translation: Under the leadership of Manoj Tiwari, we are going to contest Assembly elections and we will ensure that he becomes the chief ministe."

After his statement, several Aam Aadmi Party (AAP) leaders began targeting the BJP, congratulating Tiwari on Twitter. In response to it, Puri clarified that he meant BJP would win the elections under the leadership of Tiwari who was the Delhi BJP President. [4]The New Indian Express In his tweet, he wrote,

BJP is moving towards a victory in Delhi. The party has not named anyone as the CM face. Shri Manoj Tiwari is the Delhi BJP president. The party is working enthusiastically under his leadership. My statement meant that BJP will win the upcoming elections with a heavy majority under his leadership."
In early July 2021, the Government of India asked Priyanka Gandhi to vacate her government accommodation at 35 Lodhi Estate within a month as she was no longer a Special Protection Group (SPG) protectee. After Priyanka was served the notice, she agreed to leave the house within the given timeframe, but Congress leaders opposed the decision calling it a 'frustated attempt' of the Union Government. In mid-July, media reports were stating that she had requested to extend her stay at the residence, which was firmly denied by Priyanka on Twitter. Hardeep Singh Puri, in response to Gandhi's tweet, tweeted,


Facts speak for themselves! A powerful Congress leader with much clout in the Party called me on 4 July 2020 at 12:05 pm to request that 35, Lodhi Estate be allotted to another INC MP so that Priyanka Vadra can stay on."

Responding to Puri, Priyanka tweeted,

If someone called you Mr Puri, I thank them for their concern, and thank you for your consideration as well but it still does not change the facts: I have made no such request, and I am making no such request. As I said, I will be vacating the house by the 1st of August..1/2″

Their quarrel did not stop here as Hardeep tweeted that someone on top of Congress hierarchy called him on her family's behalf, and the government decided to extend her two month stay in good faith. [5]The Statesman
In January 2021, after Samajwadi Party chief Akhilesh Yadav and Congress leaders Jairam Ramesh and Shashi Tharoor questioned the approval given to Bharat Biotech's vaccine while its third phase trial was going on, Hardeep slammed the politicians by saying that first, they questioned the Indian soldiers and then the vaccine. In his tweet, Puri said,


Our in-house cynics M/s Jairam, Tharoor & Akhilesh are behaving true to form. They first questioned the valour of our soldiers & are now unhappy that the two vaccines to get DCGI nod are made in India. Clearly they are on a quest for permanent political marginalization."

After Hardeep's response, Jairam, referring him to the two politicians close to Adolf Hitler, wrote in his tweet, [6]Hindustan Times

So says the in-house Goebbels-cum-Albert Speer"
In June 2021, he took a dig at Rahul Gandhi and Sonia Gandhi saying that the Congress government in Punjab and Rajasthan are profiteering by selling Covid-19 vaccines to private hospitals. He added that the Gandhi's were accusing the Modi government over vaccine supply when their government was indulging in alleged profiteering. He also accused Congress of fueling vaccine hesitancy and spreading misinformation over the 2020 Indian agriculture acts. He also demanded a probe into the matter. [7]

The Telegraph
In June 2021, activist and journalist Saket Gokhale, in reference to a property purchased by Hardeep's wife, Lakshmi, in Switzerland, made tweets raising questions about the assets of Hardeep Puri and his wife. In the same tweet, he tagged Nirmala Sitharaman and sought an enquiry by the Enforcement Directorate. He had tweeted,


If an ex-Indian civil servant who's with the BJP bought an overseas house worth $2 million (with no income other than salary) while in service, will ED investigate it?"

In response to the tweet, Puri's wife filed a Rs. 5 crore defamation suit against Saket, asking him to delete the tweet, at the Delhi High Court. When the high court asked him to delete the tweet in early July 2021, Saket refused to do it. In mid-July 2021, the court directed the activist to delete his tweet and also ordered Twitter to take down his tweets in case he failed to do so. [8]The Wire
In July 2021, the All India Trinamool Congress (AITC) MP (Rajya Sabha) Santanu Sen alleged that during a Rajya Sabha session, Hardeep abused him and was about to physically assault him before he was rescued by colleagues. Santanu also claimed that Puri gesticulated at him rudely when he snatched and tore the paper from Ashwini Vaishnaw's hands. [9]

Deccan Herald During a press conference, Sen said,


The union minister (Puri) threatened and abused me. He was about to assault me when my other colleagues came to my rescue."
On 17 August 2022, Mr. Puri tweeted that the home ministry was planning to shift Rohingya migrants from Myanmar, who were living in detention camps in Delhi, to EWS flats. Later, the home ministry took to the same social media platform to deny this and said that the ministry had not planned to shift Rohingya migrants to EWS flats. [10]

The Hindu
Signature
Address
Current: Ro- 6 Akbar Road New Delhi -110011
Permanent: B-17, First Floor, Westend Colony, Rao Tula Ram Marg, New Delhi 110057
Salary
According to his 2019 Lok Sabha Election candidate affidavit, his salary for the financial year 2017-2018 was approximately Rs. 1.96 crore.  [11]Hardeep Singh Puri – MyNeta
Assets & Net Worth
His movable assets (as of 2019) including bank deposits, bonds, debentures, shares, and jewellery amounted to Rs. 5.31 crore. His immovable assets (as of 2019) amounted to Rs. 28.72 crore. His net worth is estimated to be Rs. 34.05 crores as of 2019. [12]Hardeep Singh Puri – MyNeta
Favourites
Restaurant: Pindi Restaurant in Delhi
Poet: Maithili Sharan Gupt
Facts/Trivia
Hardeep likes travelling and reading in his spare time.
In an interview, Puri claimed that his grandfather participated in the Jallianwala Bagh protest in 1919, and his father was among the people who came in the last Frontier Mail from Pakistan to Amritsar in 1947. While talking about his father in an Instagram post, he said,


Being a partition refugee he started his life from a scratch & faced great difficulties. A source of strength & a role model, he sacrificed his comforts to give my younger brother & me a decent education & life."
Hardeep had close relations with the Indian politician and attorney Arun Jaitley. Puri and Jaitley met around 1970-71 when he was in the final year of his college, and Jaitley was in the first year at Shri Ram College of Commerce. At Delhi University, they were both a part of the debating circuit and often faced off in debates. Their friendship continued even after he took diplomacy as his career and Arun politics. In his Instagram post, he wrote about Arun,


Even as a young student he was full of ideas & had great political acumen. He did well in his chosen profession. He emerged as a 'go to' person in his long political career & had contacts across party lines."
Hardeep wanted to be a pilot before he joined the IFS. In an Instagram post, he wrote,


Sitting in a state-of-the-art & as real as it gets flight simulator of a prototype of 777x at the CAE Facility, I got an exhilarating opportunity to live a part of my childhood dream! Tough job but!"
He owns a Honda City SVMT.