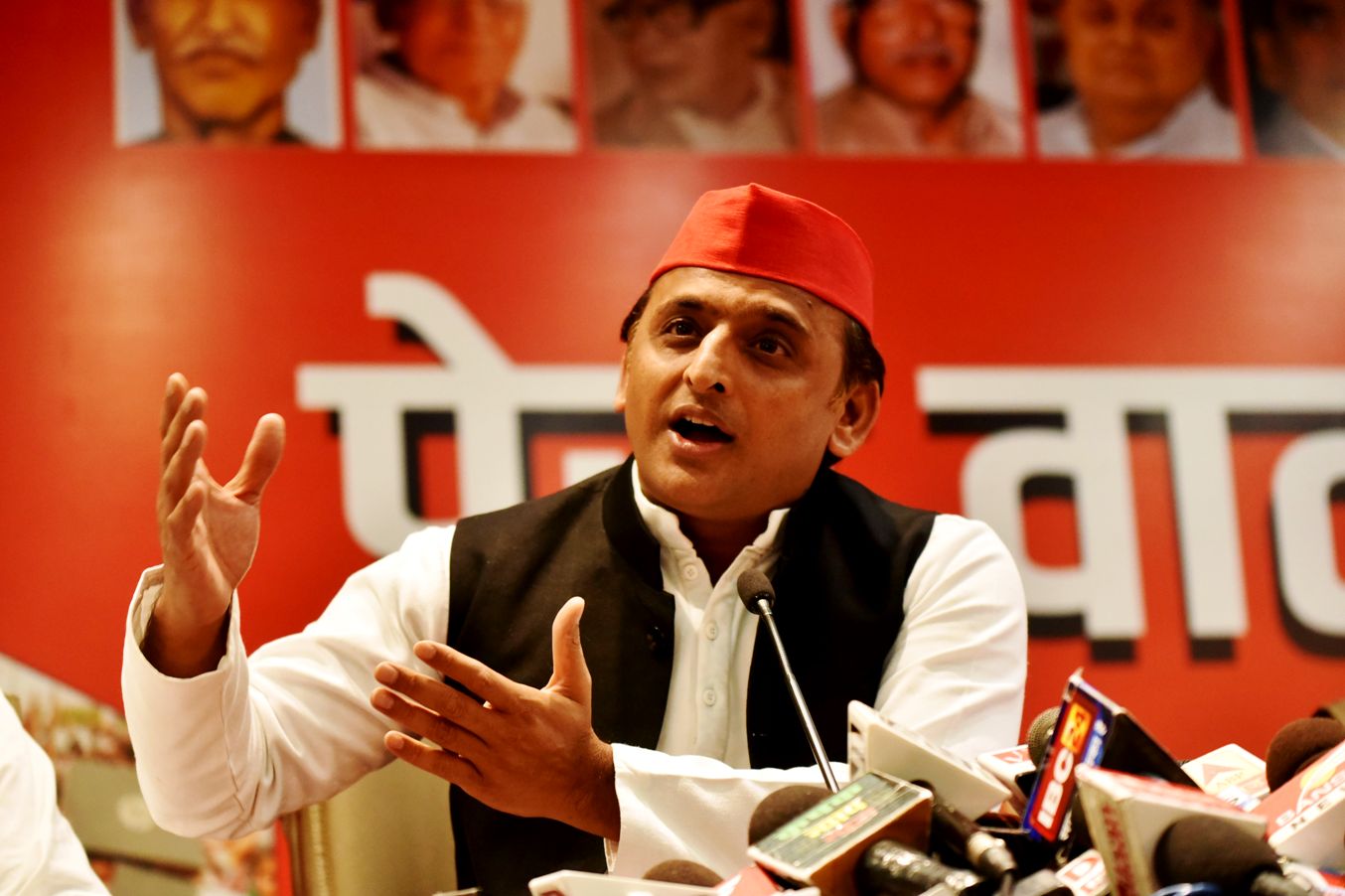 Akhilesh Yadav is an Indian politician. He is the President of the Samajwadi Party (SP). He is the son of Mulayam Singh Yadav. Akhilesh is the former Chief Minister of Uttar Pradesh.
Wiki/Biography
Akhilesh Yadav was born on Sunday, 1 July 1973 (age 49 years; as of 2022) in Saifai Village, Etawah, Uttar Pradesh. His zodiac sign is cancer. He received his primary education from a local school of Saifai and his secondary education from the Dholpur Military School of Dholpur in Rajasthan. He got his Bachelors, and Masters degree in Civil Engineering from Sri Jayachamarajendra College of Engineering, Mysore, Karnataka. He also has a Masters degree in Environmental Engineering from the University of Sydney, Australia.
Akhilesh Yadav is very passionate about music. He loves listening to classic rock music and some of his favourite bands are Guns & Roses, Pink Floyd, Metallica, Bryan Adams, and many more.
Physical Appearance
Height (approx.): 5′ 7″
Eye Colour: Brown
Hair Colour: Black
Family & Caste
Akhilesh Yadav belongs to the Other Backward Class (OBC).
Parents & Siblings
His father, Mulayam Singh Yadav, is a prominent Indian politician. He has been a Union Minister, and also the former Chief Minister of Uttar Pradesh. Mulayam Singh Yadav is also the founder of the Samajwadi Party (SP). His mother, Malti Devi, suffered complications while giving birth to Akhilesh, which put her in a vegetative state. Akhilesh was brought up by his grandparents; as his father was busy with politics, and his mother was in a vegetative state. His mother passed away in 2003.
In February 2007, his father, Mulayam Singh Yadav, got married to Sadhna Gupta who died on 9 July 2022 after a prolonged illness at a private hospital in Gurugram, Haryana. [1]Hindustan Times Akhilesh has a stepbrother, Prateek Yadav. Prateek handles the landholdings and dealings of the Yadav family. Prateek is married to Aparna Yadav, who is a politician.
Wife & Children
Akhilesh Yadav got married to Dimple Rawat on 24 November 1999. They have 2 daughters, Tina Yadav and Aditi Yadav, and a son, Arjun Yadav.
Career
In the year 2000, Akhilesh Yadav contested the Lok Sabha by-elections from Kannauj, Uttar Pradesh. He won the elections, and he was elected as an MP to the 13th Lok Sabha at the age of 27. He was appointed as a member of the Committee on Food, Civil Supplies, and Public Distribution. In 2004, he contested the General Elections, and he was elected as an MP for a second term. He was a member of various committees such as Computers in Government departments, Technology, Environments and Forests, and Urban Development. In 2009, he was elected to the Lok Sabha for a third term.
On 10 March 2012, Akhilesh was appointed as the leader of the Samajwadi Party. On 15 March 2012, Akhilesh was appointed as the Chief Minister of Uttar Pradesh; after the Samajwadi Party won the Uttar Pradesh Assembly Elections of 2012. He became the youngest Chief Minister of Uttar Pradesh at the age of 38.
In May 2012, he resigned from the Kannauj Lok Sabha seat, to serve as the Chief Minister of UP, and also became a member of the Uttar Pradesh Legislative Council. In 2017, SP allied with the Indian National Congress (INC). Akhilesh and Rahul Gandhi announced that they'll be contesting the 2017 Uttar Pradesh Assembly Elections together and the alliance will be led by Akhilesh Yadav. They won only 54 seats and lost the election to the BJP.
On 11 March 2017, Akhilesh submitted his resignation to the Uttar Pradesh Governor, Ram Naik. Yogi Adityanath became the Chief Minister of Uttar Pradesh, and Akhilesh was elected as the Leader of the Opposition. On 12 January 2019, Akhilesh, along with Mayawati, announced that the Samajwadi Party (SP) and the Bahujan Samaj Party (BSP) will be contesting the 2019 General Elections together.
They collectively won only 15 of the 80 Lok Sabha seats in UP. On 11 June 2019, Mayawati announced that the BSP was breaking the alliance with SP, for the 2022 Uttar Pradesh Assembly Elections. She stated that the BSP was able to win more seats than the SP, and it would contest the Assembly Elections independently. Akhilesh Yadav was elected as an MP from the Azamgarh Lok Constituency of Uttar Pradesh, in the 2019 General Elections.
He secured the Karhal seat in the 2022 Uttar Pradesh assembly election; his winning margin was over 67504 votes. On 22 March 2022, he quit as an MP after he was elected to the Uttar Pradesh legislative assembly from Karhal; he became an MLA for the first time. [2]NDTV On 29 September 2022, Akhilesh Yadav was declared the president of the Samajwadi Party for the third time at the Samajwadi Party national convention at Ramabai Ambedkar stadium in Lucknow. [3]The Indian Express
Controversies
In 2017, Akhilesh was involved in a family feud with his uncle, Shivpal Singh Yadav. Shivpal claimed that there was a conspiracy to remove him from the party, and he also threatened to quit. Mulayam Singh warned Akhilesh that the party would split if Shivpal quits. Akhilesh took this as an insult. Mulayam removed Akhilesh as the state President of the Samajwadi Party, and he appointed Shivpal as the President. Akhilesh was furious at this, he sacked Shivpal and his supporters from ministerial posts. He took over the party, and he was elected as the National President of the SP.
In May 2017, he stated that there are martyrs from UP, Maharashtra, Madhya Pradesh, and other parts of India but, there were no martyrs from the state of Gujarat. He indirectly took a jibe at Narendra Modi. He stated that the BJP asks for votes in the name of martyrs and nationalism, but they do not consider anyone else a nationalist other than themselves.
On 30 May 2014, Akhilesh was criticized by all factions of the society for his controversial statement. A reporter had asked him about the increasing rapes in UP, to which he replied-


Aapko to khatra nahi hua na (But you're safe)"
On 2 August 2018, the Uttar Pradesh Public Works Department (PWD) issued a fine of Rs. 6 lacs on Akhilesh Yadav. He was accused of damaging the CM bungalow when he had vacated it for Yogi Adityanath. The report by the PWD stated that air conditioners, bathroom fittings, garden lightings, and many more fittings were missing from the bungalow. It also stated that Akhilesh had spent Rs. 4.60 Crores on illegal construction inside the bungalow.
On 13 February 2019, Akhilesh Yadav was heading to Allahabad (now Prayagraj), when he was stopped at the Lucknow airport by the UP Police. Yadav was informed that he was not allowed to board the flight; as the Allahabad district administration warned of a potential law & order crisis if he arrives. SP workers in Allahabad were furious about this, and they started protesting and beating up people. The police resorted to lathi-charge, which resulted in 5 SP workers and 4 four policemen being heavily injured.
In 2013, Akhilesh Yadav had been blamed for illegal sand mining. On 27 July 2013, Akhilesh Yadav suspended Sub-Divisional Magistrate (SDM) Durga Shakti Nagpal; who took action against the sand mafia in Gautam Budh Nagar, Uttar Pradesh.
On 5 November 2014, Akhilesh Yadav stated that he watched Rajkumar Hirani's film "PK" by downloading it, and he liked it so much that he made the film tax-free in UP. He faced backlash for this statement; as downloading a film is illegal, and he was blamed for piracy. Many people demanded strict action against Yadav from the I&B Ministry.
Assets & Properties
Cash: 3.90 Lacs INR
Bank Deposits: 4.40 Crores INR
Agricultural land: Worth 7.88 Crores INR in Saifai, UP
Non-agricultural land: Worth 21.50  Lacs INR in Etawah, UP
Commercial Building: Worth 4.08 Crores INR in Lucknow, UP
Residential Building: Worth 4.71 Crores INR in Lucknow, UP
Salary & Net Worth
Salary: 1 Lac per month + Additional allowances (as a Member of Parliament)
Net Worth: 37.78 Crores INR (as in 2019)
Hobbies
Listening to music
Farming
Playing Cricket
Playing Badminton
Facts
Akhilesh Yadav is a fitness enthusiast, and he loves cycling. He is often seen riding a bicycle early morning on the streets of Lucknow. He was seen riding the bicycle even when he was the Chief Minister of Uttar Pradesh.
He is a very good orator. He can talk about social and political issues for hours without a break.
He is known as the "Youth Icon" of the Samajwadi Party.
Once, after becoming the Chief Minister of UP, in an interview, he stated-


Dimple is my good luck, and I have been lucky ever since I got married"