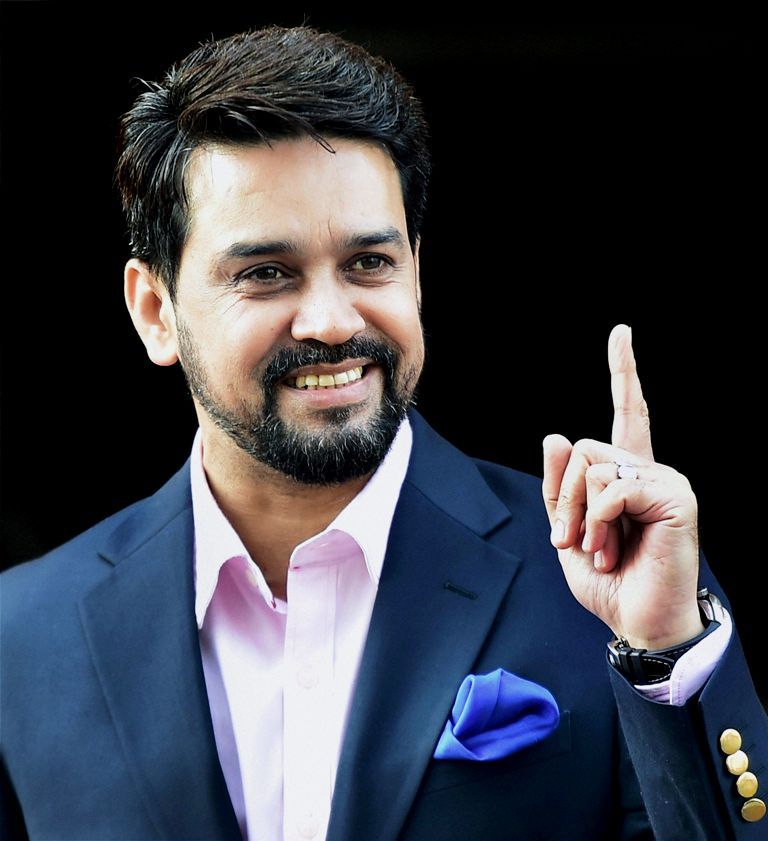 Anurag Thakur is an Indian politician from Himachal Pradesh. He is from the Bharatiya Janata Party (BJP). He is best known for serving as the Junior Finance Minister, and the Corporate Affairs Minister in the Narendra Modi Government.
Wiki/Biography
Anurag Thakur was born on 24 October 1974 (age 48 years; as of 2020) in Hamirpur, Himachal Pradesh. His zodiac sign is Scorpio. He did his schooling from the Dayanand Model School in Jalandhar, Punjab. In 1994, he pursued his Bachelors in Arts from the Doaba College, Jalandhar. He has always been interested in sports, especially cricket. He used to participate in college-level cricket matches. This got him selected in the state team of Himachal Pradesh. In the year 2000, he rose up to become the President of the Himachal Pradesh Cricket Association (HPCA). He has played a Ranji Trophy match against Jammu & Kashmir in the year 2000. As the President of the HPCA, he appointed himself as a selector of the Ranji Trophy cricket team; it is a requirement for the selectors to play a first-class cricket match to be eligible to be a selector.
He joined politics and was elected as an MP in 2008. Thakur is a 4-time MP from the Hamirpur constituency of Himachal Pradesh. He became the President of the Board of Control for Cricket in India (BCCI) on 22 May 2016. Although after a controversy, he was removed as the President of the BCCI by the Supreme Court on 2 January 2017.
Physical Appearance
Height: 5′ 6″ (approx.)
Weight: 70 kg (approx.)
Eye Colour: Brown
Hair Colour: Black
Family
Anurag Thakur belongs to a Rajput family. His father, Prem Kumar Dhumal, was a politician and a two-time Chief Minister of Himachal Pradesh from 1998 to 2002 and 2008 to 2013. His mother, Sheela Devi, is a homemaker. His brother, Arun Singh Thakur, is a businessman.
Anurag Thakur is married to Shefali Thakur. They have two sons Jaiaditya Thakur and Udayveer Thakur.
Career
Anurag Thakur entered politics in 2008 after his father, Prem Kumar Dhumal, who was an MP, was elected as the Chief Minister of Himachal Pradesh. Anurag contested from the Hamirpur Constituency in a by-poll, and he was elected as an MP. In the 2009 General Elections, he contested from the Hamirpur Lok Sabha Constituency, and he won. In 2011, he was appointed as the President of the All India Bharatiya Janata Yuva Morcha. He was one of the youngest parliamentarians, and he won the "Best Young Parliamentarian Award" in 2011. He won the Sansad Ratna Award for his distinguished performance as a parliamentarian in 2019.
He consecutively won from the Hamirpur Constituency in the 2014 and the 2019 General Elections. On 18 July 2018, he was appointed as the Chief Whip of the BJP for the 2019 Lok Sabha Elections. On 30 May 2019, Anurag Thakur was sworn in as a Union Minister of State (MoS) in the Narendra Modi Government by the President Ram Nath Kovind. On 31 May 2019, he was given the charge of Junior Finance Minister and the Corporate Affairs Minister. On 7 July 2021, he was promoted to Cabinet Minister in a reshuffle in Narendra Modi's Council of Ministers.
Controversies
BCCI President row
Anurag Thakur was sacked by the Supreme Court of India as the President of the Board of Control for Cricket in India (BCCI). The Supreme Court had appointed the Lodha Committee to determine and give a detailed report on whether government officials should be involved in the administrative bodies of sports. The Lodha Committee, after submitting its final reports, advised the courts that politicians should not be part of sports administration. Following this, the Supreme Court sacked Anurag in January 2017, and it asked him to step down as the President of the BCCI. Thakur, however, refused to accept the verdict. After several hearings and arguments, the court ordered Thakur to either step down, issue an unconditional public apology to the Supreme Court, or he will be arrested. Anurag issued an unconditional apology following this order, and he stepped down as the President of the BCCI.
Charged by Vinesh Phogat for suppressing wrestlers' protests
On 3 May 2023, during the second leg of wrestlers' protests at Jantar Mantar, Vinesh Phogat accused Union Sports Minister Anurag Thakur of suppressing the matter and said that it is challenging to oppose a powerful person who misuses authority. She said,
We ended our protest after talking to Union Sports Minister (Anurag Thakur), and all the athletes had told him about the sexual harassment. By forming a committee, he tried to suppress the matter there; no action was taken that time." [1]NDTV
Address
14, Janpath Road, New Delhi
Car Collection
Anurag Thakur owns a 2009 model Hyundai Santro, which he drives himself.
Assets & Properties
Cash: Rs. 15 Lacs
Bank Deposits: Rs. 30 Lacs
Jewellery: 103 gm Gold worth Rs. 3 Lacs, and a Pistol Worth Rs. 3 Lacs
Agricultural Land: Worth Rs. 19 Lacs in Tirlokpur, Himachal Pradesh
Non-Agricultural Lands: Worth Rs.99 Lacs in Himachal Pradesh
Residential Building: Worth Rs. 1 Crore in Paragpur, Himachal Pradesh
Salary & Net Worth
Salary: Rs. 1 Lac + Other Allowances (as a Member of Parliament)
Net Worth: Rs. 5.67 Crores (as in 2019)
Facts
He is the first cricketer to have made his first-class cricket debut after taking over as the President of a State Cricket Association.
The International Level Cricket Stadium at Dharamshala, Himachal Pradesh was made possible because of Anurag Thakur. He helped in the formation and building of the stadium as an MP.
His wife, Shefali Thakur, is the daughter of Gulab Singh Thakur, the former Minister of Public Works Department of Himachal Pradesh and the former Speaker of the Himachal Pradesh Legislative Assembly.
Anurag Thakur is also the founder of the Honour Our Women (HOW) Foundation. It is an initiative which was formed for creating awareness about issues that women suffer daily such as safety and empowerment among many more. This is done by bringing in various civil society stakeholders, celebrities, journalists, and parliamentarians which can understand the issues and make a difference.
On 16 July 2016, he was appointed as a Commissioned Officer in the Territorial Army. He is the first Member of Parliament from the BJP to be commissioned as an Officer while being an MP.
He is said to be close to Amit Shah, Piyush Goyal, and Arun Jaitley. He consults them regularly before making any big or major decisions.