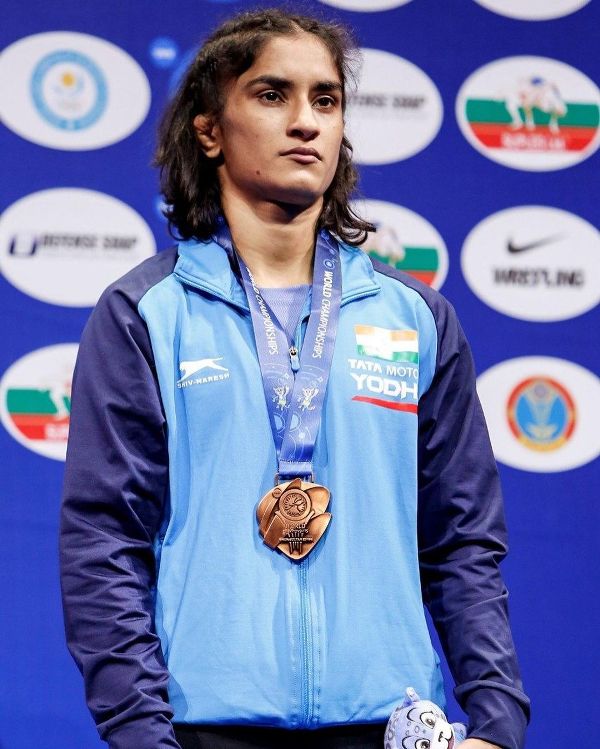 Vinesh Phogat is a prominent Indian woman wrestler, who marked her name in woman wrestling by winning gold medals in Commonwealth and Asian Games. She was the first woman Indian athlete who was nominated for the Laureus World Sports Awards in 2019.
Wiki/Biography
Vinesh Phogat was born on Thursday, 25 August 1994 (age 29 years; as of 2023) in Balali, Haryana, India. Her zodiac sign is Virgo. She received her school education from KCM Sr. Sec. School Jhojhu Kalan, Haryana. Later, she went on to MDU, Rohtak, Haryana for higher education.
Physical Appearance
Height (approx.): 5' 3"
Weight (approx.): 56 kg
Hair Colour: Black
Eye Colour: Black
Family
Parents & Siblings
His father's name was Rajpal Singh Phogat. Her mother's name is Prem Lata Phogat.
Her brother's name is Harvinder Phogat.
She has a sister named Priyanka Phogat, and she is a wrestler.
Babita Kumari, Ritu Phogat, and Geeta Phogat, the renowned Indian wrestlers are her cousin sisters.
Husband & Children
Vinesh Phogat got married to Indian wrestler Somvir Rathee on 14 December 2018 at Balali village, Charkhi Dadri district, Haryana. She was in a relationship with Somvir Rathee before getting married to him.
Career
She made her international debut in woman wrestling in 2013 while participating at the Asian Wrestling Championships in New Delhi, India, in the women's freestyle 52 kg category, and she won a bronze medal in this match and vanquished her opponent Tho-Kaew Sriprapa of Thailand. At Commonwealth Wrestling Championships held in Johannesburg, South Africa in the same year, she won a silver medal in the women's freestyle 51 kg category. Vinesh was defeated by Odunayo Adekuoroye of Nigeria in this match. Vinesh defeated her opponent, Yana Rattigan of England, at the 2014 Commonwealth Games in Glasgow and won a gold medal in the women's freestyle 48 kg category.
In 2014, Vinesh toppled her opponent Narangerel Eredenesukh of Mongolia in the women's freestyle 48 kg category to win a bronze medal at Asian Games held in Incheon, South Korea. In the following year, at Asian Championships organised in Doha, Vinesh beat her opponent, Yuki Irie of Japan, in the final match to win a silver medal. Vinesh got qualified for the 2016 Rio Olympics after winning the final round of the match at Olympics-Freestyle wrestling women's 48kg category. She beat her opponent Iwona Matkowska from Poland. In Summer Olympics in Rio in 2016, she lost the match to the Sun Yanan of China and during this match, she received a knee injury. She was awarded the Arjuna award in 2016, and she went to receive the award in a wheelchair due to her knee injury. She shared her experience in an interview,
I refused to go. I had just undergone the (knee) operation and didn't want anyone to see me in that condition. But my doctor Dinshaw Pardiwala asked me to go. When I went there people wanted my pictures, interview. It made me feel insecure and I wanted to run away because emotionally you are scattered."
At the Commonwealth Games held at Gold Coast, Vinesh won a gold in women's 50 kg freestyle wrestling in 2018.
Vinesh beat her opponent, Yuki Irie of Japan, and won a gold medal at the 2018 Asian Games in women's 50 kg freestyle wrestling. In the Asian Games, she became the first Indian woman wrestler to win a gold medal for India.
Vinesh toppled her opponent, Qianyu Pang of China, and beat her while winning a bronze medal in wrestling at the Asian Wrestling Championships in 2019. In the same year, at the Yasar Dogu International championships, Vinesh Phogat defeated her opponent Ekaterina Poleshchuk of Russia and won a gold medal.
At the Poland Open wrestling championships in Warsaw in 2019, she clinched her third gold medal in the women 53 kg category for three consecutive years.
At World Wrestling Championships in 2019, Vinesh received a maiden World Championship medal in the women's 53 kg category while reserving her seat for the 2020 Tokyo Olympics. She clinched a gold medal in Rome Ranking Series and defeated her opponent Luisa Elizabeth Valverde in January 2020.
In the wrestling championships held at Kyiv, Ukraine in February 2021, Vinesh beat her opponent Vanesa Kaladzinskay and clinched a gold medal. Vinesh clinched her next gold medal at Matteo Pellicone Ranking Series events while defeating her opponent Diana Mary Helen Weicker of Canada in the finals. In the same year, she played in the women's 53 kg category and won a gold medal at the Poland Open and again reserved herself for the 2021 Tokyo Olympics. These events were held to test the stamina of athletes after corona lockdown. In 2021, at Tokyo Olympics, she did not clinch any medal for India and was stepped out of the medals' race.
Controversy
Wrestlers protest against Brij Bhushan Singh
Vinesh Phogat, Bajrang Punia, and Sakshi Malik held a sit-in protest at Jantar Mantar in New Delhi on 18 January 2023 against the Wrestling Federation of India (WFI). According to them, the WFI officials and coaches were harassing women. While accusing the federation and the WFI president Brij Bhushan Sharan Singh of sexual harassment of many girls, Vinesh Phogat said,
Some coaches who are favourites of the federation misbehave with women coaches as well. They sexually harass girls. The WFI president has sexually harassed so many girls."
Later, Mr. Sharan Singh responded to the allegations against him and the federation and questioned the wrestlers why they didn't turn up for the last ten years and said,
If such a thing has happened, then I will hang myself." [1]The Hindu
On 3 May 2023, during the second leg of wrestlers' protests at Jantar Mantar, she accused Union Sports Minister Anurag Thakur of suppressing the matter and said that it is challenging to oppose a powerful person who misuses authority. She said,
We ended our protest after talking to Union Sports Minister (Anurag Thakur), and all the athletes had told him about the sexual harassment. By forming a committee, he tried to suppress the matter there; no action was taken that time." [2]NDTV
On 25 June 2023, wrestlers announced that they had decided to stop protesting against Brij Bhushan on the streets and to battle it out in court. [3]India Today
Awards, Honours, Achievements
World Championships
2019: Bronze medal – third place at Sultan in 53 kg
Commonwealth Games
2014: Gold medal – first place at Glasgow in 48 kg
2018: Gold medal – first place at Gold Coast in 50 kg
Asian Games
2018: Gold medal – first place at Jakarta in 50 kg
2014: Bronze medal – third place at Incheon in 48 kg
Asian Championships
2021: Gold medal – first place at Almaty in 53 kg
2015: Silver medal – second place at Doha in 48 kg
2017: Silver medal – second place at New Delhi in 55 kg
2018: Silver medal – second place at Bishkek in 50 kg
2018: Bronze medal – third place at New Delhi in 51 kg
2016: Bronze medal – third place at Bangkok in 53 kg
2019: Bronze medal – third-place at Xi'an in 53 kg
2020: Bronze medal – third place at New Delhi in 53 kg
Youth Wrestling Championship
2013: Silver medal – second place at Johannesburg in 51 kg
Favourites
Films: ABCD2, Kal Ho Na Ho, Jodha Akbar, Ajab Prem Ki Ghazab Kahani, Hera Pheri, Bhaag Milkha Bhaag
Facts/Trivia
In her leisure time, Vinesh Phogat adores reading books.
Mahavir Singh Phogat and Woller Akos are her coaches.
Mahavir Singh Phogat is her paternal uncle. He is a renowned Indian wrestler and a senior Olympics Coach.
In 2013, she marked her international debut at Asian Wrestling Championships.
She plays wrestling in women's 48 kg/50 kg/53 kg category.
In the 2016 Commonwealth Games, she received her major career breakthrough in wrestling.
Vinesh Phogat was raised by her mother, as her father expired quite early.
Vinesh and her husband both are Indian railways' employees. They fell in love while working at Indian Railways.
In 2016, a biopic film Dangal was made by Aamir Khan that was based on her and her family's life.
Vinesh Phogat shared her childhood wrestling experience in a video interview in 2018.
Vogue India presented Vinesh Phogat with the woman of the year award in 2018.
In 2019, Indian Prime Minister Narendra Modi met all the Indian wrestling athletes including Vinesh Phogat who represented India in sports globally. Modi gave an inspirational lecture to these athletes during this meet.
In a conversation with a media house, she was asked about the precautions she was taking while practising wrestling amid the COVID-19. She said,


Yes, I train twice a day. But I also make sure to take all the precautions necessary to keep Coronavirus at bay. I wash my hands regularly before and after training. Also, I only train with my sister Priyanka."
Vinesh Phogat won the sportswoman of the year award in the individual category in 2020.
In a conversation with a media house, Vinesh Phogat revealed that she was highly inspired by Kaori Icho of Japan while wrestling. She said,


Kaori Icho of Japan has been an inspiration for me. She is a four-time Olympics medallist (2004-2016). She is still competing to qualify for Tokyo."
As per Vinesh, she did weight training, gym four times, then mat sessions to keep herself fit for wrestling. She narrated,


Every coach changes the plan in 15 days. We don't know what's going to come. If you keep doing the same things you will get bored. I am working on strength now because it is season. I am doing weight training, gym four times, then mat sessions. If we have gym in the morning, in the evening I will be on the mat because the stamina we have built we can use it in our training."
Phogat revealed in an interview that in 2021, her husband's advice before the match helped her to win the match held at the Poland wrestling championship. She described,


In the first match, I wanted to push more and play more aggressive, it was something my coach did not tell me to do, but my husband did. It was something I did in the final."
Vinesh disclosed her diet plan in an interview. She stated,


My diet plan is very strict. I have been told not to eat sweets, a lot of ghee. I follow it most of the time. However, when I go to the mat and find out my technique is not that good on that particular day or if I pick up an injury, I get very angry. I think 'I haven't done anything on the mat, then why should I follow the diet?'. Then I will eat whatever I want."
Vinesh Phogat is often featured on the cover page of several renowned Indian magazines and tabloids.
While working out at the gym, Vinesh Phogat often shares her pictures on her social media account.
In an interview, Vinesh Phogat was asked about her attitude while playing on the mat as she was considered an arrogant and headstrong player by her opponents. She then answered,


Yes people say that (arrogant) but I know what's inside me. And if it helps me on the mat, I don't bother. It helps me on the mat. People say it's over-confidence but for me it's belief. I don't get intimidated and your opponent also notices the body language. Some people work on it but for me it's God gift."
Vinesh loves to travel to foreign countries.