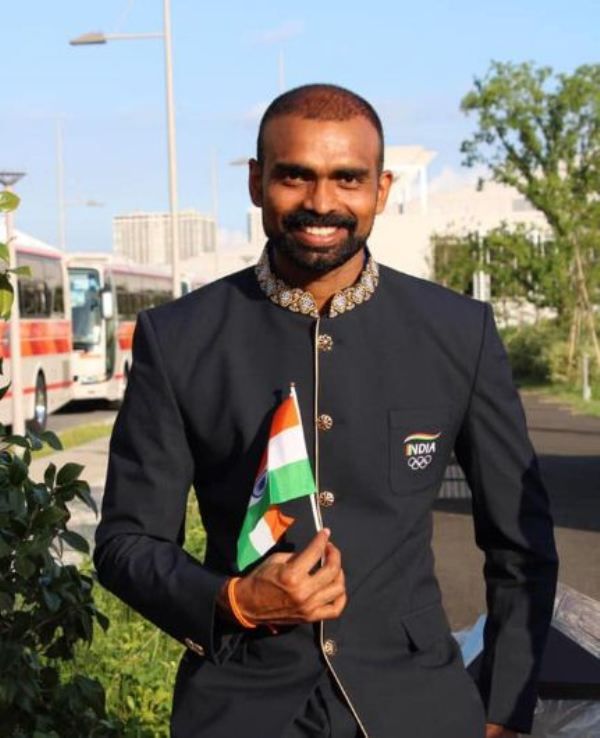 P. R. Sreejesh is an Indian professional hockey player. P. R. Sreejesh is known for his goalkeeping skills and has been honoured with the prestigious awards: Arjuna Award 2015 and Padma Shri 2017.
Wiki/Biography
Parattu Raveendran Sreejesh was born on Sunday, 8 May 1986 (age 35 years; as of 2021) in Kizhakkambalam, a small village in the Ernakulam district of Kerala, India. He is also known by the name of PR or The Wall of Indian Hockey. His zodiac sign is Taurus. Sreejesh attended St. Antony's Lower Primary School, Kizhakkambalam for his primary education. Later, he was enrolled at St. Joseph High School, Kizhakkambalam to pursue his secondary education. Sreejesh was fond of sports since childhood during which he played several sports including long jump and volleyball, and he was also a trained sprinter. At the age of 12, Sreejesh was enrolled at the GV Raja Sports School in Thiruvananthapuram to get professional training in sports. After completing his primary and secondary education, P. R. Sreejesh took admission at the Sree Narayana College, Kollam, Kerala to earn a bachelor's degree in History.
Physical Appearance
Height (approx.): 6′
Weight (approx.): 90 kg
Eye Colour: Black
Hair Colour: Black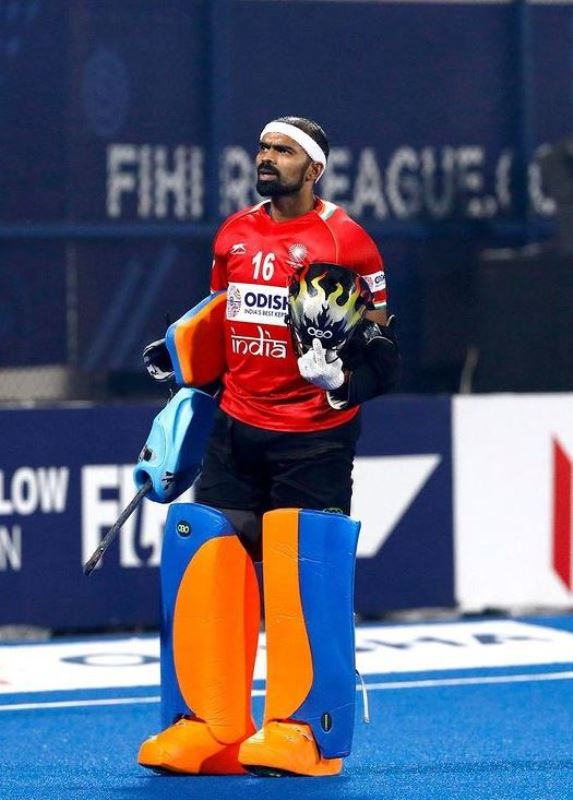 Tattoo
P. R. Sreejesh has a tribal tattoo inked on his right shoulder, which is expanded up to his arm. A tribal tattoo symbolizes protection, power, and strength.
Family
Parents & Siblings
Sreejesh's father, P. V. Raveendran, is a farmer. His mother, Usha, is a homemaker.
P. R. Sreejesh has a brother, Sreejith Parattu Raveendran. Sreejith works as a real estate agent.
Wife & Children
P. R. Sreejesh got married to Aneeshya, a former long jumper and an Ayurveda doctor, on 12 May 2013 at Maha Vishnu Temple, Kizhakambalam. According to Sreejesh, while he was studying in the eighth standard, he developed a crush on his future wife who was his classmate. The couple was blessed with their first child as a baby girl in 2014, whom they named Anusree. Sreejesh and Aneeshya welcomed their second child, a baby boy, Sreeansh, in 2017.
Career
When he was 12, his parents enrolled him at GV Raja Sports School in Thiruvananthapuram, a school where Sreejesh got more exposure to sports. Sreejesh's couch at GV Raja Sports School suggested him to take up hockey as his professional sport, but Sreejesh was not impressed with his idea then. Talking about choosing hockey, P. R. Sreejesh, in an interview, said,
Hockey was the last resort. Growing up, I was on the heavier side. I had tried shot put but I didn't have the power. I didn't have the athleticism to be good in basketball and volleyball, but being a hockey goalkeeper suited my physique. Surprisingly, I was rather good at it."
After trying his hand in a number of sports, P. R. Sreejesh opted for hockey when the hockey coach at the sports school, Jayakumar, chose him as the goalkeeper of the school hockey team. After that, Sreejesh played in several interschool and state-level tournaments. P. R. Sreejesh's first major tournament that he played was the Nehru Cup. P. R. Sreejesh made it to the Indian Junior national team in 2004 and played his first match against Australia held in Perth. In 2006, Sreejesh became part of the senior national team, playing his debut match at the 2006 South Asian Games in Colombo. During the initial phase of his career, Sreejesh was not that good with his performance on the field and was usually selected as a substitute player for the team. P. R. Sreejesh first came into the limelight after he made a historic defense of a penalty stroke against Pakistan in the 2011 Asian Champions Trophy Final. Sharing his experience on playing against Pakistan, Sreejesh said,
Playing against Pakistan automatically motivates our team to perform well. I knew i had to concentrate hard — when the penalty shoot-out was on, i was confident of my job. I wasn't nervous. I was confident that i could see India through. Moreover, during team meetings, we'd gone through Pakistan's match footage. After studying their tactics, i knew what they were going to come up with."
P. R. Sreejesh made a major role in making India win at the Asia Cup of 2013. His goalkeeping skills also earned him the title of "Best Goalkeeper of the Tournament'" 2013 Asia Cup, Malaysia. In 2014, Sreejesh's presence of mind and activeness in the field helped the Indian hockey team earn the gold medal in the 2014 Asian Games. Sreejesh was  honoured with the "Goalkeeper of the Tournament" at the 2014 Champions Trophy, India.
On 13 July 2016, P. R. Sreejesh was promoted as the captain of the Indian Hockey Team. India played several international tournaments including the 2016 Rio Olympics under his leadership. The Indian team made it to the quarter-finals at the 2016 Rio Olympics, which was a great achievement for the Indian hockey team. Although the team performed well under his captaincy but his own performance went below average after which he was replaced from his position of captain by Manpreet Singh.
P. R. Sreejesh also has a long career as a club player. He was bought by Mumbai Magicians for $38,000 (approximately Rs. 28 lakh), and he played for Mumbai Magicians from 2013 to 2015 in Hockey India League matches. Next, he played for UP Wizards for which he was auctioned for $69,000 (approximately Rs. 51 lakh) in 2015. He shares his Hockey India League experience as
You will not find such fame, money and exposure anywhere else. Today, it is the dream of every hockey player to play in HIL and has changed the framework of hockey in the entire country. Since 2010, there isn't a single national level player who is struggling to make ends meet on the streets. It isn't just about lifestyle and glamour, but about a sense of pride and identity as a respectable hockey player that it cultivates in players.
In 2018, he again proved his efficiency on the field by directing India to a silver medal in Breda Champions Trophy and a bronze medal in the Jakarta Asian Games. PR faced several serious injuries after the tournament which included ACL, MCL, and meniscus on his right knee. He had to take an eight months recovery break to get back to hockey.
In 2021, after a wait of 41 years, the Indian hockey team won a medal at the Olympics, beating the German team by 5-4. With just seconds left for the game to end, Germany was awarded a penalty corner; however, P. R. Sreejesh shot the ball away from the goal post as Indian players fell to the ground in pure joy, finally ending the long wait for a hockey medal at the Olympics. P. R. Sreejesh used each bit of his goalkeeping skills and experience to help India win the bronze medal at Tokyo Olympics 2020 and made the whole of India proud. Sreejesh  posted a picture on social media, biting his medal and captioned
eah ….. it's taste salty, Yeah …. I remember, it's my sweat 😓 from last 21 years."
Medals
Gold
2014: Asian Games, Incheon
2019: FIH Men's Series Finals, Bhubaneswar
Silver
2014: Commonwealth Games, Glasgow
2016: Men's Hockey Champions Trophy, London
Bronze
2015: Men's FIH Hockey World League, Raipur
Achievements
2008: Junior Asia Cup, 'Best Goalkeeper of the Tournament
2013: Asia Cup Best Goalkeeper of the Tournament
Awards & Honours
Arjuna Award
P. R. Sreejesh became the recipient of the Arjuna Award in 2015, after his commendable performance as the goalkeeper and Vice-Captain of the Indian Men Hockey team. Arjuna Award is presented to the sportspersons in India for their outstanding performance in the field of sports and games.
Padma Shri
In 2017, P. R. Sreejesh was honored with the fourth highest civilian award in India 'Padma Shri,' which he received from the former President of India, Pranab Kumar Mukherjee. The award is presented every year on India's Republic Day to the citizens of India for their remarkable contribution in various fields. Dedicating his award to his team members P. R. Sreejesh said,
I would like to dedicate this award to my team who have been exceptionally good over the past few years. We have grown together from strength to strength and have enjoyed success as well as lifted each other from heart-breaking defeats. My recognition could not have been possible if not for the teamwork."
Khel Ratna Award
In November 2021, he became one of the twelve awardees of the Major Dhyan Chand Khel Ratna Award, India's highest sporting honour.
Controversy
According to Sreejesh, while he returning from Malaysia after winning the Asian Champions Trophy 2016, he was charged an extra Rs. 1500 by AirAsia for carrying his equipment bag that was not even over the stipulated weight limit. "Extra charges for the sports equipment bag which come below 15 kg?? Are they expecting me to carry make-up kit ??.. funny concept @Air Asia," Sreejesh tweeted with the screenshot of the penalty receipt.
Favourites
Hockey Player(s): Adrian Albert D'souza, Baljit Dadwal
Movie dialogue: Rajinikanth's line from Baasha (1995), "Naan oru darava sonna adhu nooru darava sollara maadari" (If I say something once, it is like saying it a 100 times).
Signature
Facts/Trivia
P. R. Sreejesh loves spending his leisure time reading books, and he has a great collection of novels.
P. R. Sreejesh, during an interview, shared that his father sold their cow to buy him hockey equipment.
A road in Sreejesh's town is named after him for his contribution to Indian Hockey.
Sreejesh has walked the runway for many renowned designers of India.
P. R. Sreejesh is a nature lover and is often seen planting trees around his residence.
P. R. Sreejesh follows a nonvegetarian diet.