Max Verstappen, a racing prodigy hailing from the Netherlands and Belgium, has earned acclaim as one of the boldest and most talented Formula 1 drivers of his era. His remarkable achievements have mesmerized fans across the globe, as he consistently delivers awe-inspiring performances on the racing circuit. Representing Red Bull Racing under the Dutch banner, he achieved consecutive Formula One World Championships in 2021 and 2022.
Wiki/Biography
Max Emilian Verstappen [1]Max Verstappen – Official website was born on Tuesday, 30 September 1997 (age 26 years; as of 2023) in Hasselt, Belgium. While growing up in Maaseik, Belgium, Max attended St Ursula School; however, he left the school six weeks before his 17th birthday to become a racing driver. [2]Time News
Although Max Verstappen was born and raised in Bree, Belgium, and has a Belgian mother, he chose to obtain a Dutch racing license due to his strong connection with his Dutch roots. This decision was influenced by his formative years spent in Maaseik, a Belgian town close to the Dutch border, where he extensively engaged in karting activities with his father, being regularly surrounded by Dutch individuals. As a result, he identifies more with his Dutch heritage, which led him to opt for the Dutch racing affiliation. In 2015, he talked about his Belgian and Dutch roots and said,
I actually only lived in Belgium to sleep, but during the day I went to the Netherlands and had my friends there too. I was raised as a Dutch person and that's how I feel."
In 2022, Verstappen made it clear that he cherishes both facets of his heritage and perceives himself as being "equally connected" to both his Dutch and Belgian roots. Max's passion for racing became evident at a young age, showcasing a remarkable natural aptitude for speed and precision. When he was merely four years old, he ventured into the racing world with karting, a sport that laid the groundwork for his impressive racing journey.
Physical Appearance
[3]Max Verstappen – Official website Height: 5′ 11.26″
[4]Max Verstappen – Official website Weight: 72 kg
Eye Colour: Turquoise
Hair Colour: Dark Brown
Body Measurements (approx.): Chest: 48′, Waist: 32′, Biceps: 12′
Family
Max Verstappen belongs to a family deeply passionate about racing.
Parents & Siblings
Max Verstappen's father, Jos Verstappen, is a former racing driver, and his mother, Sophie Kumpen, is also a renowned Karting champion with an impressive track record. She has achieved the title of two-time Belgian karting champion and has competed against famous Formula 1 personalities such as Jan Magnussen, Jarno Trulli, Giancarlo Fisichella, Dario Franchitti, and even Christian Horner.
He has a sister named Victoria Jane, who is a beauty and fashion Instagram celebrity, a half-sister named Mila Faye, and two half-brothers, Blue Jaye, and Jason Jaxx.
While Max was studying in primary school, his parents went through a separation. As a result, Max chose to reside with his father, while his sister, Victoria, went to live with their mother. [5]The i With his father's guidance and family's unconditional support, Max invested endless hours refining his abilities on karting tracks. With his father's mentorship, Max gained access to valuable connections, resources, and insider knowledge of the racing industry, which significantly contributed to his rise through the ranks. Jos's relentless determination served as a powerful driving force behind Max's achievements, with reports suggesting that Jos could be strict with his son at times, pushing him to excel. [6]Time News In an interview, Max hinted at his father's strict mentorship. He said,
I never had any surprises in F1 because no one was as hard on me as my Dad."
Wife & Children
Max Verstappen is unmarried and has no children.
Relationships/Affairs
In the initial stages of his career, it is said that Max was romantically linked to several women, among them were Instagram model Roos Van Der Aa, Dutch hockey player Maxime Pourquie, and fellow racing driver Sabre Cook. During 2015-2016, he dated Mikaela Åhlin-Kottulinsky, a Swedish racing driver.
In 2016, he briefly dated Joyce Godefridi, a Belgian model.
From 2017 to 2020, he dated Dilara Sanlik, who was a German student, hailing from Munich, but said to be studying in London. [7]The Sun
In 2020, Max started dating Kelly Piquet, a Brazilian model, who is the daughter of three-time world champion Nelson Piquet.
Piquet frequently posts pictures of her daughter, Penelope, who was born in July 2019. Penelope's father is F1 driver Daniil Kvyat, with whom Piquet was in a relationship during that period. [8]People
Religion
Max Verstappen follows Christianity. [9]Essentially Sports
Address (fan mail)
Max Verstappen, Red Bull Racing, Bradbourne Drive, Tilbrook, Milton Keynes, MK7 8BJ, UK
Signature/Autograph
Career (Racing Driver)
Karting
At the young age of four-and-a-half, Max Verstappen began his karting journey. By the time he reached six years old in 2003, he participated in his first race, frequently taking part in competitions at the prestigious Genk circuit in Belgium, renowned for hosting significant international events. At the age of eight in 2005, Max entered his first karting championship and achieved an extraordinary feat by securing victories in all 21 races of the Belgium Championship Mini (VAS) throughout the season.
In 2010, he made his foray into international karting when CRG signed him to race in their factory team at the World and European championships. Max's talent and dedication brought him an impressive tally of 23 karting championships between 2005 and 2013. His victories in karting championships have an impressive list, including 5 x Rotax Max titles, 2 x Belgian Championship wins, the WSK KF3 Nations Cup, and the 2010 World Series and Euro Series. In 2013, he also won the CIK-FIA World and European KZ Championship, as well as the CIK-FIA European Championship KF. During the latter stages of his karting career, Verstappen's exceptional skills were clearly evident as he swiftly impressed during testing sessions with various cars. Consequently, his outstanding performance earned him a place in the prestigious Red Bull Junior Team in late 2014, setting the stage for his debut in Formula 1.
Formula 4
Max Verstappen did not compete in Formula 4 and instead focused on his racing journey in Formula Renault, a category that carries a comparable standing to F4. After his karting days, Max took part in the 2014 Florida Winter Series, where he demonstrated his skill by achieving two victories against more seasoned drivers in the competition.
Formula 3
In 2014, Max Verstappen started his single-seater racing journey in Formula Three. Racing for Van Amersfoort Racing in the European Formula 3 Championship, he achieved a historic milestone at the tender age of 16. Max secured an extraordinary accomplishment with six consecutive wins and a total of 10 victories throughout the season, setting a record-breaking performance. Despite encountering eight retirements and one DNS (Did Not Start), Max's exceptional achievements led to a notable third-place finish overall.
Formula 2
Max Verstappen's natural progression in his racing career would have led him to Formula 2. However, due to his association with the Red Bull Junior Program and his exceptional performance in Formula 3, he was presented with the opportunity to join Toro Rosso (now AlphaTauri) in Formula 1 for the 2015 season. At that time, there were no Super License points requirements, enabling Max to skip Formula 2 and make a direct leap to F1. Although he didn't claim the Formula 3 championship, his debut year after karting exhibited his immense potential, impressively challenging more experienced competitors. Despite facing reliability issues throughout that season, Max remarkably secured ten race victories, making a strong case for his inclusion in the Formula 1 grid. In 2014, Red Bull's Helmut Marko praised Verstappen's skills and said,
The moment I thought [he was] something really special was at the Norisring. In mixed conditions – it was more wet than dry – he was per lap two seconds and more faster than anyone else."
Formula 1
During the 2014 Japanese Grand Prix, Max Verstappen achieved a historic milestone by participating in an official Formula 1 session, becoming the youngest driver ever to be part of a Formula 1 race weekend at just 17 years and three days old. The subsequent year, he made his official Formula 1 debut at the Australian Grand Prix. Max's entry into Formula 1 at such a young age was made possible by the support provided by the Red Bull Junior Team and the absence of a Super License points system, which once restricted young drivers from joining the sport. However, current regulations now say that drivers must be at least 18 years old to compete in Formula 1.
Stats
Debut Age: 17 Years, 166 Days
First Entry: 2015 Australian Grand Prix
First Win: 2016 Spanish Grand Prix
Records
At the 2015 Malaysian GP, Max Verstappen became the youngest driver (17 years and 180 days) to score points.
At the 2016 Spanish GP, he became the youngest driver (18 years and 228 days) to win a race.
At the 2016 Spanish GP, he became the youngest driver (18 years and 228 days) to finish on the podium.
At the 2016 Spanish GP, he became the youngest driver (18 years and 228 days) to lead a lap.
At the 2016 Brazilian GP, he became the youngest driver (19 years and 44 days) to set a fastest lap.
At the 2021 Austrian GP, he became the youngest driver (23 years and 277 days) to get a Garnd Slam.
Association with Red Bull and First Win
Max Verstappen became a part of Toro Rosso (now AlphaTauri), known as the Red Bull junior team in Formula 1, at the start of his career.
After spending just over a season with Toro Rosso, he was promoted to Red Bull Racing in the 2016 season. His entry into Red Bull Racing took place during the 5th round of the 2016 season at the Spanish Grand Prix, where he achieved an extraordinary milestone by capturing his unforgettable maiden victory in Formula 1. In an interview, Max talked about his first win and said,
It was a very special, a simply lovely day. I was out there to enjoy myself because it was my first race with Red Bull, so there wasn't much pressure from the Team. They just said: "Try and score some points," and we did, we scored 25 points. Hahaha, that's always good, I guess and it was amazing to see the reaction from everyone in the Team as nobody, including me expected it." [10]Red Bull Racing
Grand Slam
Max Verstappen achieved three Grand Slams during his career. The first was in Austria in 2021, followed by the second one at the 2022 Emilia-Romagna Grand Prix. In June 2023, he secured his third grand slam victory in Spain, achieving the feat of winning from pole position, leading every lap, and setting the fastest lap of the race. In Formula 1, a Grand Slam is a remarkable achievement, and Verstappen now shares esteemed company with drivers like Nico Rosberg and Juan Manuel Fangio on the all-time list of Grand Slams/Chelems in F1. However, the record for the most Grand Slams in a career is held by Jim Clark, who secured an impressive total of eight.
World Champion
Max Verstappen has attained the title of World Champion twice, achieving championship victories in 2021 and 2022. In an exciting 2021 Abu Dhabi Grand Prix, Verstappen won the World Championship by overtaking Lewis Hamilton on the final lap, with a narrow eight-point margin separating them in the first and second positions. In 2022, Max Verstappen repeated his championship success, this time with an impressive lead of 146 points over Charles Leclerc, setting a new season record with a total of 454 points. He also achieved an outstanding feat by securing 15 Grand Prix victories in a single season, surpassing the previous record of 13 held by Sebastian Vettel and Michael Schumacher. Such remarkable performances made him the second-youngest driver ever to win two championships. After becoming world champion for the second time, an elated Max said,
This season was just great. We had a rough start, but after that we did very little wrong, and even though you cannot be perfect, we will always strive to achieve that."
Verstappen stated that his first championship triumph was "honestly the more emotional one," while the second title was "definitely the most satisfying." [11]The New York Times
Max Verstappen vs Charles Leclerc
Max Verstappen and Charles Leclerc both entered the world of karting around the same period, leading to several encounters on the track. During various races, the two drivers crossed paths, and one race, in particular, became quite famous due to a notable incident where they both pushed each other off the track.
Max Verstappen and Carlos Sainz
Throughout his entire time with Toro Rosso, Max Verstappen and Carlos Sainz served as teammates, starting from the beginning of the 2015 season until the Spanish GP in 2016. However, Verstappen's journey took a new direction when he was promoted to Red Bull in May 2016, which marked the end of his partnership with Sainz. In the 2015 standings, Verstappen outperformed Sainz, securing 49 points in comparison to Sainz's 18 points. Following his move to Red Bull during the 2016 season, Verstappen continued to showcase impressive performances, finishing only 52 points behind his new teammate, Daniel Ricciardo.
Aggressive Driving Style
Max Verstappen is known for his aggressive driving style, which has often led to comparisons with the legendary Ayrton Senna. However, he has had to make certain adjustments to his approach over the years, particularly in 2022 when the new aerodynamic regulations significantly impacted the cars' handling. Verstappen's preferred car setup revolves around a strong front end, providing ample grip at the front while keeping the rear a bit looser. This setup allows him to enjoy a car with a touch of oversteer, enabling effective rotation through corners. Red Bull has used this design philosophy, empowering Max to exploit the car's potential on the track fully.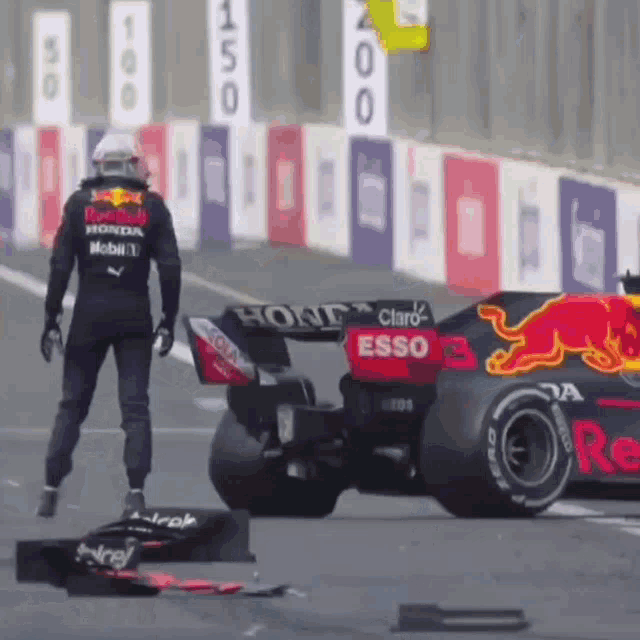 Crash Incidents and Retirements
During his Formula 1 career, Max Verstappen has been a part of 13 crashes in races. While not all of these incidents were his fault, they have been instrumental in his growth as a driver. Verstappen has retired from 31 races throughout his career. However, not all of these retirements were due to collisions as various other factors can also lead to race retirements.
G Force
In the opening lap of the 2021 British Grand Prix held at Silverstone, Max Verstappen encountered a severe crash with a 51G impact. The collision activated Verstappen's G Force warning sensor, leading to a compulsory medical examination for him; however, he emerged from the incident unharmed. In Formula 1, G-force refers to the force experienced by drivers due to rapid acceleration during high-speed corners. [12]Planet F1
"Oranje fans"
In the Netherlands, Max Verstappen enjoys immense popularity. Numerous songs have been dedicated to his Formula 1 career, and his passionate fans, known as the "Orange Army," display huge support by traveling worldwide to cheer for him during different races. Whether in the United States or Asia, the "Oranje fans" can be spotted everywhere, showing their enthusiasm for their favorite driver. When Max Verstappen secured the victory at Yas Marina in 2021 to clinch the title, almost 30% of the Dutch population, which amounts to approximately 5 million fans, tuned in to witness the historic moment.
Controversies
Collided with Esteban Ocon during the 2018 Brazilian Grand Prix
During the 2018 Brazilian Grand Prix, Max Verstappen and Esteban Ocon had a collision while Verstappen was lapping the French driver. This incident led to a heated exchange between the two drivers at the weighing scales after the race. The collision occurred because of their different positions in the race, with Verstappen leading and Ocon being a backmarker on a different strategy. As Verstappen lapped Ocon into Turn 1, the collision took place at Turn 2 as Ocon was still beside him. One perspective is that Ocon, being a backmarker about to be lapped, should have been more cautious around the race leader and given Verstappen more room, as it wouldn't have affected Ocon's position in the race. However, considering Ocon had fresher, softer tires, he likely had the pace at that point to defend his position. Following the incident, Ocon received a severe 10-second stop and go penalty, while Verstappen faced disciplinary action from the FIA. The FIA gave Verstappen two days of "public service," involving observing the stewards during a Formula E race on one day and participating in interactive case study sessions with FIA race officials on the other day. [13]Formula 1
Chaos and controversy over his 2021 world title
In a highly disputed manner, Verstappen clinched the F1 world championship, narrowly defeating Lewis Hamilton in the final race held in Abu Dhabi. Securing his first-ever F1 championship, Verstappen executed a last-lap overtake, made possible by a late change to the safety car procedures. However, the decision to modify the regulations was met with widespread criticism, leading to the removal of race director Michael Masi from his position. [14]Yahoo Sport
Controversy over his 2022 F1 title
In October 2022, he clinched his second F1 title at the Japanese Grand Prix, but the victory came after a day filled with incidents and emotions. The chaos originated when, on the final lap, the FIA handed a five-second penalty to Charles Leclerc, a Monégasque racing driver, demoting him to third place. After the race, Verstappen confessed that he had no prior knowledge of the penalty. [15]The Guardian
Awards
FIA Action of the Year (2014–2016)
Autosport Rookie of the Year (2015)
FIA Rookie of the Year (2015)
FIA Personality of the Year (2015–2017)
Lorenzo Bandini Trophy (2016)
Dutch Sportsman of the Year (2016, 2021)
Laureus Sportsman of the Year (2022)
Best Driver ESPY Award (2023)
Car Collection
Max Verstappen is an avid car enthusiast. Over the years, he has amassed an impressive car collection that reflects his love for both high-performance vehicles and classic beauties. One of the most notable cars in Verstappen's collection is the Aston Martin DB11, a sleek and elegant grand tourer, which is reportedly worth $200,000 and is fit with orange stitching, a nod to his home country. His other car collection includes a yellow Renault Clio, which is a gift from his parents, a Renault R. S. 01 worth $400,000, which is his first purchase, and a Porsche 911 GT3 RS ($400,000) that he bought after winning his first F1 race. He also owns four Aston Martins, including the Aston Martin-Red Bull collaboration – the Valkyrie hypercar – worth $2.7m. Besides these, he owns a 2018 Vantage ($150,000), a DBS Superleggera ($360,000), a Ferrari 488 Pista ($331,000), a Ferrari Monza SP2 ($1.8m), and a Mercedes-Benz C63 S AMG ($78,000). [16]Crash
Jet Collection
In 2020, he acquired a private jet, purchasing it directly from Richard Branson. The aircraft is a Dassault Falcon 900EX, previously owned by Virgin Galactic, with an estimated value of around $15 million. However, the annual maintenance expenses for the jet amount to approximately $1 million. [17]Crash
Salary
As per Forbes, Verstappen holds the title of Formula 1's highest-earning driver for 2022, with a pre-tax total income of $60 million, comprising his salary and bonuses. [18]Forbes
Assets/Properties
He lives in a rented luxurious flat in Monaco, valued at US$16 million, situated on the eighth floor, offering breathtaking views of the Mediterranean. [19]Style
Favourites
Racing Track: Circuit de Spa-Francorchamps in Belgium
Sports (other than Formula One): Football and Moto GP
Sportsperson: Johan Cruyff, a Dutch professional football player and manager
Football Club(s): FC Barcelona and PSV Eindhoven
Food: Schnitzel, Carpaccio, and tomato soup
Facts/Trivia
He follows a non-vegetarian diet, and he is often spotted relishing his favourite Schnitzel.
Max Verstappen's hobbies include Sim racing, Jet skis, quad bikes and motorbikes, and playing video games (PlayStation).
Upon joining Formula One in 2015, Max Verstappen was only 17 years old, making him ineligible to complete his driver's test and acquire a road car license, and despite competing at the highest level of motorsport, he did not possess a valid driving license at that time. [21]

The Guardian
After signing Verstappen, Red Bull entrusted Helmut Marko with the responsibility of overseeing his development and offering guidance. Christian Horner, who had considerable experience working with young drivers, also played a crucial role in providing advice and support.
Despite obtaining sponsorships for the team, Verstappen's entry into Formula 1 was facilitated through his affiliation with the Red Bull Junior Academy. Reportedly, Red Bull's current strategy does not involve recruiting pay drivers, and they choose their drivers exclusively based on their performance and skills.
Max Verstappen is considered one of the fastest Formula One drivers. His prowess in Formula 1 is not solely reliant on his car; his exceptional talent as a high-speed driver has been evident throughout his entire journey. Whether in karting or Formula 3, Verstappen has consistently demonstrated remarkable speed, securing victories in numerous competitions and establishing himself as one of the fastest drivers on the global stage.

Max Verstappen's racing career is full of remarkable feats: he has never been lapped in any race he has completed. This outstanding achievement can be traced back to his early days as a young driver at Toro Rosso. His competitive spirit and impressive speed consistently kept him on par with the race leaders, preventing him from being lapped throughout his journey in motorsports.
Max Verstappen has encountered defeat from a teammate on two occasions during a full season, and both instances involved Daniel Ricciardo. In 2016, Verstappen finished 52 points behind Ricciardo, and in 2017, the gap was 32 points. Following those seasons, Verstappen has not been outperformed by any teammate. However, the first time Ricciardo outperformed him, Verstappen had participated in the first 4 races of the season with Toro Rosso before joining Red Bull.
He relies on a Red Bull Powertrains engine, produced at the Red Bull F1 facility in Milton Keynes, which is developed in collaboration with Honda. It's worth noting that Honda was the manufacturer behind the title-winning engine used by Verstappen and Red Bull in 2021. However, looking ahead to 2026, assuming Max continues with Red Bull, he will have a new engine resulting from a joint effort between Red Bull and Ford. This collaboration marks Ford's return to Formula 1 after their previous involvement from 1963 to 2004, during which they supplied engines to numerous teams and experienced significant success.
Max Verstappen holds several age-related records in Formula 1, but he didn't become the youngest F1 World Champion. That distinction still belongs to Sebastian Vettel, who secured the championship at the age of 23 years and 124 days. In contrast, Verstappen claimed the title at the age of 24 years and 73 days. [22]

Formula 1
During the initial phases of his Formula 1 journey, Max Verstappen frequently faced criticism and was often labeled as a "dirty driver" due to his involvement in accidents with other drivers. However, as time passed, he refined his racing skills and developed into one of the most skilled wheel-to-wheel racers in the entire field. While Max has been part of several high-profile incidents, particularly during the intense title battle with Lewis Hamilton in 2021, he has matured significantly over the course of his time in F1. [23]

Planet F1
Because of the regulation changes in 2019, Max Verstappen had to change his choice of helmets from Arai to Schuberth. The alterations made to the regulations resulted in his Arai helmets becoming too small and uncomfortable for him to wear in the car. In response to this issue, Red Bull permitted him to switch to Schuberth helmets before the start of the 2019 season.
As a signature quote, Max Verstappen frequently uses the phrase "simply lovely." He tends to quote this when celebrating a victory or accomplishing a commendable performance in qualifying. Verstappen has also used this term to express his gratitude to his team on various occasions.