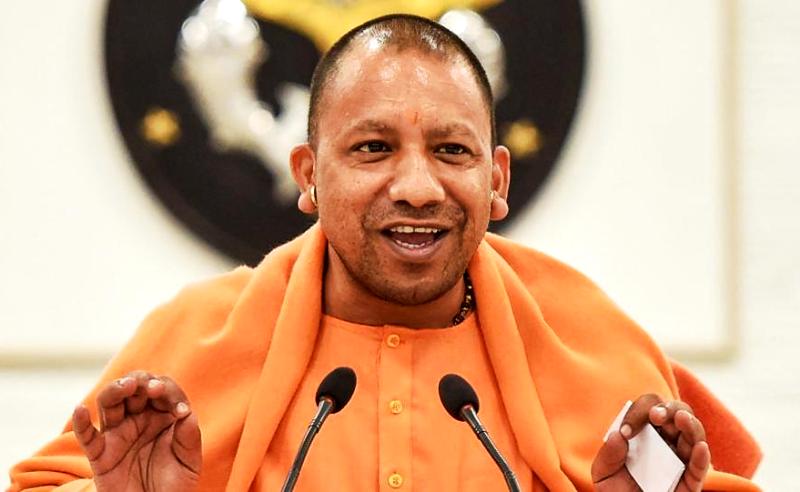 Yogi Adityanath is a member of the Bharatiya Janata Party (BJP) and the Chief Minister of Uttar Pradesh. He is the Mahant (Chief Priest) of the Gorakhnath Math, a Hindu temple in Gorakhpur. He is the founder of the organization, the Hindu Yuva Vahini; a youth organization, which has been involved in the controversy for its involvement in communal violence. Yogi Adityanath has a reputation of being a Hindutva Right-Wing Populist.
Wiki/Biography
Yogi Adityanath was born on Monday, 5 June 1972 (age 49 years; as of 2021) in Panchur, Pauri Garhwal, Uttarakhand. His zodiac sign is Gemini. He received his primary education from the local schools of Pauri and Rishikesh. He went on to study from Hemvati Nandan Bahuguna Garhwal University, Uttarakhand and obtained a Bachelor's Degree in Mathematics in 1992.
He left his home in the mid-1990s to join the Ayodhya Ram Mandir Movement. There, he met Mahant Avaidyanath, the former Mahant (Chief Priest) of Goraknath Math, to whom he looked up to and was inspired by him. Mahant Avaidyanath once met Adityanath's father and said that he has 3 more sons, and to kindly let Adityanath be his disciple; to which his father happily agreed. Adityanath renounced his family in 1993, and he travelled to Gorakhpur to become the Mahant's disciple, and eventually, his favourite disciple.
He had his Diksha (Initiation [1]Wikipedia) in 1994 when Mahant Avaidyanath named him his successor and the head priest of the Gorakhnath Math. As he was named the successor of Gorakhnath Math, it was among his duties to manage many schools, colleges, and hospitals which were run by the Gorakhnath Trust Fund.
Physical Appearance
Height (approx.): 5′ 4″
Eye Colour: Black
Family
Yogi Adityanath belongs to a Kshatriya family. His parents had named him Ajay, and his real name is Ajay Mohan Bisht. After his Diksha, he was given the name "Yogi Adityanath". His father, Anand Singh Bisht was a forest ranger who died of chronic illness on 20 April 2020 in AIIMS, New Delhi. His mother, Savitri Devi is a homemaker. He is the second born in his family, among four brothers and three sisters. His sister, Shashi (eldest of the 3 sisters), runs a tea shop in Uttarakhand. She states that she is happy in the hills and does not wish to relocate.
His youngest brother, Shailendra Mohan, is a Subedar in the Garhwal Scouts Unit and is posted near India-China Line of Actual Control.
Career
In 1996, he had his first experience in politics when he was handed the responsibility of managing the election campaign of Mahant Avaidyanath. In 1998, when Mahant Avaidyanath retired, he named Adityanath as the nominee from the Gorakhpur seat. Yogi contested and won the Lok Sabha elections from Gorakhpur. He was the youngest Member of Parliament in the 12th Lok Sabha at the age of 26. After his first electoral win, he started his Youth Wing, the Hindu Yuva Vahini, which was quite controversial and established an image of Yogi Adityanath as a Right-Wing Populist Hindutva Firebrand.
Thereafter, Yogi won the Lok Sabha elections consecutively for 5 times, from 1998 to 2014. As an MP, he was included as a member in several committees over the years, such as Committee on Food, Civil Supplies, Department of Sugar and Edible Oils, Consultive Committee of the Ministry of Home Affairs, Committee on Transport, Tourism and Culture, Committee on External Affairs and many more.
In 2017, the BJP won the Uttar Pradesh Assembly Elections with a landslide victory. Yogi Adityanath was announced as the Chief Minister of Uttar Pradesh on 18 March 2017. He was sworn in the next day on 19 March 2017.
In March 2022, he was declared the winner from the Gorakhpur constituency in the Uttar Pradesh assembly election; his winning margin was more than 73 thousand votes. [2]ABP News On 25 March 2022, he became the first one to take oath as the Chief Minister of Uttar Pradesh for a second successive term after having completed a full five-year term in the State; the swearing-in ceremony was held at Atal Bihari Vajpayee Ekana Stadium in Lucknow. [3]The Hindu
Controversies
In 2005, he led a religion conversion drive; during which he converted several people from different religions into Hinduism. In one such purification drive, he reportedly converted 1800 Muslims to Hinduism in Etah, Uttar Pradesh.
In 2007, a Hindu child died in the Hindu-Muslim clash during the festival of Muharram. After the riots ended, Yogi Adityanath visited the site, where the child had died, and he gave a hate speech. After his speech, the police arrested Yogi and a few of his followers; which caused violence all over Gorakhpur. Yogi was released a fortnight later, but, 10 people lost their lives during this period. He stated-
If they (Muslims) kill one of our Hindu brothers, we will kill 10 of them. If they can burn our homes and shops, what's stopping us from  doing the same"
In 2015, International Yoga Day was initiated and he made it compulsory to participate. Several people and the minority groups in India said they'll take part in the Yoga Day, but, will not perform the Surya Namaskar; as it opposes their religious sentiments. Yogi Adityanath replied to this by saying-
The people opposing 'Surya Namaskar' should drown themselves in the ocean. Lord Shankar was the biggest Yogi who started Yoga, and those who want to avoid Yoga and Lord Shankar can leave Hindustan"
In 2015, when Shah Rukh Khan gave a statement regarding intolerance in India, Yogi gave a statement in the Parliament, comparing him with Pakistan based terrorist, Hafiz Saeed. He stated-
There is no difference between the language of Shah Rukh Khan and Hafeez Saeed. There is a conspiracy going on in India for poisoning the atmosphere of the country and Shah Rukh Khan has also become a part of it"
In 2016, he stirred up a major controversy with his remark against Muslims. He stated-
If the Muslim population continues to increase at the same rate, there will be a situation of population imbalance in India"
On 20 June 2016, in a religious meeting in Basti, he said-
Mother Teresa was part of the conspiracy to Christianise India. Hindus were targeted in the name of doing service and then converted"
On 15 April 2019, The Election Commission of India (ECI) imposed a 72-hour ban on Yogi Adityanath from campaigning. It was imposed for violating the Model Code of Conduct (MCC); as just a few days before the ban, he was warned by the ECI for his remarks about the Indian Army. He had called it as Modi's Army. This time he gave a statement in retaliation to Mayawati's statement that-
If the Congress, BSP and SP have faith in Ali, then we also have faith in Bajrang Bali"
Facts
He was interested in studies since he was a little kid. When he was in college and used to visit his home during holidays, he used to motivate his siblings to study.
In 1993, he left his house and renounced all worldly pleasures when he joined Mahant Avaidyanath as his disciple. He was given the name Yogi Adityanath after he became a monk.
Yogi considered Mahant Avaidyanath as his spiritual guru, and when Adityanath was tasked with handling his political campaign, he put the Hindutva agenda in the forefront.
On 14 September 2014, he was appointed as the Mahant (Chief Priest) of the Gorakhnath Temple, after the death of Mahant Avaidyanath.
Yogi has a reputation as the firebrand Hindutva face of the BJP. He has given many controversial statements and hate speeches against Muslims and is widely known for them.
In Gorakhnath Math, he has set up a Yogi's Janta Darbar (Yogi's Courtroom); in which he resolves the local issues of the people of Gorakhpur and nearby districts. Interestingly, many Muslims attend it too, for having their problems resolved and everyone who comes to the Janta Darbar never returns without a solution.
Yogi is an animal lover. Whenever he is in Gorakhpur, he spends time in a Gaushala in the Gorakhnath Math. Every morning he spends time with them and feeds them. Priests at the temple claim that Yogi knows the names of all the cows present there.
In May 2022, he tweeted a photo of his mother in which he is seen touching her feet; the photo was taken at his native village Panchur in the Pauri district, Uttarakhand, where he visited for the first time after becoming the Chief Minister. Adityanath could not attend the funeral of his father on 21 April 2020 as he wanted to ensure the enforcement of the COVID-induced lockdown. [4]

The Hindu