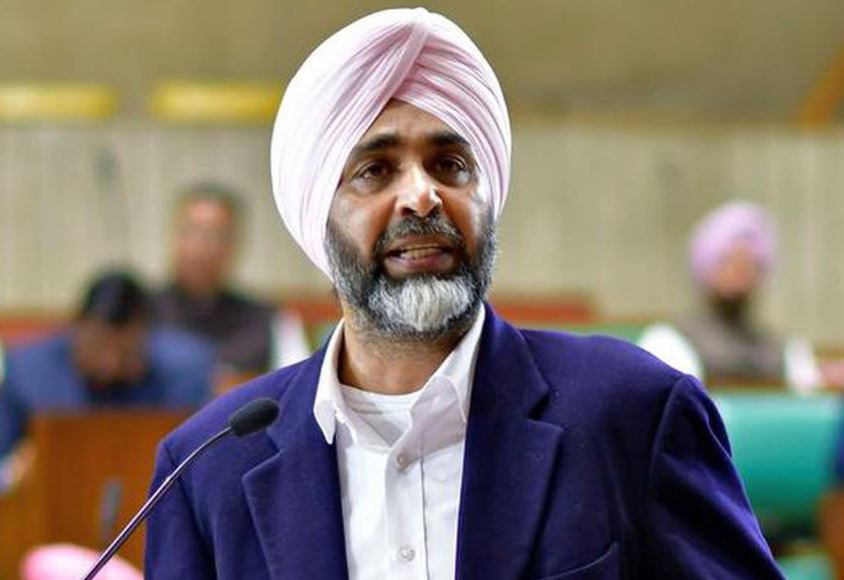 Manpreet Badal is an Indian politician and a member of the Bharatiya Janata Party. A five-time member of the Punjab Legislative Assembly, Manpreet served as the Minister for Finance & Planning at the Government of Punjab twice, first from 2007 to 2010 and then from 16 March 2017 to 10 March 2022.
Wiki/Biography
Manpreet Singh Badal [1]The Print was born on Thursday, 26 July 1962 (age 61 years; as of 2023) in village Badal, Punjab. His zodiac sign is Leo. He did his schooling at The Doon School in Dehradun, Uttarakhand. Subsequently, he enrolled himself at St. Stephen College, Delhi, to pursue a Bachelor of Arts (Honours) in History (1984). Badal was awarded a graduate degree in law by the University of London in 1987. [2]MyNeta
Physical Appearance
Height (approx.): 6′ 3″
Hair Colour: Salt & Pepper
Eye Colour: Brown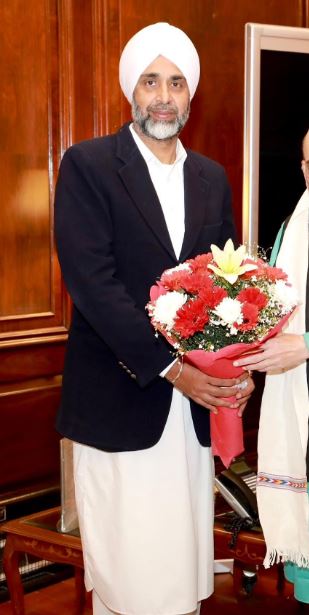 Family
Parents & Siblings
Manpreet Singh Badal's father, Gurdas Singh Badal, was an Indian politician and parliamentarian. His father passed away on 15 May 2020. His mother, Harmandir Kaur Badal, died at the age of 84 on 19 March 2020. He has a sister who is married to Jaijeet Johal.
Wife & Children
Manpreet Singh Badal is married to Vinu Badal, the director of Watermill Foods Private Limited. Together, they have a son, Arjun Badal, and a daughter, Rhea Badal.
Other Relatives
Manpreet Singh Badal is the nephew of the Shiromani Akali Dal patriarch and the former Chief Minister of Punjab, Parkash Singh Badal. His cousin Sukhbir Singh Badal is the President of Shiromani Akali Dal and MP from Firozpur.
Religion
Manpreet Singh Badal follows Sikhism. [3]India Narrative
Caste
Manpreet belongs to a Jat community. [4]India Narrative
Address
VPO Badal, District Muktsar, Punjab, India
Signature
Politics
Shiromani Akali Dal (SAD)
Manpreet Singh Badal joined his uncle's party Shiromani Akali Dal at a young age. He contested his first Legislative Assembly elections in 1995, becoming a Member of the Legislative Assembly from the Gidderbaha constituency. Badal retained the seat for three consecutive terms, i.e., 1997, 2002, and 2007. One of the key members of the Shiromani Akali Dal, Manpreet was appointed as the Minister for Finance & Planning in Parkash Singh Badal's government in 2007. While serving as the Finance Minister, Manpreet had certain differences with the party regarding the debt waiver offer from the Centre following which he was removed from his post in September 2010. A month later, he was expelled from the Shiromani Akali Dal (SAD) for indulging in anti-party activities.
People's Party of Punjab (PPP)
After being expelled from the Shiromani Akali Dal (SAD), Manpreet Singh Badal formed his own outfit called the People's Party of Punjab (PPP), in January 2011. Prior to the 2012 Legislative Assembly elections in Punjab, Manpreet's party formed an alliance with CPI, CPI(M), and SAD (Longowal) and Manpreet became a candidate for the office of the chief minister. He contested the elections from Gidderbaha and Maur constituencies but lost both seats. Manpreet's father, Gurdas Badal, also contested the elections against Parkash Singh Badal from the Lambi constituency. Gurdas lost the elections by a wide margin, forfeiting even his security deposit. During the 2014 Lok Sabha elections, the People's Party of Punjab allied with the Indian National Congress and Manpreet contested the elections on a Congress symbol from the Bathinda constituency against his sister-in-law Harsimrat Kaur Badal. Manpreet lost the election by a margin of 19,395 votes. Despite facing a defeat in the parliamentary polls, Manpreet remained active in Bathinda. On 15 January 2016, he merged his party with the Indian National Congress.
Indian National Congress (INC)
Following the merger of the People's Party of Punjab with the Indian National Congress, Manpreet bagged a ticket from the INC for the 2017 Legislative Assembly elections and was the architect of the Congress manifesto for the polls. He contested the election from the Bathinda Urban constituency and won over his rival from the Aam Aadmi Party by a margin of 18,480 votes. In the same year, he got the charge of the finance ministry in the Amarinder Singh-led government.
As a Finance Minister, Manpreet Singh helped improve the state's financial health and during his stint, Punjab GSDP rose from Rs 4.71 lakh crore in 2017-18 to Rs 5.25 lakh crore, registering an 11.5 per cent annual increase. There was also a 9.41 per cent rise in GDP which reached Rs. 5,74,760 crores and the per capita income recorded a change of 30 per cent, rising from Rs 1.28 lakh per annum in 2016 to Rs 1.67 lakh in 2020. Although the SAD-BJP government neglected its campaign trail promise of reviving the Guru Nanak Dev Thermal power plant in Bathinda, the Congress government worked to close down the plant in 2018. It became an issue for Badal's political rivals. Manpreet did not get along well with many of the Congress leaders including Punjab Pradesh Congress chief and Gidderbaha MLA Amarinder Singh Raja Warring, who once complained about Manpreet to Captain Amarinder Singh. Apparently, during the 2022 Legislative Assembly polls, Raja Warring used his campaign slogan
Saare Badal hara deo, Bathinde wala Badal vi hara deo (Ensure all Badals lose, even the one contesting from Bathinda)."
In the 2022 elections, Manpreet lost the Bathinda Urban seat to Jagroop Singh Gill of the Aam Aadmi Party by a margin of 63,581 votes (the highest margin from which a candidate lost in the entire Punjab elections of 2022).
Soon after his defeat, Manpreet Singh Badal disappeared from Punjab's political scene and re-emerged from political hibernation in January 2023 to resign from the Indian National Congress. He exited the party on 18 January 2023 after writing a letter to Rahul Gandhi. The letter read,
I do not see the point in elaborating extensively on all the particular proceedings that led to my ultimate and irrevocable disaffection. Suffice it to say, that the manner in which the Congress party has conducted its affairs and taken decisions, specifically with regards to Punjab, has been disheartening to say the least."
Bharatiya Janata Party (BJP)
After exiting the Indian National Congress, Manpreet Singh Badal joined the Bharatiya Janata Party on 18 January 2023 in the presence of Union Minister Piyush Goyal and BJP's national general secretary Tarun Chugh.
Controversy
'Shame' Remark on IAS Officers
In March 2018, a video went viral on social media in which Manpreet could be seen shaming the English skills of IAS officers in Punjab while addressing the World Punjabi Conference. In the video, he could be heard saying, "No one (IAS officers) can write letters. Sometimes we hold our heads in shame as to how these people cleared the IAS (exams). They cannot even write letters or memorandums to the government of India." He further says, "Barring one or two, other IAS officers, mostly don't know how to write English. They don't know how to write a letter." He also went on to say that most of the work in Punjab was being done in the Punjabi language. After the incident, a couple of IAS officers labelled his remarks unwarranted and insulting. [5]Business Standard
Salary/Income
Manpreet Singh Badal earned an income of Rs. 15,90,760 in the financial year 2020-2021. [6]MyNeta
Assets & Properties
Movable Assets
Bank Deposits Rs. 6,27,058
Shares in Dass Agri farm Research Pvt Ltd. Rs. 5,00,000
Gold Jewellery Rs. 2,40,000
Immovable Assets
Commercial Buildings Rs. 1,57,74,000
Note: The given estimates of movable and immovable assets are according to the year 2022. It excludes the assets owned by his wife, dependents (minor), and HUF. [7]MyNeta
Net Worth
Manpreet's net worth for the financial year 2021-2022 was estimated to be Rs. 1,72,41,059. It excludes the net worth of his wife, dependents (minors), and HUF. [8]MyNeta
Facts/Trivia
An avid reader, Manpreet has a penchant for Urdu poetry. He also likes to travel, play basketball, and do social service in his leisure time.
Manpreet is well-versed in several languages- English, Hindi, Punjabi, and Urdu.
He is a director in Dass Agri Farm Research Private Limited, a non-government organisation.
During his tenure as the Finance Minister of Punjab, Manpreet neither took any security cover nor he used any red light vehicle. In an interview, while talking about it, he said,


I am in public life on my own choice and feel no threat to my life from any body."
Manpreet Singh Badal holds the record of presenting the Punjab budget nine times, the maximum for any minister in Punjab.