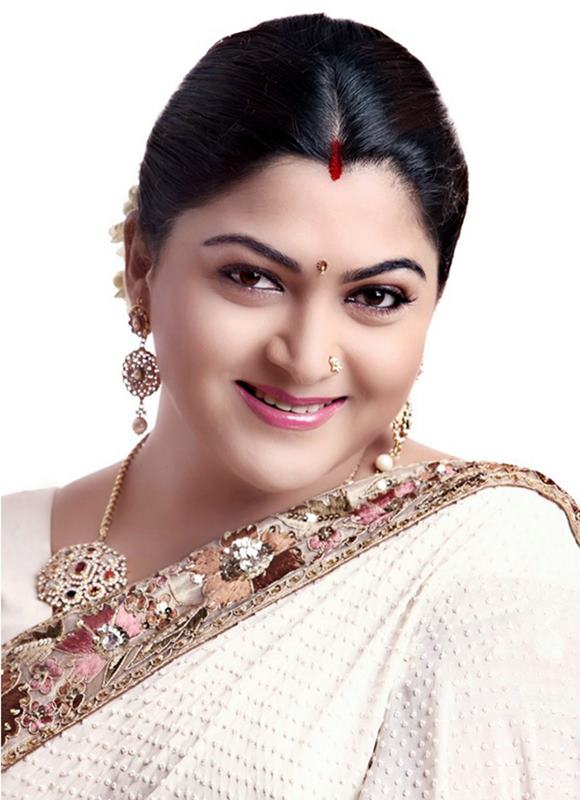 Kushboo Sundar, also known as Khushbu Sundar [1]The Indian Express is an Indian actress, film producer, TV presenter, and politician who mainly works in the South Indian film industry. In a career spanning over 40 years, Kushboo has worked in around 200 films and has earned several coveted awards for her work, including the Kalaimamani award. She is a member of the Bharatiya Janata Party since 2020.
Wiki/Biography
Kushboo Sundar was born as Nakhat Khan [2]The News Minute on Tuesday, 29 September 1970 (age 51 years; as of 2021) in Versova, Mumbai, Maharashtra (formerly Bombay, Maharashtra). Her zodiac sign is Libra.
She dropped out of school after passing class 8 from Mumbai's Swami Muktananda High School. [3]My Neta Kushboo spent most of her childhood on Veera Desai Road in Andheri, Mumbai. She loved watching films since childhood and used to pay 10 paise to her neighbours to allow her to watch Chitrahaar. Her family had no direct links to the entertainment world. However, one of her brothers was a close friend of Hema Malini's nephew, and Kushboo used to spend a lot of time at Hema's house in Juhu. At Hema Malini's house, Kushboo often came across actors like Ravi Chopra, Jitendra, and Dharmendra who were frequent visitors there. One day, when Kushboo was just 8 years old, Hema's mother, Jaya Chakravarthy, asked Kushboo,
Would you like to act in a movie?"
Kushboo, who was fond of ice-creams, said yes but she wanted ice cream for it. That is how she bagged her first role as a child artist in the film "The Burning Train" (1978). When Kushboo was 16 years old, her father took Kushboo and her mother to Chennai from Mumbai and dumped them at a rented house on the 6th Main Road in RA Puram. He himself left for Mumbai and on his way back cleared all the money from Kushboo's and her mother's bank accounts.
Physical Appearance
Height (approx.): 5′ 6″
Eye Colour: Black
Hair Colour: Black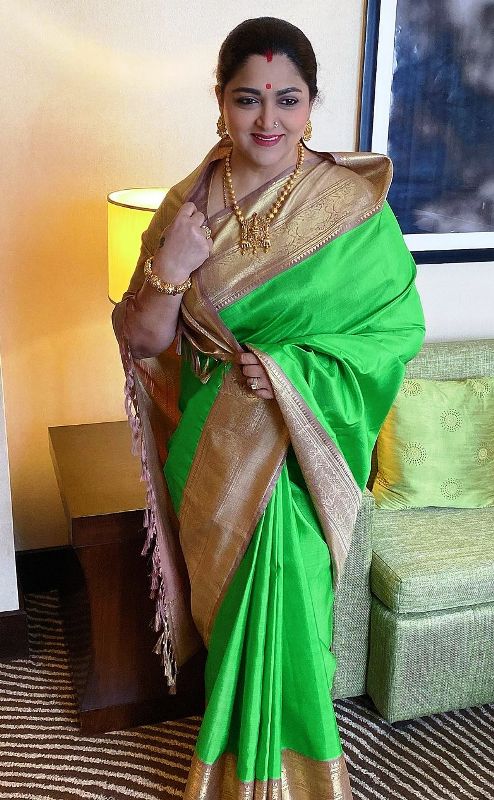 Family 
Parents & Siblings
Kushboo had a very troubled relationship with her father and do not like to reveal his name. Whenever she is asked about it, she says that all that she can recall are the bitter memories of her father inflicting verbal, physical, and mental abuse upon her, her siblings, and her mother, Najma Khan. While talking about her father in an interview, she said,
I don't want to tell you his name. I have good memories with my mother, not with him. I have seen him beating up my mom, I have seen him beating up my brothers. He was very physically violent. For him, money was the most important thing. He used to whack me on the sets in front of everyone."
Kushboo is the youngest of her siblings and is the only daughter of her parents. She has three brothers named Abdhuallh, Abu Bakker, and Ali. Her brother Abdhuallh is also an actor.
Husband & Children
Kushboo met Vinayagar Sundar Vel, popularly known as Sundar C, a South Indian film actor, director, and producer for the first time on the set of the film 'Murai Maman' in 1995. It was Sundar C's directorial debut. The duo soon began dating each other and later, tied the knot in 2000.
Together, they have two daughters named Avantika and Anandita.
Relationship
Kushboo started seeing the South Indian actor Prabhu in 1989, and by the time they were shooting for the Tamil film "Chinna Thambi" (1991), they were madly in love with each other. Prabhu was already married at that time. The couple remained in a live-in relationship for around four and a half years and in 1993, they decided to end their relationship as Prabhu's father, Sivaji Ganesan, strictly opposed their relationship. There were also rumours of Kushboo tying the knot with Prabhu on 12 September 1993 at their house in Poes Garden, Chennai. The couple broke their marriage after nine months. [4]The New Indian Express
Religion/Religious Views
Kushboo was born into a middle-class Muslim family. Kushboo once claimed to be a Hindu. On several occasions, she has also called herself an atheist. [5]The News Minute
Film & Television Career
As a Child Artist (Films)
Kushboo started her career as a child artist with the Bollywood film "The Burning Train" (1980). In the film, she was seen in the song "Teri Hai Zameen Tera Aasman."
Next, she appeared as a child artist in the films "Naseeb" (1981), "Laawaris" (1981), "Kaalia" (1981), "Dard Ka Rishta" (1982), and "Bemisal" (1982).
She was seen in the song "Main Pariyon Ki Shehzaadi" in the film 'Dard Ka Rishta,' which became a huge hit. The song is still popular among teenage girls and is often played at various children's parties and events.
As a Supporting and Lead Actress (Films)
Hindi Films
At the age of 14, Kushboo started playing an adult in films. She made her debut as an adult with the film "Jaanoo" (1985) as 'Bittu.'
In the same year, she danced with Javed Jaffrey in the super-hit song "Bol Baby Bol, Rock'n Roll" from the film 'Meri Jung' (1985).
Next, she appeared in the Bollywood film 'Tan-Badan' (1986) opposite Govinda. Kushboo played the supporting role of 'Sonu' in the film "Deewana Mujh Sa Nahin" (1990). The film starred Aamir Khan and Madhuri Dixit in the lead roles. Her solo dance number in the film "Sare Ladkon Ki Kar Do Shaadi" became a huge hit. Subsequently, she moved to the South Indian film industry.
Telugu Films
The Telugu actor Venkatesh spotted her in the Hindi film "Meri Jung" (1985) and wanted to do a film with her. In 1986, she was offered the role of 'Bharathi' in the Telugu film "Kaliyuga Pandavulu" opposite Venkatesh, marking her debut in the South Indian films.
Thereafter, she went on to work in the Telugu films "Captain Nagarjun" (1986), " Kirai Dada" (1987), "Jeevana Jyothi" (1988), "Shanti Kranti" (1991), "Stalin" (2006), "Kathanayakudu" (2008), and "Agnyaathavaasi" (2018).
Kannada Films
Kushboo made her Kannada film debut in 1988 with the film "Ranadheera" in which she played the role of 'Radha.'
Subsequently, she appeared in Kannada films like "Yuga Purusha" (1989), "Hrudaya Geethe" (1989), "Rudra" (1989), "Shanti Kranti" (1991), "Jeevanadhi" (1996), "Chamundi" (2000) and "Aunty Preethse" (2001). In 2005, she played the role of 'Queen Rajeshwari Devi' aka 'Ajji' in the film "Magic Ajji."
In 2010, she made a cameo appearance in the film "Janani."
Tamil Films
By the end of 1987, Kushboo had acted in around 12 films in Telugu and Kannada, and in 1988, she had bagged her debut role of 'Devi' in the Tamil film "Dharmathin Thalaivan." She then waited for a year. It was her make-up artist Mani who suggested her to meet director Fazil for a role. During that time, Fazil was working on the Tamil film "Varusham 16" (1989). Initially, he had cast Nirosha (actress) and Karthik (actor) for the film, but after auditioning Kushboo, he changed his mind and decided to replace Nirosha with Kushboo. Sundar bagged the role of 'Radhika' in the film. While talking about it in an interview, she said,
And it had to be kept a complete secret. They told me not to tell anyone, and it was so difficult for me because it was Karthik and Fazil after all!"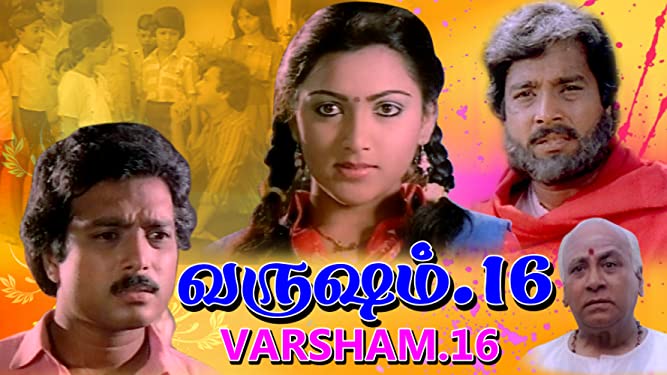 Subsequently, she appeared in Tamil films like "Kizhakku Vasal" (1990), "Enkitta Mothathe" (1990), and "Nadigan" (1990), but the film which catapulted Kushboo to huge fame was the 1991 runaway hit "Chinna Thambi" opposite Prabhu. During an interview, while describing the sudden rise in her popularity in the Tamil cinema, Kushboo said,
We were celebrating the success of the movie in each district. When I stepped out of the airport, there were hundreds of fans holding huge posters of me. They were screaming my name out, and I was so scared I ran back into the airport at first. That's when I first realized how big I had become."
The film was also her first film with Prabhu.
Subsequently, she starred in films like "Bramma" (1991), "Pandiyan" (1992), "Dharma Seelan" (1993), "Chinna Vathiyar" (1995), "Varraar Sandiyar" (1995), "Thaali Pudhusu" (1997), and "Unnai Thedi" (1999).
With her remarkable performances in the films, Kushboo galvanized her presence in the Tamil film industry as an exceptional artist.
Malayalam Films
She made her Malayalam film debut in 1991 with the film "Uncle Bun" as 'Geetha Krishnan.' She then appeared in the films "Manathe Kottaram" (1994), "Anubhoothi" (1997), "Stalin Sivadas" (1999), "Prem Poojari" (1999), "Chandrolsavam" (2005) "Mr. Marumakan" (2012), and "Cowboy" (2013).
As a Producer
Kushboo made her debut as a producer in 2000 with the Tamil TV serial "Sondhame Endrallum." Subsequently, she produced TV serials like "Kalki" (2004), "Naanal" (2008), "Rudra" (2009), "Nandini" (2017), "Maya" (2018), "Lakshmi Stores" (2018), and "Jothi" (2021).
Television
Kushboo made her television debut in 1995 with the TV serial "Chinna Chinna Aasai – Uravu." Next, she appeared in serials like "Arthamulla Uravugal" (1998), "Kumkumam" (2003), "Janani" (2003), and "Rudra" (2009).
Some of her popular TV serials include "Kalki" (2004), Nandini (2017), and "Lakshmi Stores" (2018).
As an Anchor and Judge
Besides acting and producing films, Kushboo has worked as an anchor in many TV shows including "Koteeswari" (2001), "Jackpot" (2002), "Poova Thalaiya" (2010), "Acham Thavir" (2013), "Simply Khushbu" (2015), and "Nijangal" (2016).
She has also appeared as a judge on many TV shows like "Maanada Mayilada" (Season3-5; 2007-2010), "Jodi Number One: Season 5" (2010), "Azhagiya Tamil Magan" (2010), "Ugram Ujjwalam" (2015), "Junior Super Star" (2016), "Comedy Stars: season 2" (2019), and "Dance Vs Dance: Season 2" (2021).
Political Career
Kushboo Sundar embarked on her career in politics by joining the Dravida Munnetra Kazhagam (DMK) in 2010.
On 16 June 2014, she ended her association with the DMK citing that she was sidelined in the party even after her continuous hard work. Kushboo after withdrawing her membership from DMK mentioned in a letter to Karunanidhi,
It causes unbearable stress when my dedication and hard work for the party continues to be a one-way path."
On 26 November 2014, she joined the Indian National Congress (INC). On 26 March 2015, she was appointed the national spokesperson of the INC.
On 12 October 2020, she quit the primary membership of the INC. In her resignation letter to the INC president Sonia Gandhi, she mentioned suppression from politicians seated at superior levels inside the party as the reason for quitting and described them as "people who have no connectivity with the ground reality" or had "public recognition".
After resigning from the Indian National Congress (INC), Kushboo switched to the BJP on the same day.
Ahead of the 2021 Tamil Nadu Legislative Assembly election, the BJP declared Kushboo Sundar as their candidate from the Thousand Lights constituency in Chennai. She ended up losing the poll to DMK candidate Ezhilan N by a margin of 32200 votes.
Controversies
Remarks on pre-martial sex: Kushboo kicked up a controversy in 2005 after she made some comments on pre-marital sex during an interview with a magazine. Reportedly, Kushboo said that it was fine for unmarried girls to indulge in sex after taking precautions to avoid unwanted pregnancy and sexually transmitted diseases. She further said, "Our society should come out of the thinking that at the time of the marriage, the girls should be with virginity." Her remarks didn't go well with many social and political groups and several cases were filed against her. Later, while giving an explanation about her comments, Kushboo said that no educated man could expect his partner to be a virgin. Following her comments, the volunteers of the social organisation 'Dalit Panthers of India' stormed the office of the South India Film Artistes' Association in Chennai demanding an apology from her. It took a legal battle of about five years for Kushboo to get a clean chit in around two dozen cases against her by the Supreme Court of India in April 2010. [6]

The New Indian Express
Maxim morphed photo case: A case was filed against the editor of the UK-based magazine Maxim and four others by Kushboo for publishing a morphed photograph of her in skimpy attire. Apparently, the magazine in its first edition in India in January 2006 featured a composite picture of Kushboo with her head pasted on the body of a model wearing a bikini. In 2007, the Madras High Court stayed the proceedings of the case based on a plea filed by one of those charged. [7]

BBC
Religious Offence: In November 2007, a case under Sec 295 and 296 of the IPC relating to offenses against religion was filed by the religious organisations Hindu Munnani and the Hindu Makkal Katchi against Kushboo for allegedly disrespecting Hindu Gods. In their complaint, they accused Kushboo of disrespecting Hindu Gods by sitting cross-legged with her slippers in front of the idols of the Goddesses Saraswati, Lakshmi, and Parvati during a puja in Chennai on 22 November 2007. [8]

DNA India
The Hindu Deity Images Saree Controversy: In December 2012 Kushboo again stirred controversy for wearing a saree with the images of the Hindu Gods Rama, Krishna, and Hanuman printed on it. The religious group Hindu Makkal Katchi sought an apology from her for hurting the sentiments of the Hindus, failing which they threatened to start agitations against her. In her response, Kushboo said, "I am not going to answer every Tom, Dick, and Harry. Why should I? There is no need at all. Why are they worried about what a woman sports. Don't they have any other worthwhile work?" [9]

India Today
Accusations against IFFM, Melbourne: In 2017, While Khushbu was in Melbourne to promote AFl in India, she accused the Indian Film Festival of Melbourne's (IFFM) director and tender provider Mitu Bhowmick Lange of discriminating against non-Hindi films and film stars. In one of her interviews with a news channel, she said, "This discrimination is injustice so we need to put an end to it. The IFFM though it says Indian when you look at it, it is only about Hindi films." However, later, Mittu denied the allegations and said that the organisers had invited many South Indian actors to the festival and gave equal importance to non-Hindi films too. [10]

SBS Malayalam
Awards
Tamil Nadu State Film Award for Best Actress for the film "Chinna Thambi" (1991)
Cinema Express Award for Best Actress – Tamil for the film "Chinna Thambi" (1991)
Tamil Nadu State Film Award for Best Actress for the film "Kolangal" (1995)
Cinema Express Award for Best Actress – Tamil for the film "Irattai Roja" (1996)
Tamil Nadu State Film Award Special Prize for the film "Paththini" (1997)
Net Worth
Kushboo Sundar's net worth is Rs. 37 crores (as of 2021). Out of which, she has assets worth Rs. 41 crore (movable: Rs. 6 crores & immovable Rs. 34 crores) and liabilities worth Rs. 4 crores to her name. [11]My Neta
Assets & Properties
Immovable Assets
Non-Agricultural Land worth Rs. 4, 31,00,000
Residential Buildings worth Rs. 30,25,87,500
Movable Assets
Cash Rs. 3, 25, 600
Bank Deposits Rs. 71,65,347
Insurance Policies worth Rs. 20,00,000
Address
No.2, Leith Castle North street, Foreshore Estate, Santhome High Road, Chennai- 600 028
Car Collection
Kushboo owns a Toyota Fortuner and Maruti Swift. [13]My Neta
Favourite Things
Food: Thayir Sadam, Pongal, Rasa Vada
Restaurant: Chutney's Restaurant in Hyderabad
Facts/Trivia
Kushboo loves travelling and cooking in her leisure time. During an interview, Kushboo revealed that she had inherited her passion for cooking from her mother.
Kushboo was once one of the leading actresses in Tamil cinema. She became so popular among the audience that her fans built her a temple where her idols were worshiped. She is the first and the only Indian actress to make such a mark. [15]

The Times of India
Kushboo has got the names of her kids Avantika and Anandita inked on her right forearm.
Kushboo's producers from the Telugu cinema like K Raghavendra Rao often protected her from her father. Talking about it in an interview, she said,


When he went to them asking for money, they lied to him that all my dues were cleared, and gave the money directly to me."
The first car that Kushboo ever bought was a Maruti van. Two days after she bought the car, her father, who had abandoned her and her mother, asked them (Kushboo and her mother) to move back to Mumbai with him and when they disagreed, he broke her car's windshield. Talking about it in an interview, Kushboo said,


He came to our home in Chennai. I had just bought a new Maruti van, my first car. He broke the windshield in anger. Just two days after I bought it."

She further said,

He told me that I will come begging him to take me back. I told him that I would kill everyone in the family and myself, but I won't go back to him."
Kushboo was born as Nakhat Khan. When she joined the film industry, everyone kept asking the meaning of her name. Kushboo used to explain to them that Nakhat is a Persian name which meant 'Kushboo.' Later, her parents changed her name to "Kushboo." She added Sundar to her name after her marriage with Sundar C. Sharing the details of the same in an interview, she said,


I added on Sundar after I got married. For 18 years, Sundar has been there (in my name). I love to add my husband's name to mine because I've always had a single name. I've never carried a surname with me so it's been Khushbu Sundar for the past 18 years and prior to that since I was 7 or 8 years old, it has always been Khusbhu. My family calls me Nakhat, my school friends and teachers call me Nakhat." [16]The News Minute
When Kushboo's career in the Tamil film industry was at its peak, many food items in Tamil Nadu were named after her. The most popular food item named after her was Kushboo Idli, a rice cake. Many beverages like Kushboo Sharbet, Kushboo Coffee, and Kushboo Cocktails were also named after her. People also started selling sarees and jewellery in the name of the actress. [17]

Bollywood Hungama
In December 2017, Kushboo was trolled on Twitter for her name. People bullied her for hiding her identity (being a Muslim) to make political gains. Khan gave a befitting reply to the trolls by tweeting,


Some trollers have made a discovery about me..my name is #NakhatKhan.. Eureka!!! Fools that's my name given to me by my parents.. AND YES I AM A KHAN..NOW WHAT???late bloomers,wake up..u are 47 yrs late.
In 2017, Kushboo became the Brand Ambassador of "Little India," cultural precincts in Melbourne. She helped in the promotion of their business. While talking about the same in an interview, she said,


I'm happy to help the small businesses of the Australian Indian community with additional profiling and exposure."
Kushboo is the Honorary member of Richmond Football Club, based in Melbourne, Australia. In 2016, she was made the number-one ticket holder of Richmond Football Club. She is the first and the only female to be given such an honour by any AFL Club in Australia. [18]

The News Minute
Khushboo is an active supporter of Jallikattu, a bull-taming sport. She has often raised her voice about the sport on various national and international platforms. [19]

Deccan Chronicle
In April 2020, Kushboo's Twitter account was hacked by an anonymous person. Later, in July 2021, someone again hacked her Twitter account and changed its name to Briann. The hacker also changed her cover image and deleted several posts from her account. [20]

India Today
Kushboo owns two pet dogs named Kulfi Sundar and Nila Sundar.