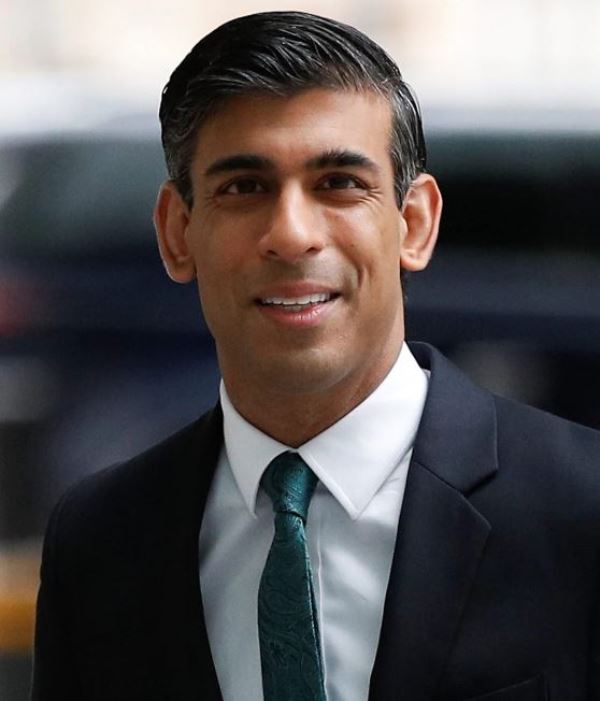 Rishi Sunak is an Indian-origin British Conservative Party politician. He is a Member of Parliament (MP) for Richmond (Yorks) since the 2015 UK general election and assumed the office as the "Chancellor of the Exchequer" (Finance Minister) on 13 February 2020. In October 2022, he became the Prime Minister of the United Kingdom, making him the first person of colour to become Prime Minister in British history. [1]The New York Times He is married to Akshata Murthy, who is the daughter of N. R. Narayana Murthy, c0-founder of Infosys, and a billionaire.
Wiki/Biography
Rishi Sunak was born on Monday, 12 May 1980 (age 43 years; as of 2023) in Southampton, Hampshire. His zodiac sign is Taurus. He completed his schooling at Winchester College (a boarding school for boys in Winchester, Hampshire), where he was a head boy. He pursued a bachelor's degree in PPE (Philosophy, Politics and Economics) from Lincoln College, Oxford University. He holds a degree in MBA from Stanford University, where he attended college as a Fulbright scholar. Before stepping into politics he worked with several top-class large investment firms.
Physical Appearance
[2]Daily Mail Height: 5′ 6″
Eye Colour: Black
Hair Colour: Black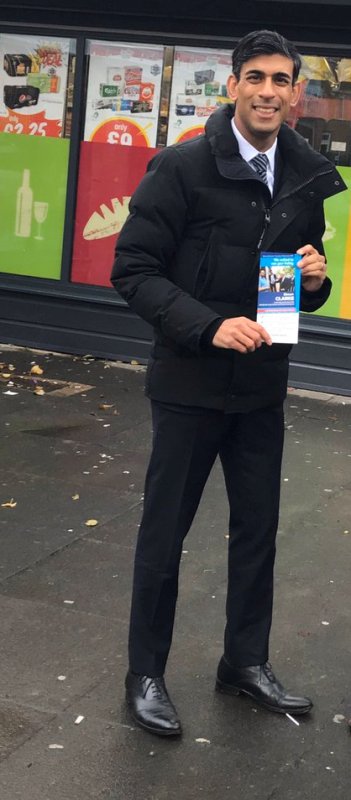 Family
Rishi Sunak was born into a Punjabi Hindu family, who emigrated to the UK from East Africa. [3]news18
Parents & Siblings
His father, Yashvir Sunak, is an NHS General Practitioner, and his mother, Usha Sunak, is a pharmacist.
He has two younger siblings. His brother named Sanjay Sunak is a consultant clinical psychologist & neuropsychologist, and his sister named Raakhi Williams works as chief of strategy and planning at the United Nations global fund for education in New York.
Wife & Children
He met his wife Akshata Murthy, the daughter of Indian billionaire and co-founder of Infosys, N. R. Narayana Murthy in California, during his MBA course at Stanford University. They later got married on 30 August 2009 in Bangalore. Akshata runs her own fashion designing company "Akshata Designs" and is also the director of her father's Large investment firm "Catamaran Ventures UK Ltd."
The couple has two daughters, Anoushka Sunak and Krishna Sunak.
Religion
He follows the Hindu religion and often visits the temple. [4]BBC News
Signature/Autograph
Career
Business
Rishi Sunak started his first job as an analyst in 2001 for an American multinational investment bank, "Goldman Sachs" in California; before leaving it in 2004. He later worked for The Children's Investment Fund Management (a London-based hedge fund management firm), before he was made a partner of the same organisation on 15 September 2006. [5]Financial Conduct Authority He quit the firm in November 2009, to join former colleagues to launch an investment partnership firm "Theleme Partners" in October 2010 with an initial investment of $536 million. In 2013, he and his wife were appointed as the directors of a major investment firm "Catamaran Ventures UK Ltd" owned by his father-in-law and Indian businessman N. R. Narayana Murthy. He later resigned from the firm on 30 April 2015; however, his wife is still continuing as the director of the organisation. [6]Companies House
Politics
Member of Parliament
Rishi Sunak set foot in the UK Parliament for the first time in October 2014, when he was selected as a Conservative MP candidate for Richmond; following the announcement of former MP William Hague not to contest the next general election. In 2015, Sunak contested the UK general election from Richmond and won with a majority of 36.5% votes [7]General Elections Online. As a member of parliament, Sunak worked as a member of the Environment, Food, and Rural Affairs Select Committees from the year 2015 to 2017. In the year 2016, Sunak campaigned and also held many public Q&A sessions for the Brexit referendum; he supported the exit of the UK from the European Union. In the 2017 General elections, Sunak was re-elected as the MP of Richmond (Yorks) with an even bigger majority of 23,108 (40.5%). [8]GOV.UK He held the office of the Parliamentary Under-Secretary of State from 9 January 2018 to 24 July 2019.
Chief Secretary to the Treasury
After his stint as the "Parliamentary Under-Secretary of State" at the Ministry of Housing Communities and Local Government, he was appointed as the Chief Secretary to the Treasury by the former Prime Minister of the UK Borris Johnson on 24 July 2019. [9]GOV.UK In the 2019 General elections, he was re-elected as the MP for Richmond (Yorks); marking his third consecutive victory as the Member of Parliament with an increased majority of 27,210 votes (47.2%). [10]The Times of India
Chancellor of the Exchequer
Rishi Sunak's booming political career witnessed yet another promotion when the former Chancellor of the Exchequer, Sajid Javid, dramatically stepped down from his post, and Sunak was appointed for the second-most powerful political job in Britain as the new Chancellor of the Exchequer (Finance Minister) on 13 February 2020. On 5 July 2022, he took to Twitter to announce his resignation as Chancellor of the Exchequer (Finance Minister) citing his differences with Prime Minister Boris Johnson.
The public rightly expect government to be conducted properly, competently and seriously.

I recognise this may be my last ministerial job, but I believe these standards are worth fighting for and that is why I am resigning.

My letter to the Prime Minister below. pic.twitter.com/vZ1APB1ik1

— Rishi Sunak (@RishiSunak) July 5, 2022
Conservative Party Leadership Election in 2022
On 20 July 2022, he became the top choice amongst Conservative MPs and competed against Liz Truss in a postal vote of party members; however, he lost the Conservative leadership race to Truss; Sunak received 42.6% votes, while Truss received 57.4% votes. [11]The Telegraph
57th Prime Minister of the United Kingdom
Following the short-lived tenure of Liz Truss as Prime Minister, Rishi Sunak became the top choice for the post after his only remaining opponent, Penny Mordaunt, withdrew from the race to become the Prime Minister of the United Kingdom, and on 25 October 2022, King Charles III appointed him as the new Prime Minister. [12]The Guardian
Books Written by Rishi Sunak
Rishi Sunak, apart from being an established businessman and politician, has also tried his hand at writing books. In May 2014, he collaborated with Saratha Rajeswaran on his first book "A Portrait of Modern Britain," published by Policy Exchange. [13]Rishi Sunak This book discussed Demography, Social Change, and Ethnic Groups in the UK. On 14 November 2016, amid his campaigning in the favour of BREXIT, Sunak released his second book "The Free Ports Opportunity: How Brexit Could Boost Trade, Manufacturing and the North." This book discussed how BREXIT will lead to the creation of new ports and will further enhance new trade opportunities for Britain. The following year, he published another book titled "A New Era for Retail Bonds: How Our Savings Could Help SMEs Grow." This book demanded the government to back and lift up the SMEs (Small and medium-sized enterprises) in the UK by creating a new exchange for SME bonds.
Controversies
Wife's Tax Arrangements
In April 2022, the opposition questioned Sunak about the income of his wife, Akshata Murthy, who, according to some media reports, claimed a non-domiciled tax status in the UK that exempted her to pay taxes on dividend benefits received from overseas companies. He also faced allegations over his wife's income from Russia, where Murthy's company, Infosys, was operating even during the Russia-Ukraine War in 2022. Later, in a statement, Infosys announced the withdrawal of its services from Russia. [14]The Hindu
Transwomen are not women
In 2022, in an interview, when he was asked, "Yes or no. Is transwoman a woman?," he answered, "No". This answer of his was not welcomed by netizens and supporters of trans rights. In another video posted on Youtube in April 2022, he said,
It is important to have compassion and respect for people's views. When it comes to questions like toilets or sports, you know, I'm of the view that biology is important, it's fundamental, it's critical to how we approach those types of questions." [15]Outlook
Earlier, contrary to this statement of his, he was in support of the transgender community. Reportedly, while speaking to LGBT+ Conservatives, he said,
Prejudice against trans people is wrong. The Conservative Party is an open, welcoming family to everybody across society, no matter who they are and irrespective of their background. I have the track record of delivery, a clear plan to fix the biggest problems we face and I will deliver on the promise of the 2019 manifesto." [16]Outlook
When he was running for the Prime Ministerial elections, he said that Britain should become a safe and secure country for queer people and people should come out as who they are. In the 2019 manifesto, he talked about trans rights and said,
We will vigorously combat harassment and violence against all religious groups, and against LGBT people." [17]Outlook
Car Collection
Assets & Properties
A 12-acre Georgian Manor house in the Yorkshire village of Kirby Sigston worth around £1.5 million. Reportedly, this property is owned by Akshata Murty.
A penthouse apartment on Ocean Avenue in Santa Monica, California worth £7.5 million. This property is registered under Akshata's name.
A mews mansion in Kensington, West London worth £6.6 million. This property is owned by Rishi Sunak.
Net Worth
As of 2022, his net worth was reported to be £200 million. His collective net worth along with his wife Akshata Murty was roughly estimated to be $810 million. [21]Forbes As of Sunday Times Rich List 2022, the couple was ranked 222 on the rich list. [22]The Times
Favourites
Food: Idli, Sambar, Dosa, double chocolate muffin, biscuits
Film: The Empire Strikes Back (1980)
Footballer: Matt Le Tissier
Facts/Trivia
Rishi Sunak is the first Indian-origin Prime Minister of the UK and the first Hindu-origin Chancellor of the Exchequer.
In an interview, Rishi Sunak talked about how he felt after becoming the first Hindu-origin PM of Britain, he said,


It was obviously marvellous. It meant a lot of things to a lot of people. As chancellor, I was able to light my Diwali Diyas (lamps) on the steps of Downing Street. It said something wonderful about our country that was possible, but also that it wasn't a big deal. It was in a sense, gosh, this is great, but also that's just Britain. Hopefully, it's a source of collective pride across the country." [23]India Today
Sunak is the first Prime Minister of the UK, who was appointed by King Charles III.
Rishi Sunak is the youngest Prime Minster of the UK in the history of 200 years.
He participated in the Prime Ministerial elections two times in 2022; he won the second time.
Sunak is locally labelled "Maharaja of the Dales."
He is called 'Dishy Rishi' by many news agencies for his charming and confident appearance.
Sunak volunteered for the election campaign of the Conservative party in 2014 before entering politics.
Sunak is a sports enthusiast. He is a fan of Southampton football club and England's cricket team. He even went to Edgbaston cricket stadium to watch a game of the 2019 cricket world cup played between India vs England. Reportedly, when he was studying at Winchester College, he secretly took a portable television to watch England play in Euro 96 (Football Championship).
Rishi Sunak is non-vegetarian.
At the age of 18, before he went for studying at Oxford University, he waited tables at a curry house in Southampton during his summer holidays.
Rishi is a Star Wars fan. In 2016, he visited a school, where he told the children that he wanted to be a Jedi Knight after growing up. He has a sizeable collection of lightsabers. He likes to watch films and "The Empire Strikes Back" is his favourite Star Wars film.
Rishi Sunak has the unofficial title of 'the richest MP' as he and his wife, together, has a whooping net worth of approximately $810 million.
In an interview, when he was asked about his favourite subjects, he said,


Economics, absolutely my major academic love, I love economics, I still read lots of economics."
After Rishi Sunak became the first Indian to become chancellor of the exchequer, The Spectator, the British magazine, named him "Politician of the Year."
Sunak is a skilled and eloquent public speaker, which was why he was chosen to represent the Conservative party in airwaves and debates.
In an interview, Rishi Sunak shared that he was lucky enough to not have faced racism, but there was one incident that scared his memory and he still remembers it, he said,


I was just out with my younger brother and younger sister, and I think, probably pretty young, I was probably a mid-teenager, and we were out at a fast food restaurant and I was just looking after them. There were people sitting nearby, it was the first time I'd experienced it, just saying some very unpleasant things. The 'P' word. And it stung. I still remember it. It seared in my memory. You can be insulted in many different ways." [28]BBC News
In January 2023, during the filming of a promotional video related to the government's latest round of "levelling up" spending in Lancashire, Prime Minister Rishi Sunak was fined £100 by British police for not wearing a seatbelt following which he apologised for the mistake. This was the second time he had received a fixed penalty notice. In April 2022, Mr. Sunak, along with Boris Johnson and his wife, Carrie, received a fixed penalty notice for attending a birthday gathering for the then-Prime Minister in Downing Street in June 2020, which was in violation of the Covid lockdown guidelines in the country. [29]

The Telegraph
During the Ashes Test at Lord's in July 2023, Rishi Sunak shared his personal experience of facing racism while growing up in an interview with BBC's Test Match Special. He expressed that he had personally felt the painful impact of racism. Furthermore, he mentioned that he believed his own children were less likely to encounter racist abuse due to the advancements made by the country in addressing this issue. Sunak said,


Of course I have experienced racism, growing up, in particular, and of course I know it exists. It stings you in a way that very few other things do."

A previous investigation revealed the existence of pervasive and deeply ingrained racism, sexism, elitism, and class-based prejudice throughout all levels of cricket within the nation. The Independent Commission for Equity in Cricket (Icec) issued a comprehensive 317-page report, cautioning that the issues at hand were not merely isolated incidents or harmless banter, but rather systemic problems that needed to be addressed. [30]The Guardian

In September 2023, a London court found five former metropolitan officers guilty of making racist slurs and derogatory remarks against Rishi Sunak, Queen Elizabeth II, and others. The charges were based on their involvement in sending racist messages on WhatsApp between the years 2020 and 2022. [31]

India Today