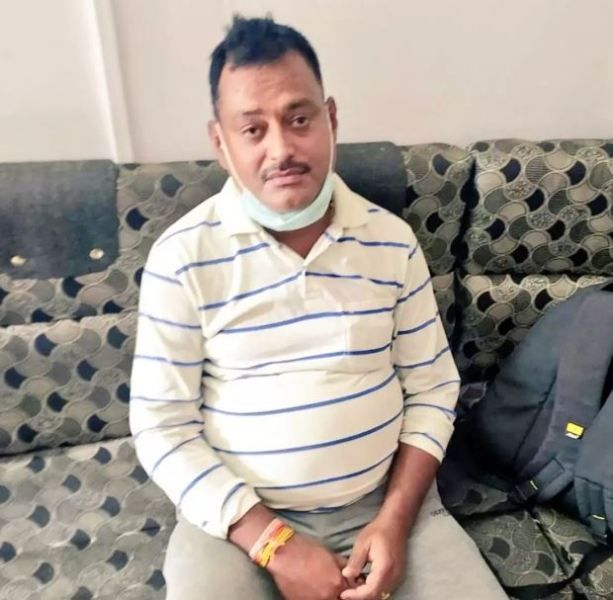 Vikas Dubey was an Indian history-sheeter gangster who had absconded after 8 policemen were killed during an attempt to arrest Dubey in Kanpur, Uttar Pradesh. He had at least five dozen cases of murder, extortion, kidnapping, and other violent crimes against him. He was arrested from Ujjain in Madhya Pradesh on 9 July 2020. Later, he was killed while trying to flee the police custody on the way from Ujjain in Madhya Pradesh to Kanpur in Uttar Pradesh on the morning of 10 July 2020.
Wiki/Biography
Vikas Dubey was born on Saturday, 26 December 1964 (age 55 years; at the time of death) in the village of Bikru in Kanpur's Chaubepur block. [1]The Week He inclined towards criminal activities at a very young age. While he was still a teenager, he formed his own gang and started doing criminal activities, like snatchings, robberies, and even murders. [2]The New Indian Express Soon, Vikas became one of the most infamous criminals in Kanpur, Uttar Pradesh.
Family & Caste
Vikas Dubey belonged to a Brahmin family of Kanpur. [3]The Week
Parents & Siblings
His father, Ramkumar Dubey, is a farmer.
His mother, Sarla Dubey, is a homemaker.
Vikas had two brothers, Deepu Dubey and Avinash Dubey.
Relationships, Wife & Children
In 1995, he started dating Richa Dubey (aka Sonu) who was the sister of Raju Khullar, a criminal from Kanpur's Shastri Nagar. After dating Richa for a while, Vikas married her. [4]Amar Ujala
Vikas had two sons. His elder son is pursuing his MBBS from a college in England while his younger son is pursuing his senior secondary from a private school in Kanpur, Uttar Pradesh.
Criminal Activities
Vikas Dubey kicked off his criminal activities when he was still in his youth with land grabs and petty robberies. His first notable crime dates back to 1990 when he assaulted some men in the neighbouring village of Dibba Nivada. Reportedly, he assaulted those men to avenge an insult to his father. [5]Amar Ujala The first case against Vikas Dubey was registered in 1993 for robbery and criminal intimidation at Shivli Police Station in Kanpur. In 2000, he killed Siddheshwar Pandey, the assistant manager of an Inter College located in the Shivli area of Kanpur. It was the first time when his name was featured for murder. [6]The Week On 12 October 2001, Dubey killed a BJP leader and the then Minister of State, Santosh Shukla within the premises of a police station. [7]Amar Ujala After killing Shukla, Dubey emerged as one of the most dreaded gangsters in the area. Although he surrendered in 2002, he was acquitted later. [8]The Quint In 2004, his name appeared in the murder of Dinesh Dubey, a cable businessman. [9]The Week There were more than 60 FIRs registered against Vikas Dubey at the Chaubepur Police Station in Kanpur. He had also been charged under the Gunda Act, and in 2017, the UP STF arrested him and sent him to jail. [10]Amar Ujala In 2018, he tried to kill his paternal cousin, Anurag Dubey. Later, Anurag's wife filed an FIR against Vikas. [11]The Week In August 2019, Vikas was detained by the police for threatening officials regarding a road tender. [12]The Quint
Political Patronage
The caste issue had always played a great role to save Vikas as he belonged to a village having a sizeable Brahmin population, and the politicians always pedaled for Dubey's release even after he was arrested for multiple times. Initially, he had the patronage of the then MLA of his area, Nekchandra Pandey. [13]Amar Ujala Later, he became a close associate of BJP's Harikishan Srivastava. Vikas also became the henchman of Harikishan Srivastava. In 1996, Srivastava joined the BSP, and he also made Vikas a member of the party. [14]The Week It is said that it never mattered whose government was there in Uttar Pradesh, Vikas Dubey would always find an ally in every government. Reportedly, it was the BSP that had given him the political patronage most of the time. [15]Amar Ujala Reportedly, he had also been trying to become an active member of the BJP for a long time and had also planned to contest the 2022 Uttar Pradesh Assembly Elections. [16]Amar Ujala It is said that he had a stronghold in the Shivli area of Kanpur and also the neighboring areas, and the neighboring three villages often had the village headmen (Pradhan) from Dubey's family. Once, Dubey was also elected a member of Zila Panchayat. He won the Nagar Panchayat elections from Shivrajpur while in jail. [17]The Quint His wife, Richa Dubey has also contested various local body elections in Uttar Pradesh and is a lifetime member of the Samajwadi Party. [18]The Times of India
July 2020 Bikru Encounter
On 3 July 2020, eight policemen, including a deputy superintendent of police (DSP), three sub-inspectors, and four constables were killed by Vikas Dubey and his men during a post-midnight operation in the Bikru village where a team of the UP Police had gone to arrest Vikas Dubey. [19]The New Indian Express According to sources, around 100 rounds of bullets were fired at the police party from the rooftops. According to UP DGP HC Awasthi, the way criminals had put earthmoving machines in the passage of the police party, and the use of weapons from rooftops reflected that the criminals had a tip-off regarding the police raid. [20]The New Indian Express Following the death of eight policemen in the Bikru encounter, the Station House Officer (SHO) of Chaubeypur, Vinay Tiwari, and beat in-charge K. K. Sharma were arrested on charges of allegedly providing a tip-off to Vikas Dubey about the police raid at his house on the intervening night of July 2-3, 2020. According to Senior Superintendent of Police (SSP)-Kanpur Dinesh Kumar –
After collection of evidence, it has come to light that Vikas Dubey had been alerted and [he] set up an ambush and killed the policemen after he had been provided information about the police raid beforehand." [21]The Hindu
The cops who lost their lives in the operation include, Circle officer, Bilhaur, Devendra Mishra, Shivrajpur Station House Officer Mahesh Chandra Yadav, Police Mandhan station incharge Anoop Kumar Singh, Sub-Inspector Nebu Lal, constables Sultan Singh, Rahul, Babloo and Jitendra.
Absconding & Arrest
After the July 3 incident, Vikas Dubey was on the run, and after a long hide & seek with the police, he was arrested near the Mahakal temple in Ujjain on 9 July 2020. [22]The Hindu Reportedly, after his arrest, he shouted –
I'am Vikas Dubey, Kanpur walla"
Earlier, the police had put a bounty of Rs. 5 lakh on Vikas Dubey. The bounty was revised several times, at first, IG Kanpur Mohit Agarwal had announced a reward of Rs 50,000 on his head, then it was gradually increased to Rs. 1 lakh by ADG Kanpur Zone JN Singh, and Rs. 2.5 lakh by UP DGP HC Awasthy. Later, the UP home department further recommended increasing the reward to Rs. 5 lakh. [23]Hindustan Times
Death
Vikas Dubey was shot dead in an exchange of fire near Bhaunti in Kanpur. Later, he died in a hospital during treatment. According to UP Police, the incident took place when Dubey was being brought to Uttar Pradesh after his arrest from Ujjain in Madhya Pradesh, Dubey took advantage to flee when the vehicle in which the accused and the policemen were travelling overturned near Bhaunti in Kanpur. While narrating the incident to a News channel, Kanpur SP Anil Kumar said,
Dubey was killed by policemen who fired in 'self-defence' after the gangster took advantage of the road accident. Vikas Dubey tried to run after snatching a pistol of an injured policeman. The police surrounded him from all four sides and tried to make him surrender, but he fired at the police. In self-defence, police fired two bullets [at Dubey] injuring him." [24]The Hindu
Net Worth
According to police, Vikas's net worth valued in millions, and he had named most of his properties and assets to his wife's name. [25]Amar Ujala The considerable wealth of Vikas Dubey came from brick kilns, schools, and colleges, many of which had been forcibly taken over by Dubey. [26]The Week
Facts/Trivia
Besides being a criminal, Vikas was also a real-estate businessman and a politician.
When Vikas was first sent to jail, his wife came into a relationship with one of the friends of Vikas. When Vikas came out of jail, he vowed to take vengeance against his wife Richa, and her brother Raju. Later, Richa surrendered to Vikas, but Raju left Uttar Pradesh forever. [27]

Amar Ujala
Reportedly, it was Sunny Deol's film Arjun Pandit (1999), which had inspired Vikas Dubey to enter the world of crime. He became so inspired by Sunny Deol's character in the film that he started referring to himself as "Pandit'." [28]

Outlook
Vikas Dubey's house in his village Bikru was built like a fortress. After the July 3 encounter, the police demolished his houses and other structure related to Vikas Dubey. According to a senior police officer, Vikas Dubey operated like Maoists. While talking to media persons, BK Srivastava, Superintendent of Police, Kanpur Rural, said,


A huge cache of arms and ammunition recovered from the residence of Vikas Dubey, during search. Some of the weapons recovered are licensed under names of people associated with him, but they were used by Vikas. This is similar to how naxals operate." [29]Hindustan Times
After the brutal killing of the eight policemen in Kanpur, Vikas Dubey's mother, Sarla Dubey said that no mercy should be shown to Vikas and he should be shot wherever he was. She said,


Maar dalo unko, jahaan rahe maar dalo." [30]India Today
When his father, Ramkumar was asked about the criminal activities of his son, he said,


He had left this place during his student days and had been living with my brother-in-law." [31]India Today
References

↑

1,

↑

3,

↑

6,

↑

9,

↑

11,

↑

14,

↑

26
The Week

↑

2
The New Indian Express

↑

4
Amar Ujala

↑

5
Amar Ujala

↑

7
Amar Ujala

↑

8,

↑

12,

↑

17
The Quint

↑

10
Amar Ujala

↑

13
Amar Ujala

↑

15
Amar Ujala

↑

16
Amar Ujala

↑

18
The Times of India

↑

19,

↑

20
The New Indian Express

↑

21
The Hindu

↑

22
The Hindu

↑

23
Hindustan Times

↑

24
The Hindu

↑

25
Amar Ujala

↑

27
Amar Ujala

↑

28
Outlook

↑

29
Hindustan Times

↑

30,

↑

31
India Today