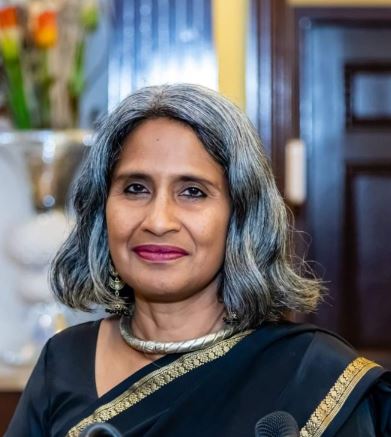 Sunita Viswanath is an Indian-American activist, who has been associated with several women's and human rights organizations in the US for over three decades. She is the co-founder of the human rights organizations Women for Afghan Women, Sadhana: Coalition of Progressive Hindus, and Hindus for Human Rights. Sunita came into the limelight after Union Minister Smriti Irani flagged a picture of Rahul Gandhi with Sunita Viswanath (from Gandhi's meeting with the think tanks in the US), raising concerns about their meeting as the latter allegedly has connections with George Soros.
Wiki/Biography
Sunita Viswanath was born in 1968 (age 55 years; as of 2023) in Chennai, Tamil Nadu, India. A few years after her birth, her family relocated to London, UK, and in her early years, she frequently moved back and forth between Chennai and London. At the age of 19, Sunita moved to the United States, where she attended Douglass College, Rutgers University, New Brunswick, US, to pursue a BA in Mathematics. Thereafter, she obtained an MA in Sociology from SNDT Women's University, Mumbai. [1]Women In Media & News
Physical Appearance
Height (approx.): 5′ 5″
Hair Colour: Salt & Pepper
Eye Colour: Black
Family
She was born into a traditional South Indian Hindu family.
Parents & Siblings
Not much is known about her parents & siblings.
Husband & Children
Sunita Viswanath has married twice. She is married to Stephen Shaw, a Jew who is an active member of the Jewish Voice for Peace organization. This organization advocates for the rights of Palestine. They speak out in favour of boycotting, divesting from, and imposing economic sanctions on Israel. Together, they have three sons, Gautama, Akash, and Satya. Sunita was earlier married to Suketu Mehta, a professor at New York University.
Religion/Religious Views
Sunita Vishwanath follows Hinduism. [2]The Siasat Daily In an interview, Sunita shared that growing up she was immersed in Hindu traditional rituals and went to the temple regularly. She said,
I have always been secure in my identity as a Hindu. Growing up, I thought a lot about faith and religion, but I also had a very strong sense of social justice–what was fair. I imbibed profound lessons of love and justice from my religious upbringing, from the stories we were told, the prayers we learned, and the texts we read. I went on as an adult to devote my life to advancing social justice- what was fair."
Despite being a Hindu, Sunita has made anti-Hindu statements on several occasions. In an interview, she expressed her worries about what is happening in India against minorities, Muslims, and Christians. [3]The Siasat Daily Raising a question on people terming her as an anti-Indian. she said,
which India is accusing them of being anti-India. Is it Gandhi and Ambedkar's India or the India where only an upper caste Hindu's have the rights?"
In one of her interviews, Sunita revealed that as a child she was a witness and participant in the practice of untouchability. As she grew up, it became a matter of deep shame for her. It was her formative experiences that eventually led her to become a human rights activist.
Caste
Although Sunita Vishwanath was born into an upper-caste Hindu family in South India, she considers herself as an anti-caste Hindu. [4]Indo-US Democracy Foundation
Career
Sister Fund
Sunita started working at the Sister Fund, a private family foundation in the United States while she was in her mid-20s. There, her work enabled her to connect her two passions: faith and feminism. She worked in the organisation for a few years and later resigned from her job to co-found the Women for Afghan Women (WAW) organisation.
Women for Afghan Women (WAW)
In 2001, Sunita became a co-founder of Women for Afghan Women (WAW), a grassroots civil society organization dedicated to promoting the human rights of women globally. A year later, Sunita served as the editor for the book "Women for Afghan Women: Shattering Myths and Claiming the Future," which consisted of a collection of essays. The organization was initially established to provide support to the Afghan community in Queens and later expanded its efforts in 2005 to advocate for the rights and well-being of women in Afghanistan. Sunita served as Board Chair of WAW until January 2022 and subsequently left the organization in protest of some allegations levied upon her. At WAW, her work involved periodic visits to Afghanistan every few years. However, she primarily looked after fundraising and advocacy for WAW in New York. WAW has expanded significantly since she co-founded it in 2001.
Sadhana
In 2011, Sunita played a key role in establishing Sadhana: Coalition of Progressive Hindus, an organization aimed at mobilizing Hindu Americans to integrate their faith with social justice and human rights principles such as anti-casteism and anti-racism. The motto of the organisation is living out faith by doing seva (service) in the world. Project Prithvi is a significant undertaking within Sadhana, dedicated to environmental preservation (Prithvi signifies Mother Earth in Hinduism).
Through Project Prithvi, Sadhana addresses the issue of a beach in Jamaica Bay, Queens, where Hindus offer worship but leave behind substantial piles of offerings. Sadhana has formally taken responsibility for this beach, organizing regular clean-up efforts. Additionally, the organization reaches out to Hindu temples to promote environmentally conscious practices during worship. Sadhana has also worked on an art exhibition at the Queens Museum of Art. The exhibition showcased religious items retrieved from the beach clean-ups, emphasizing the importance of the initiative. Sunita serves on Sadhana's Executive Board, actively contributing to its mission.
Hindus for Human Rights
Sunita Vishwanath is the executive director of Hindus for Human Rights (HfHR), a civil society group based in the United States, which was co-founded by Sunita in 2019. As per some investigations, Hindus for Human Rights had been promoting a misleading narrative of 'Hindu Vs Hindutva'. Additionally, it was found to be endorsing the 'Dismantling Global Hindutva' event. The seminar was fiercely opposed by Hinduist groups on social media.
Columbia University
In 2020, Viswanath was appointed as a Religious Life Advisor at Columbia University. Despite a petition being filed against her, the university stood by Sunita Viswanath and continued to provide support to her.
Others
Since its establishment in September 2021, she has served as an advisory board member for Unfreeze Afghanistan. Sunita also holds a position as an advisory board member for Population Media Center, an organization that utilizes entertainment education and mass media to drive social and cultural transformation. Additionally, she serves as a board member for the Dalit Solidarity Forum.
In March 2022, Viswanath joined a Women's Delegation for Peace and Education, along with Ruth Messinger, Medea Benjamin, Rev. Chloe Breyer, Daisy Khan, and Masuda Sultan, and travelled to Afghanistan. Their purpose was to advocate for women's rights and provide humanitarian aid. In August 2022, Viswanath and Masuda Sultan joined forces to establish Abaad: Afghan Women Forward, a non-governmental organization (NGO) focused on providing humanitarian aid and supporting economic initiatives for women. Abaad's initial beneficiaries included individuals who were previously served by Women for Afghan Women (WAW). She has collaborated with various organizations, including the American Muslim Council (IAMC), in co-hosting several programs.
Controversies
Columbia University Controversy
In 2020, Sunita attracted controversy after she was appointed as the Religious Life Advisor of Columbia University. A petition was filed by Hindu Students Organization at Columbia to remove Sunita from the position, citing Viswanath's long history of divisive activism, endorsement, and open support of anti-Hindu bigotry and individuals. [5]The American Hindu
Defamation Case by Hindu American Foundation
In May 2021, The Hindu American Foundation, a nonprofit organization based in Washington, D.C., filed a lawsuit in U.S. District Court against representatives from Hindu, Muslim, and Christian organizations in the U.S., including Sunita Viswanath, alleging libel and defamation. However, the case was ultimately dismissed in 2022. [6]American Kahani
Awards & Honours
Sunita Viswanath was awarded the Feminist Majority Foundation's Global Women's Rights Award for her work with WAW in 2011.
In 2015, she was among 12 faith leaders to receive recognition as a "Champion of Change" from President Obama at the White House for their efforts in protecting the environment and communities from the effects of climate change. She received the honour for her work through Sadhana.
In 2021, Sunita was acknowledged by the Center for American Progress as one of the 21 "faith leaders to watch."
Facts/Trivia
In 2020, Sunita Vishwanath faced restrictions and was prevented from entering Ayodhya, leading her to return from Patranga, located at the border of Barabanki and Faizabad.
She often writes articles against the Bharatiya Janata Party. Apparently, in an article she wrote that the BJP was selling lies to the Hindus of the country that Hinduism was in danger in a country with more than 80 per cent Hindu population.
Sunita lives in Brooklyn, New York with her husband, children, and parents.
Sunita is among the five Hindus selected for NYC Mayor-Elect Eric Adams' Faith Transition Team. Additionally, she is the sole Hindu featured in the December 2021 Marquis Who's Who list of influential individuals in faith-based circles.
Amit Malviya, BJP IT Cell Chief, has highlighted the potential connection between Jamaat-ISI and certain entities in the West. He has specifically mentioned that Sunita Vishwanath's organization 'Women for Afghan Women' is allegedly funded by the Soros Open Society Foundation. Malviya has further shared a visual representation depicting Sunita Vishwanath's associations. Malviya also claimed that Sunita is serving as a representative of George Soros, who allegedly pledged $1 billion to meddle in India's internal matters using a network involving opposition leaders, think tanks, journalists, lawyers, and activists.
In June 2023, Women and Child Development Minister of India Smriti Irani flagged Rahul Gandhi's picture alongside Sunita Viswanath (from one of his meetings with the think tanks in the US) during a press conference in Delhi and raised questions on Rahul Gandhi's meeting with George Soros-funded Sunita Vishwanath in the US. [8]

ABP Live