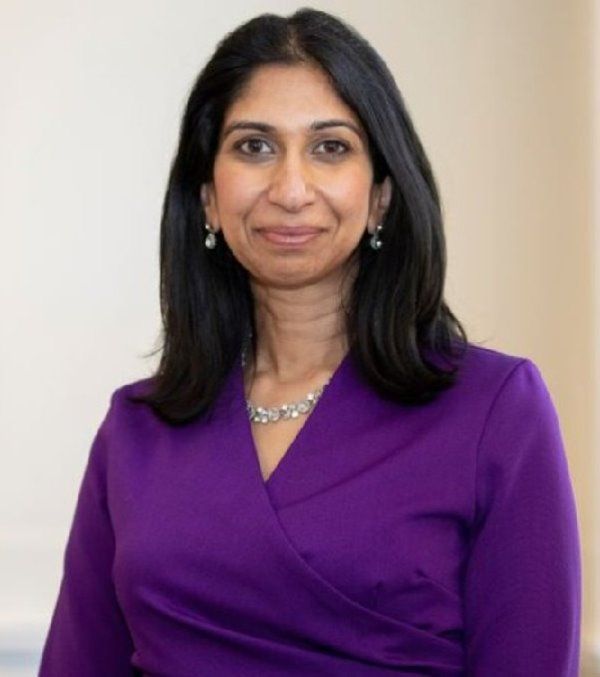 Suella Braverman is a British politician and barrister. In September 2022, she was appointed as the Home Secretary of the United Kingdom, succeeding Priti Patel. [1]The Indian Express In 2015, she became a member of parliament for Fareham in Hampshire. In June 2017, she was appointed as the chairperson of the European Research Group as a member of the Conservative Party. From 2020 to 2022, she served as the attorney general for England and Wales. She is the winner of the first-ever Queen Elizabeth II Woman of the Year Award.
Wiki/Biography
Sue-Ellen Cassiana "Suella" Fernandes was born on Thursday, 3 April 1980 (age 42 years; as of 2022) [2]Moneycontrol in Harrow, London, England. Her zodiac sign is Aries. She spent her childhood in Wembley, London, England. She went to Uxendon Manor Primary School in Brent, London, England. Later, she studied on scholarship at Heatherfield School, an independent day school for girls, in Pinner, Harrow. She did a Bachelor of Laws at Queens' College in Cambridge, where she became President of the Cambridge University Conservative Association. [3]Schools Week She holds a master's degree in European and French law from Panthéon-Sorbonne University in Paris, France. First, she studied there under Erasmus Programme, a European Union student exchange programme, and then under Entente Cordiale Scholarship, which is a selective Franco-British scholarship scheme. She took New York Bar exam and qualified as an attorney in New York State. [4]Suella Braverman
Physical Appearance
Height (approx.): 5′ 7"
Weight (approx.): 65 Kg
Hair Colour: Black
Eye Colour: Dark brown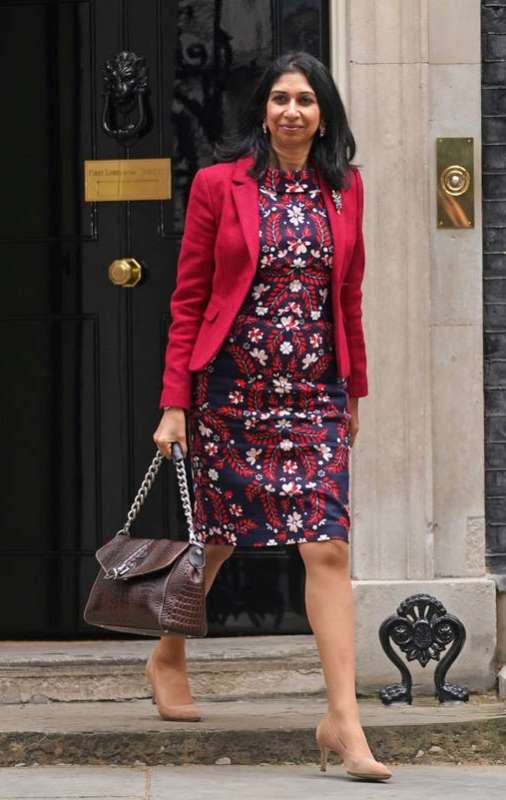 Family
Her father is of Goan ancestry, and her mother belongs to a Hindu Tamil Mauritian family. Her father is from Kenya and her mother is from Mauritius. They emigrated to Britain in the 1960s.
Parents & Siblings
Her father, Christie Fernandes, worked for a housing association. Her mother, Uma Fernandes (birth name Mootien Pillay), worked as a nurse for 45 years and was a Conservative counsellor for 16 years. In the 2001 general elections, Uma Fernandes was the Conservative candidate from the Tottenham constituency, and in the 2003 by-elections, she contested from the constituency of Brent East.
Husband & Children
In February 2018, she got married to Rael Braverman, a manager at Mercedes-Benz group, at the House of Commons. [5]The Times The couple has two children. On 10 July 2019, she gave birth to a baby boy named George Jeffery Braverman. [6]The News She gave birth to her second child named Gabriella on 7 March 2021. [7]Twitter- Suella Braverman MP
Relationships/Affairs
Suella and Rael Braverman dated each other for three years before getting married in 2018. In an interview, while talking about the beginning of their relationship, Rael said,
We met through some mutual friends, and then she invited me for a day in parliament. As far as first dates go it was certainty an unusual one, but I've always been interested in politics so I went along with it. I thoroughly enjoyed it and we agreed to meet up again. We had our first 'proper' date a few weeks later and it all took off from there." [8]The News
According to Suella, they started to like each other because of their common interests in politics. In an interview, she said,
Rael has just been so supportive of me in Fareham – I think the day I realised he was the one when he came out delivering leaflets for the election in the pouring rain." [9]The News
In October 2017, They went on a holiday to Cyprus, where Rael proposed to her.
Religion
Suella follows Buddhism and is a member of the 'Triratna Buddhist Community and Order,' which is considered a controversial religious sect as many members of this sect have often been accused of sexual misconduct, abuse, and inappropriate behaviour. She is a 'Mitra,' which means friend, in the community. She visits London Buddhist Centre every month. [10]The Guardian In 2022, Suella used Dhammapada, a collection of sayings of the Buddha, to take the oath of office. [11]The Times of India
Signature
Career
Conservative candidate
At the age of 23, she was enlisted on the Central Office candidates list in 2003. In the same year, Suella was selected as the parliamentary candidate of the Conservative Party for the Brent East by-election; however, she let her mother fight for the seat. She campaigned for her mother and promoted her by distributing leaflets with her father. The Guardian featured her in an article titled 'The road to No 10.' In 2005, she contested for the Leicester East constituency in the general election; however, she did not win. She stood for Bexhill and Battle constituency; however, she lost the elections. In the 2012 Assembly elections, she was the conservative candidate for the London Assembly and was in the fourth position on the Conservative London-wide list.
Member of Parliament
In 2015, she was elected as the MP for Fareham to the House of Commons with a majority of 22,262 votes. On 1 June 2015, she gave her maiden speech. In her speech, she said,
I will be a strong voice for Fareham. More than 1,000 young people travel too far for A-levels, and I hope to see more sixth-form provision within the constituency. As an increasing and ageing population puts pressure on local GP services, schools and roads, I plan to be an advocate for all my constituents as we face the challenge of building more homes. It is a stroke of luck to be born British, and my indebtedness goes to the heart of why I am a Conservative. Our party rewards endeavour, enables compassion and liberates people from the shackles of the state. Our party says, "It doesn't matter where you start. You can make your life and that of others better by taking responsibility and through self-empowerment and generosity." I will do all I can to serve the people of Fareham with humility, integrity and warmth." [12]Suella Braverman
She was a member of the Education Select Committee and the Education, Skills and the Economy Sub-Committee for two years, from 2015 to 2017. In 2015, she became a member of the Joint Committee on the Draft Investigatory Powers Bill. From September 2016 to May 2017, she was the chairperson of the all-party parliamentary group (APPG) on Financial Education. She worked with Young Enterprise, a national charity, and journalist Martin Lewis and launched a report in parliament titled "Financial Education in Schools: Two Years On – Job Done?," which demanded better financial education in schools. In 2017, she became the commissioner of the Social Market Foundation Commission; the commission was formed to address the issue of inequality in education at primary and secondary levels in England and Wales. In 2016, she enrolled in the Armed Forces Parliamentary Scheme and graduated in 2017. In 2016, she became a member of the inquiry panel of the think-tank British Future to inspect how the UK was protecting the rights of EU citizens. In 2017, she chaired the European Research Group, until she was promoted to the ministerial office. After the general elections in 2017, she served as Parliamentary Private Secretary. She was designated as Parliamentary Under-Secretary of State at the Department for Exiting the European Union during the reshuffle in January 2018 by the then Prime Minister of the UK, Theresa May.
Attorney General
She was designated as the Attorney General for England and Wales and Advocate General for Northern Ireland in the reshuffle carried out by Boris Johnson on 13 February 2020. While serving as the Attorney General, she was chosen as Queen's Counsel. [13]Politics Home Bar Council, the professional association for barristers, once criticised her for making some unsatisfactory decisions as the Attorney General. On 2 March 2021, owing to her maternity leave, she was replaced by Michael Ellis as Attorney General, and she resumed her office on 11 September 2021.
Leadership candidate
On 6 July 2022, she called the then Prime Minister, Boris Johnson, to resign from his position during the United Kingdom government crisis. She told Robert Peston, a political editor, that Boris had been handling matters in a dreadful way. Conservative Party members were not satisfied with his work and the decisions made by him. In an interview, she said,
The balance has tipped now in favour of saying that the Prime Minister – it pains me to say it – but it's time to go." [14]Bloomberg
She stood in the 2022 Conservative Party leadership elections; however, she was eliminated in the second round of the elections; she won only 27 votes. Later, she decided to promote Liz Truss.
Home Secretary 
On 6 September 2022, she was appointed as the Home Secretary of the United Kingdom in Liz Truss' cabinet ministry.
Supporter of Brexit
Suella was a supporter of Brexit, and she heavily campaigned for the UK's withdrawal from the European Convention on Human Rights. She is also a supporter of sending refugees and migrants crossing the English Channel to Rwanda asylum under the UK and Rwanda Migration and Economic Development Partnership in 2022. Regarding this, in an interview, she said,
If I get trolled and I provoke a bad response on Twitter I know I'm doing the right thing. Twitter is a sewer of left-wing bile. The extreme left pile on is often a consequence of sound conservative values." [15]The Times
Chairperson of Free Schools
In 2015, she became the founder and chairperson of the governors at the Michaela Community School, a free secondary school. She is also a supporter of the plans to create a free school in Fareham. She is a member of the advisory board of the New Schools Network (NSN), a United Kingdom-registered charity and former think tank, which helps in setting up free schools within the English state education sector.
Transgender Affairs
In 2022, in an interview, while talking about how children, in schools, should be treated on the basis of their sex, instead of their self-identified gender, Suella said,
Under-18s cannot get a gender recognition certificate, under-18s cannot legally change sex. So again in the context of schools, I think it's even clearer actually. A male child who says in a school that they are a trans girl, that they want to be female, is legally still a boy or a male. And they can be treated as such under the law. And schools have a right to treat them as such under the law." [16]Sex Matters
Awards & Honours
In 2020, she received the honorific prefix "The Right Honourable" for life.
On 24 February 2020, she was appointed as the Queen's Counsel (QC).
On 24 September 2022, she won the first Queen Elizabeth II Woman of the Year Award at Asian Achievers Awards.
Honoured to receive this award. Thank you so much.

This is the best country in the world for anyone, regardless of race or background, to achieve.

Let's keep working together to support everyone to realise their potential.

And thanks for looking after mum and dad! https://t.co/8Y9qjI7Cic

— Suella Braverman MP (@SuellaBraverman) September 23, 2022
Car Collection
Suella Braverman has a Jaguar I-Pace.
Salary
Her salary as a Cabinet member is £99,732 and as Conservative MP of Fareham, Hants is £81,932. [17]Mirror
Facts/Trivia
Suella speaks French and Spanish fluently.
She likes to watch movies and listen to the music of 'R and B' and reggae genres.
She is a well-trained pianist and plays jazz piano.
Suella considers author J. K. Rowling as her "heroine."
She describes herself as a "child of the British Empire."
Suell was good at studies as well as sports. While growing up, she used to play hockey and played the centre-back position in hockey. She was also named an outstanding hockey player at Harrow Hockey Club. In an interview, while talking about her fine playing skills, his father said,


She could go on the offence and defence. She was very strategy-minded even then." [19]The Times of India
In an interview, Suella's father recalled a vacation in the United States that he spent with her during which she expressed her desire to become the President of the United Kingdom just like the then President of the United States Barack Obama to which he replied if Obama could become the President why couldn't she. He said,


I told her that if Obama coming from Kenya could do it in America, you too can do it in England." [20]The Times of India
After Suella became the UK Home Secretary in the Liz Truss cabinet, her father, Christie Fernandes, was not surprised by this news. In an interview, he said,


Suella has been a trailblazer all her life, right from her school days, when she was appointed head girl. The headmistress at the time told us she was chosen as she was the most balanced student. Yes, she now has one of the most powerful jobs in the world, but it didn't happen overnight. She has been involved in politics since she was a young girl, accompanying us and MPs canvassing." [21]The Times of India
In 2022, in an interview, while talking about the pressures of being an attorney general, she shared a memory of when Russia commenced a military invasion of Ukraine in 2022, she was called by her secretary at 2 am to inform Suella about the cabinet meeting called by the Prime Minister of the UK at 5 am. Suella called her mother to take care of her children, George and Gabriella. She said,


The pressure in my job can be excruciating. In a hypothetical crisis situation, it is the assessment of evidence and legal advice given by the attorney general that is determinative. That pressure makes you very vigilant. When you're up close to the role of Prime Minister, you see how tough it is and I thought I could do it." [22]The Times