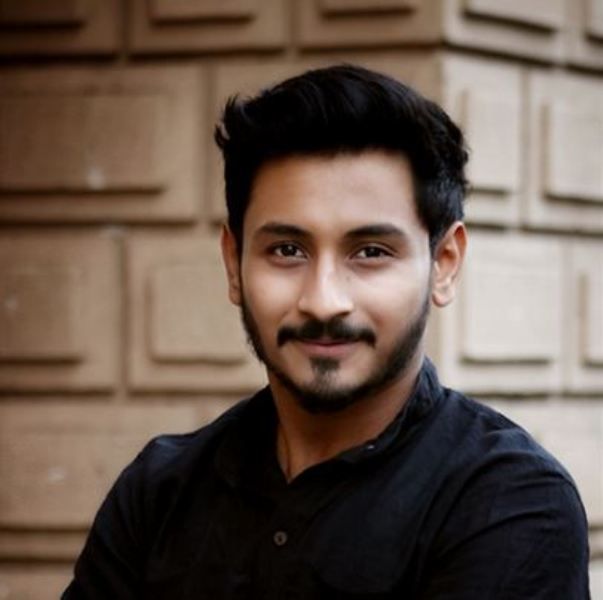 Utsav Sarkar is an Indian actor, screenwriter, producer, director, editor, and storyteller who primarily writes content for Hindi web series and YouTube videos.
Wiki/Biography
Utsav Sarkar was born on 4 February in Kolkata, West Bengal, India. [1]Utsav Sarkar – Facebook His zodiac sign is Aquarius. Utsav studied at a boarding school in Panchgani, Maharashtra. [2]Utsav Sarkar – Facebook He completed his Bachelor of Mass Communication degree from Usha Pravin Gandhi College of Arts, Science, and Commerce in Vile Parle, Mumbai (2012-2015). Utsav pursued his Master of Performing Arts degree at the Academy of Theatre Arts, the University of Mumbai in Mumbai (2015-2017). [3]Utsav Sarkar – LinkedIn He was raised solely by his mother. [4]Utsav Sarkar – Facebook
Physical Appearance
Height (approx.): 5′ 9″
Weight (approx.): 70 kg
Hair Colour: Black
Eye Colour: Black
Family
Utsav Sarkar belongs to a Bengali family.
Parents & Siblings
Utsav's father's name is Prasenjit, and his mother's name is Malini Mukherjee Sarkar. Utsav's parents are divorced. [5]Malini Mukherjee Sarkar – Instagram
He has a younger sister, Aakansha Sarkar.
Utsav has an elder brother, Samrat Sarkar, who worked as a Regional Growth Manager at Smallcase.
Career
As an actor
Theatre
Since his school days, Utsav had a great interest in performing on stage. He started taking part in school plays and drama competitions. While studying in college, Utsav acted in several theatrical productions like The Glass Menagerie, Baanjh, Khariya Ka Ghera, The Two of Us, A Doll's House, and Dhik Tam.
In January 2022, Utsav Sarkar's play The Two of Us, in which he played the role of Nikhil, premiered on YouTube.
Film
In December 2021, Utsav appeared in the Hindi short film My Last Vlog as Nawab Malik on YouTube, and he was also the director, producer, writer, and editor of the same.
In June 2022, Utsav appeared in the Bollywood film Janhit Mein Jaari in which he played the role of Bunty, and he was also the associate writer of the film.
Web series
In October 2019, Utsav made his digital debut with the web series Bhram as Paglu on ZEE5.
In February 2021, Utsav Sarkar appeared in the web series The Lineup in which he played the role of a struggling poet, Shayantan Roy, on YouTube. He was also the writer of the series. In an interview, Utsav talked about his role in the web series The Lineup and said,
Shayantan is an aspiring poet who wants fame and everything that goes with it, but is stuck in a 9 to 5 job to feed his family. He is an ambivert who keeps things to himself and only talks in poetry. I relate to him in the sense that things we are most passionate about may not always fetch us a livelihood and sometimes we have to make-do doing a job we don't like. However, Shayantan's struggles are harder than mine as I am fortunate enough to do what I love for a living. He doesn't have the liberty to do so, and therein lies his angst." [6]BuddyBits
Screenwriter
After completing his post-graduation, Utsav worked as a screenwriter for various production houses in Mumbai. In December 2019, Utsav started as an associate screenwriter at Happi Digital in Mumbai, and he worked there for a period of three months. In February 2020, he joined Prakash Jha Productions Private Limited as an assistant screenwriter in Mumbai, and he served there for around four months. Later, he joined BuddyBits in Mumbai and worked there as a creative producer and screenwriter. In December 2020, he worked as a sanctioned writer at Third Bell Productionz in Mumbai. [7]Utsav Sarkar – LinkedIn
Director
Utsav directed a short film Chuski, which was uploaded on YouTube in March 2021.
YouTube
Utsav has a YouTube channel, Flush Off [8]FLUSH OFF – YouTube, where he posts funny video content, which is acted, directed, and written by him. Utsav's video 'Akela Hoon, Khush Hoon' on the YouTube channel BuddyBits, which was uploaded on 20 September 2018, has crossed over 2.6M views.
Commercials
In June 2019, Utsav Sarkar appeared in a commercial for the brand Hero Bangladesh.
Facts/Trivia
Utsav has a pet dog, Posto.
Utsav has worked under the mentorship of a few well-known directors/screenwriters like Sai Paranjpye, Prakash Jha, Nadira Babbar, and Sanjay Upadhyay.
In an interview, when asked how he started his career as a screenwriter, Utsav replied,


"I was not cast for a part in a play I so badly wanted. I'd slogged myself, prepared for months, but I didn't get it. I took it hard. Self-doubt seeped in. To cope, I started writing. Plays, screenplays, whatever came to mind. At that point in time, I just wanted to feel better about myself. One of the short films I wrote during this time was bought by a company for a handsome amount. And it is from here that my luck looked up and smiled. In a way, my foray into screenwriting started because of rejection." [9]BuddyBits
The short film Chuski, directed by Utsav, won the Best Short Film certificate at the Calcutta International Cult Film Festival in 2018.
In July 2018, Utsav was awarded a National scholarship in the field of theatre from the Ministry of Culture.
In June 2022, Utsav Sarkar's short film My Last Vlog won the Best Mobile Film at the Maharashtra Times Short Film Festival.