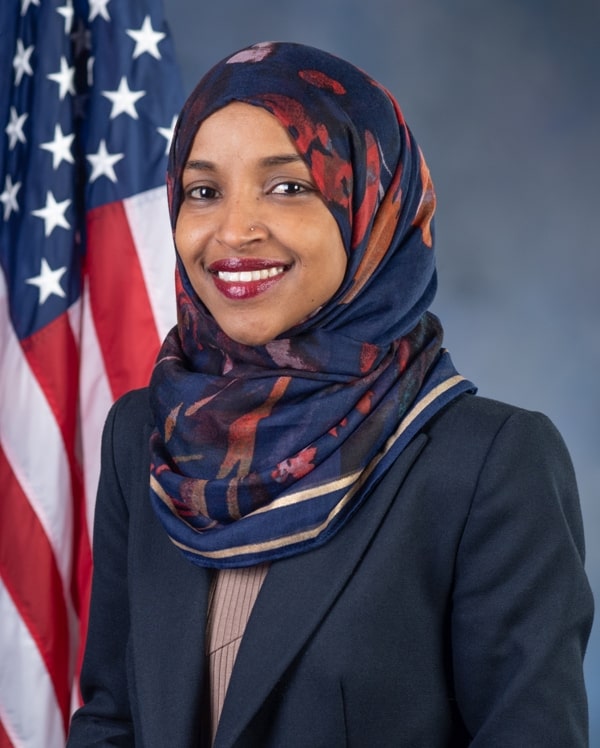 Ilhan Omar is a Somalia-born American politician of the American Democratic party and is known for her anti-Israeli views. In 2018, she became the first American politician to have been allowed to wear a hijab in the House of Representatives. [1]Smart Politics In June 2022, she made headlines after she introduced a resolution in the American Senate against India over its alleged human rights violations.
Wiki/Biography
Ilhan Abdullahi Omar was born on Monday, 4 October 1982 (age 40 years; as of 2022) in Mogadishu, Somalia, East Africa. [2]Dawn In 1990, she had to leave her hometown and move to a refugee camp in Kenya with her family because of the outbreak of a violent civil war between the Somali government and the rebels. Talking about it, Ilhan said,
The war started when I was 8. One night militia tried to break into our home, and the exterior was riddled with bullets. I remember hiding under the bed with one of my aunts and one of my sisters and sort of everything getting quiet inside the home. And then militia men who were outside of our windows started talking about ways that they could make their way in. My family left our neighborhood, passing through dead bodies and debris. Not long after, me and my family left their home and relocated to a refugee camp in neighboring Kenya."
After staying at a Kenyan refugee camp till 1994, Ilhan Omar, with her family, shifted to the United States of America after the US granted her family asylum. According to Ilhan Omar, when she moved to the US in 1995, she was in a cultural shock and found it very difficult to cope with life in America. Talking about her experience, Ilhan said,
After moving to the States from Somalia, not only I was shook culturally but also linguistically. I and my sisters could speak English but not well because of which we were made fun of. So one day we decided to start learning English. We used to read books, watch TV and listen to all types of English songs available to us. After three months of hard work and determination, we finally succeeded in learning acceptable English. Moreover, not a lot of the kids knew how to co exist with people of a different background, so we created a unity and diversity program. We'd have meals together and connect through experiences and stories. I was finally just Ilhan, not that Somali girl."
Ilhan Omar completed her schooling in 2001 at Edison High School in Minneapolis after which she pursued her higher education in Political Science and International Studies at the North Dakota State University and graduated from the university in 2011. [3]North Dakota State University's official website
Physical Appearance
Height (approx.): 5′ 4″
Weight (approx.): 55 kg
Hair Colour: Salt and Pepper
Eye Colour: Dark Brown
Family
Ilhan Omar belongs to a Somali Sunni Muslim family. [4]The Nation
Parents & Siblings
Her father, Nur Omar Mohamed, was a retired Somali Army colonel.
Her mother's name was Fadhuma Abukar Haji Hussein. She died when Ilhan was just two years old. Ilhan Omar is the youngest of seven siblings. Her elder sister, Sahra Noor, is a health care executive living in the US.
Husband & Children
Ilhan Omar got married to Ahmed Nur Said Elmi in 2009.
After divorcing Ahmed Nur in 2017, Ilhan got married to Ahmed Hirsi in 2018, and she had a son and two daughters with him.
Her son's name is Adnan Hirsi. Her daughters' names are Isra Hirsi and Ilwad Hirsi.
After divorcing Ahmed Hirsi in 2018, Ilhan Omar married Tim Mynett in 2020.
Religion
Ilhan Omar follows Islam. [5]The Nation
Address
She resides at 404 3rd Avenue, North Suite 203, Minneapolis, MN 55401-1759, United States of America.
Signature/Autograph
Career
Education
In 2006, Ilhan Omar began working at the University of Minnesota. There, as a community nutrition educator, her job was to spread awareness among the lower-income group residing in Minneapolis about a balanced diet and its benefits. Ilhan Omar worked at the university till 2009. In 2013, Ilhan served as a child nutrition outreach coordinator at the Minnesota State Department of Education, where she not only aided the education department in drafting educational policies but also looked after the systematic implementation of the mid-day meal and summer enrichment policies in the schools in Minnesota.
Politics
Ilhan Omar's affiliation with politics in the US began in 1997 when her family moved from New York to Minneapolis after which she began attending democratic caucuses with her grandfather. Since her grandfather was not well versed in English, Ilhan would often translate the political speeches that were given at the caucuses from English to Somali. During the 2012 Minnesota state elections, Ilhan Omar managed the political campaigning of a Democratic–Farmer–Labor (DFL) Party member Kari Dzeidzik. In June 2013, Ilhan Omar worked as a campaign manager for another Democratic–Farmer–Labor (DFL) Party member Andrew Johnson for the city council elections. After Andrew Johnson won the elections and became a council member, he appointed Ilhan Omar to his office as a senior policy aide. There, she not only helped Andrew in drafting state policies, but she also went to public gatherings and meetings to represent the office. She worked with Andrew Johnson till 2015. In 2016, the Democratic-Farmer-Labor (DFL) gave Ilhan Omar a ticket to contest the Minnesota state elections from district 60B against the Republican Party candidate Abdimalik Askar, who lost the elections to Ilhan Omar after which she entered the Minnesota House of Representatives. On 3 January 2017, Ilhan Omar became the assistant minority leader for the DFL caucus. As a member of the Minnesota House of Representatives, Ilhan Omar helped the state government formulate and implement policies related to Civil Law & Data Practice, Higher Education, Career Readiness and Finance, and State Government Finance. In 2018, the Democratic Party gave Ilhan Omar a ticket on which she contested the United States House of Representatives elections against the Republican Party candidate Jennifer Zielinski from the 5th congressional district in Minnesota. Ilhan won the elections against Jennifer by 78% of the votes and became the first Somalia-born American Muslim politician to enter the US Senate. [6]Smart Politics During her election campaigning, Ilhan criticised the foreign and military policies adopted by the US. She also gave statements against the drone strikes conducted by the United States military worldwide in the name of counter-insurgency. Talking about it, Ilhan said,
Reduced funding for the perpetual war and military aggression all around the world. Knowing my tax dollars pay for bombs killing children in Yemen makes my heart break, with everyone in Washington saying we don't have enough money in the budget for universal health care, we don't have enough money in the budget to guarantee college education for everyone. We don't need nearly 800 military bases outside the United States to keep our country safe."
Before 2018, there was a law in the US that banned a member of the Senate from wearing any religious clothing such as kippahs, hijabs, and turbans; however, after the 2018 House of Representatives elections, the Supreme Court of the US amended the law thus making Ilhan the first American politician to wear a hijab while attending the Senate. [7]The New York Times [8]The Guardian
After entering the American Senate as a representative, Ilhan Omar jointly established a political group called The Squad. Since its creation in 2018, the squad has supported the implementation of several legislations in the Senate including the Green New Deal (aimed at generating economic equality by preserving nature) and Medicare for All (aimed at low-cost medical facilities for everyone). Ilhan Omar and The Squad presented legislation in the Senate that aimed at restricting the law enforcement agencies in the US from attempting to contain protests as it violates the constitutional right of the American citizens written in Article 1 to express their views by partaking in a protest. [9]Haaretz Talking about the proposal of The Squad, Ilhan Omar said,
The resolution affirms that all Americans have the right to participate in boycotts in pursuit of civil and human rights at home and abroad, as protected by the First Amendment to the Constitution and opposes unconstitutional legislative efforts to limit the use of boycotts to further civil rights at home and abroad. Finally, it urges Congress, States, and civil rights leaders from all communities to endeavor to preserve the freedom of advocacy for all by opposing anti-boycott resolutions and legislation."
In the same year, Ilhan Omar and The Squad voted against a resolution presented in the Senate by a few Republican Senators to condemn the anti-Israeli Boycott, Divestment and Sanctions (BDS) Movement. In March 2019, after the US government allowed the United States Armed Forces to conduct drone operations in the middle east, Ilhan Omar not only criticised the decision of the Donald Trump-led government but also criticised Barack Obama and said that it was during his Presidency that the US began conducting drone strikes in other countries. Talking about it, she said,
We can't be only upset with Trump. His policies are bad, but many of the people like Obama and Washington, who came before him also had really bad policies. They just were more polished than he was. And that's not what we should be looking for anymore. We don't want anybody to get away with murder because they are polished. We want to recognize the actual policies that are behind the pretty face and the smile."
As a senator, Ilhan Omar introduced a policy in 2019 which banned the schools from punishing those school kids who were not able to repay and clear the meal debt that the school had on them. In the same year, Ilhan Omar proposed to impose economic sanctions on Brunei for making gay marriages illegal and punishable by death. In 2019, after the US government gave political recognition to Venezuelan President Juan Gerardo Guaidó Márquez during the political crisis in Venezuela, Ilhan Omar accused Donal Trump-led administration of supporting a coup so that the person of US choice became the President of Venezuela.
A US backed coup in Venezuela is not a solution to the dire issues they face. Trump's efforts to install a far right opposition will only incite violence and further destabilize the region. We must support Mexico, Uruguay & the Vatican's efforts to facilitate a peaceful dialogue.

— Ilhan Omar (@IlhanMN) January 25, 2019
Ilhan Omar, with The Squad, protested against the Minneapolis police in June 2020 after the murder of the American citizen George Floyd. During the protests, she demanded that the US government should not only stop the funding of the police force in the US but also remodel the police force by including people of all races in the police force. In October 2020, Ilhan Omar appealed to the American citizens to exercise their right to vote in the 2020 Presidential elections during a stream that was jointly hosted by American twitch streamers like Ocasio-Cortez, Disguised Toast, Jacksepticeye, and Pokimane. On 6 January 2021, thousands of Donald Trump supporters attacked and ransacked the US Capitol in Washington DC after which Ilhan Omar, supported by 13 other politicians, presented impeachment legislation against the then President of the United States Donal Trump. During an interview, Ilhan Omar claimed that former President Donald Trump had tried to rig the 2020 Presidential elections in Georgia and even gave death threats to her on several occasions. Talking about it, she said,
I didn't know if I would make it out that day and [I] just … made a request to him to make sure he would continue to tell my children that I loved them if I did not make it out. It was a very traumatizing experience, and all of us will be traumatized by it for a really long time. The face of the Capitol will forever be changed. They did not succeed in stopping the functions of democracy, but I do believe that they succeeded in ending the openness of our democracy. For the better half of the last two years, the president has singled me out and has many times incited direct death threats against my life."
In 2021, Ilhan Omar served on the Committee on Education and Labor as its member. Later, she became a member of the sub-committee of Higher Education and Workforce Investment and Workforce Protections after which she got appointed to the Congressional Progressive Caucus (CPC) as a whip. In the same year, Ilhan Omar and six other senators voted against the US government's Infrastructure Investment and Jobs Act, citing that the bill violated the safety net provisions provided under the Build Back Better Act. On 19 July 2022, the police arrested Ilhan Omar while she was leading a civil disobedience movement against a law that made it illegal for a woman in the US to abort an unborn child. [10]NBC News Speaking to the media after her arrest, Ilhan Omar said,
Today I was arrested while participating in a civil disobedience action with my fellow Members of Congress outside the Supreme Court. I will continue to do everything in my power to raise the alarm about the assault on our reproductive rights!"
In August 2022, Ilhan Omar contested the Minnesota Primary elections in which she secured a victory over her Republican rival Don Samuels by a margin of 2500 votes.
Controversies
Allegations of promoting anti-Jewish sentiments
Many media sources have claimed that Ilhan Omar has not only made anti-semitic statements but has also supported the spreading of anti-Jewish propaganda. In 2019, a US journalist posted a tweet against the American policies related to Israel. In the tweet, the journalist had said,
How much time U.S. political leaders spend defending a foreign nation even if it means attacking free speech rights of Americans."
In the comments, the journalist tagged Ilhan Omar following which Ilhan commented "It's All About the Benjamins," which did not go well with many American politicians, who said that Ilhan, through her comment, accused the Donald Trump-led administration of accepting money from the Israeli government for ignoring their actions in Palestine. The American politicians also claimed that Ilhan deliberately used the word "Benjamins" in her comment to refer to Benjamin Netanyahu, the former Prime Minister of Israel, and the American $100 currency, which has the photo of Benjamin Franklin, the former US President, printed on it. In her defence, Ilhan clarified that she took the line from a rap and was only intended for the former Israeli Prime Minister Benjamin Netanyahu. [11]The New Republic Later, Ilhan Omar claimed that to rally the support of the Americans in Israel's favour, the Israeli government paid a large amount of money to the American politicians through various organisations in the US, which resulted in the Democratic Party denouncing her statement. Following an uproar among the American citizens, Ilhan issued a statement in which she apologized. During an interview, while talking about it, she said,
Anti-Semitism is real and I am grateful for Jewish allies and colleagues who are educating me on the painful history of anti-Semitic tropes. My intention is never to offend my constituents or Jewish Americans as a whole. I unequivocally apologize. At the same time, I reaffirm the problematic role of lobbyists in our politics, whether it be AIPAC, the NRA or the fossil fuel industry."
After Ilhan accused the Israeli government of perpetrating war crimes in Palestine, in 2019, the Israeli government banned Ilhan from entering Israel and accused her of using the Boycott, Divestment and Sanctions (BDS) movement to create unrest in the country. [12]The New York Times During a press conference, the Israeli government spokesperson said,
Preventing B.D.S. supporters who come here to hurt us from the inside is the very least we should be doing against haters of Israel."
Allegations of using party funds for personal use
The American National Legal & Policy Center (NLPC) filed a complaint with the US Federal Election Commission (FEC) in 2019 accusing Ilhan Omar of spending approximately $3,69,000 that was given to her by the Democratic Party for the 2020 Presidential election campaigning for her personal use; however, in 2022, the FEC quashed all the charges against Ilhan as the NLPC failed to submit conclusive evidence against her. [13]The Independent
Allegations of marrying her brother
In 2019, the former President of the US, Donald Trump, during the 2020 Presidential elections campaigning claimed that Ilhan's first husband Ahmed Nur Said Elmi was her brother, and she got married to him to help him get a green card in the US. During his speech, Donald Trump said,
There's a lot of talk about the fact that she was married to her brother."
Ilhan responded to the allegations by claiming them to be false and baseless. In 2019, after Donald Trump's allegations, the Federal Bureau of Investigation (FBI) constituted a Special Investigation Team (SIT) to investigate the claims but closed the investigation after the SIT could not find any evidence against her. [14]Business Insider [15]Swarajya
The Kashmir issue
In early 2022, Ilhan Omar asked the US government to present a bill in the senate to criticise the alleged persecution of minorities in India, especially in Kashmir. In April 2022, she visited Pakistan, where during a press conference she said that the alleged human rights violation on the Indian side of Kashmir was being regularly monitored by the Foreign Affairs Committee (FAC). On 21 April 2022, when Ilhan visited Pakistan-administered Kashmir, the Government of India lodged a protest with the US government objecting to Ilhan's visit to Kashmir. The government of India released an official statement in which it said,
We have noted that US Representative Ilhan Omar has visited a part of the Indian Union Territory of Jammu and Kashmir that is currently illegally occupied by Pakistan. If such a politician wishes to practice her narrow-minded politics at home, that may be her business. But violating our territorial integrity and sovereignty in its pursuit makes it ours. This visit is condemnable."
Later, the United States government clarified that Ilhan's visit to Pakistan was not an official visit instead it was a personal visit. [16]The Indian Express In June 2022, Ilhan Omar, supported by the political group The Squad, presented legislation in the American Senate in which she demanded that the US government should place India under the US International Religious Freedom Act (USIRFA) as a Country of Particular Concern (CPC) for allegedly denying human rights to the minorities in India. [17]The Indian Express [18]Hindustan Times While talking about the legislation against India, she said,
I condemn human rights violations in India, specifically those targeting Muslims, Christians, Sikhs, Dalits, Adivasis, and other religious and cultural minorities. The resolution calls on the US Secretary of State to designate India as a 'Country of Particular Concern' under the International Religious Freedom Act–a move that can lead to economic sanctions in extreme cases. The US Commission on International Religious Freedom (USCIRF), a consultative government body, has been recommending this designation for the past three years." [19]Ilhan Omar's official website
Facts/Trivia
According to Ilhan Omar, when she was a child, she changed her name from Ilham to Ilhan as she did not like it. [20]

Ilhan Omar's tweet
In 2018, the American band Maroon 5 released a music video titled Girls Like You featuring Ilhan Omar. In the same year, Norah Shapiro, an American filmmaker, produced a documentary on Ilhan Omar titled Time For Ilhan, which premiered at the Tribeca Film Festival and the Mill Valley Film Festival.
Ilhan Omar was featured on the cover of the 2019 issue of The Guardian magazine.
Ilhan Omar penned a book titled This Is What America Looks Like, which was published on 27 July 2021.
In 2022, while giving an interview, Ilhan Omar claimed that when she came to the United States from Somalia, her classmates used to bully her and make fun of her. Talking about the bullying at school, Ilhan said,


I was bullied. A lot! They would try to pull my hijab and try to stick chewing gums on my hair through my hijab. They would even try to push me down the stairs to hurt me. It was not only boys, but the girls too were equally bullying. They would often make fun of my physical appearance whenever they saw me changing for my physical education class in the locker room."