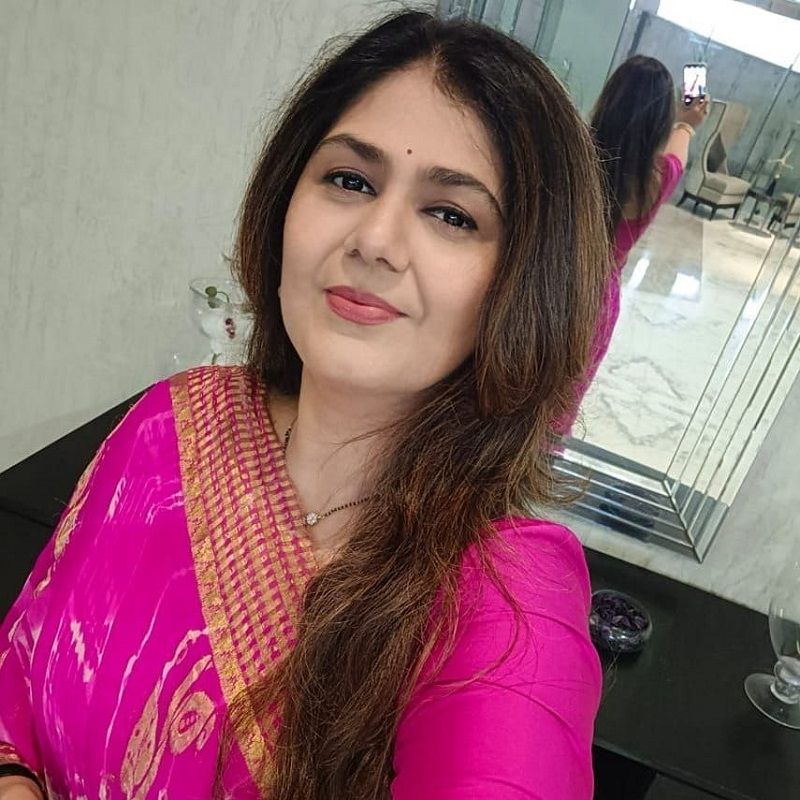 Pankaja Munde is an Indian politician who is the daughter of Gopinath Munde, who was once the Deputy Chief Minister of Maharashtra. She is also the National Secretary of the Bharatiya Janata Party.
Wiki

/Biography

Pankaja Gopinath Munde [1]Pankaja Munde – Instagram was born on Thursday, 26 July 1979 (age 44 years; as of 2023) in Parli Vaijnath, Maharashtra. Her zodiac sign is Leo. She did her schooling at Shri Saraswati Vidyalaya, Parli, Maharashtra till class 10 and later attended Jai Hind College, Mumbai. In 1999, she pursued a bachelor's degree in science at Ramnarain Ruia College, Mumbai. [2]My Neta
Physical Appearance
Height (approx.): 5′ 7″
Hair Colour: Black
Eye Colour: Black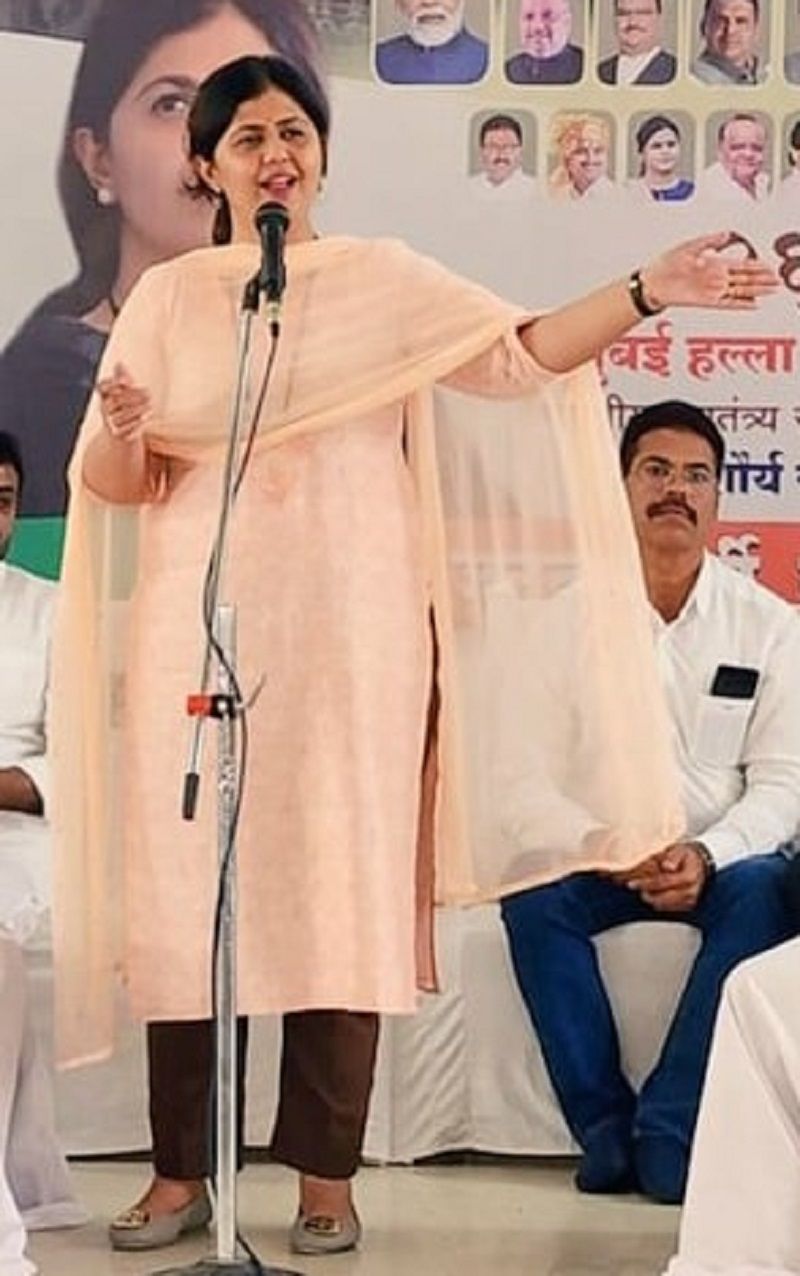 Family
Pankaja belongs to a political background.
Parents & Siblings
Pankaja's father's name is Gopinath Munde, who was the Deputy Chief Minister of Maharashtra. He died in 2014 in a car accident.
Her mother's name is Pradnya Munde.
She has two younger sisters, Pritam Munde, who is a politician, and Yashashari Munde.
Husband & Children
Pankaja married Amit Palwe, who is an IT professional in 2001.
She has a son, Aryaman Palwe.
Other Relatives
Her paternal uncle's name is Pramod Mahajan, who is a politician.
She is the cousin of television personality Rahul Mahajan and Poonam Mahajan who is a politician.
Religion
Pankaja follows Hinduism.
Signature
Political Career
She was a part of the Devendra Fadnavis cabinet in Maharashtra, where she held positions in the departments of Rural Development and Women and Child Development. During her tenure, she focused on their development. Additionally, she was also involved in the Sugar Factory and Banking sectors, which has led to her being recognized as a 'businesswoman.'
In 2009, she was elected to the Legislative Assembly of Maharashtra from the Parli constituency and was in power till 2019. In 2012, she was the president of Bharatiya Janata Yuva Morcha (BJYM), the youth wing of the BJP in Maharashtra. On 31 October 2014, she was elected as the Cabinet Minister of Maharashtra and worked there till 24 October 2019. In 2014, she served as a Cabinet Minister and was assigned to the Ministry of Rural Development, Women, and Child Welfare. During her tenure in this ministry, she faced allegations of purchasing nutritional food for children in state-run schools at inflated prices. However, Chief Minister Devendra Fadnavis cleared her of these allegations and gave her a clean chit. On 26 September 2020, she was elected as the National Secretary of the Bharatiya Janata Party.
Controversies
Chikki Scam Case
In June 2015, she faced allegations from the opposition party Indian National Congress regarding her involvement in a scandal related to the purchase of Chikki worth 206 crores. The Congress party claimed that she violated regulations by approving the purchase without advertising. However, Munde denied the corruption charges, explaining that the online tendering system was not in place at the time she authorized the purchase. The Chief Minister, Devendra Fadnavis, supported her by stating that the e-tendering norm was implemented by his government two months after Munde approved the contracts. Munde boldly challenged her opponents, stating that she would not only resign from the party but also quit politics permanently if any evidence of her accepting even a small amount of money was found. After a few days, the Anti-Corruption Bureau of Maharashtra cleared Munde of the charges in the Chikki scandal. They stated that the tender was awarded following court rules, and no evidence was found to support the allegations. The Bombay High Court criticized the state government for not filing a First Information Report (FIR) against the contractors accused of supplying sub-standard chikki to state-run schools in 2015. The court requested the petitioner to provide a list of points outlining how the contract awarding procedure for chikki was not followed and called for an inquiry to determine if the contracts were illegal. The court also questioned why no offences were registered under the Food Safety Act against the suppliers. [3]Scroll.in
Accused by cousin Dhananjay Munde
In 2019, Pankaja Munde faced accusations from her cousin and NCP leader Dhananjay Munde regarding a scam involving the purchase of cell phones worth Rs. 106 crores. She bought 1.02 lakh Panasonic Eluga 17 mobile phones for 85,452 Anganwadi centres in 30 districts. The market price of the phone was Rs. 6,499 per handset, but Pankaja raised an invoice for Rs. 8,777. The Panasonic Eluga 17 mobile phones were available online for prices ranging from Rs. 6,000 to Rs. 6,400. The smartphones were purchased for the Information Computer Technology enabled Real-Time Monitoring (ICT-RTM) scheme, and they were distributed to Anganwadi workers along with SIM cards and a data plan. Additionally, the Women and Child Development Department purchased 5,100 additional handsets. In a statement, he said,
The company's postal address was not provided in the tender documents. Besides, the government did not negotiate at all. If the same model can be bought for Rs 6,499, why have they bought it at such a steep price? Something is fishy and needs to be probed." [4]Mumbai Live
Factory raided by GST workers
In April 2023, her Vaidyanath Sugar Factory, located in Parli, was raided by GST officials, even though the factory had been closed for a long time. The mill had been operating at a loss for the past six to seven years due to the impact of drought from 2013 to 2015 and the effects of the Covid-19 pandemic. When Munde inquired about the raid, she was informed by the GST officials that they had received orders from higher authorities. In an interview, she revealed that she had informed Amit Shah about the financial difficulties and the loss incurred by the sugar mill. Regarding the raid, Munde mentioned that the sugar mill was burdened with a debt of Rs. 250 crores, out of which they had already paid Rs. 152 crores and were also planning to pay Rs. 12 crores as GST. [5]The Indian Express On 25 September 2023, the GST Commissionerate seized assets, including the factory's boiler, worth Rs. 19 crores from Vaidyanath Sugar Factory. [6]Hindustan Times
Awards
2017: The Powerful Politician Award
2018: Panchayati Raj Award
2018: Iconic Inspirational Women of Navbharat Award
Assets/Properties
Movable Assets
Bank Deposits: Rs. 2,84,99,438
Bonds, Debentures and Shares in companies: Rs. 2,07,83,307
Motor Vehicles: Rs. 33,54,197
Other assets: Rs. 14,93,220
Immovable Assets
Agricultural Land: Rs. 10,03,38,333
Commercial Buildings: Rs. 1,41,09,494
Residential Buildings: Rs. 6,51,36,549
Note: The given estimates of moveable and immovable assets are according to the financial year 2019. It does not include the assets owned by her husband and dependents. [7]My Neta
Net Worth
Her net worth is Rs. 18,34,31,025.
Note: The given estimates of moveable and immovable assets are according to the financial year 2019. It does not include the assets owned by her husband and dependents. [8]My Neta
Facts/Trivia
In 1996, her father, Gopinath Munde, initiated the Dasara Melava event at Shree Kshetra Bhagwangad, a Hindu temple in Maharashtra. This event symbolizes devotion and strength and is an important gathering for the community. The temple is also a cemetery and the workplace of the revered Saint Bhagwan Baba. During the Melava, Gopinath addressed the Bahujan community, encouraging them to embrace new paths and changes, using the term 'Shimoullanghan.' After Gopinath Munde's passing, Pankaja took the responsibility of organizing the event. However, in 2016, due to a disagreement with the Mahant of the Gad, Pankaja decided to shift the Dasara Melava to Savargaon, the birthplace of Saint Bhagwan Baba. The Dasara Melava at Savargaon witnessed a large gathering and enthusiastic participation from devotees, carrying forward the tradition. Bhagwangad holds significant influence within the Bahujan and Other Backward Class (OBC) community. Prominent leaders such as Sambhaji Raje, Amit Shah, Prakash Yashwant Ambedkar, Mahadev Jankar, Eknath Khadse, Ram Shinde, and various monk-saints have addressed the rally. Every year, hundreds of thousands of devotees and supporters actively participate in this rally, showcasing their enthusiasm and dedication.
Before the 2014 Maharashtra assembly elections, the Maharashtra BJP organized a two-week campaign known as the "Punha Sangharsh Yatra," inspired by a similar yatra undertaken by Pankaja's father in 1995, which led to the Shiv Sena-BJP alliance coming to power in the state. She initiated the 14-day yatra on 27th August 2014, and it attracted significant attention. During the yatra, she covered 79 assembly constituencies, conducting around 600 rallies and covering a distance of 3500 km on the roads. The campaign received enthusiastic support from her followers and attracted prominent politicians such as Amit Shah, Smriti Irani, and Rajiv Pratap Rudy. Her supporters expressed the desire for her to become the Chief Minister but she clarified that she did not aspire to hold the position of Chief Ministerial candidate. At one rally, Amit Shah mentioned that if the party won the elections, he intended to nominate Gopinath Munde as the Chief Ministerial candidate. Throughout her yatra and election campaigns, she expressed her intention to play a role in ensuring that the BJP forms a government in the state. Despite the urging from her supporters to take her father's place, she consistently said that she preferred to be a kingmaker rather than a king. The purpose of her yatra was to establish a BJP-led government in Maharashtra and support the appointment of a Chief Minister from the party.
After her father's passing in June 2014, Pankaja Munde performed his last rites. She also wrote a photobiography about him called "Lokneta Gopinath Munde." She is known for organizing a memorial for her late father, Gopinath Munde, who was a senior BJP leader, in Parli, Beed district. The memorial, named Gopinath Gad or the "tomb of father by daughter," includes a 20-foot tall statue of Gopinath Munde. Construction of the memorial began after his death in a road accident in 2014. It is located within the premises of the Vaidyanath Cooperative Sugar Mill. The memorial's inauguration was attended by leaders like Amit Shah and Devendra Fadnavis. The establishment of the Gopinath Gad Prathisthan has led to various social activities, including drought relief, organizing skill development programs, offering educational scholarships, and other initiatives. In honour of Gopinath Munde's seventh death anniversary, the Government of India unveiled a special postal cover as a tribute. The inauguration of the postal cover was attended by BJP National President JP Nadda and Union Telecom Minister Ravi Shankar Prasad. Her father played a significant role in expanding the BJP's reach to Dalits and marginalized sections of society in Maharashtra.
In 2016, she launched a mobile app called 'CHIRAG' which aimed at protecting children's rights and fighting against child abuse. This child helpline app was developed to provide assistance and support to children in need and ensure their safety and well-being.
In 2016, the Aam Aadmi Party (AAP) accused Pankaja of using a vehicle with a red beacon without proper registration and tax payment. According to the AAP leader, Preeti Sharma Menon, Pankaja was using a Range Rover with license plate DL 12 CD 1212, which had a red beacon. The vehicle was registered in Delhi under the name of Radico NV Distilleries, an Aurangabad-based company. The AAP raised questions about the lack of a proper application for a no objection certificate (NOC) to transfer the vehicle to Maharashtra after writing to the Delhi Transport Ministry. They criticized the situation, stating that if an ordinary citizen had done the same thing, strict action would have been taken against them. However, they felt that the government was not taking any action against a minister who was not paying taxes. [9]

Money Life
In 2017, she announced that school-going girls would have access to affordable sanitary pads. These pads would be supplied by local Self Help Groups (SHGs) and would be available at a cost of Rs. 5 per pack. This decision was made in response to various requests from different sections of society to lower the Goods and Services Tax (GST) on sanitary napkins. She also focused on promoting menstrual hygiene and addressing the specific needs of young girls in schools. Her efforts aimed to ensure that girls had the necessary resources and support to maintain good menstrual health.
In 2019, she made a change to her Twitter biography by removing the name of her party BJP. Before making this change, she took to Facebook and discussed the "changed political scenario" in Maharashtra. In a Facebook post, she wrote,Looking at the changed political scenario in state, there is a need to think and decide the way ahead. I need time for some 8 to 10 days to communicate with myself. Our future journey need to be decided against the backdrop of current political changes."
In 2019, an Indian cyber expert based in the US, Syed Shuja, made a claim that Gopinath Munde, Pankaja's father, was murdered. Pankaja, however, stated that she did not want to create unnecessary attention around the issue. She requested a CBI (Central Bureau of Investigation) inquiry into the matter which stated that her father had passed away due to a car accident. Syed also alleged that the Electronic Voting Machines (EVMs) used in the 2014 elections were hacked. He mentioned that Gopinath was aware of the alleged EVM hacking during the elections, but he did not have any evidence to support this claim.
In 2022, her name was not included in the list of candidates for the Maharashtra Legislative Council. Following the announcement, Pankaja herself did not make any comments on the matter. However, Devendra Fadnavis, a senior BJP leader, expressed that Pankaja was a respected leader and capable of holding any position. Chandrakant Patil also shared his thoughts, suggesting that if Pankaja's name was not on the list, it indicated that the party's senior leaders had other plans or roles in mind for her.
In 2022, she won the Nagar Panchayat election held in the Beed district. The Bharatiya Janata Party (BJP), under her leadership, secured seats in all four Nagar Panchayats. The party's success led them to become the leading party by winning the highest number of seats in the election.
In 2023, Uddhav Balasaheb Thackeray, the leader of Shiv Sena, invited Pankaja to join his party, alleging that she was dissatisfied with the leadership of the State BJP. Following Thackeray's statement, Chandrashekhar Bawankule, the BJP State President, addressed the issue and stated that certain parties were spreading rumours about Pankaja's loyalty towards the BJP. In the statement, he added,


The BJP is in Pankaja Munde's blood. She will not even think of deserting the party. Maharashtra has seen her leadership. We [the BJP] fully stand by her. She has been given responsibility at the central level. So, those people spreading rumours about her loyalty should desist from such utterances."
In 2023, her sister Pritam Munde came forward in support of the wrestlers who were protesting against BJP MP Brij Bhushan Sharan Singh for an investigation into the allegations of sexual harassment of female wrestlers during his tenure as the president of the Wrestling Federation of India. In a statement, she said,


It could be any government or any party. I believe that if a movement of this level is going unnoticed, it isn't fair. It should not go unnoticed, necessary attention should be paid to it. Even though I am a part of this government, one has to accept that the way we should have communicated with the wrestlers has not happened."

Pankaja also came forward and talked about the issue stating that she belonged to the BJP but the party did not belong to them.
In 2023, there were reports stating that she was considering a change in her constituency from Parli in the Beed district to the Pathardi constituency in the Ahmednagar district.
She was featured on the cover of 'Savvy' magazine.