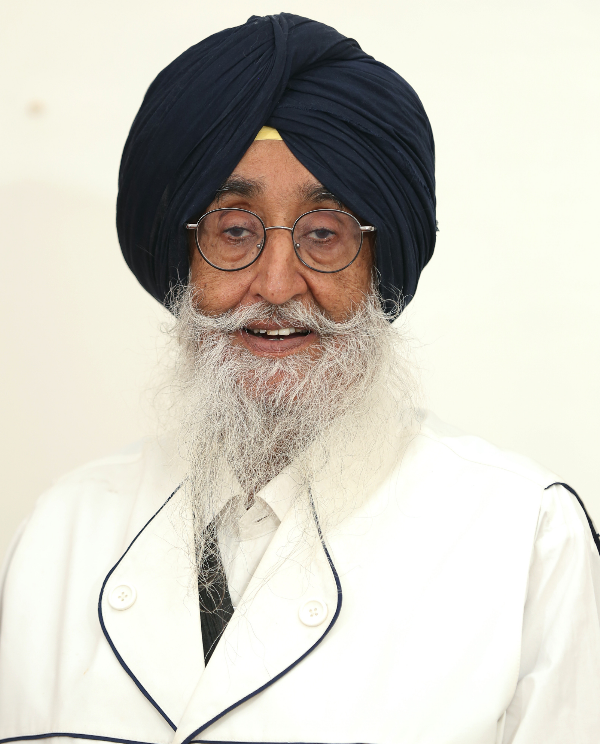 Simranjit Singh Mann is an Indian politician and member of the political party Shiromani Akali Dal (Amritsar). Mann is a three-time MP; he was elected as MP from Taran Tarn in 1989 and as MP from Sangrur in 1999 and 2022. He is a former Indian Police Service (IPS) officer of the 1967 batch of Punjab Cadre. He is known to be a prominent Khalistan advocate who made headlines in 2015 for calling Sarbat Khalsa, a controversial assembly that endorsed the creation of a separate Sikh country called Khalistan. His party, SAD (A), is well known for promoting the ideologue of Jarnail Singh Bhindranwale for the propagation of Sikhism. In 2023, Mann's Twitter account was suspended when he condemned the Punjab Police's search operation regarding the Khalistani supporter Amritpal Singh.
Wiki

/Biography

Simranjit Singh Mann was born on Sunday, 20 May 1945 (age 78 years; as of 2023) in Simla, Punjab, British India (now Shimla, Himachal Pradesh, India). His native village is Talanian in Punjab. He was residing with his family in Simla during the Partition of India in 1947. He completed his schooling at Bishop Cotton School, Simla in 1962. Studying at the convent school, he acquired a fondness for romantic poets like Homer, Percy Bysshe Shelley, and William Wordsworth. However, his westernised upbringing was tempered by his religious mother, Gurbachan Kaur, who had a penchant for listening to parables of the Sikh gurus at home. He earned a Bachelor of Arts (Hons.) in History from a government college in Chandigarh, affiliated with Panjab University; he was a gold medalist. [1]MyNeta In 1966, he appeared in the Civil service examination and cleared it on the first attempt.
Physical Appearance
Height (approx.): 6′
Hair Colour: Salt & pepper
Eye Colour: Black
Family
He belongs to the lineage of Manns of Sheikhupura, a wealthy Punjabi Sikh family that owned vast lands in the pre-Partition Punjab. Sheikhupura, also known as Qila Sheikhupura, is a city in the Pakistani province of Punjab. [2]Hindustan Times
Parents & Siblings
His father, Bahadur Joginder Singh Mann (deceased), was a Member of the British Empire (MBE), a politician, and also an honorary first-class magistrate. He was a member of the Shiromani Gurdwara Parbandhak Committee (SGPC) and was elected to the first Punjab legislative assembly in 1937. Later, he became an MP and speaker in 1967. His mother's name is Gurbachan Kaur (deceased). He had an elder brother, Manjit Singh (deceased). He has two sisters, Inderjit Kaur and Daljit Kaur.
Wife & Children
On 16 October 1970, he got married to Geetinder Kaur. She was the daughter of a civil servant and the sister-in-law of Captain Amarinder Singh, an Akali Dal leader and scion of the Patiala royal family. He has a son, Emaan Singh, and two daughters, Pavit Kaur and Nanki Kaur. Emaan Singh is also a politician and President of SAD (A). Pavit Kaur is an author who penned the book titled Stolen Years: A Memoir of Simranjit Singh Mann's Imprisonment (2014). His grandson's name is Govind Singh Sandhu
Others
His grandfather's name is Harnam Singh. Former Punjab CM Amarinder Singh is Mann's brother-in-law; Mann's wife, Geetinder Kaur, is a sister of Amarinder Singh's wife, Preneet Kaur.
Mann's maternal grandfather, Giani Arur Singh Shergill, served as the manager of Golden Temple and the 10th Jathedar of the Akal Takht, as appointed by the British Raj from 1907 to 1920. Interestingly, Arur Singh honoured General Michael O'Dwyer with a 'Siropa' after the 1919 Jallianwala Bagh massacre. Reportedly, Arur Singh was a British government appointee. Arur Singh's act hurt the Sikh psyche and is considered a "Black chapter" in Sikh history. The politically uncomfortable historical fact led Mann to apologise on his grandfather's behalf in 2002. [3]Hindustan Times [4]The Times of India Additionally, Mann defended the act of his grandfather saying he honoured General Dyer to pacify his anger as the British wanted to conduct aerial bombing in Amritsar. Mann justified the decision by saying,
He did it to save the Golden Temple from bombing on the advice of then principal of Khalsa College GA Wathen."
Religion
Simranjit Singh Mann follows Sikhism. He is an Amritdhari, a Sikh who has been initiated into the Khalsa through Amrit Sanchar. Amrit Sanchar refers to an initiation ceremony in which a Sikh consumes Amrit, a sugar water that is prayed over and stirred throughout the ceremony by five members of the Khalsa.
Address
He resides at Quilla S. Harnam Singh, P.O. Box Talanian, Fatehgarh Sahib district in Punjab, (India) 140406.
Signature/Autograph
Indian Police Services
He joined the Indian Police Service in 1967 as a batch officer of the Punjab cadre. Between 1970 and 1972, he served as Aide-de-camp (ADC) to the Governor of Punjab DC Pavate and MM Choudhry. He served in various capacities during his tenure as an IPS officer including Assistant Superintendent of Police (ASP) Ludhiana, Senior Superintendent of Police (SSP) Ferozepur, Senior Superintendent of Police (SSP) Faridkot, Additional Inspector General of Railways (Patiala), Deputy Director of Vigilance Bureau (Chandigarh), Commandant in Punjab Armed Police (Sangrur) in IX Battalion (1973) and in 80th Battalion (1974), and Group Commandant in Central Industrial Security Force (CISF), Bombay.
On 3 June 1984, Prime Minister Indira Gandhi launched Operation Blue Star, an Indian Armed Forces operation in which the troops attacked the buildings of the Sikh holy site Golden Temple in Amritsar to remove Khalistani militant leader Jarnail Singh Bhindranwale and his followers who were hiding in the temple complex. At that time, he was serving as the Commandant in CISF, Bombay, but he was visiting Punjab for some official work. Mann was summoned from his home in Fatehgarh Sahib to Chandigarh by the government for a departmental enquiry about the issuing of the arms license. There, Mann realised that the police was after him because they believed that he might organise an uprising against the government; hence, he hurried went back to Bombay. Mann was probably not actively involved with the terrorist movement launched by Bhindranwale in Punjab, but he was an ardent sympathiser of the Khalistani cause. In his agitation due to developments in Punjab, he once gave an intemperate interview to Shobha De in Celebrity magazine, hitting out at the Indian state. On 18 June 1984, he resigned as a Punjab Police officer in protest of Operation Blue Star via a letter to then-President Giani Zail Singh. He did not receive any reply, but an officer from the CISF informed him that he was dismissed from the IPS and handed him his dismissal notice in Bombay. Mann was on the run when Indira Gandhi was assassinated on 31 October 1984.
Charged With Conspiracy to Assassinate Indira Gandhi
Following his resignation from the IPS, he was accused of various charges, including conspiracy to assassinate Indira Gandhi, sedition to wage war against the State, and demanding independence for Khalistan. Mann went underground in June 1984 after learning that the police was after him. While hiding in Calcutta, he received a letter from his wife in which she warned him that the government had decided to eliminate him. Mann, in an interview, claimed that Indira Gandhi had marked an "X" on his file, which signified a shoot-to-kill order. Hence, he decided to flee to Nepal. He was arrested on 29 November 1984 with 4 others while attempting to cross the Indo-Nepal borders from Jogbani in Bihar. Subsequently, he was jailed without a trial. Thereafter, he spent five years in in the Bhagalpur Central Jail, Bihar in solitary confinement. His daughter Pavit Kaur penned the book titled Stolen Years: A Memoir of Simranjit Singh Mann's Imprisonment in which she chronicled the dreadful years of Mann's life in prison. In an interview, he described his days at the jail saying,
In Bharatpur, I was stripped naked. They gave me electric shocks by putting one terminal on my toe nails and the other on my genitals. At Bhagalpur, they put me in a lunatics' cell for four days. In Bombay, I was in a cell whose walls were plastered with faeces. This would have gone on, if my lawyers. Ram Jethmalani and Dr B.L. Wadhera, were not breathing down their necks."
Politics
While he was imprisoned in Bhagalpur, he was appointed as the President of the newly-formed United Shiromani Akali Dal, a splinter group of the Shiromani Akali Dal, in absentia on 1 June 1987. Later, the separatist political party came to be known as Shiromani Akali Dal (Mann). Reportedly, the party was called SAD (M) from 1988 to 1994 after which its name was changed to Shiromani Akali Dal (Amritsar). However, the names have been used interchangeably over the years. Sources indicate that the main objective of the SAD(A) is the creation of a separate Sikh country called Khalistan.
1989 General Elections
In 1989, Simranjit Singh Mann contested the Tarn Taran seat as a SAD(M) candidate and won by an overwhelming majority of 4,80,417 votes. He contested the election in absentia as he was jailed in Bhagalpur at that time. Mann rose to prominence in Punjab with the historic win and was released from jail within days of the results with all charges dropped by the VP Singh government. SAD (M) won 6 out of 13 seats in Punjab while 3 independent candidates backed by the party also won.
Resignation in 1990
In 1990, Mann was denied entry into the Sansad Bhavan (Parliament House) as he insisted on bearing his Kirpan (small sword) into the Parliament session, a religious rite in the Sikh Faith. The security regulations of the Parliament did not allow arms into the house. Consequently, Mann decided to not attend the Parliament and resigned his seat in protest on 12 October 1990.
1996 General Elections
In 1996, he contested and lost the Sangrur Lok Sabha seat to SAD candidate Surjit Singh Barnala. The elections resulted in a hung parliament as no single party had a clear majority. The BJP, which had won the most seats, formed a short-lived government under Prime Minister Atal Bihari Vajpayee. However, two weeks later the United Front coalition was able to secure a parliamentary majority and HD Deve Gowda of Janata Dal became Prime Minister. In 1997, Inder Kumar Gujral, also from the United Front, succeeded Gowda as Prime Minister. Due to the instability, early elections were held in 1998.
1998 General Elections
In 1998, he contested and lost the Sangrur Lok Sabha seat to SAD candidate Surjit Singh Barnala. In the elections, several political parties joined the BJP to form the National Democratic Alliance (NDA) and Atal Bihari Vajpayee was sworn in as the Prime Minister of India. However, the government collapsed on 17 April 1999 when the All India Anna Dravida Munnetra Kazhagam withdrew its support, leading to fresh elections in 1999.
1999 General Elections
In 1999, Simranjit Singh Mann won the Sangrur Lok Sabha seat, defeating the SAD candidate Surjit Singh Barnala. From 1999 to 2000, he was the leader of the SAD (M) Parliamentary Party in Lok Sabha. He served as a Member of Committee on Communications and Member of Consultative Committee, Ministry of External Affairs from 2000 to 2004.
2004 General Elections
He contested and lost the Sangrur Lok Sabha seat in the 2004 general elections. The seat was secured by SAD candidate Sukhdev Singh. Dhindsa.
2007 Punjab Legislative Assembly Elections
In 2007, SAD (A) contested 60 seats in Punjab with the support of the Radical organization Dal Khalsa (International). Mann contested and lost the Dhanaula Assembly seat. All the 60 candidates, including Mann's son, Emaan Singh, who had contested the Sirhind Assembly seat lost the election by big margins. Most candidates of SAD (A) had lost their security deposit in the election. Mann offered to resign after his party's poor performance.
2012 Punjab Legislative Assembly Elections
In 2012, he contested and lost the Fatehgarh Sahib Assembly seat.
2019 General Elections
He contested and lost the Sangrur Lok Sabha seat in the 2019 general elections. The seat was won by AAP candidate Bhagwant Mann.
2022 Punjab Legislative Assembly Elections
In 2022, he contested and lost the Amargarh Assembly seat to AAP candidate Jaswant Singh Gajjanmajra.
2022 By-Elections on Sangrur Lok Sabha Seat
The Sangrur Lok Sabha seat, which was earlier represented by AAP candidate Bhagwant Mann, became vacant following the 2022 Punjab Legislative Assembly elections when Mann took oath as Chief Minister of Punjab. Thereafter, a by-election was declared on the seat which was held on 23 June 2022. Simranjit contested and won the election, defeating the AAP candidate Gurmail Singh by 5822 votes. Mann had built up his campaign over the killing of popular Punjabi singer Sidhu Moosewala and late actor-turned-activist Deep Sidhu, who was accused of being the key conspirator of the Red Fort violence on the Republic Day amid the 2020–2021 Indian farmers' protest. [5]The Indian Express Other key contenders for the seat were death row convict Balwant Singh Rajoana's foster sister Kamaldeep Kaur on the SAD ticket, BJP's Kewal Dhillon, and INC's Dalvir Singh Goldy.
A Pro-Khalistani Leader
For several generations, the Mann family had financially supported the educational activities of the Damdami Taksal. He first made acquaintance with Damdami Taksal Chief Jarnail Singh Bhindranwale in 1979. It was Bhindrawale's father, Joginder Singh, who encouraged Mann to lead the United Akali Dal in 1987. Captain Amarinder Singh in a 1988 interview said,
Bhindranwale loved Mann like a son." [6]India Today
Mann protested against the appointment of Giani Zail Singh as Union home minister after which he was transferred and sent on deputation to the Central Industrial Security Force (CISF). His tenure as Faridkot district police chief in 1977-78 stirred controversy as Bhindranwale visited him there and organised an Amrit Prachar within the police lines. Mann defends the decision to organise Amrit Prachar. Amrit Prachar refers to an initiation ceremony in which a Sikh consumes Amrit, a sugar water that is prayed over and stirred throughout the ceremony by five members of the Khalsa. Reportedly, while he posted in Faridkot, Mann was accused of issuing arms licences to people who later turned Khalistani activists. Mann defended his actions by saying,
Amrit only gives you greater courage of conviction…Sikhs have a lust for weapons and I satisfied it through legal means." [7]India Today
However, in another interview, while talking about helping the extremists in getting arms during his tenure as superintendent of police (SP) in Faridkot and in Amritsar, he said
As SP I could only recommend applications for licensed arms, and these applications had to go through a very complicated process. The fact is that I did recommend many such applications, maybe 40 or so, and most of the applicants were either common people or Congress leaders. Some of them were, of course, Sikhs." [8]India Today
In the book Stolen Years: A Memoir of Simranjit Singh Mann's Imprisonment, his daughter wrote that Mann eventually realised that the people of Punjab did not want Khalistan. The demand for Khalistan shrank from public and political discourse and Mann gradually lost the support of those who had rallied around him. Captain Amarinder Singh, whose wife and Mann's wife are sisters, signed the Amritsar Declaration of 1994 (seen largely as a document that calls for the creation of a separate Sikh state) and Parkash Singh Badal signed a memorandum for the UN reiterating Mann's cause. Later, both retracted from their actions. Every year on June 6, Mann and his supporters gather at the Golden Temple complex in Amritsar and raise pro-Khalistan slogans to mark the anniversary of Operation Bluestar. [9]The Economic Times
Simranjit Singh Mann attributed his win in the 2022 by-election on the Sangrur Lok Sabha seat to Bhindranwale. On 20 March 2023, Mann's Twitter account was suspended for his tweet condemning the Punjab Police's Operation Amritpal and the arrest of his supporters.
Controversies
More than 85 cases have been registered against Simranjit Singh Mann in his lifetime, out of which 65 are sedition cases. [10]Hindustan Times After he was acquitted in a lawsuit filed against him for calling Bhagat Singh a "petty terrorist" in 2007, Mann said,
The prosecution, in the past 30 years, has failed to prove a single case against me. I don't know the exact number, but it is at least the 65th sedition case I have been acquitted in. Politicians and police have registered false cases against me and put me in jail from time to time to keep me out of politics. However, it's time the Indian state learnt a lesson and didn't register another sedition case and curbed the freedom of speech."
Booked for Protesting Against Installation of Beant Singh's Statue (2007)
In May 2007, Mann was arrested for protesting the installation of former Punjab CM Beant Singh's statue in Jalandhar. Beant Singh was sworn in as the Chief Minister of Punjab in 1992 in the aftermath of Operation Blue Star and the assassination of Indira Gandhi. He is often accused of approving fake encounter killings, abductions, and secret cremations, during the anti-Sikh riots in Punjab. Allegedly, Mann and chief of SAD Wasan Singh Zafarwal tried to disgrace the statue by hanging a portrait of Beant's assassin around his neck at the BMC Chowk, Jalandhar. Court rejected Mann's bail application in June 2007 and his judicial remand was extended for another two weeks and once again until August 2007. [11]The Tribune
Arrested For Calling Bhagat Singh A Terrorist 
In 2007, Mann garnered criticism for calling freedom fighter Bhagat Singh a "petty terrorist." A lawsuit was filed against him, and he was arrested by the Patiala police under Section 153-A of the IPC for hurting the sentiments of the people. The prosecution failed to prove its case and he was acquitted by the civil court in 2013. [12]Hindustan Times After coming out of the court, Mann said,
My acquittal has vindicated my words that Bhagat Singh was a terrorist and not a martyr…Now, I reaffirm that Bhagat Singh indulged in violence and killed innocent persons, John Saunders and head constable Chanan Singh. And our party doesn't support violence of terrorism. My acquittal has upheld my viewpoint."
In 2015, he objected to the naming of the Chandigarh airport after Bhagat Singh. [13]India Today
Calling Sarbat Khalsa (2015)
On 10 November 2015, Simranjit Singh Mann and Mohkam Singh, leaders of SAD (A) and United Akali Dal respectively, called a deliberative assembly called Sarbat Khalsa in Chabba village on the outskirts of Amritsar. In the controversial assembly, Mann brought the issue of Khalistan back to Punjab's centre stage. [14]Hindustan Times The assembly was called after the five Takht heads, including the Akal Takht Jathedar Gurbachan Singh, pardoned Dera Sacha Sauda chief Gurmeet Ram Rahim in a blasphemy case after the latter appeared in a robe similar to that of Guru Gobind Singh. Mann accused Chief Minister Parkash Singh Badal of convincing Akal Takht to pardon the Dera Sacha Sauda chief. The Sikh congregation passed 13 resolutions to be implemented, which included the appointment of Jagtar Singh Hawara as the Akal Takht Jathedar. Hawara, who is notorious for being a convict in the assassination of the former Chief Minister of Punjab Beant Singh, was jailed in Tihar Jail when his appointment was being endorsed. The Chatiwind police had booked 20 people, including Simranjit Singh Mann and Mohkam Singh, after finding in a probe that during the religious function, its organisers had made anti-national speeches. However, the FIR was annulled by Amritsar police in 2018 as per the recommendation of the justice Mehtab Singh Gill commission. [15]Hindustan Times
Claiming that Sikhs Cannot Chant the Slogan 'Bharat Mata ki Jai'
In 2016, Mann stirred controversy with his statement that "Sikhs cannot chant the slogan 'Bharat Mata ki Jai' (Hail, Mother India) as they don't worship women in any form." He also said,
According to the BJP, one who doesn't say 'Bharat Mata ki Jai' is not a patriot and can be tried for sedition… Sikhs should say 'Waheguru ji ka Khalsa, Waheguru ji ki Fateh'."
He further added that the BJP must know that "Sikhs can't say 'Vande Matram' either." He also emphasised that Hindu religious scriptures like the Geeta should not be imposed on people from other religions, a statement in reference to the introduction of the Bhagwad Gita in the school curriculum in BJP-ruled Haryana. Mann voiced the opinion after Waris Pathan of the All India Majlis-e-Ittehadul Muslimeen (AIMIM) came under public scrutiny for refusing to chant "Bharat Mata Ki Jai" but was ready to say 'Jai Hind'. [16]Hindustan Times
Demanding a 'Jat-land' State (2016)
In 2016, SAD(A) led by Mann passed a resolution seeking a separate state of 'Jat-land' by increasing the size of Punjab. The resolution was passed two days after Mann declared that Sikhs could not chant 'Bharat Mata ki Jai' (Hail, Mother India) as they "do not worship women in any form." The resolution was passed weeks after a violent agitation by Jats for job reservation in Haryana. [17]Hindustan Times
Assets & Properties
Moveable Assets
Deposits in Banks: Rs. 5,22,999
Motor Vehicles: Rs. 2540000
Immovable Assets
Agricultural Land: Rs. 2,77,00,000
Non-Agricultural Land: Rs. 30,00,000
Commercial Buildings: Rs. 50,00,000
Residential Buildings: Rs. 4,45,00,000
Note: The given estimates of moveable assets and immovable assets are according to the financial year 2021-22. It does not include the assets owned by his wife and dependents. [18]MyNeta
Net Worth
His net worth in 2022 was Rs. 8,23,48,999. It does not include the net worth of his wife and dependents. [19]MyNeta
Facts/Trivia
His family home in Fatehgarh Sahib is named after his grandfather, Harnam Singh.
He's also a strong advocate for long-pending demands of Punjab, which include river water sharing, handing over of Punjabi-speaking areas, and the transfer of Chandigarh.
The Khalistan Affairs Center (KAC), a Washington-based organization promoting a sovereign Sikh state claimed that Mann's passport was seized following his visit to the United States (US) in April 2005 as his visit had generated a lot of attention to the pro-Khalistan movement. However, Mann alleged that his passport had been held since 2004 to prevent him from participating in the Air India Commission of Inquiry in Canada.
He won the Shiromani Gurdwara Parbandhak Committee (SPGC) polls from Bassi Pathana in 1996 and 2004. In 2011, he lost the SPGC poll from Fatehgarh Sahib.
In an interview, his ex-colleagues from Punjab Police claimed that in the begging Mann was not overtly religious and even consumed liquor occasionally. However, he always encouraged his Sikh subordinates to follow the ideals of Sikhism and not trim their beards. [21]

India Today