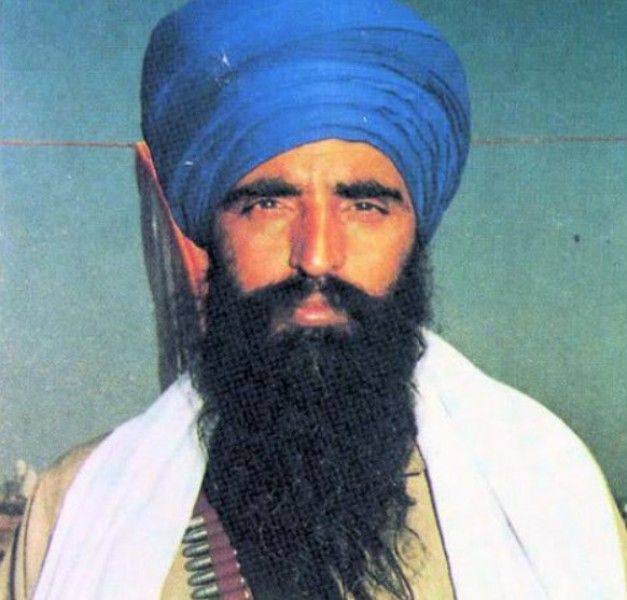 Jarnail Singh Bhindranwale (1947-1984) was a prominent Sikh Leader, the 14th Jathedar of the Sikh religious organisation Damdami Taksal, and an Indian militant. He was a devout supporter of the 1973 Anandpur Sahib Resolution and urged Sikhs to maintain their religious identity. He gained popularity after the clash between Sant Nirankaris and Akhand Kirtani Jatha on 13 April 1978 in Amritsar, and although, he never contested elections and participated directly in politics, he became the most important person in Punjab politics in the early 1980s. He urged Sikhs to stand against injustice and claim justice themselves by all means. Operation Blue Star was conducted in 1984 to remove him and his followers from the Golden Temple Complex, which resulted in his death.
Wiki/Biography
Jarnail Singh Brar [1]The Economic Times was born on Monday, 2 June 1947 (age 37 years; at the time of death) in Rode village, Faridkot district, British India (now Moga district, Punjab, India). His zodiac sign was Gemini. He attended school in his village; however, he dropped out of school at the age of 11 to work with his father at his farm.
Physical Appearance
Height (approx.): 5′ 10″
Hair Colour: Black
Eye Colour: Brown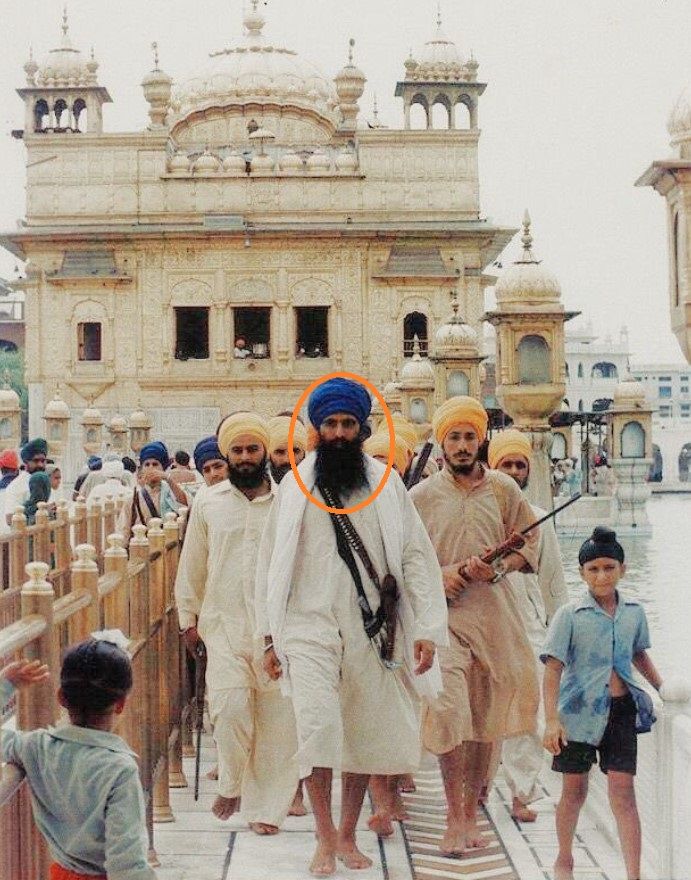 Family
He belonged to a middle-class Punjabi Jat Sikh family.
Parents & Siblings
His father's name was Joginder Singh Brar, and his mother's name was Nihal Kaur. His father was a farmer and a local Sikh leader. He had 6 brothers and 1 sister, and and he was the youngest among them. The name of his brothers are Jagir Singh, Jagjit Singh, Jugraj Singh, Harjeet Singh, Veer Singh, and Captain Harcharan Singh Rode, who served in the Indian Army and fought in the Indo-Pakistani War of 1965.
Wife & Children
Jarnail Singh got married to Pritam Kaur, the daughter of Sucha Singh of Bilaspur village in Moga at the age of nineteen. He had two sons, Ishar Singh and Inderjit Singh. After his death in 1984, his wife, along with her sons, moved to Bilaspur village to live with her brother. She died on 15 September 2007 in Jalandhar at the age of sixty.
Religious Views
He was the 14th Jathedar of the Damdami Taksal, an important Sikh organization, directly related to Baba Deep Singh (a Sikh martyr). He urged Sikhs to give up alcohol, drugs, and pornography, and study religious books, and live a simple life. He conducted many religious congregations all over India. He urged Sikhs to taste Amrit, keep uncut hair and beard, wear knee-length Kurta and keep Kirpan.
Caste
He belonged to the Brar caste, a Jat Sikh caste mainly found in Punjab.
Introduction to Damdami Taksal and His rise as its Leader
His father enrolled Jarnail Singh in the Sikh religious school Damdami Taksal in 1965, which was also known as the Bhindran Taksal, named after the village Bhindran Kalan where its leader Gurbachan Singh Bhindranwale aka Gurbachan Singh Khalsa lived. Damdami Taksal was based in Gurudwara Akhand Prakash in Bhindran Kalan near Moga, Punjab. He toured the villages of Punjab and studied the scriptures, history, and beliefs of the Sikh religion with Gurbachan Singh Khalsa during his stay at the Gurdwara Sis Asthan Patshahi IX near Nabha while he was on a one-year tour of villages in Punjab. He returned to his family in 1966; however, Gurbachan Singh Khalsa died in June 1969, and Jarnail continued his studies under the new leader of the Damdami Taksal, Kartar Singh. Kartar shifted the headquarters of the Damdami Taksal to the Gurdwara Gurdarshan Prakash at Mehta Chowk, near Amritsar. Jarnail Singh regularly travelled between his home and Damdami Taksal's headquarters and maintained a balance between his family and religious duties. Jarnail was Kartar Singh's best student, and before his death in a car accident on 16 August 1977, Kartar had already announced Jarnail as his successor. A Bhog ceremony was conducted on 25 August 1977 at Mehta Chowk, and Jarnail was appointed as the 14th Jathedar of the Damdami Taksal. Jarnail adopted the name Bhindranwale, which means from the village of Bhindran Kalan, which is the location of the Bhindran Taksal branch of the Damdami Taksal. He attained the religious title of Sant and dedicated himself full-time to the Taksal.
Rise in Popularity as the 14th Jathedar of the Damdami Taksal
He started touring villages of Punjab after becoming the 14th Jathedar of the Damdami Taksal and regularly gave public sermons and quoted scriptures, urging the people to give up consumerism, drugs and alcohol, and return back to the life of Khalsa (living by the rules of the Sikh religion). He also spoke openly against social practices like dowry and pornography. He organized several religious congregations (Satsang) in gurudwaras in Punjab, Haryana, Chandigarh, and other states of India, from July 1977 to July 1982. He never learned English; however, he had a strong grasp of the Punjabi language. His religious speeches were circulated in many villages in the form of audio cassettes. Many people started a religious life by taking Amrit during his Amrit Parchar campaign and took oaths in public to give up drugs and alcohol and abide by the practices of the Sikh religion to wear Turban and keep a beard. Many Sikh youths were influenced by his speeches and abided by his words. He started conducting social gatherings, where he would listen to grievances and solve them by giving references to the old Sikh scriptures. Matters in legal courts took a long time to be resolved, hence people thronged Jarnail's social courts to seek justice in a timely manner. Many people of the Sikh religion started to respect him for his religious teachings and instilling the traditions of the Sikh religion among the masses.
1978 Sant Nirankari Clash
Sant Nirankari Mission is a spiritual organisation with many followers in Punjab and Haryana. The then Nirankari Chief Gurbachan Singh organised a convention in Amritsar on 13 April 1978, which is also the anniversary of the founding of the Khalsa. A conflict ensued between the Sikhs and the Sant Nirankaris since the establishment of Nirankaris. Damdami Taksal opposed Sant Nirankaris since the 1960s, and in 1973, Sant Nirankaris were declared enemies of the Sikh by the head priests of the Golden Temple. Jarnail Singh gave a speech on the Golden Temple premises and announced during his speech that he will not allow the convention to take place. After the speech, a group of 200 Sikhs led by Jarnail Singh and the head of the Akhand Kirtani Jatha, Fauja Singh, proceeded to the convention to stop its proceedings. Armed guards of Gurbachan Singh fired at the Sikh group, which started an armed clash between both groups. Fauja Singh tried to behead Gurbachan Singh with his sword; however, he was shot dead by the guards of Gurbachan Singh. Several people died in the clash after which Jarnail Singh's name came into the limelight as the perpetrator of the clash. A criminal case was registered against 62 Sant Nirankari people including Gurbachan Singh, which was heard in Haryana, and all accused were acquitted on the grounds of self-defence on 4 January 1980 during the trial, two days before the Lok Sabha elections. It was alleged that the Sant Nirankari organisation supported the Emergency imposed by Indian Prime Minister Indira Gandhi in 1975 and had close ties with many senior leaders of the Congress party. Massive demonstrations were held against this decision in Punjab and Delhi, and Jarnail gave speeches against Indira Gandhi for her alleged involvement in the court trials of Nirankaris.
Murder of Nirankari Head Gurbachan Singh and Jarnail's Arrest Escape
After the Nirankari clash in 1978, Amarjit Kaur, the widow of the slain head of the Akhand Kirtani Jatha, Fauja Singh, helped create Babbar Khalsa in 1978 to avenge the deaths of Sikhs in the clash. It was reported that many people of Babbar Khalsa or Jarnail's group would take shelter in the Golden Temple after their clash with the people they perceived as working against the Sikh religion. On 24 April 1980, Nirankari Head Gurbachan Singh was assassinated in Delhi, outside his home, when he returned from a public ceremony. Police lodged an FIR against 20 people, including Jarnail Singh and several members of his group. When Jarnail Singh came to know about this, he took shelter in Golden Temple to escape arrest and remained elusive to the Police until the Indian Home Minister, Zail Singh, announced in parliament that Jarnail Singh had nothing to do with the murder of Gurbachan Singh. After his name was removed from the FIR, Jarnail Singh announced that the assassin of Gurbachan Singh shall be awarded by Akal Takht and if they came to him, he would weigh them in gold. A member of Akhand Kirtani Jatha, Ranjit Singh, surrendered on 23 November 1983 and was sentenced to life imprisonment. In 1996, he came out on bail; however, one week later, his bail was cancelled. He refused to surrender, and after a clemency plea to the President for relief,  the then President K. R. Narayanan commuted his life sentence on 9 November 1997.
Murder of Lala Jagat Narain and Jarnail's arrest
Lala Jagat Narain was the founder-editor of the Punjab Kesari newspaper, and he belonged to the Hindu society, Arya Samaj. He wrote several editorials in his newspaper, favouring the Sant Nirankari sect, and urged Hindus of Punjab to declare Hindi as their mother tongue instead of Punjabi. He was also present during the clash between the Sant Nirankaris and Sikhs in 1978 and appeared as a witness in the court hearing. He was assassinated on 9 September 1981. Following this, an arrest warrant was issued against Jarnail Singh, who was at Chando Kalan village in Hisar, Haryana on a preaching tour. In a joint operation by Punjab and Haryana police, the police raided Chando Kalan village on 14 September 1981, and incidents of violence were reported. Jarnail alleged that the police team fired upon Sikhs of the village and looted the property from their homes. On the other hand, the police team alleged that supporters of Jarnail Singh fired upon them, which led to the tussle between both groups. Jarnail Singh had already left Chando Kalan and moved to the Gurudwara Gurdarshan Prakash at Mehta Chowk, Amritsar, and on 20 September 1981, the police team surrounded the gurudwara to arrest him; however, a large number of Sikhs armed with spears, swords, and guns surrounded the gurudwara. The then Punjab CM Darbara Singh insisted on Jarnail Singh's arrest, and senior police officials went inside the gurudwara to negotiate his arrest. Jarnail Singh agreed to surrender at 1 pm; however, he put a condition that he will surrender after addressing the gathering. He declared innocence in his speech, spoke against the state government, the injustice against Sikhs, and requested the gathering to stay peaceful during his arrest. He was arrested and taken to a circuit house instead of prison; however, after his arrest, the gathering clashed with the police, resulting in the death of 18 protestors. On the day of his arrest, three men fired on the public in a market in Jalandhar, several bomb blasts took place in Gurdaspur, Amritsar, and Faridkot districts, and on 29 September 1981, an Air India flight (then Indian Airlines) was hijacked by Dal Khalsa member Gajinder Singh and taken to Lahore. Several prominent leaders like Akali leader Harchand Singh Longowal, then-Shiromani Gurdwara Parbandhak Committee (SGPC) President Gurcharan Singh Tohra, and the Jathedar of the Akal Takht, Gurdial Singh Ajnoha publicly supported Jarnail Singh. India's Home Minister Zail Singh announced in the parliament that Jarnail Singh was innocent, and there was no evidence against him. On 14 October 1981, Jarnail Singh was released by Punjab Police, and he declared after his arrest that Akal Takht shall honour the killers of Lala Jagat Narain, and if the killers had come to him, he would have weighed them in gold. His arrest and subsequent release raised his respect in the eyes of the Sikh population in Punjab and all over the world.
Alleged Alliance with Congress and Akali Dal
Jarnail Singh was allegedly supported by Congress and Akali Dal at different times to rally public opinion against each other. It was alleged that Indira Gandhi's son Sanjay Gandhi approached Jarnail Singh after Congress lost the 1977 general elections; however, Jarnail Singh could not be controlled by Congress after they won the 1980 elections, and he kept preaching religious sermons all over Punjab. Former Punjab CM who later became the President of India, Zail Singh, had backed the candidates fielded by Jarnail Singh in the 1978 SGPC elections. After the 1980 election loss, Akali Dal also supported Jarnail Singh in an attempt to win back the confidence of the people of Punjab. Jarnail Singh openly accused Congress member and Punjab CM, Darbara Singh of conducting atrocities against Sikhs. Jarnail Singh did not seek any political office himself and would cite examples from the 37 major protests of Sikhs during the 1975 Emergency rule imposed by Indira Gandhi. He exploited both Congress and Akali Dal to spread his message of religious identity among Sikhs. He kept his identity separate from the political groups by consistently focusing on his role as a preacher and giving calls for Sikh brotherhood and prosperity irrespective of any government.
Dharam Yudh Morcha in 1982
On 20 April 1982, an attempt was made to arrest Jarnail Singh at the Singh Sabha Gurdwara in Dadar, Maharashtra; however, he escaped and reached his base at Mehta Chowk, Amritsar. All-India Sikh Students Federation (AISSF) head, Amrik Singh, and his two followers were arrested on 19 July 1982, and on 20 July 1982, another leading member of the Damdami Taksal, Thara Singh, was arrested. These arrests provoked Jarnail Singh, and he gave a call for a meeting on 25 July 1982 for their release. Akali Dal with the support of Jarnail Singh launched Dharam Yudh Morcha on 4 August 1982, which demanded an end to the centre's control of Punjab's river waters and its distribution, state control of the headworks, and better procurement prices and subsidies for the state's farmers, maintenance of the ratio of Sikhs in the army, protections of Sikhs outside Punjab, Punjabi as a second language for states with significant Punjabi-speaking populations, amendments to tax and property policies for rural populations, a broadcasting station, a dry port at Amritsar, and a stock exchange at Ludhiana. Jarnail Singh promised the Punjabi masses that he would not take a temporary resolution, and he wanted all demands to be met. Akali Dal workers started courting arrests in large numbers, and the government began to run out of space in jails for more than 25000 arrested protestors. Out of 220 deaths in the first 19 months of the Dharam Yudh Morcha protests, 190 were Sikhs, and Jarnail Singh quoted the incidents of violence against Sikhs in jails by Police. Jarnail Singh condemned the differences in treatment of a Sikh and a Hindu by the Police, and several incidents were reported of clashes between Sikhs and Hindus in Punjab. He openly spoke in his meetings against the staged encounters of Sikhs, the dismantling of their properties, and government inaction against the police officials. Indian Cabinet Minister Swaran Singh started negotiations with the Akali leaders on the behalf of Indira Gandhi, and it was approved by a Cabinet subcommittee; however, Indira Gandhi changed it before presenting it in the parliament, and talks collapsed after this. On 6 October 1983, President rule was imposed in Punjab, and in December 1983, Akali leaders pulled out of Dharam Yudh Morcha, and Jarnail Singh became its sole leader.
Insurgency in Punjab
It was alleged that most Sikhs in Punjab did not believe in the democratic style of leadership as regular claims were made for fulfilling the Anandpur Sahib Resolution, which the central government did not fulfil, and the failure of the central government in resolving social, political, and economical problems facilitated the rise of militancy. Jarnail Singh also gave references to the police atrocities and instances of failure of government in his sermons, and he often urged Sikhs to arm themselves to fight the injustice. Jarnail Singh repeatedly preached that government treated Sikhs as second-class citizens and will continue to do so until Sikhs would not fight for their rights. He reportedly said in a gathering that there should be three youths with three high-quality revolvers and a motorcycle in each village. His preaching was religiously listened to by Sikhs, and after President Rule was imposed, many incidents of violent clashes were reported between the Sikhs and security forces. It became increasingly evident that the government was seeking a military solution to the protests, and Jarnail Singh urged his followers to get ready for an impending clash with the government. Many cold-blooded killings of rural Sikhs were reported in 1982 and 1983 in fake police encounters, and Sikhs were singled out in trains or buses and killed. Many police officials and Hindus were killed by Sikh militants in retaliation. On 23 April 1983, DIG of Police Jalandhar range Avtar Singh Atwal visited Golden Temple to pray, and when he was leaving, he was shot dead by a lone gunman just outside the gate of the Golden Temple Complex. His body stayed there for 2 hours, and Punjab CM Darbara Singh had to call Jarnail Singh to get his body picked up from the gates. On 5 October 1983, a group of masked men stopped a bus going from Kapurthala to Jalandhar in Dhilwan near Kapurthala, separated Sikhs and Hindus, and killed 6 Hindus. After this incident, PM Indira Gandhi imposed President Rule in Punjab on 6 October 1983. The incidents reached their peak in 1984 when around 300 people were killed between January 1984 and June 1984. On 12 May 1984, Romesh Chander, son of Lala Jagat Narain was assassinated, and in 1989, seven editors and seven news hawkers/agents were killed. A large population of Hindus left Punjab, and a large number of Sikhs left Delhi and Haryana to escape the brutal killings. Several Sikhs in Police and Army were relieved from service during this time. Though Jarnail Singh condemned the killings of Hindus, he openly urged Sikhs to punish everyone who was against the Sikh religion.
Jarnail's views on Khalistan
There are different claims regarding Jarnail Singh's views on Khalistan; however, most of his supporters say that Jarnail Singh never claimed an independent nation (Khalistan) for Sikhs, and he was misinterpreted by the press and government on various occasions. Jarnail regularly said that he neither supports the Khalistan movement nor denies it. He said many times that if Khalistan was given to them, then, he will definitely accept it. He wanted full implementation of the 1973 Anandpur Sahib Resolution, later called Dharam Yudh Morcha, which the central government never implemented. His speeches were full of rhetoric against the Indian government and the alleged injustice against Sikhs. Indian politician Subramanian Swamy spent various days with Jarnail Singh, and Swamy claimed that Jarnail never claimed for Khalistan and wanted greater rights for Punjab. [2]Hindustan Times
Relocation to Akal Takht
Jarnail Singh moved to Guru Nanak Niwas guest house near Golden Temple with his 200 armed followers on 19 July 1982. He gained a reputation as a man of principle, and his judgements regarding land, family, or property disputes were accepted all over Punjab. He led the Dharam Yudh Morcha campaign from the guest house and gave interviews to many news reporters. After President Rule was imposed in Punjab on 6 October 1983, many leaders in Parliament demanded Jarnail Singh's arrest, and fearing his arrest, Jarnail Singh convinced SGPC President Gurcharan Singh Tohra, an Akali member, to set up his headquarters at Akal Takht Complex. Harchand Singh Longowal, the then-President of the Akali Dal, opposed his move, and his supporters in Babbar Khalsa asked Jarnail to move out of the Guru Nanak Niwas guest house. Harchand Singh Longowal attempted to block Jarnail's move to Akal Takht and approached Kirpal Singh, the head priest of the Akal Takht, to issue an edict (Hukmnama) to disallow his move to Akal Takht. Kirpal Singh considered Jarnail's move as sacrilege as no one had ever moved inside Akal Takht, that too on the floor above the Granth Sahib. SGPC President Gurcharan Singh Tohra convinced the high priest of Akal Takht to allow Jarnail Singh to move to Akal Takht, and on 15 December 1983, Jarnail Singh moved to the Akal Takht Complex. On the same day, he also visited the Deputy Commissioner's residence and assured him that his stay in the Akal Takht was not to hide from the law.
Operation Blue Star and Jarnail Singh's Death
It was reported that Jarnail Singh made protective formations using sandbags inside the Golden Temple Complex, and arms were supplied to his men inside the Complex, using trucks for supplying food to the Langar Seva. Jarnail Singh was already anticipating the attack, and all the high-rise towers and buildings were occupied by supporters of Jarnail Singh. Dismissed Army Major General Shabeg Singh with other Army veterans trained Jarnail Singh's men and supervised the construction of vantage points inside the complex. Negotiation talks with Jarnail Singh failed, and the government decided to launch the attack. It was also alleged that the Soviet secret service KGB had planted its agents and pieces of misinformation to convince PM Indira Gandhi to order the attack. On 3 June 1984, a 36-hour curfew was imposed in the state with all modes of public travel and communications cutoff, complete media censorship enforced, and the electricity supply was interrupted. Operation Blue Star was planned by the Chief of the Indian Army General Arun Shridhar Vaidya, assisted by General Krishnaswamy Sundarj, and Lieutenant General Kuldip Singh Brar was commanding the troops during the operation. There are different versions of the events which took place. As per Army records, the Indian Army entered the Golden Temple on the night of 5 June 1984; however, as per the statements of the people inside the complex, the first attack was done on 1 June 1984, and 34 bullet marks were found on the walls of the Akal Takht. 3 June 1984 also coincided with the martyrdom day of the Fifth Sikh Guru, Guru Arjan Singh, hence a large number of common men were present inside the Golden Temple Complex. Lt. Gen. K. S. Brar addressed the troops before the operation and declared that anyone who takes religious thoughts seriously can move out of the operation; however, no one opted out. On the night of 3 June 1984, the Indian Army surrounded the temple and sealed off the exits surrounding the temple. As per Army records, messages were played on the loudspeaker on 4 June and 5 June 1984; however, the Amritsar District and Sessions Judge Gurbir Singh gave a ruling in 2017, stating that there was no written record of messages being played, and no log of vehicles used for making announcements. Contrary to the Army records, several eyewitnesses gave statements that Army attacked the temple at 4:00 am on 4 June 1984 using shells, and the shells fell to the left of the Akal Takht. It was also claimed that on 5 June 1984, the blind head Ragi of the Harmandir Sahib Amrik Singh and Ragi Avtar Singh were killed by bullets fired by the Indian Army. On 5 June 1984, at 7:00 pm, the Indian Army launched a full-frontal attack, which continued till 7 June 1984. It is believed that Jarnail Singh died during the fight on 6 June 1984, and on 7 June 1984, the Indian Army entered Akal Takht and recovered the bodies of Jarnail Singh, Maj. Gen. Shabeg Singh, and Amrik Singh. His body was identified by the police, the intelligence bureau, and Jarnail's brother Harcharan Singh Rode. A group of his followers claim that he was captured alive and killed later during interrogation, while others claim that he was killed by other members of Babbar Khalsa after he refused to join them during the fight with the Indian Army in Golden Temple Complex. His last rites were done according to Sikh traditions on the evening of 7 June 1984.
Facts/Trivia
Indian Intelligence service Research and Analysis Wing (RAW) planned to kidnap Jarnail Singh from Mehta Chowk Gurudwara and Golden Temple complex and named this operation Sundown; however, this operation was cancelled by PM Indira Gandhi, citing there could be a large number of army and civilian casualties. [3]

BBC
On 6 June 2003, the 19th anniversary of his death, SGPC declared Jarnail Singh a martyr and gave a robe of honour to his son Ishar Singh at Akal Takht. [4]

The Times of India
In retaliation to Operation Blue Star, Indian PM Indira Gandhi was assassinated by her Sikh bodyguards on 31 October 1984 in Delhi. Retired Indian Army chief A. S. Vaidya was assassinated on 10 August 1986 in Pune, Maharashtra.
Jarnail Singh always used to carry a silver arrow, which reminded his followers of the tenth Sikh Guru Gobind Singh.
There is a sports stadium in his village named Sant Jarnail Singh Ji Khalsa Stadium.