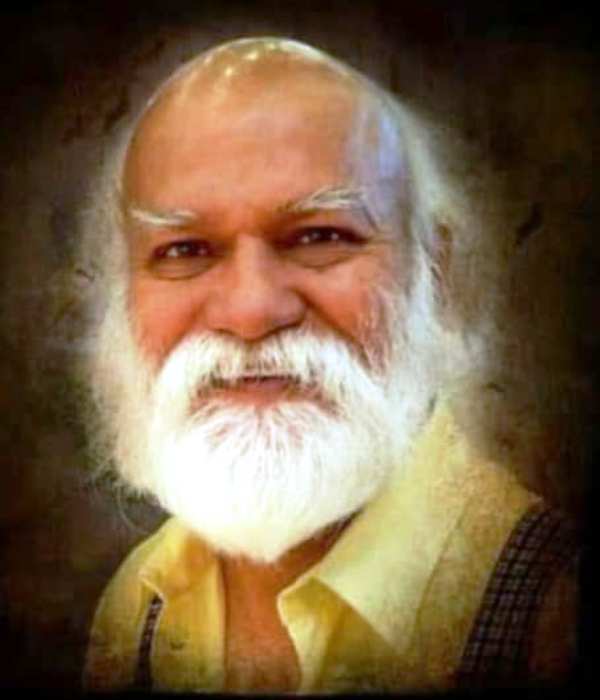 Satya Paul (1942-2021) was an Indian entrepreneur and fashion designer who is well known for his eponymous designer label famous for its digital print saris in India. He is known as "the man who reinvented the sari." [1]The Hindu He died on 6 January 2021 due to age-related ailments in Coimbatore, Tamil Nadu.
Wiki/Biography
Satya Paul was born on Monday, 2 February 1942 (age 78 years; at the time of death) in Layyah, British India (now in Pakistan). His zodiac sign is Aquarius. After the partition in 1947, his family left Layyah and moved to New Dehli. Satya Paul never pursued a course in fashion design; he was self-taught. [2]DNA In an interview, while talking about the same, he said,
I had to self-teach myself about design and quality as I was not content only with trading. Wanting to offer better quality and design, the search took me far and wide and helped shape a life of creation."
Family
Parents & Siblings
His father used to run a small restaurant in Sarojini Nagar, Delhi, called Punjab Watani.
Wife & Children
His wife's name is Santosh. His son, Puneet Nanda, is the co-founder of the designer label Satya Paul. His daughter's name is Richa Nanda.
Religion/Religious Views
In the 1970s, his spiritual journey began when he started following the philosopher Jiddu Krishnamurti. Later, he took Sannyasa from the religious leader Osho. A Zorba Sannyasin, [3]Osho News Satya joined the Rajneeshpuram commune, a religious intentional community of Osho, along with his wife, Santosh, and children, Richa and Puneet. After Osho's death in 1990, Paul wasn't looking for a new leader, but he discovered Sadhguru in 2007 and started following him. In 2015, he started living at Isha Yoga Center, a spiritual organisation founded in 1992 near Coimbatore, Tamil Nadu, by Sadhguru Jaggi Vasudev. [4]Facebook – Puneet Nanda
Career
After moving to Delhi in 1947, his father set up a small restaurant in Sarojini Nagar called Punjab Watani, where Satya Paul worked as an errand boy. While talking about it in an interview, he said,
From a zero start, my father and I ran a restaurant in Sarojni Nagar (Delhi), which became quite famous at that time. The struggle was intense. From that I decided to enter the textile business as I thought it would be less taxing, though one was to see equally challenging times ahead."
Later, he set up the Albany Café. The cafe became a place to hang out for artists of that era, who would have long discussions on arts, philosophy, politics, and current affairs. Some of those artists were Arjun Dev Rashk (film writer) and Jagjit Singh (singer). In an interview, Puneet Nanda said,
He (Satya Paul) created Albany Café for the artists to hang out. I remember hearing that they used to tell Jagjit Singh, if you want us to listen to you, you bring the whiskey!"
By the mid-1960s, the pressures of the café business led him to seek other avenues of trade, and that is when he stumbled upon textile retailing. In 1965, he took on the cottage emporium franchise from the government and established a shop, which retailed women's and men's garments as well as home decor. By 1967, he dissolved the arrangement and made his own handloom emporium. Until the late 1960s, Paul worked in retail, before moving into the niche market of Indian heirlooms which he exported to Europe and the US. Although he lacked knowledge of fabric and design initially, he acquired it through self-learning. In 1975, he started trading his designs overseas. In 1980, he founded L'affaire, a women's clothing store in New Delhi. L'affaire is dubbed as India's first sari boutique. [5]The Hindu
Satya Paul
On 1 April 1985, he founded the designer label Satya Paul, along with his 17-year-old son, Puneet Nanda. Its product line comprised women's designer wear mostly saris, kurtas, handbags, clutches, and scarves, and men's accessories such as neckties, belts, wallets, pocket squares, and cufflinks. However, the brand gained popularity for its range of digital print saris in the 1980s. In an interview, while talking about their choice of working with sarees, Puneet Nanda said,
The choice of working with a sari was deliberate, as at that point 90% of women wore a sari and we wanted this to be a brand that was relevant to every Indian woman."
His creations fused Indian weaving techniques with contemporary palettes and revolutionized the saree, giving rise to pieces with polka dots and zebra stripes adorned with abstract motifs.
In 1987, the brand started hosting annual solo designer shows across five cities in India. The shows featured live Hindustani and Carnatic music by stalwarts like Hariprasad Chaurasia, Umayalpuram K. Sivaraman, and Ustad Usman Khan. In 1990, the Satya Paul store was established in Bengaluru.
He was the first designer to introduce India to choreographed collections. Each of his collections, whether it was the Museum, the Rainbow, or the Signature Collection, had a theme and told a story. Additionally, he was also one of the first to design concept saris.
By the early 2000s, the homegrown brand Satya Paul had 30 exclusive stores across India. The brand was brought over by Genesis Colors Private Limited in 2001 after which Satya Paul passed on his mantle to Nanda, who took over as creative director of the brand. Meanwhile, Paul continued to create fine contract home textile markets internationally through the parent company, Paul Salon. Nanda quit the company in 2010. Following his retirement, he started volunteering at Isha Foundation. In pre-liberalisation India, Satya Paul was one of the first luxury designer labels. It has been modelled by various Indian celebrities such as Aishwarya Rai, Mandira Bedi, Karisma Kapoor, Kareena Kapoor, and Vidya Balan.
In 2015, Paul Salon, the parent company that did exports, was shut down, and Satya Paul moved to Isha Yoga Centre in Coimbatore, where he resided till death.
Death
On 6 January 2021, he died at the Isha Yoga Centre in Coimbatore, Tamil Nadu, after suffering a stroke on 2 December 2020.
Facts/Trivia
The reclusive designer did not like giving interviews. However, when a media company pinned him down he explained the reason behind his reluctance and said,


There is currently an atmosphere of wanting to be a celebrity more than standing for the work that one does. I would like the work to speak for what I do. I don't belong to the cult of a celebrity."

His Facebook account states his name as Swami Satyadeva Bharti. [6]

Facebook – Satya Paul
In an interview, Puneet Nanda revealed that Satya had a love for poetry, music, and the arts. His interest in poetry wasn't limited to the Indian milieu, he relished William Somerset Maugham, T. S. Eliot, Robert Frost, Richard Hugo, etc.
Satya Paul launched his eponymous brand upon his return from the Osho commune in Oregon, where he had gone with his family in 1982 after selling his export business.