Darshan Hiranandani is a renowned Indian businessman who is known for being the CEO of Hiranandani Group, a real estate giant. He is also the chairman of Yotta Data Services, H-Energy, Tarq Semiconductors, and Tez Platforms. He is the son of Niranjan Hiranandani, the co-founder of Hiranandani Group, which has its headquarters in Mumbai, Maharashtra, India.
Wiki/Biography
Darshan Niranjan Hiranandani was born on Tuesday, 13 October 1981 (age 42 years; as of 2023) in Mumbai, Maharashtra. His zodiac sign is Libra. He did an MBA (Entrepreneurship and Finance) and B.S. (Management Information Systems) from Rochester Institute of Technology, New York. [1]Darshan Hiranandani's LinkedIn Account
Physical Appearance
Height (approx.): 5′ 7″
Hair Colour: Black
Eye Colour: Black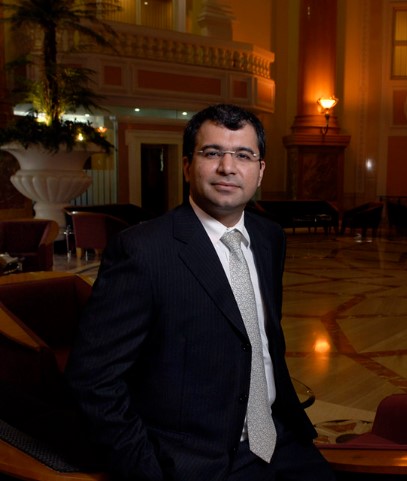 Family
Parents & Siblings
His father, Niranjan Hiranandani, is the co-founder of Hiranandani Group in Mumbai.
His mother, Kamal Hiranandani, is a businesswoman.
Darshan Hiranandani has an elder sister named Priya Vandrevala who is an entrepreneur based in London.
Priya Hiranandani is married to Cyrus Vandrevala, a London-based businessman.
Wife & Children
On 18 March 2009, Darshan Hiranandani got married to Neha Jhalani who is an author. Neha Jhalani is the daughter of Delhi-based businessman Pradeep Jhalani and his wife, Shabnam Jhalani.
The couple has two children.
Relationships/Affairs
Darshan Hiranandani was in a relationship with Neha Jhalani before marrying her in 2009.
Other Relatives
His paternal grandfather, Lakhumal Hiranand Hiranandani, was an Indian otorhinolaryngologist, social activist, and philanthropist who died in 2013.
His paternal grandmother, Kanta Lakhumal Jamnadas Hiranandani, died in 2014.
His uncle Surendra Hiranandani is the co-founder of Hiranandani Group in Mumbai.
His other uncle Navin Hiranandani was a famous ENT surgeon in Mumbai. He died in 2006.
Career
Darshan Hiranandani started his career as a businessman in 2009 by founding the H-Energy Group of Companies in Mumbai. Later, he joined the Hiranandani Group and made efforts to expand its real estate business globally. As part of the board of directors of the Hiranandani Group, in February 2004, he played an important role in setting up the Dr L.H. Hiranandani Hospital, a non-profit venture under the Hiranandani Foundation.
In February 2014, he was appointed as the CEO of Hiranandani Group in Mumbai. He began working as a managing director at Nidar Group in Mumbai in January 2016. He established 'Greenbase,' an industrial and logistics park, in Mumbai in December 2018.
In July 2020, one of the notable achievements of the Hiranandani Group, under the leadership of Darshan, was the inauguration of the world's second-largest data centre, Yotta Infrastructure Solutions.
Darshan Hiranandani is an active member of various councils for ASSOCHAM, India's oldest apex trade chamber with over 450,000 members. He is also a member of the Board of Trustees of his alma mater Rochester Institute of Technology and a member of the Board of Directors for RIT Dubai. He is on the advisory board of Hyderabad Sind National Collegiate, a non-profit organization in Mumbai. Darshan Hiranandani founded Tez Platforms, an entertainment website in February 2022.
Controversies
Sibling Rivalry
In 2009, Darshan Hiranandani's sister, Priya Vandrevala, accused him and his father of violating a development deal. The London Court of International Arbitration ruled in her favour, asking them to pay Rs. 360 crores to Priya in 2016. [2]Business Today
Bribery Allegations
In October 2023, BJP's Lok Sabha MP Nishikant Dubey alleged that Trinamool Congress MP Mahua Moitra accepted "cash and gifts" from Darshan Hiranandani to pose questions in Parliament. In an interview, Dubey stated that he received a letter from advocate Jai Anant Dehadrai, containing evidence of such bribery between Moitra and Hiranandani. Dubey said,
It appeared that the representationist, Dehadrai has made elaborate and painstaking research on the basis of which he has concluded that quite recently, Moitra asked approximately 50 questions in Parliament of the total 61 posted by her, which shockingly pertain to the protect the business interests of Darshan Hiranandani and his company."
Awards
In 2015, Darshan Hiranandani was honoured with the Ramakrishna Bajaj Award for the best hospital in India for his hospital 'Dr L.H. Hiranandani Hospital,' a non-profit venture under the Hiranandani Foundation.
In 2016, he won the Global Performance Excellence Best in Class Award from the Asia Pacific Quality Organization.
In 2021, Darshan Hiranandani was honoured with the National Business Achievers Award for Excellence.
In 2021, he won the Business Tycoons of The Year Award.
Facts/Trivia
According to his wife Neha J Hiranandani, she met Darshan for the first time during her UNICEF visit.
In 2004, Darshan Hiranandani launched the Hiranandani Group's first foreign venture, 23 Marina, in Dubai.