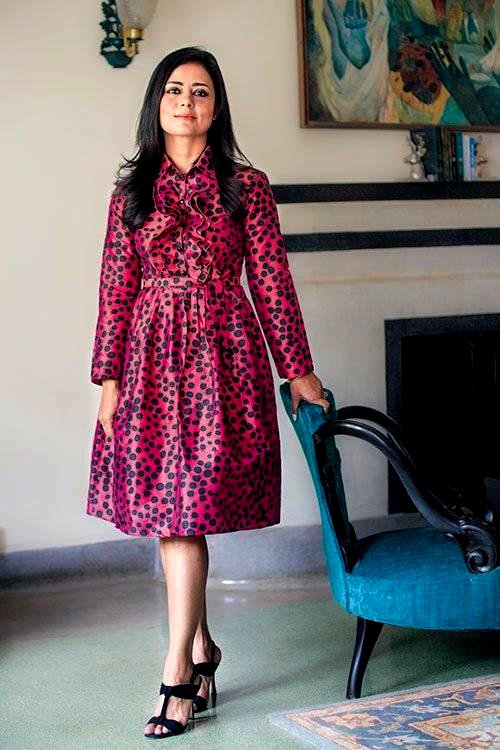 Mahua Moitra is an Indian politician from the All India Trinamool Congress (TMC). She is an MP from the Krishnanagar Constituency of West Bengal.
Wiki/Biography
Mahua Moitra was born on Monday, 5 May 1975 (age 47 years; as of 2022) in Kolkata, West Bengal. Her zodiac sign is Taurus. She received her primary education from a local school in Kolkata.
She pursued Bachelors in Arts in Economics and Mathematics from the Mount Holyoke College, Massachusetts, United States. She was the topper from her college and was working as the Vice President of JP Morgan, London.
Mahua was attending her 10-year college reunion when she realized that all her batch mates were bankers and were all successful in just one field. On that day, she decided that she will not come back to her 20-year college reunion as "just another managing director". She quit her job and went back to India to start a career in politics.
Physical Appearance
Height (approx.): 5′ 6″
Weight (approx.): 55 kg
Eye Colour: Black
Hair Colour: Black
Figure Measurements (approx.): 32-24-34
Family, Husband & Caste
Mahua Moitra belongs to a Bengali Brahmin Family. Her father is Dwipendra Lal Moitra. Not much is known about her family. In an interview, she revealed that she used to live in Scandinavia and her former husband, Lars Brorson, was of Danish origin.
Career
Mahua Moitra joined the youth wing of the Indian National Congress (INC) in 2008. She worked vigorously, and she rose up through the ranks to be a famous leader and a familiar face across West Bengal. She was considered Rahul Gandhi's most trusted person in West Bengal. She implemented Rahul Gandhi's Aam Admi ka Sipahi (AAKS) initiative in West Bengal and produced amazing results.
Although she liked the appreciation she was getting and how she ascended through the ranks, she did not like when the Congress used to compromise with the Left. She quit the Congress and joined the All India Trinamool Congress (TMC) in 2010.
She had quite a following in West Bengal, which led her to grow at a fast pace in the TMC. She was appointed as the spokesperson and the General Secretary of the TMC. In 2016, she was announced as the TMC's candidate from the Karimpur constituency of West Bengal. She won the 2016 Assembly elections and was elected as an MLA.
Mamata Banerjee announced Mahua's name as the TMC candidate for the 2019 General Elections from the Krishnanagar Constituency of West Bengal.
She campaigned extensively for the 2019 General Elections. She went to all the districts of Krishnanagar and with the help of the grassroots level workers of the TMC, she made good connections with people of all age groups. Reportedly, she went to the areas where other leaders had never bothered to go and did not even know existed. During her campaign, she used to talk to the people about their problems.
She won the 2019 General Elections and was elected as a Member of Parliament from the Krishnanagar Constituency of West Bengal. She won with a margin of 65,404 votes against BJP's Kalyan Chaubey. She shared her Certificate of Election on social media, a day after her name was announced as the winner from her Constituency.
In her maiden speech in the Parliament, she addressed the "rising fascism" in India. Her speech became viral on social media. Several people also termed it as the speech of the year.
Controversies
Being the TMC spokesperson, she attended a lot of live TV debates. Once, during one such debate in which the Union Minister Babul Supriyo was also participating, he called her Mahua Drunk on Mahua (country alcohol in West Bengal is also known as Mahua). The news anchor instantly asked Supriyo to refrain from personal comments, and he also received a lot of backlash for this comment later. Mahua filed a defamation case against Supriyo on 4 January 2017; stating that he insulted her on National TV, damaged her reputation by suggesting that she was drunk, and outraged her modesty.
On 11 January 2017, Babul Supriyo filed a defamation case against Mahua Moitra and 3 others of the TMC. He blamed them of falsely accusing him of having close links to the Rose Valley Chit Fund Scam. Supriyo stated that Mahua, along with the other members of the TMC, was taking his name in the chit fund scam and influencing people to believe that he was involved in the scam; without giving them any proof of his involvement in the scam.
Mahua was detained at the Assam airport after she slapped a lady police officer on 3 August 2018. She was detained for the night and was not allowed to board her flight to Kolkata on charges of assaulting a police officer on duty. She was let go the next morning, following which, she left for Kolkata, and a case was registered against her.
On 6 July 2022, the Trinamool Congress condemned Mahua Moitra's remarks on Goddess Kali that she made during the India Today Conclave. In the conclave, Ms. Moitra, while pointing at a poster depicting "version of the Goddess" said,


Kali to me is a meat eating… alcohol accepting Goddess. To me, that is Kaali.

Following her controversial remarks on the Goddess Kali, the TMC released a statement on social media to condemn Ms. Moitra's remarks; the statement read,

The comments made by  @MahuaMoitra  at the #IndiaTodayConclaveEast2022 and her views expressed on Goddess Kali have been made in her personal capacity and are NOT ENDORSED BY THE PARTY in ANY MANNER OR FORM. All-India Trinamool Congress strongly condemns such comments." [1]The Hindu
In August 2022, she faced criticism from the netizens after a video went viral in which she was hiding her expensive Louis Vuitton tote bag after TMC's Kakoli Ghosh Dastidar raised the issue of price rise in the Lok Sabha. Later, she took to Twitter to respond to this and shared the photo collage of her pictures.
Jholewala fakir in Parliament since 2019.

Jhola leke aye the… jhola leke chal padenge… pic.twitter.com/2YOWst8j98

— Mahua Moitra (@MahuaMoitra) August 2, 2022
On 7 February 2023, she was spotted hurling cuss words at BJP MP Ramesh Bidhuri while TDP MP K Ram Mohan Naidu was speaking in the Lok Sabha. This happened after she finished her speech in the Lok Sabha during the Motion of Thanks on the President's Address. Later, while defending her cuss words, she said that it wasn't wrong to say an apple an apple. She said,


Whatever I said was not on record and all I can say is I will call an apple an apple and not an orange. I will call a spade a spade. If they take me to the privileges committee, I will put my side of the story."
. @MahuaMoitra has shamed the entire WB with her unparliamentary language.

Use of such words shows the TMC culture wherein murder, violence, rape and abuses are so common. TMC leaders have lost their common sense in such atmosphere.

I feel pity for them. Bengal is watching. pic.twitter.com/O0KyuoES8j

— Dr. Sukanta Majumdar (@DrSukantaBJP) February 7, 2023
Address
9A, Ratna Bali, 7A Judges Court Road, Kolkata, West Bengal
Assets & Properties
Cash: Rs. 5,000
Bank Deposits: Rs. 1.05 Crores
Jewellery: 3.2 carat Diamond ring worth Rs. 70 Lacs, 150 gm Gold worth Rs. 5 Lacs, 3 kg Silver worth Rs. 1 Lac, Silver dinner set worth Rs. 1.65 Lacs, Art Pieces worth Rs. 25 Lacs
Salary & Net Worth
Salary: Rs. 1 Lac + additional allowance (as an MP)
Net Worth: Rs. 2.64 Crores (as of 2019)
Facts
She was interested in politics since she was 18 years old.
After her name was announced as the winner from the Krishnanagar Constituency of West Bengal, a reporter stated that her political career is now much bigger and she is a big leader now. To this statement, she replied-


I'm just about getting out of the cocoon now.
Whenever she has campaigned, her primary focus has always has been on good education and youth empowerment. She often addresses children and the college-going crowd of her constituency, along with their parents, and explains the importance of good education to them.