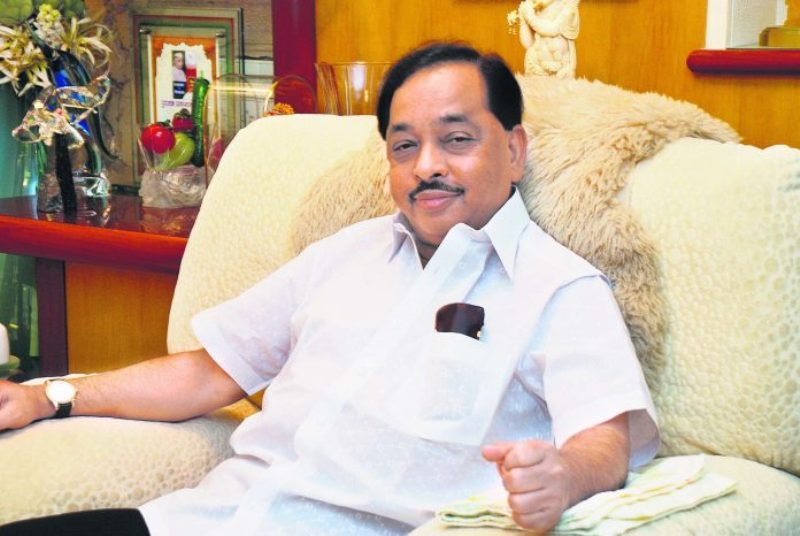 Narayan Rane is a senior Indian politician. He is a member of parliament from Maharashtra, India. Rane was served as the Chief Minister of Maharashtra from 1 February 1999 to 17 October 1999. He was appointed as the Minister of Micro, Small and Medium Enterprises of India under the reshuffling of the second ministry of the Modi cabinet in July 2021.
Wiki/Biography
Narayan Rane was born on Thursday, 10 April 1952 (age 69 years; as of 2021) in Konkan, Ratnagiri (Maharashtra). His zodiac sign is Aries. He completed 11th Standard (Passed S.S.C.) from Ghatkopar Shikshan Prasarak Mandal's Ratra Shala, Ghatkopar, Mumbai in 1970. [1]India Government
Physical Appearance
Hair Colour: Black
Eye Colour: Black
Family
Parents & Siblings
His father's name is Tatu Sitaram Rane, and his mother's name is Laxmibai Tatu Rane.
Wife & Children
Narayan Rane is married. His wife's name is Neelam N. Rane.
He has two sons named Nilesh Rane and Nitesh Rane. His both sons are Member Parliament of the Bhartiya Janata Party.
Nitesh Rane is married to Rutuja Rane.
Address
House No. 179, Varvade-Falshiyewadi, Fanasnagar, Tal. Kankavli, Dist. Sindhudurg, 416602.
Signature
Career
In his twenties, Narayan Rane joined the Shiv Sena party to began his political career. Initially, he was given the designation of a local Shakha Pramukh (local ward chief) in Chembur, Mumbai. Later, he worked as a Councillor of the Kopargaon town in Maharashtra.
In 1999, Narayan Rane became the Chief Minister of Maharashtra. He was succeeded by Manohar Joshi. Rane was expelled from the party for "anti-party activities." [2]Outlook The statement given by the Shiv Sena on his expulsion was,
Rane began a show of strength. People were threatened and gangsterism in the Sena could not be tolerated." [3]Outlook
Narayan Rane joined the Indian National Congress (INC) in 2005. He was appointed as the Revenue Minister of Maharashtra in INC. Later, during his tenure in INC, he contested from the Konkan region of Maharashtra and won his Malvan seat with a lead of over 50,000 votes. After some time of his tenure in INC, Rane submitted his resignation to the then chief minister of Maharashtra, Prithviraj Chavan and Rane vacate the position of Industries minister in the Chavan cabinet. In 2008, when the Mumbai attacks shattered the state, Vilasrao Deshmukh was expelled from the post of the Chief Minister of Maharashtra. Soon, the congress party and its senior leaders decided to appoint 'Ashok Chavan' as the Chief Minister of Maharashtra. Narayan Rane protested against this decision and as a result, he was suspended for six years from the Indian National Congress. In 2009, Rane apologized to the congress chief Sonia Gandhi for his protest. Soon apology was accepted by INC, and Rane was appointed as the Minister of Industry of Maharashtra. In 2010, Rane was appointed as the cabinet minister of Industry, Port, Employment and Self-employment till 2014. In September 2017, Rane willingly left The Indian National Congress. He faced the media after his resignation from INC, and in an interview, he narrated his reason to leave the congress party. He revealed,
I waited for 12 years. When I found that there was no scope for me in the Congress, I decided to quit from the primary membership of the party and membership of the legislative council."
He further stated that he was given the assurance, by the senior leaders of Congress, that on joining the INC he would be appointed as the Chief Minister of Maharashtra within six months of joining the Congress party in 2005. Soon after leaving the Congress party, Rane announced his own new political party in Maharashtra. The Maharashtra Swabhiman Paksha was the name of the party initiated by Rane. While addressing media persons at the inauguration of this new party, Rane said,
There was a need for a new political party and hence I launched the Maharashtra Swabhiman Paksha."
In 2018, Rane, along with his party 'Maharashtra Swabhiman Paksha,' started supporting the Bharatiya Janata Party (BJP). Soon after merging his party with BJP, on the Maharashtra Swabhiman Paksha's nomination, Rane was chosen as a member of the Rajya Sabha assembly. In October 2019, he officially amalgamated his party with BJP at Kankavli, Maharashtra, in the presence of the then Maharashtra Chief Minister Devendra Fadnavis. [4]The Hindu
Controversies
In August 2011, he attracted controversy when his name was connected in the Adarsh Housing Society scam along with the former chief minister of Maharashtra, Ashok Chavan. A legal quarrel was raised against Rane and Chavan in the Maharashtra legislative assembly by the opposition parties. Later, Ashok Chavan resigned from his position after his name bounced off in the Adarsh Housing Society scam. A resignation letter was also submitted by Narayan Rane later on. [5]

DNA India
In 2012, Narayan Rane was named by a Pune based RTI activist Ravindra Barhate in returning a major part of the land in Pune to a person who had already received compensation from the government under the land Acquisition Act. Barhate blamed Rane that in 1998, this misappropriation was done by Rane during his tenure as Revenue Minister in the Shiv Sena-BJP led Government. In 1998, Rane was also holding a quasi-judicial authority at that time. The land was given to Datta Bahirat. Later, Datta gave his power of attorney to Rohan Builders. Rohan Builders were appointed to build houses for the flood-affected persons who were displaced by the construction of the Panshet Dam at Pune in 1961. Later, Datta, who already received his compensation from the government, demanded back his land from Rohan Builders, which was returned to him under the authority of Rane. Ravindra Barhate got back land from Narayan Rane. The unused land of 2.15 lakh sq feet of the 2.75 lakh sq feet was returned along with the repayment of rupees 16 lakh to the government. [6]

Indian Express
In February 2011, a notice was issued to Narayan Rane, for misusing a piece of land that was issued to his wife in Andheri, Mumbai. She built a restaurant on this land which was earlier given for educational activities. A case was filed by Ashok Karangutkar under public interest litigation against Rane's wife. Rane's wife was managing an organisation named the Sindhudurg Shikshan Prasarak Mandal. A restaurant named The Jail Restaurant & Lounge was built in Sindhudurg Bhavan at Four Bungalows, Andheri, Mumbai instead of any educational organisation. [7]

Mumbai Mirror
On 24 August 2021, Rane was arrested by the Ratnagiri police from Sangameshwar. He was arrested for his alleged remark on the Maharashtra CM Uddhav Thackeray in which he said that he would have slapped Thackeray for not citing the correct number of India's independence during the flag hoisting ceremony on 15 August; however, late in the evening, on the same day of his arrest, Rane was released on bail by a court in Mahad. [8]

The Hindu
Rane and his son were alleged of maligning the image of the late Indian celebrity manager Disha Salian. Disha's parents wrote a letter to the Indian President Ram Nath Kovind in which they requested to take action against Rane for portraying the wrong image of their daughter. [9]

NDTV The letter reads,


Our life has gone haywire and becomes miserable because of our daughter's death and after that this blatant falsehood spread by Rane and others. Even after registration of offence, Union Minister Rane and his son have not stopped maligning our name. It seems we will not get justice till we are alive as their right to spread falsehood is more important than our fundamental right to life, right to privacy and live with dignity. We, therefore, request you to issue directions to the concerned authorities to take appropriate steps so that justice is done, otherwise we will be left with no other alternative but to end our lives."
Assets/Properties
Moveable Assets
His moveable assets are worth Rs. 44,83,89,483 crores.
Deposits in Banks- Rs. 18,18,33,091
Bonds, Debentures and Shares- Rs. 2,02,66,844
NSS, Postal Savings etc- Rs. 39,87,222
LIC or other insurance Policies- Rs. 56,41,614
Personal loans/advance- Rs. 9,52,06,572
Motor Vehicles- Rs. 3,58,48,240
Jewellery- Rs. 7,60,73,431
Other assets- Rs. 2,94,09,986
Immovable Assets
His immoveable assets are worth Rs. 42,93,94,622 crores.
Liabilities
His liabilities are worth Rs. 30,04,57,172 crores.
The valuation of assets is based on the documents from the year 2019. [10]My Neta
Net Worth
As in 2019, Narayan Rane's net worth was around Rs. 32,71,31,591 crores. [11]My Neta
Facts/Trivia
His hobbies include playing cricket, travelling and reading books.
From 1971 to 1984, he actively represented the Department of Income Tax in the Indian cricket team.
According to Narayan Rane, Balasaheb Bal Thakeray was his godfather and guru. He said in a conversation with a media house that he left the Shiv Sena because of Uddhav Thackeray. He stated,


I was with Shiv Sena for 39 years. Balasaheb Ji made me CM. I didn't ask for it. Even today, I didn't ask for a Cabinet berth. When I work for the party, the party thinks about me. There is nothing wrong. I respect Balasaheb Ji, I consider him my guru. Even when I was in Shiv Sena, I didn't get along with Uddhav Thackeray. I quit Shiv Sena because of him."
In October 2008, Narayan Rane released a Marathi daily newspaper under the ownership of his publishing house named Rane Prakashan Pvt. Ltd. In this publishing house, Narayan Rane serves as the Consulting editor. The renowned Indian journalist 'Madhukar Bhave' is the editor of this newspaper.
In October 2008, Rane started a Marathi daily newspaper. Narayan Rane is the Consulting editor of this newspaper named Rane Prakashan Pvt. Ltd. The editor of this publishing house is an Indian journalist named 'Madhukar Bhave.'
In 2009, Rane introduced his two sons – Nilesh and Nitesh to Maharashtra politics.
According to Rane, the Shiv Sena chief Uddhav Thackeray did not know the concept of politics. In an interview with the media persons, Rane claimed,


Does he [Uddhav] even understand what politics is all about? He has no knowledge of any ministerial portfolio. Why doesn't he exit the Fadnavis government instead of attacking everyone in the Bharatiya Janata Party (BJP)."
In 2017, Narayan Rane left the Indian National Congres and a cartoon picture related to him went viral on social media. The picture depicted that Rane met Devendra Fadnavis, the then Cheif Minister of the Bharatiya Janata Party (BJP).
According to Rane, the then Chief Minister of Maharashtra Devendra Fadnavis wanted to improve Rane's connection with Shive Sena. In a conversation with the media persons, Rane spelt out,


Fadnavis's wish…is from good intention. I don't have any objections to it. But, efforts should be taken from both sides. If that happens, then I'm ready."
In October 2020, Narayan Rane blamed the Uddhav Thackeray government for shutting down the Shushant Singh Rajput's death case. In an interview with the media persons, Rane explained,


Soon the truth would be known whether it was death or suicide, who were involved in his death, how was he killed?… the CBI has found substance in the case and hence taken up the case, it has not closed the case."

He further added that Aaditya Thackeray, the son of Uddhav Thackeray, was conspired in the murder and rape case of Disha Salian. He spelt out,

The actor's former manager Disha Salian was also killed and the two deaths were linked. Disha Salian was raped and murdered….the one minister who would go inside is chief minister's son (Aaditya),"
In 2020, Rane met Maharashtra Governor BS Koshyari and discussed the working procedure of the Shiv Sena government during the COVID-19 pandemic lockdown. He narrated to the governor that Shiv Sena was failed in handling the corona situation in Maharashtra and the presidential rule must be imparted in the state. He said,


This government lacked the capacity to run a government. Maharashtra should be put under President's rule. The governor should step in. The condition of hospitals run by the state government and civic bodies is pathetic."

He further requested that the healthcare functions in Maharashtra must be empowered by the military that would help in confronting the pandemic situation in the state more smoothly.
Devendra Fadnavis, along with Narayan Rane, attended an event in August 2020 in which they mutually inaugurated a

COVID-19

centre at SSPM Medical College & Lifetime Hospital in Kasal-Padve in Sindhudurg district in Maharashtra.
Narayan Rane has been featured on the cover page of various Indian political magazines.
In July 2021, Rane was appointed as the Minister of Micro, Small and Medium Enterprises after the reshuffling of the Second Modi ministry Cabinet.